'Grandpa Rossy' surprised with pregame tribute
Retiring catcher gets number from scoreboard, home plate and framed jersey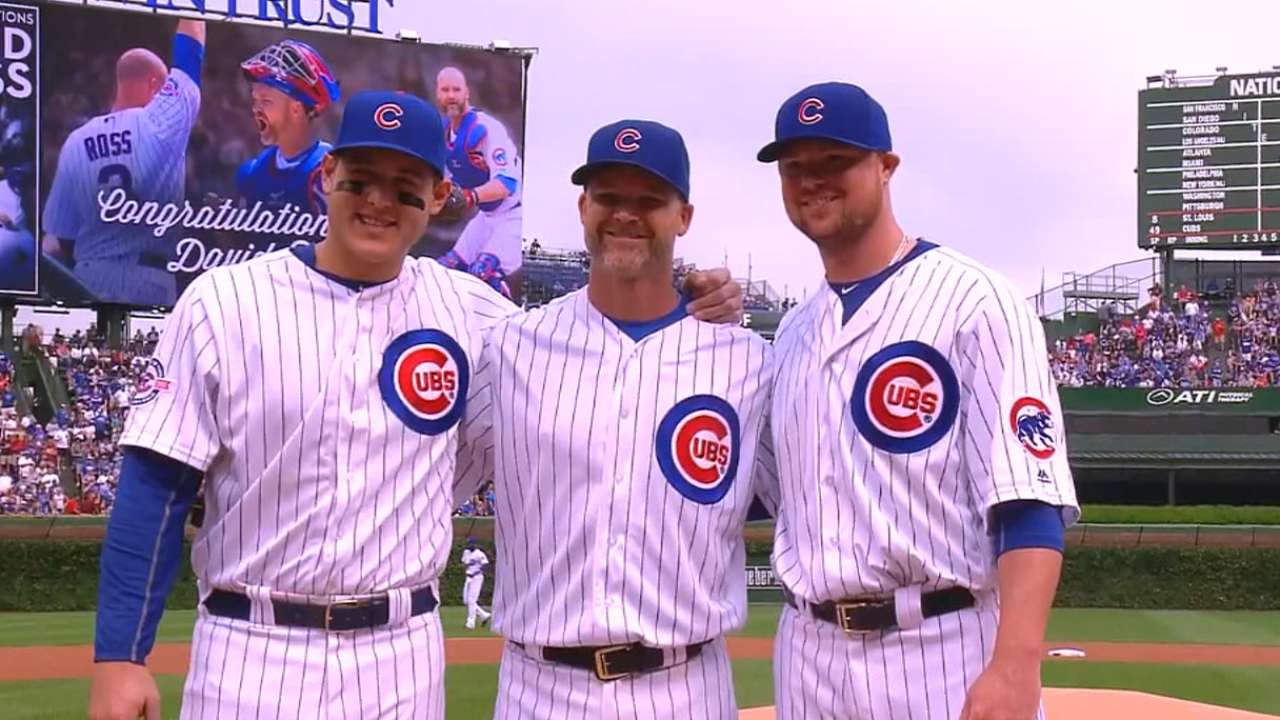 CHICAGO -- David Ross is the ringleader on the Cubs, and he prides himself on knowing everything that's going on, but the veteran catcher was totally surprised on Friday when teammates honored him pregame as part of a year-long retirement ceremony.
It was business as usual until 1 p.m. CT, when a video tribute began to play, featuring some of Ross' career highlights plus tributes from teammates Kyle Schwarber, Anthony Rizzo, Jon Lester, Jason Heyward, John Lackey and strength coach Tim Buss. Ross, 39, is retiring after this season, and he received a No. 3 from the Wrigley Field scoreboard, plus home plate from Jake Arrieta's no-hitter that he caught in April. The jersey Ross wore when he hit his 100th career home run also was framed.
"When you're a guy who's a backup catcher and kind of a journeyman and has been on a bunch of different teams and trying to find your way through the Major Leagues and do the best you can, [to] get a moment like that is pretty cool," Ross said.
Ross' wife, their three children, his parents and a close friend were all at Wrigley Field and joined the catcher on the field, as did Cubs chairman Tom Ricketts, president of baseball operations Theo Epstein and general manager Jed Hoyer.
"The things they said about me is kind of overwhelming, and the way they treat me, and how much respect they have for me," Ross said. "I'm a guy who tries to work hard and ends up with some years in the big leagues and has done some fun things, and with this group, trying to win a ring this year, the emotion comes from looking back when you reflect on your career. I don't try to do that, because it gets really emotional.
"Seeing the picture of [Heyward] up there with me with hair and some pictures from Boston with Lester and 'Lack,' your career starts flashing before your eyes and how long you've been able to be in the league and play and going out with this kind of group and city and environment," Ross said. "It doesn't get any better."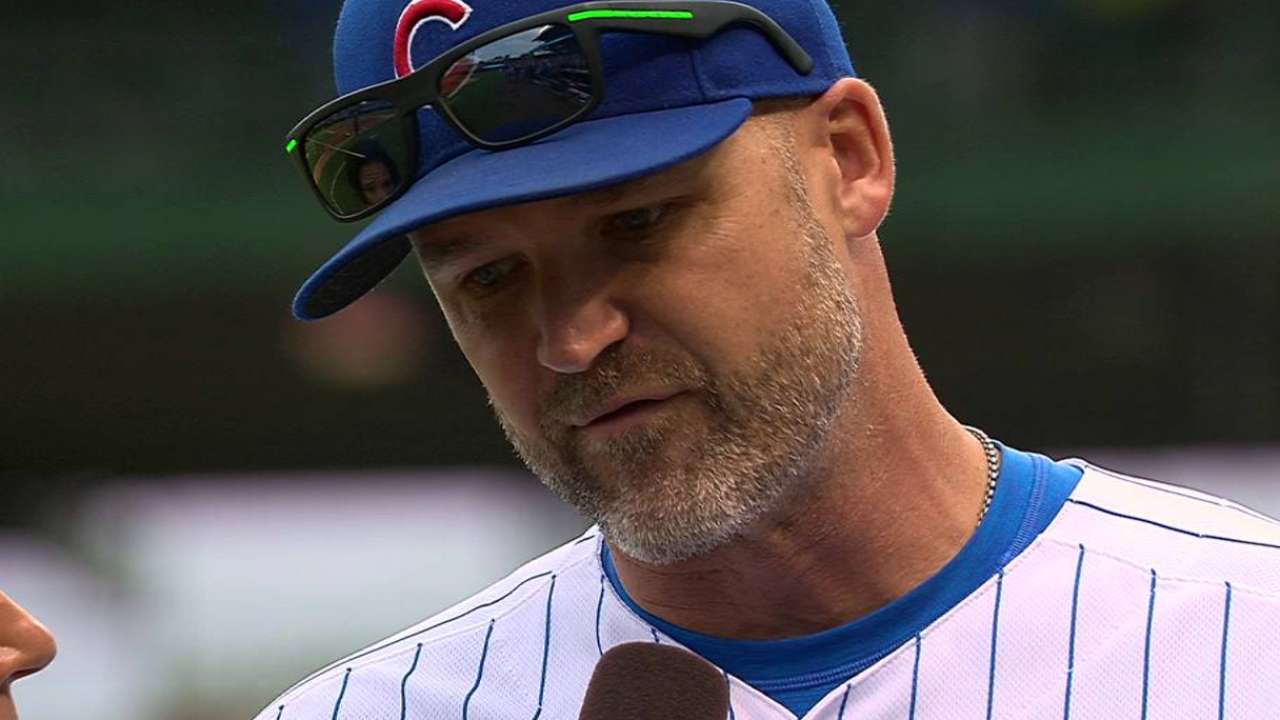 Rizzo then borrowed Ross' walk-up song, "Forever Young," during his first at-bat in the first inning as a tribute to the player affectionately known as "Grandpa Rossy."
"I'm like, 'We need to focus on winning,' and I'm going to cry every 30 seconds," Ross said.
Watching the ceremony was emotional for the other Cubs as well.
"It made me want to retire," Miguel Montero said. "He deserves it. He's been a great teammate for us. He's done a lot of things for the team and the organization."
Ross was just happy to be wearing dark glasses so his teammates and family couldn't see him cry.
"I told them, 'The old guy is supposed to know everything,'" Ross said. "When you're called 'Grandpa' in the locker room, you need the inside scoop."
Would he consider playing next season?
"I tell all the fans, 'They can't afford me,'" Ross said.
Carrie Muskat has covered the Cubs since 1987, and for MLB.com since 2001. She writes a blog, Muskat Ramblings. You can follow her on Twitter @CarrieMuskat and listen to her podcast. This story was not subject to the approval of Major League Baseball or its clubs.