Paired with Montero, Arrieta finds his groove
Cubs' ace walks only one, strikes out 10 to pick up 18th victory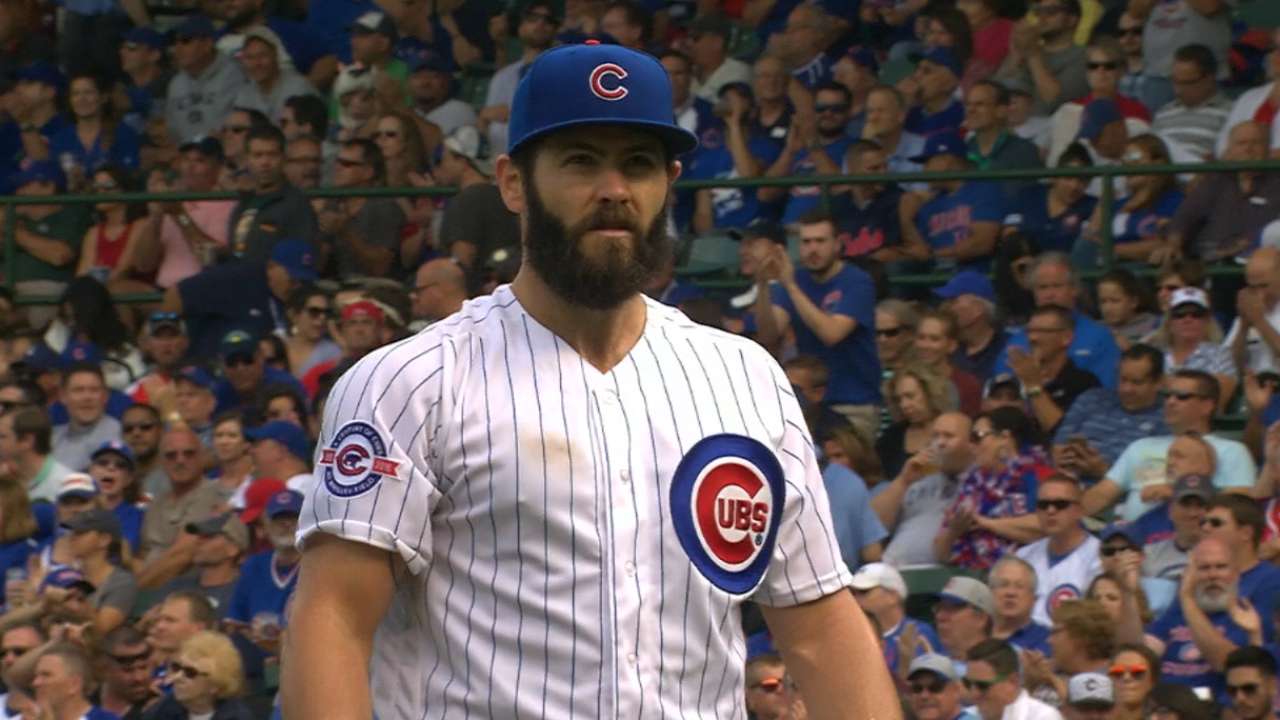 CHICAGO -- Cubs catcher Miguel Montero had a message for Jake Arrieta before the right-hander took the mound on Friday.
"I said, 'I need you to pick up the tempo, I need you to go,'" Montero said. "'Let me do the thinking, you do the throwing. I want you to keep on moving. I don't want you to sit there, because everybody falls asleep. I want you to keep on going. Don't give the hitters much time to think. I want you to just go.'"
Arrieta did that, striking out 10 over seven scoreless innings in the Cubs' 5-0 victory over the Cardinals at Wrigley Field. It was the first time Montero has caught Arrieta since Aug. 6 at Oakland, when the right-hander threw eight scoreless innings in an Interleague win. Rookie Willson Contreras had been behind the plate for six games since then, and David Ross caught another. Why the switch?
"I wanted to see it, and Miggy did a great job," said Cubs manager Joe Maddon, who is sorting out his combinations in advance of the National League Division Series. "[Arrieta] responded well to him."
With the win, Arrieta now is tied with teammate Jon Lester and the Nationals' Max Scherzer for the most wins in the NL with 18. Montero is no stranger to Arrieta; he caught his first career no-hitter in Los Angeles on Aug. 30, 2015.
"We work well together," Arrieta said. "I work well with Willson and Rossy, but Miggy and I have worked together for quite a bit of time now, and he knows the way my stuff works and he has little mannerisms that help me get back on track from time to time. It's nice to have a guy like that who can pick things out visually."
No one was knocking Contreras. He's the Cubs' catcher of the future, and he's still learning.
"Miggy's just a good receiver, not that the other guys are not," Maddon said. "I think it's visual, that'd be my best guess, and Miggy really receives edges well, which Jake can thrive on with all the movement on his pitches. I think a lot of it has to do with the look."
All Montero wanted was for Arrieta to throw his pitches with conviction, and not nibble.
"Jake has such good stuff," Montero said of the right-hander, who posted his 12th career double-digit strikeout game. "As a catcher, sometimes we forget how nasty he is and we start trying to trick the hitters when we don't need to do that. We just have to go after it. My main goal today was to get Jake going out there and throw a good game."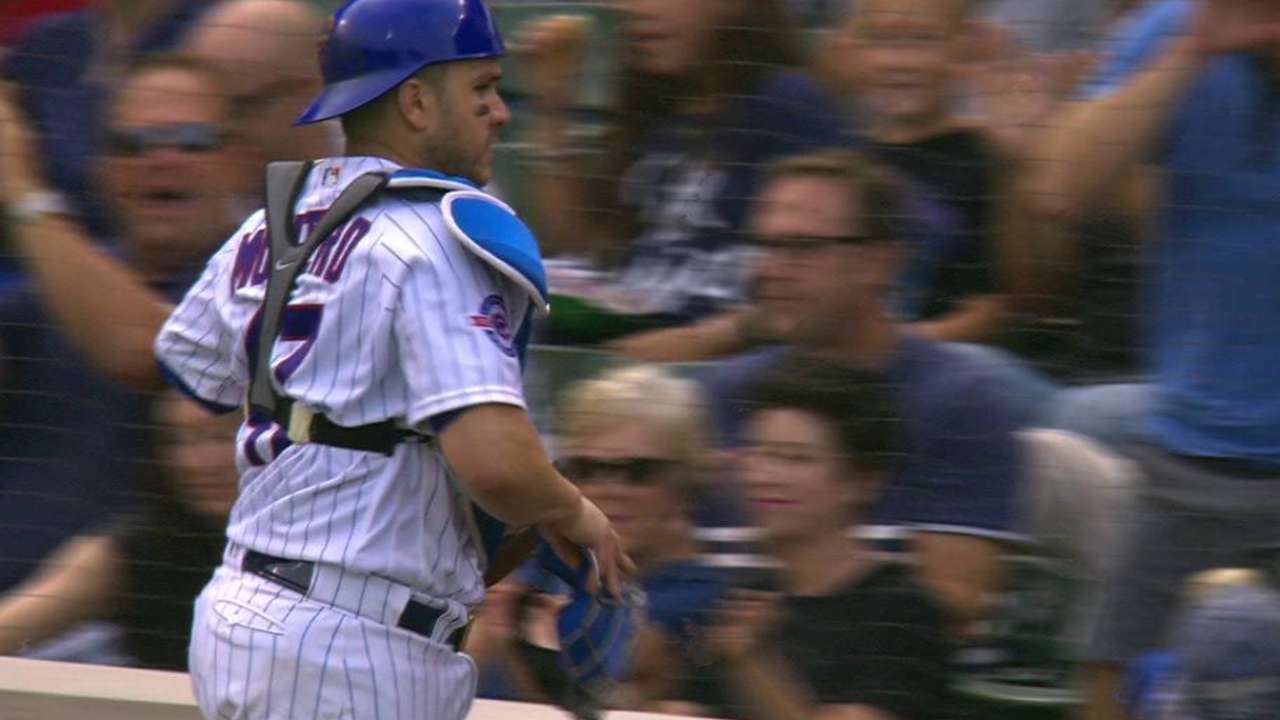 That meant Montero forgot about his hitting -- and he admitted he went to the plate in the third inning without a game plan, which resulted in him striking out with the bases loaded.
"My main goal today was just Jake and getting him out there and throw a good game and build up his confidence again," Montero said. "I went 0-for-3, I don't care. I accomplished my goal."
Arrieta's velocity was up from his previous outing and he only walked one, which was a big improvement. He'd walked 23 in his past seven starts.
"That was more reminiscent of what we saw last year," Maddon said of Arrieta's outing Friday. "He's not 100 percent there, but that was pretty darn good. That's a good hitting lineup. That lineup they threw out today was a great test to see where he's at."
Said Montero: "I hope he keeps the momentum going."
Carrie Muskat has covered the Cubs since 1987, and for MLB.com since 2001. She writes a blog, Muskat Ramblings. You can follow her on Twitter @CarrieMuskat and listen to her podcast. This story was not subject to the approval of Major League Baseball or its clubs.