Machado's lack of steals are deceiving
Powerful lineup has put swipes on decline for O's star, who maintains speed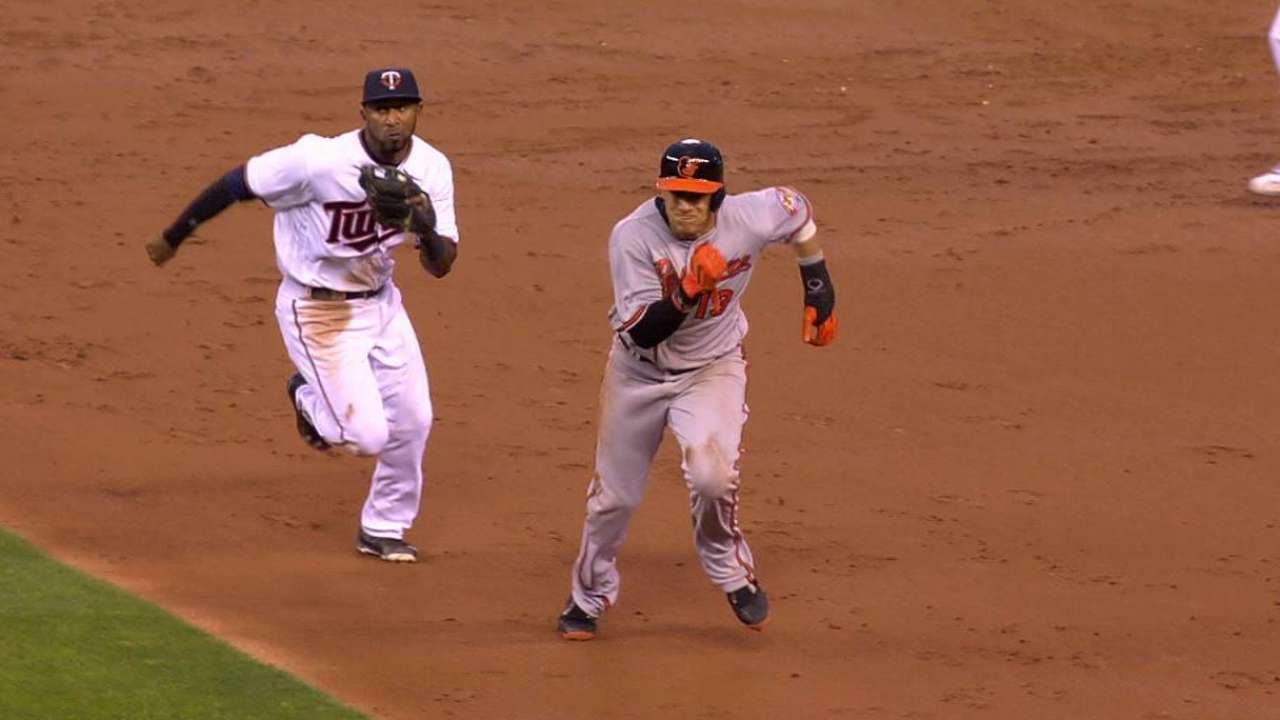 BALTIMORE -- In his fourth full season in the Majors, Orioles All-Star Manny Machado is putting together a year worthy of American League Most Valuable Player Award consideration. But as the five-tool talent has posted career-best numbers in nearly every facet of the game, he's seen a drastic decline in one area: basestealing.
A year after swiping 20 bags, Machado hasn't stolen a base with just nine games remaining this season. It's an unprecedented decline. No player has followed up a 20-steal season with none the next season while playing in 100 or more games, according to the Elias Sports Bureau.
At 24 years old, Machado doesn't have diminishing speed. So why the sudden dropoff?
"I got [Mark] Trumbo hitting behind me, who's got 43 homers and 100-something RBIs," Machado said. "[Chris Davis] has 38 [homers], I think. If I get caught stealing a base, I mess up the team. ... It is there, though. I can still steal bases, I'm just being smart about the situation."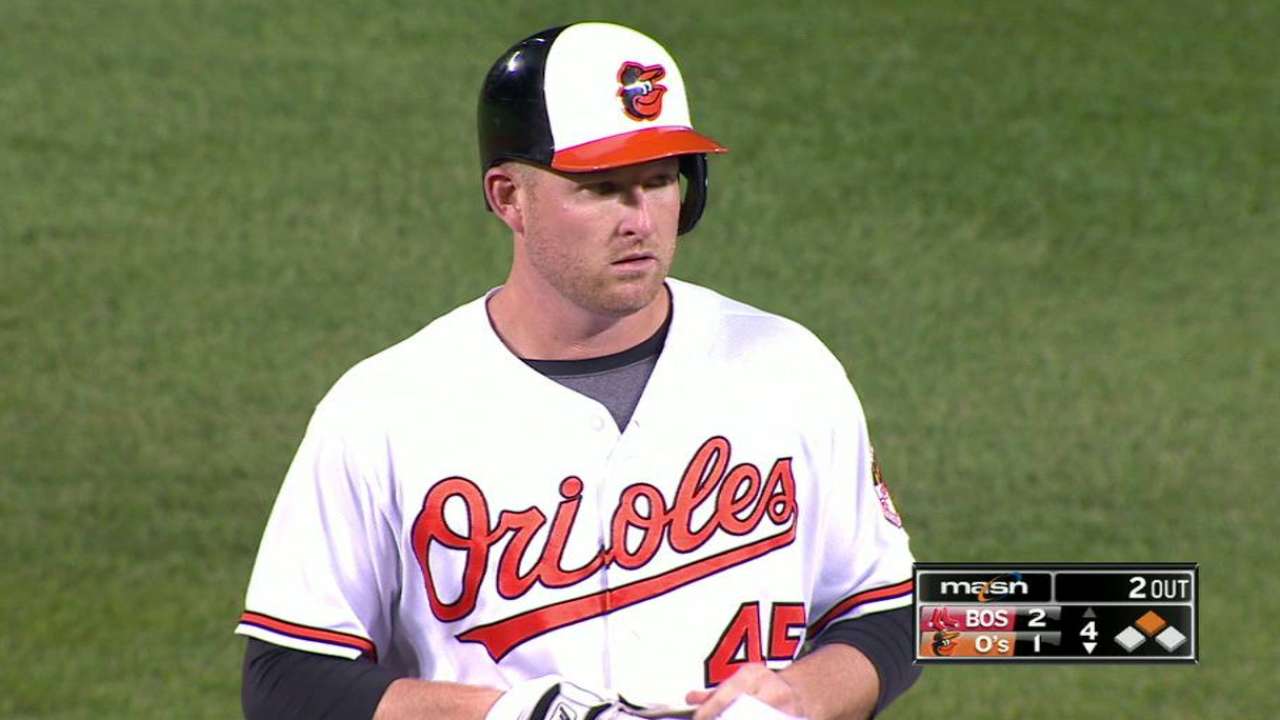 In essence, Machado, who said he has the green light, doesn't think the risk outweighs the reward. Over the course of his 48 attempts in the Majors, he's been caught 37.5 percent of the time. And in his three attempts this year -- all before May 11 -- he ran into an out each time.
Every basestealer deals with the risk calculation, though. What makes Machado's case unique this year is the players batting behind him. Trumbo and Davis have combined for 126 extra-base hits, 81 of which left the park.
• Machado named 2016 Most Valuable Oriole
"We have just as much scoring chance when [Machado is] at first base as when he's at second base," third-base coach Bobby Dickerson said. "The first 90 feet is hard to get. ... The next 90 feet, with the way we play offense, is about the same as the last two. You can score from first on this team quite often."
For a club that has slugged 239 homers -- the most in the Majors -- Dickerson went as far as to say "[pretty much] our whole team is in scoring position when they are at home plate."
As a result, the Orioles -- who also have an overall lack of team speed -- are on pace to steal the fewest bases in history. With nine games left, they have stolen just 17 bases -- the fewest since the 1960 Kansas City A's had 16.
And Machado, who accounted for nearly half the team's steals a year ago, is the primary reason for the overall team decline, given his 20-steal drop-off. But it took a painful lesson April 23 for him to decide to scale back the aggressiveness on a team that packs the most power in the bigs.
After reaching on a single in the first inning and advancing to second on a groundout, he broke for third with Davis at the plate. Machado was thrown out and Davis led off the next inning with a solo homer.
"This is more about the team," Machado said. "I'm trying to win games. I'm not trying to go out there and be dumb about getting caught stealing."
But Dickerson said it goes beyond the the risk of running into an out. Machado's health is at stake. Though Machado played all 162 games last year when he stole 20 bases, Dickerson cited the demand that stealing bases has on the body.
"[Machado is] a little older; he's bigger than he was last year," Dickerson said. "He's a monster out there. It's a lot of wear and tear. It's not like he's a little scatback. He's a big fella. Sliding, hitting the ground, jumping up -- all those things are wear and tear."
While Machado didn't bring up any health concerns when asked about his lack of steals, he mentioned his new spot in the batting order. After serving primarily as the leadoff hitter in 2015, he's dropped to the No. 3 spot this season.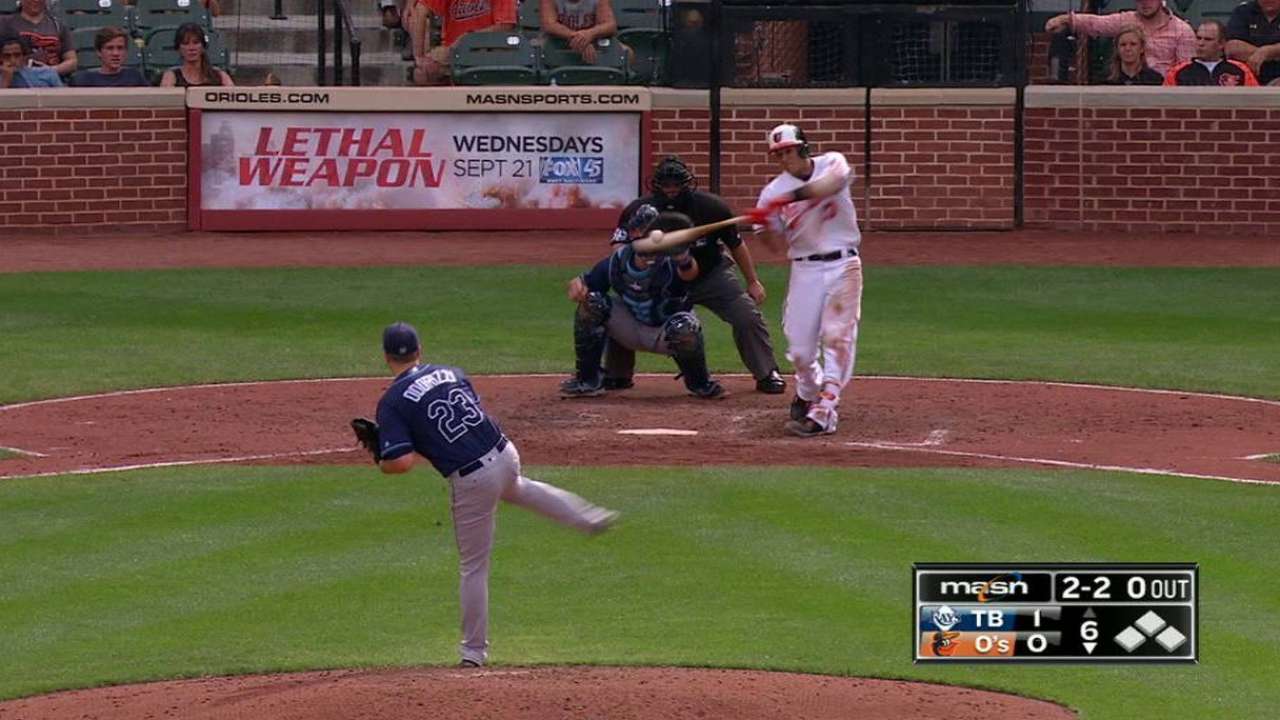 "When you're hitting in a position like that, you have a different situation," Machado said. "As a first batter, you got to get on base, get in scoring position for your guys."
Machado has shied away from that leadoff mentality this season. As a result, in a year when 40-year-old David Ortiz has stolen a pair of bases on his farewell tour, Machado sits at a historic zero.
But Machado said don't count him out as a basestealer down the road.
"It's going to be there in years to come," Machado said. "It happens to be one of the years where I didn't need to [steal bases]."
Ryan Baillargeon is a reporter for MLB.com based in Baltimore. This story was not subject to the approval of Major League Baseball or its clubs.