Weiss, Arenado tossed in eighth inning
Rockies manager, third baseman argue strike call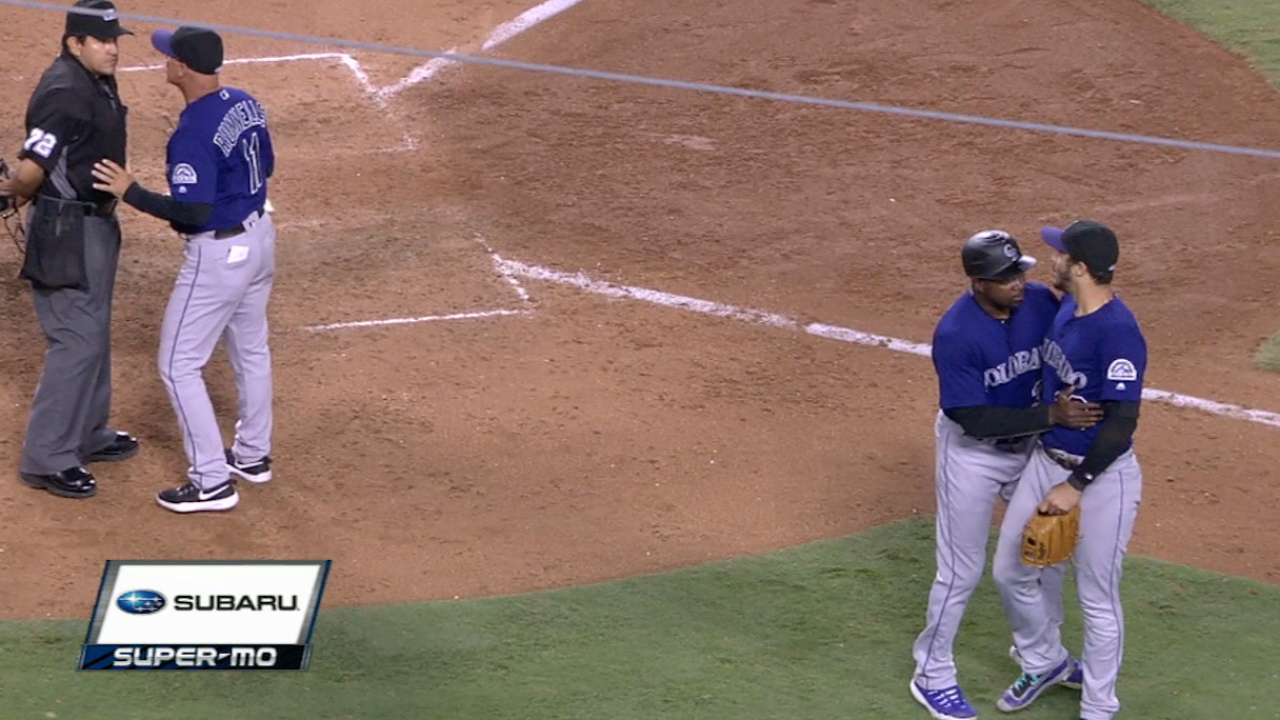 LOS ANGELES -- Already angry, Rockies third baseman Nolan Arenado looked at the replay of his called strike three in the eighth inning and blew a fuse. Shortly thereafter he earned an ejection from the 7-4 loss to the Dodgers on Thursday night.
With a three-run deficit and a runner on, Arenado overcame Dodgers pitcher Joe Blanton's 0-2 count and thought he had a walk on a 3-2 slider that was high to him -- but not to plate umpire Alfonso Marquez. Manager Walt Weiss earned his third ejection of the season and seventh of his four-season managerial career by yelling from the dugout, in hopes that Arenado wouldn't be tossed.
But while Weiss was having a quieter conversation with Marquez, Arenado went into the visiting team's video room at Dodger Stadium. Arenado emerged convinced he was correct. That was the beginning of the end of his night.
En route to his position, Arenado yelled at Marquez from near the mound. Marquez immediately and demonstratively signaled for Arenado to leave the premises.
Arenado sprinted to the plate to confront Marquez. Third-base coach Stu Cole rushed to restrain Arenado, and bench coach Tom Runnells dashed to reason with Marquez.
"I saw the video and I saw that it was up; I thought it was up, and he didn't," Arenado said. "So I let him know that I saw the video and it's up. And he said, 'No more.' I said something else and he threw me out. And I went up and told him whatever I had to tell him. That was about it."
The loss to the National League West-leading Dodgers was the Rockies' 80th this season. Two more and they have their sixth straight sub-.500 season. But, Arenado said, the ejection -- the second of his career -- was not a culmination of frustration. He simply felt the Rockies were robbed of having two runners on for Carlos Gonzalez, who would have been the potential tying run.
"CarGo can hit the ball a long way," Arenado said. "I know Blanton is doing a great job and he's a good pitcher. But I like my teammate with a man at first and second and no outs. We have a chance. It hurt."
Arenado also was upset over a pitch he thought was low that Marquez called a strike during his first-inning at-bat, which ended with a swinging strikeout.
"It's tough to make calls," Arenado said. "He's human, but I'm human, too. I'm just trying to win.
"I just got upset and said some things I probably shouldn't have said."
Thomas Harding has covered the Rockies since 2000, and for MLB.com since 2002. Follow him on Twitter @harding_at_mlb, listen to podcasts and like his Facebook page.
This story was not subject to the approval of Major League Baseball or its clubs.