MLB.com Columnist
Paul Hagen
What a difference a week makes in AL East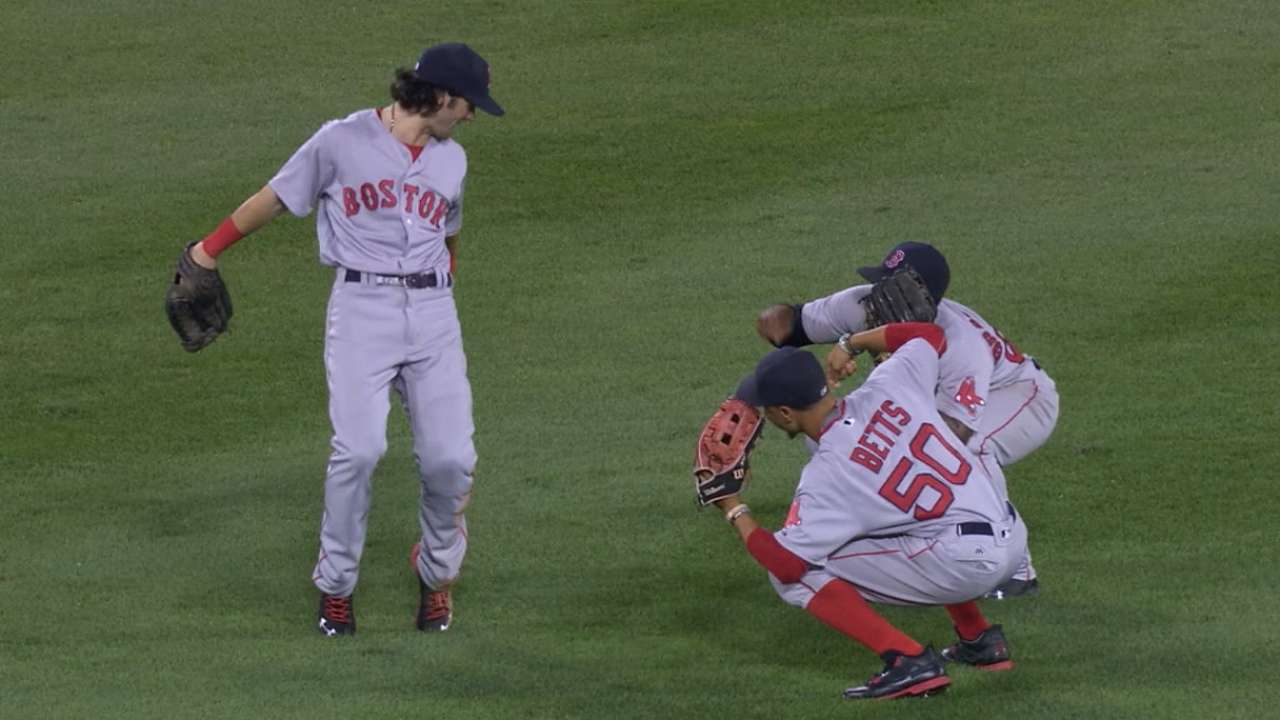 BALTIMORE -- When the Orioles departed from Fenway Park late on the evening of Sept. 14 and boarded the buses that would take them to the airport for their charter flight home, they were a team moving in the right direction in every possible way.
The O's had taken the last two games against the first-place Red Sox to pull within one game of the lead in the American League East. They had gotten terrific starting pitching from Kevin Gausman, eight shutout innings, in the getaway game. Baltimore had won nine of its last 13. The Orioles were on a roll.
Boston, by contrast, was facing a gauntlet, including a four-game road rematch against the Birds beginning just five days later.
Four nights in September, which, as it turned out, changed everything.
The Red Sox not only completed a sweep with a 5-3 win Thursday, but they extended their winning streak to eight games. Boston stretched its lead to 5 1/2 games over Toronto and seven over Baltimore with just nine games left in the regular season.
"We focus on the task at hand," Red Sox manager John Farrell said. "It's about taking care of what we need to do to prepare. It says our guys are looking forward to challenges that are thrown our way."
Meanwhile, Orioles closer Zach Britton said he and his teammates are well aware of the hole they've dug for themselves.
"This series is over. It's disappointing," he said. "It would have been a nice time to at least stay close for the division. We should be playing better ball than what we showed. Give then credit, too. But right now, everything's not really clicking for us.
"I think you've got to be realistic about where we are at this point after losing four. It's kind of time to light a fire under our [rear ends], because those other teams playing for the Wild Card right now [Tigers, Astros, Mariners, Yankees] are right there. You kind of need to look over your shoulder if you want to live in reality. You can't just assume if we lose another game here or there that it's OK."
While the O's have used up their margin for error, the Red Sox have built a cushion. Which, of course, has huge postseason implications.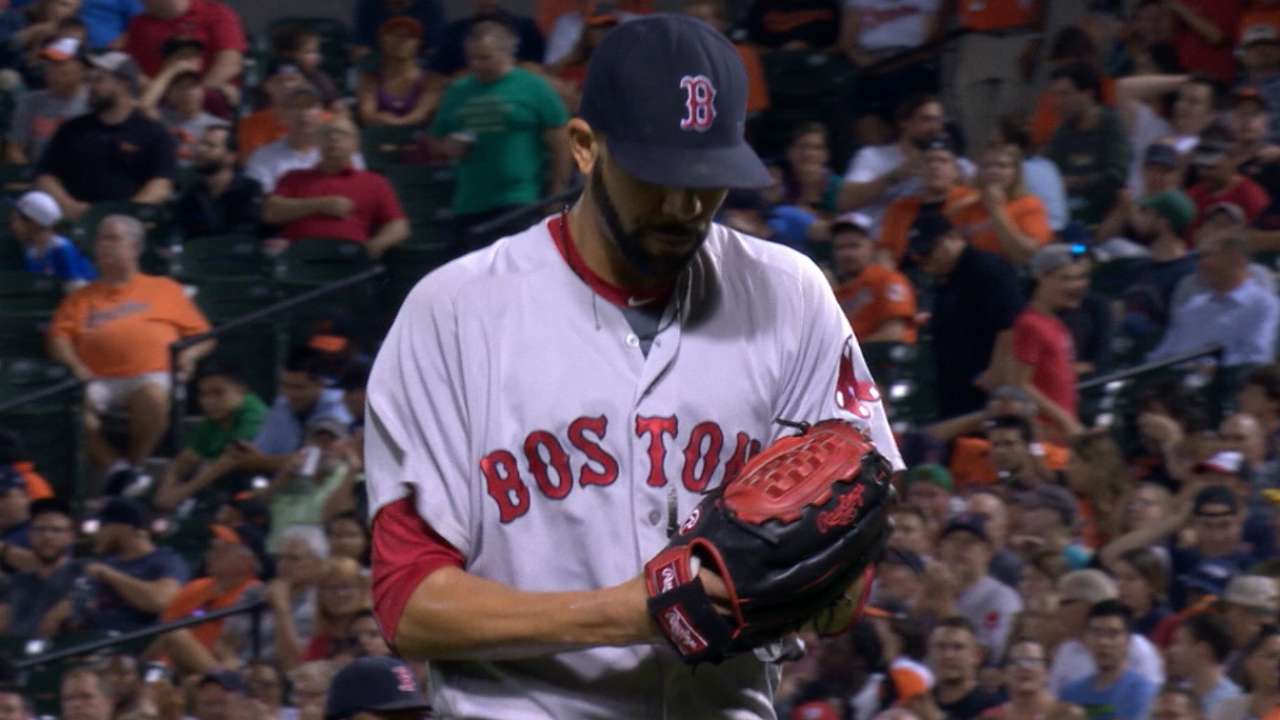 Ace left-hander David Price, who improved his record to 17-8 with seven strong innings, is on track to start on the final day of the regular season as it stands now. And 21-game winner Rick Porcello is lined up for a possible win-or-go home AL Wild Card Game. Which makes sense.
Clinching with some breathing room, though, would allow Farrell to start Price and Porcello in the first two games of the AL Division Series ... and still have both fully rested for a decisive Game 5, if needed. It would also give the manager a chance to rest some of his regular position players down the stretch.
The Orioles, conversely, came into the series with a mathematical chance to take over first place. Instead, they now find themselves in a dogfight to get into the playoffs as a Wild Card team.
"I'm not surprised by anything done by human beings in our world or sports," manager Buck Showalter said. "We knew Boston was capable of this kind of baseball. Unfortunately, the timing has been tough. There's not a huge margin, but at this level, things can snowball one way or the other.
"People look at the big picture of it, and rightfully so. And it looks tough. ... It's all about riding the good times and shortening up the bad times as much as you can. ... And we're going to try shortening this one up starting [Friday]."
Losing games and ground in the standings isn't the only misfortune that the O's experienced during the series, either. Gausman, who has a 2.16 ERA in his past five starts, including Tuesday night against the Red Sox, will not pitch Sunday as scheduled because of an intercostal issue. And No. 1 starter Chris Tillman lasted just 1 2/3 innings Thursday night while giving up three quick runs.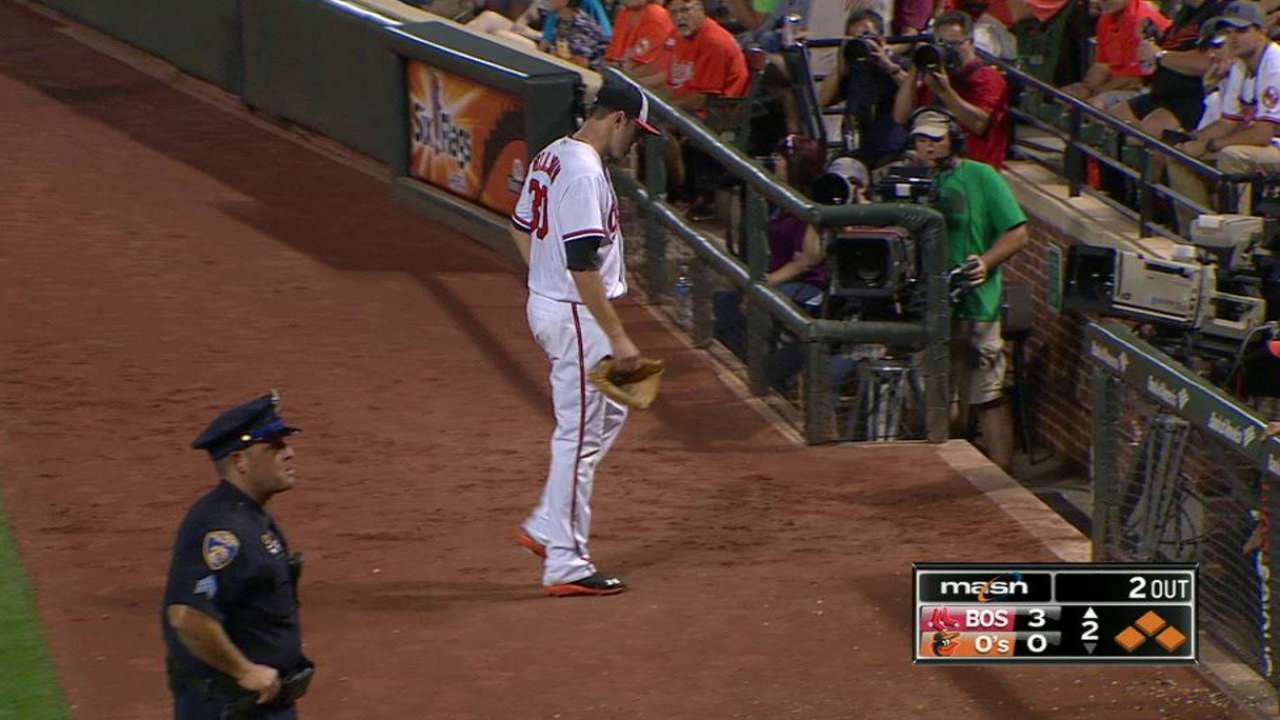 Meanwhile, a lineup that leads the Major Leagues in home runs scored eight runs in the four games. Concern about the cold bats became so acute that Showalter had the infield play up in the second inning after Jackie Bradley Jr. led off with a triple. (It didn't work. Catcher Sandy Leon lined a single between first and second to drive in the run. That's the kind of week it's been for the Orioles.)
Showalter's comments as the series wore on, in fact, provide a useful map road map to how quickly hopes and expectations changed.
Before Monday night's game, with Baltimore just three games out, the manager noted that Wild Card contenders from different divisions play vastly different schedules. Then he shrugged.
"It is what it is," Showalter added. "If you don't like it, win your division and you don't have to worry about it."
Nobody wearing orange is talking about winning the division now.
Despite it all, the O's still control their destiny. If they play well enough in their last nine games against the D-backs, Blue Jays and Yankees, they can still make it to the postseason. After that, anything can happen.
But when the Red Sox departed Oriole Park at Camden Yards late Thursday evening and boarded the buses that would take them to the airport for their charter flight to St. Petersburg, there was no denying that those four games had completely rewritten the scripts for both clubs. Now everything is going Boston's way.
Paul Hagen is a national columnist for MLB.com. This story was not subject to the approval of Major League Baseball or its clubs.