Pitching propelling Majors' top hitting team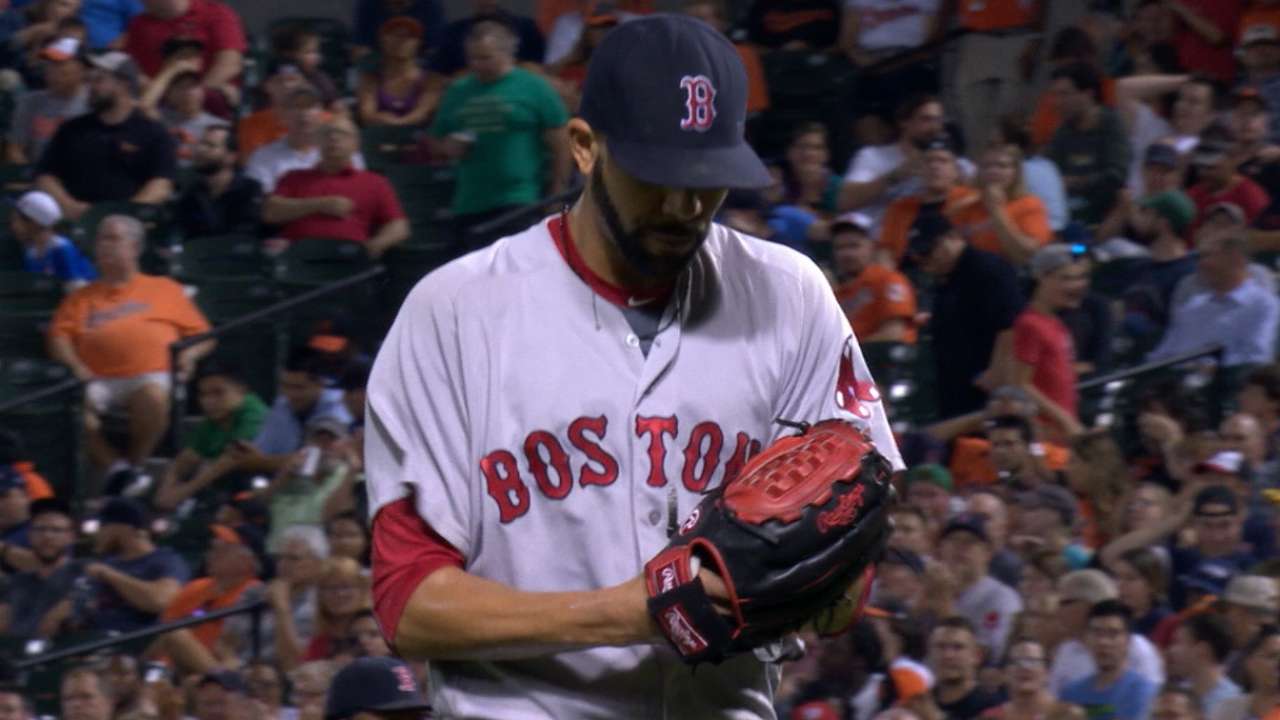 BALTIMORE -- Here come the Red Sox, not only roaring down the stretch, but doing so with the type of pitching that looks poised to take them deep into October.
Remember those days in May and June when Boston seemed to routinely win by football scores, but there was concern that the pitching wouldn't be deep enough or successful enough when it mattered most?
That has all changed here in the season's final month, and it was never more evident than in the four-game sweep of the Orioles that was completed with Thursday's 5-3 victory.
In each game, the offense scored five runs. The pitching staff held the dangerous Orioles to 2-2-1-3 in the four games.
For the month, Boston's pitching staff has a 2.80 ERA, second in the Major Leagues to the Dodgers. The Red Sox are 15-5 in September, and have won eight in a row. The scorching run has led to a commanding 5 1/2-game lead in the American League East with just nine games left in the regular season.
"It begins and ends with starting pitching," said Red Sox manager John Farrell. "As long as we're able to keep a game under control, we like the way we're able to build some innings offensively."
David Price (17-8, 3.91 ERA) was the one who set the tone Thursday, firing seven innings while allowing three runs (all on a homer by O's prospect Trey Mancini) and striking out five.
The bullpen, meanwhile, has been utterly dominant in September, allowing five runs in 54 1/3 innings for a 0.83 ERA -- best in the Majors.
"Our bullpen has been phenomenal," said Price. "Our starters have thrown the baseball well as a group. Whenever you can have that going, and you throw in the best offense in baseball, that's a formula for success. That's what we've done and we got to keep doing it."
In this statement series against the Orioles, AL Cy Young Award candidate Rick Porcello led off with a complete game, and Eduardo Rodriguez, Clay Buchholz and Price all went seven for their victories.
"What [pitching coach] Carl [Willis] and [bullpen coach] Dana [Levangie] have done, and just the confidence these guys have, you see it building and picking up steam here as we get to the end," said assistant pitching coach Brian Bannister. "It's been tremendous. This is a professional group of guys, and I think they're coming into their own and bonding as a staff."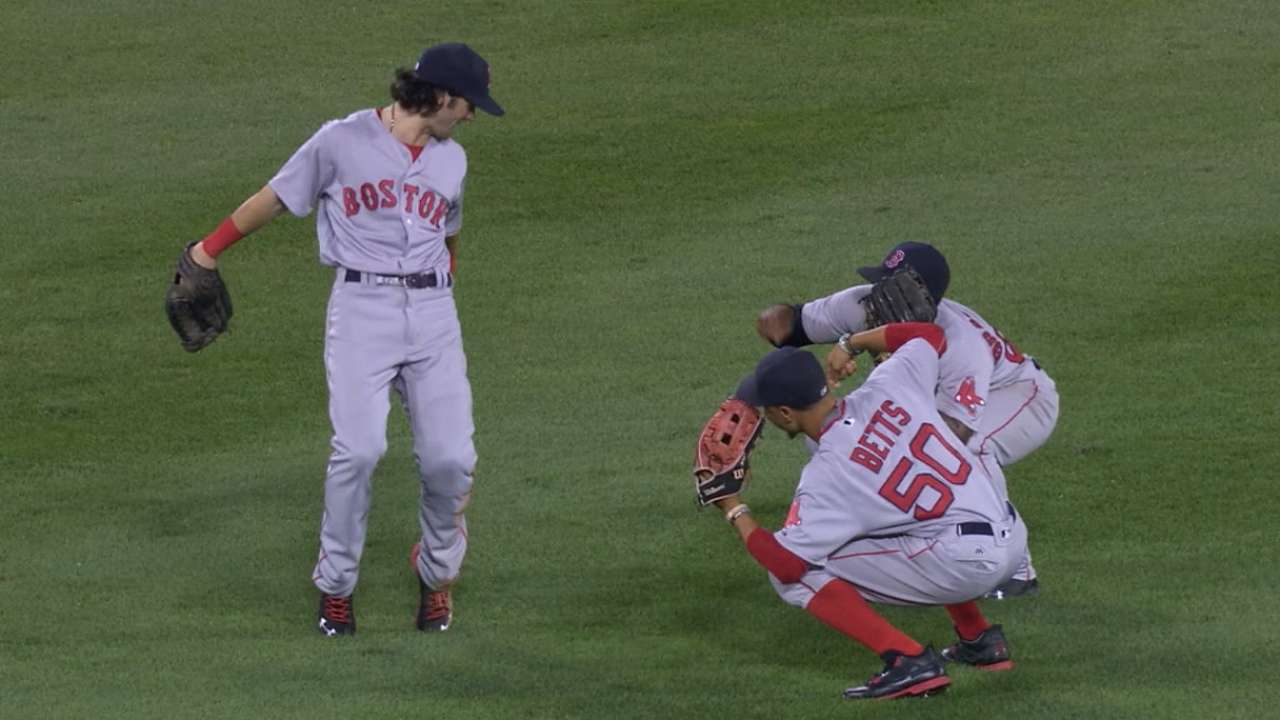 Farrell's late-game handoff to Koji Uehara for the eighth and Craig Kimbrel in the ninth is an imposing formula for the opposition.
Uehara has been marvelous in his return from the disabled list on Sept. 5, firing eight straight scoreless outings while allowing no walks and striking out 10. Kimbrel didn't have a great first half, but he has been electric since returning in August from left knee surgery.
"Koji has been phenomenal since he's come off the disabled list. The stability of those last innings when we're looking to close games out, that has been very, very good," Farrell said.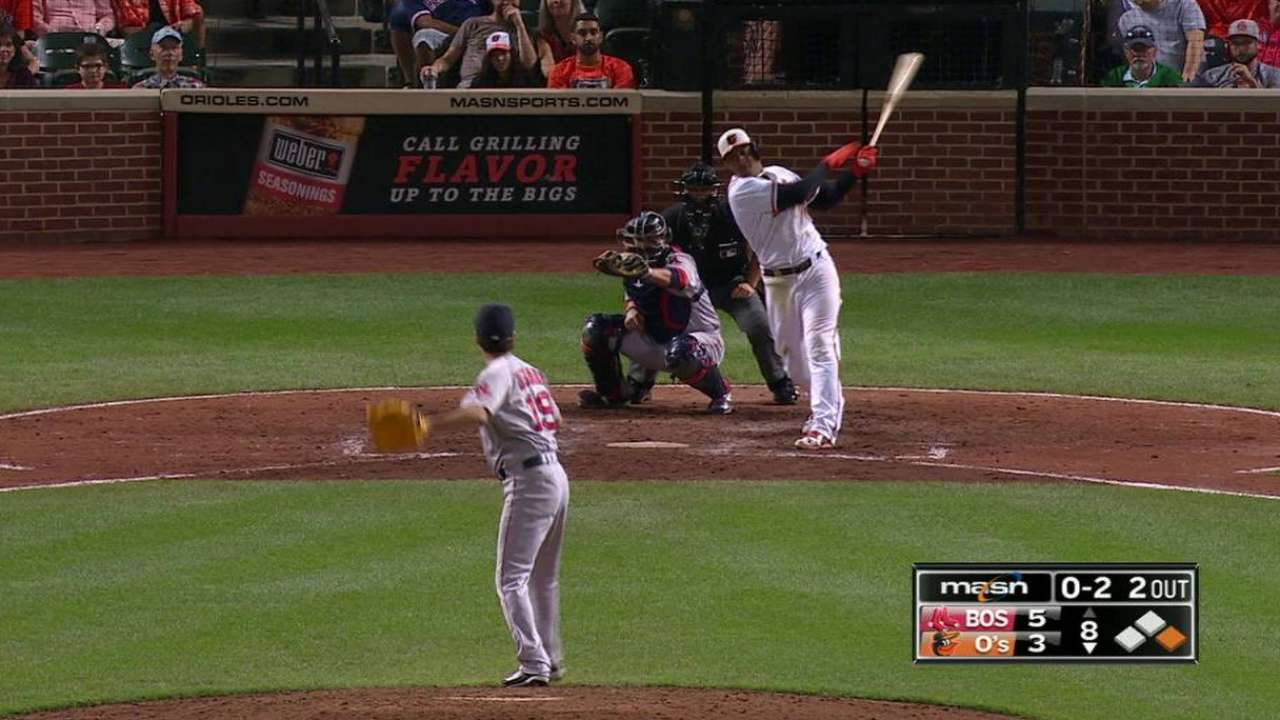 Now that the standings have loosened, Farrell will be able to manage the workload of his starters and relievers over the final nine games.
Meanwhile, the Red Sox left Baltimore with sky-high confidence, and for good reason. Pitching is what wins at this time of year.
"I always believed in our starting pitching," said David Ortiz. "It was just a matter of time. The way they're approaching the game, the way they're doing things, you're seeing a difference the second half of the season."
Ian Browne has covered the Red Sox for MLB.com since 2002. Follow him on Twitter @IanMBrowne and Facebook. This story was not subject to the approval of Major League Baseball or its clubs.