Kemp's 3rd multi-HR game of year helps Braves surge
Slugger proving valuable to Atlanta after trade from Padres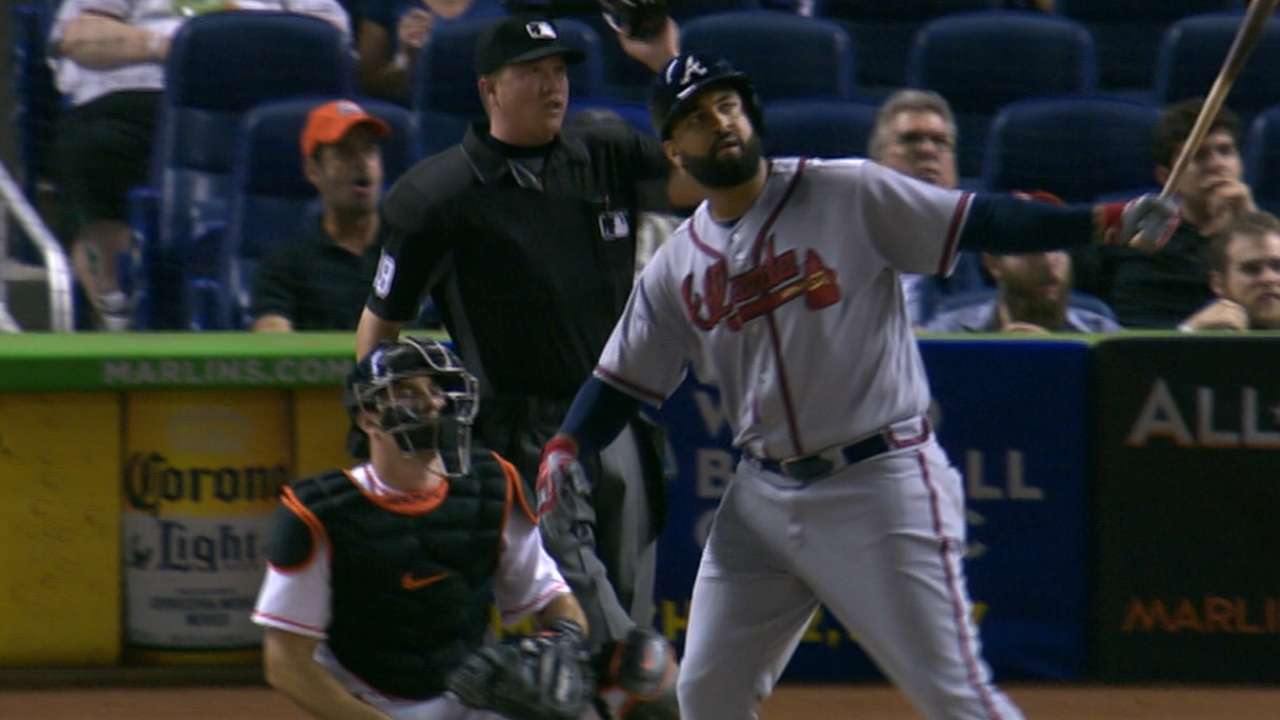 MIAMI -- It appears the rumors about the demise of Matt Kemp's career were a bit premature. After being given away in exchange for cost savings for the Padres on July 30, the former Most Valuable Player Award candidate is providing the Braves more reason to believe they soundly gambled on his future.
Kemp extended his torrid September as he hit a pair of home runs and helped the Braves extend their winning streak to six games with a 6-3 victory over the Marlins on Thursday night at Marlins Park. This was the veteran outfielder's 10th career multi-homer game and third of this season. He never previously produced more than two in a season.
"He's a really good player," Braves manager Brian Snitker said. "He's a big, strong man. When he swings that bat, it goes. He's got a great attitude about things, and he's competing. He doesn't panic when he's at the plate. I guess that's why he drives in a hundred runs all the time. That's good to see."
This latest power display served as an early birthday present for Kemp, who turns 32 on Friday. Though he might no longer be blessed with the athleticism he had when he hit 39 homers, stole 40 bases and finished second in the National League MVP balloting in 2011, he's still proven to be a legitimate threat, as he has tallied 33 homers and 104 RBIs while producing an .804 OPS and a 110 Weighted Runs Created Plus.
Not bad for a guy who the Padres traded to the Braves to save $32 million and then release Hector Olivera -- the only player they gained in the deal. Kemp's home run and RBI totals were only previously trumped in 2011.
"I think the most important thing is to be more consistent throughout the year," Kemp said. "Some people say, 'He's a second-half player.' But some of those years I've had good seasons, I've started out hot. For me, it's just being more consistent and having more consistent months."
According to Statcast™, Kemp's first home run on Thursday -- a two-run shot in the third inning off Jose Urena -- traveled a projected 398 feet. His second homer -- a sixth-inning solo shot off Mike Dunn -- was another no-doubter that traveled a projected 401 feet over the left-center field wall.
Since joining the Braves, Kemp has hit .295/.346/.521, collected 10 home runs and provided the red-hot Freddie Freeman some peace of mind while batting behind him. Kemp's production has been even more impressive this month, as he has hit .361/.402/.675 and tallied seven homers through 92 plate appearances.
"It's been an easy transition," Kemp said. "Everybody has helped me out with getting to know the city and getting around and knowing the organization. It's been fun. Hopefully, we'll keep this thing going."
Mark Bowman has covered the Braves for MLB.com since 2001. This story was not subject to the approval of Major League Baseball or its clubs.