Realmuto provides power, stresses urgency
Catcher hits career-high 11th homer of season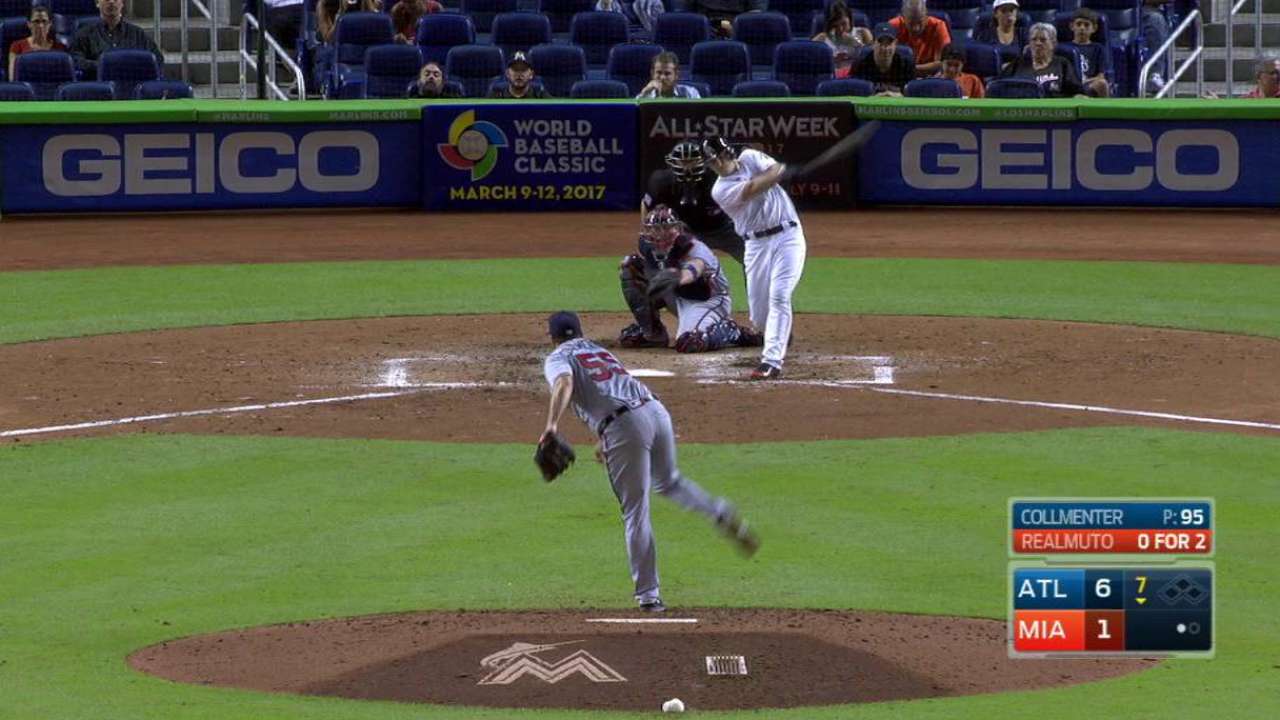 MIAMI -- There was little doubt the ball would leave the park on Thursday. The question was: Where would it land? J.T. Realmuto put a charge into a Josh Collmenter's cut fastball in the seventh inning, and he set a career high for home runs in a season.
The solo shot also gave the Marlins a bit of hope of a comeback on a night Matt Kemp blasted two homers and the Braves prevailed, 6-3, at Marlins Park.
As a rookie in 2015, Realmuto went deep 10 times. He is now at 11.
According to Statcast™, the homer traveled a projected 432 feet from home plate with an exit velocity of 106 mph.
It was another reminder that Realmuto, one of the promising young catchers in baseball, is a threat in a number of ways.
"J.T. is a physical kid," manager Don Mattingly said. "He's a really good athlete and a solid part of our core moving forward. A guy you can count on, plays the game right, has the right mentality. A guy you really feel like, 'Hey, he's a guy I'll keep all day long, and I'll go to battle with him.' He's one of those guys who is part of what we're doing right now, figuring out who is who."
Realmuto also is getting his first taste of meaningful games in September. And on a night the Marlins fell under .500 (76-77) and were unable to make up ground in the National League Wild Card standings, the Oklahoma native noted the team needs to pick things up and make a push in the final nine games.
"We're the underdog right now," he said. "We've got to go out there and have fun and play the best we can, and hopefully good things will happen."
The Marlins fell behind by five runs in the third inning, and they didn't get their first hit until two outs into the home half of the frame.
After taking two of three from the Nationals, the Marlins understand the urgency to elevate their game.
"It's one of those things where we've got to be able to play more consistent as a ballclub," Realmuto said. "Coming off a big series win from Washington like that, and coming in and starting off really slow tonight, it's not something we need this late in the season. We need kind of to get on a run and get consistency out of our lineup and our pitching staff. That's something we've been struggling with.
"Right now, every game we play is the most important game of the season. We have a chance to do something special here, but we've got to get hot and go on a run to do it."
Joe Frisaro has covered the Marlins for MLB.com since 2002. He writes a blog, called The Fish Pond. Follow him on Twitter @JoeFrisaro and listen to his podcast. This story was not subject to the approval of Major League Baseball or its clubs.