Yankees know they must win '11 out of 10'
'Baby Bombers' share a laugh before prepping for key Toronto series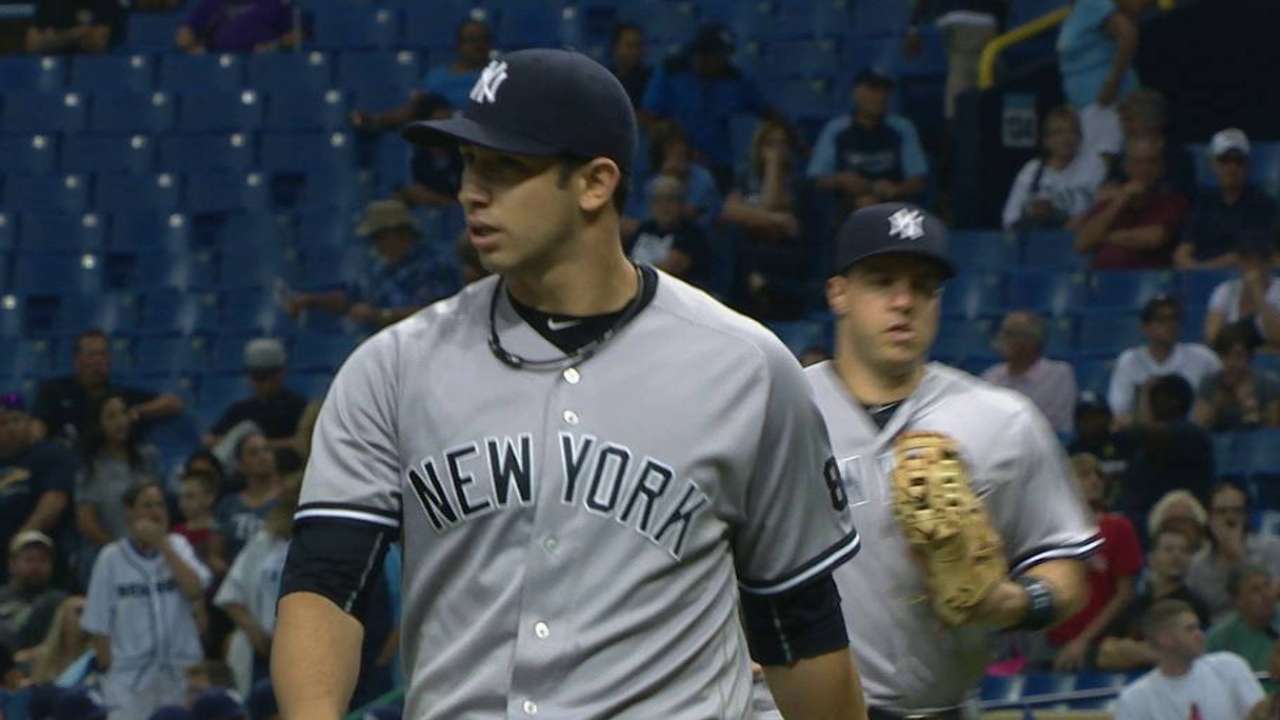 ST. PETERSBURG -- When the Yankees came off the field on Thursday, their rookies quickly discovered lockers that had been tampered with. Their clothes had been hidden for the charter flight to Toronto, replaced with true "Baby Bombers" outfits that came complete with fuzzy footie pajamas and bonnets.
So the Yanks had a few laughs as newcomers like Gary Sanchez, Tyler Austin and Luis Cessa curiously eyed the onesies they would be wearing through Canadian customs. Thursday's 2-0 loss to the Rays removed some of the fun, but a loose attitude can only help in the face of what manager Joe Girardi called "the biggest series of the year."
"We've got, what, 11 games left? Then we need to win 11 games," Brett Gardner said, before someone informed him that the Yankees actually have one fewer than that. "Ten games? Then we need to win 11 out of 10."
Maybe that math will fly with the Canadian conversion rate, though it stands as clear evidence that the club recognizes how big of a challenge its climb would be to reach the second American League Wild Card.
• WC standings | 2016 tiebreaker scenarios | How to determine postseason tiebreakers
The Yankees enter Friday three games back of the Tigers but also need to jump past the Orioles, Astros and Mariners to extend their season. It is a scenario that made winning two of three games against Tampa Bay somehow feel like a body blow.
"[A sweep] would have been nice. It would have helped," Girardi said. "Every game you lose, it gets tougher. I understand that. But this is the biggest series of the year coming up."
Girardi has proudly noted how his players have refused to quit, and they can respond to another test this weekend, as the Yanks head north for a four-game showdown with the Blue Jays at what promises to be a raucous Rogers Centre.
• Mitchell, Liriano open crucial Toronto series
Coming off three relatively quiet nights at The Trop, that atmosphere should provide a jolt to the Yanks, who spoiled a solid start from Cessa on Thursday by going a sleepy 0-for-8 with runners in scoring position against Blake Snell and two relievers.
It was an outcome that Gardner wouldn't have predicted after he and Jacoby Ellsbury opened the first inning with singles.
"We left quite a few guys on base," Gardner said. "We didn't score, so you're not going to win when you don't score."
New York left the bases loaded in the third inning and had one last gasp in the ninth, as Aaron Hicks led off with a single and had moved to third base by the time Ellsbury came up with two outs. Sanchez waited on deck, but the slugging rookie was left there as Ellsbury lined out to center field against Alex Colome.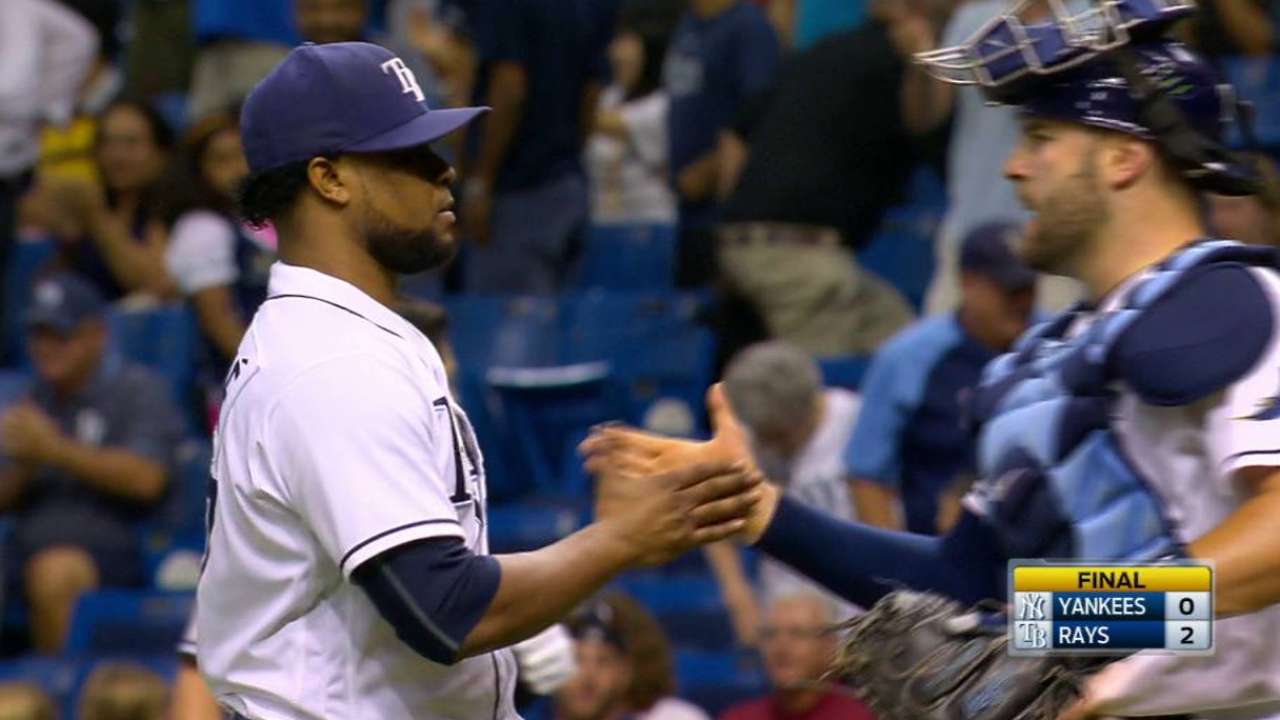 "I felt like we were going to break through if we could just keep it close, but tonight we weren't able to," Girardi said.
The Yankees' mantra has been to take things one game at a time, even though any fewer than three wins in Toronto will probably seal their fate.
Yet the sheer number of "Baby Bombers" costumes that needed to be handed out -- Richard Bleier, Ben Heller, Jonathan Holder and Ronald Torreyes tried theirs on, among others -- offered a reminder of how few people expected this inexperienced crop to still be competing this late in September.
It's a group that has been playing with little to lose. And, Gardner said, it'd be great if they could somehow avoid losing the rest of the way.
"We've got to be realistic," Gardner said. "We're not in a good spot. Toronto is a team that's ahead of us. We play them for four days, and we can make up four games if we play well. We've just got to take things one day at a time and hopefully pull off something special."
Bryan Hoch has covered the Yankees for MLB.com since 2007. Follow him on Twitter @bryanhoch, on Facebook and read his MLBlog, Bombers Beat. This story was not subject to the approval of Major League Baseball or its clubs.