Roberts calls impressive rookie Toles 'a joy'
Outfielder bats second for first time in opener vs. Rockies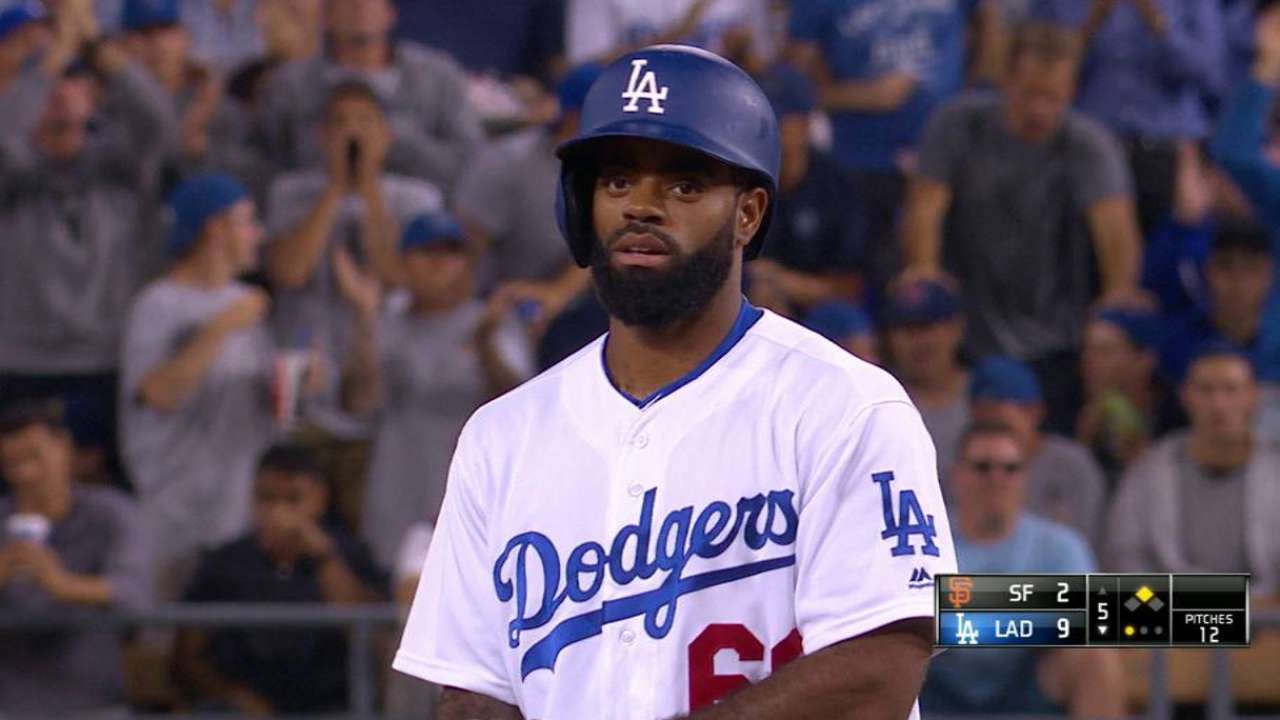 LOS ANGELES -- The Andrew Toles phenomenon is gaining momentum.
For Thursday night's series opener with the Rockies, manager Dave Roberts started the rookie in left field and put his .340 average into the No. 2 spot in the batting order, the first time Toles has batted higher than seventh this season.
Toles didn't play last year and wasn't invited to big league camp in Spring Training, yet now he's likely to be on the postseason roster, even starting against right-handed pitching. The Dodgers are 15-4 when Toles starts.
"I just think, Andrew is continuing to impress, giving us good at-bats," said Roberts. "I like his ability to run, potentially steal a base, get a guy on base, he might hit that hole."
Toles is 6-for-19 (.316) with runners in scoring position, 8-for-19 (.421) with a home run, three doubles and a triple as a pinch-hitter, and is hitting .351 against right-handed pitching (.273 against lefties). In his last 11 starts, he has a 1.028 OPS.
On the first pitch he saw in the Major Leagues, he doubled. Roberts said Toles has a naiveté that allows him to keep the game simple.
"I hope he never wakes up," Roberts said. "I send him a text that he's playing, I get an 'OK.' And when he's not in the lineup he does his work and is ready for a pinch-hit at-bat later. He's a joy."
Ken Gurnick has covered the Dodgers since 1989, and for MLB.com since 2001. This story was not subject to the approval of Major League Baseball or its clubs.