Kemp's 2 HRs lead win vs. WC-seeking Fish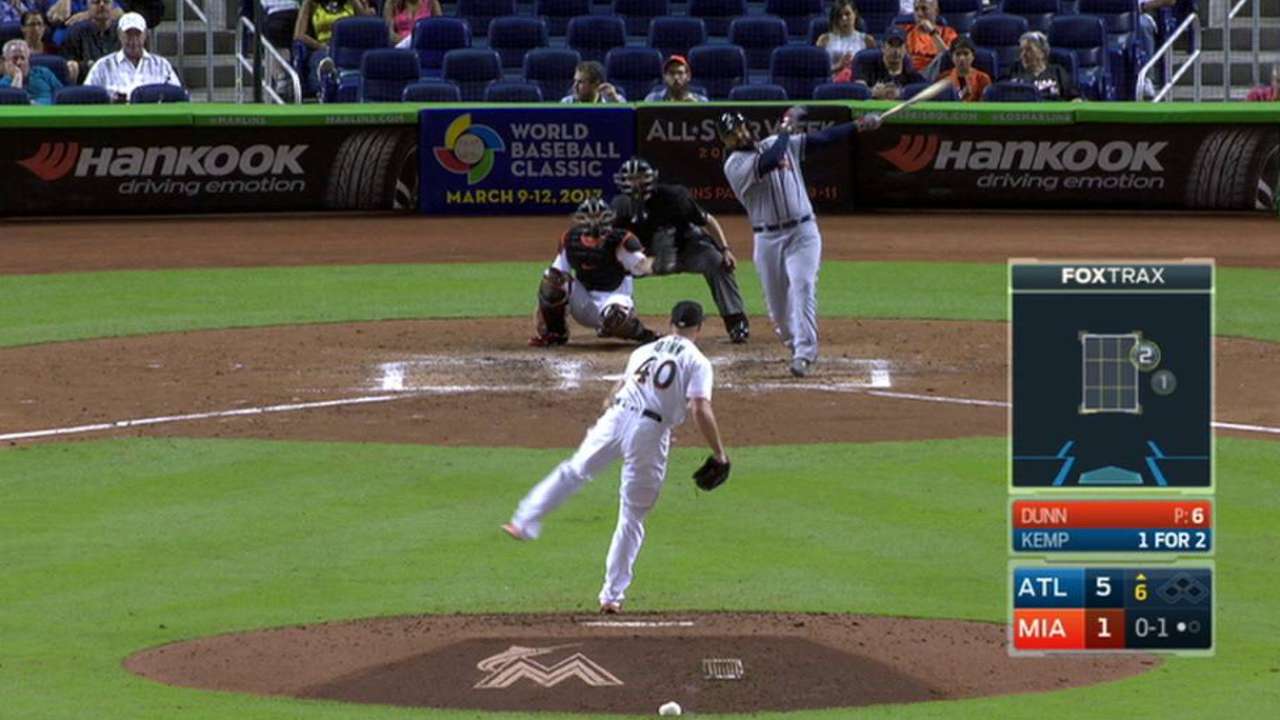 MIAMI -- The Braves continue to play for more than pride. The way they've heated up, they're spoiling the postseason plans for a couple of National League East rivals. Matt Kemp belted two home runs and Josh Collmenter gave up two runs in seven innings on Thursday night in Atlanta's 6-3 win over Miami at Marlins Park.
After a three-game sweep of the Mets, who are in the thick of a three-team Wild Card race, the Braves dealt a serious blow to the Marlins' last-gasp bid to sneak into the mix. Miami (76-77) is now five games back for the second National League Wild Card spot.
"They've got a good club," Marlins manager Don Mattingly said. "Offensively, you look at their club, they're going to be a good club if they get the pitching that they want, just like everybody talks about. They're going to be a dangerous club."
The Braves, winners of six straight, struck for four runs with two outs in the third inning off Jose Urena, breaking open a five-run lead. Freddie Freeman's two-run single extended his hitting streak to 26 games and his streak of reaching successfully to 42 games. Kemp's two-run homer gave Atlanta five runs before Miami had as much as a hit. Kemp added a solo shot in the sixth off Mike Dunn.
Collmenter limited the Marlins to a run in the third inning on Marcell Ozuna's RBI single and J.T. Realmuto's solo homer in the seventh.
"When you walk into this [Braves] clubhouse, you wouldn't be able to tell where they're at in the standings, whether they're in first or last or whatever," Collmenter said. "Every day the guys come in, there's a lot of energy and a lot of excitement. It's fun to see that."
The Braves improved to 10-6 against the Marlins in the season series. Atlanta has now notched two six-game winning streaks in their past 22 games. Three of the five wins the club totaled in April came during an early-season trip to Miami.
"This is not some team that's not beating anybody," Mattingly said of Atlanta. "They just swept the Mets. They've got a club that's on the move, and moving in the right direction, it looks like."
MOMENTS THAT MATTERED
Scrap heap value: The Braves used cash to acquire Collmenter from the Cubs last week simply because they were running out of internal options to fill their injury-depleted rotation. The veteran, who spent most of this season in Arizona's bullpen or at Triple-A with Chicago, produced a solid start against the Nationals on Saturday and then delivered this seven-inning gem that included 106 pitches -- his highest total at any level since April 17, 2015.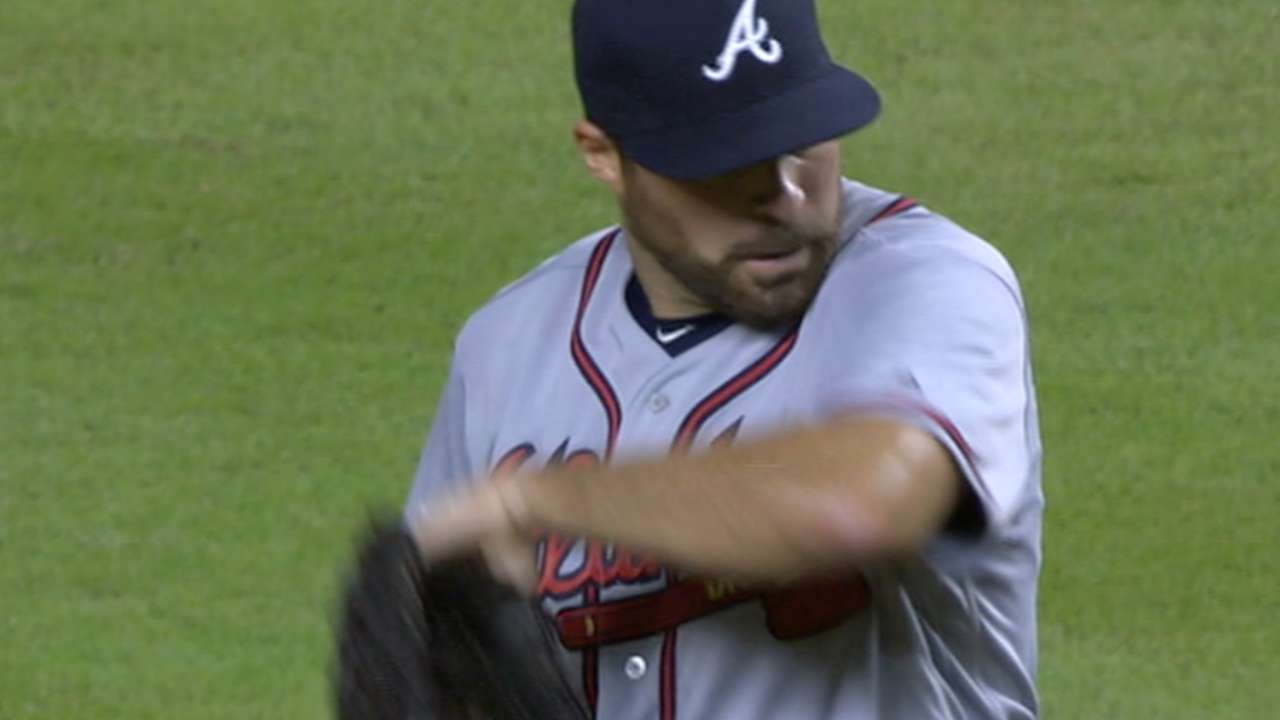 "He's definitely helped us," Braves manager Brian Snitker said. "We definitely needed stabilization with some of the holes in the rotation. He's been really good."
No. 11 for Realmuto: Realmuto gave Miami a blast of energy with his solo home run with one out in the seventh inning, which made it a four-run deficit. For the Miami catcher, it was his 11th blast of the season, a personal high. In 2015, his rookie year, he finished with 10.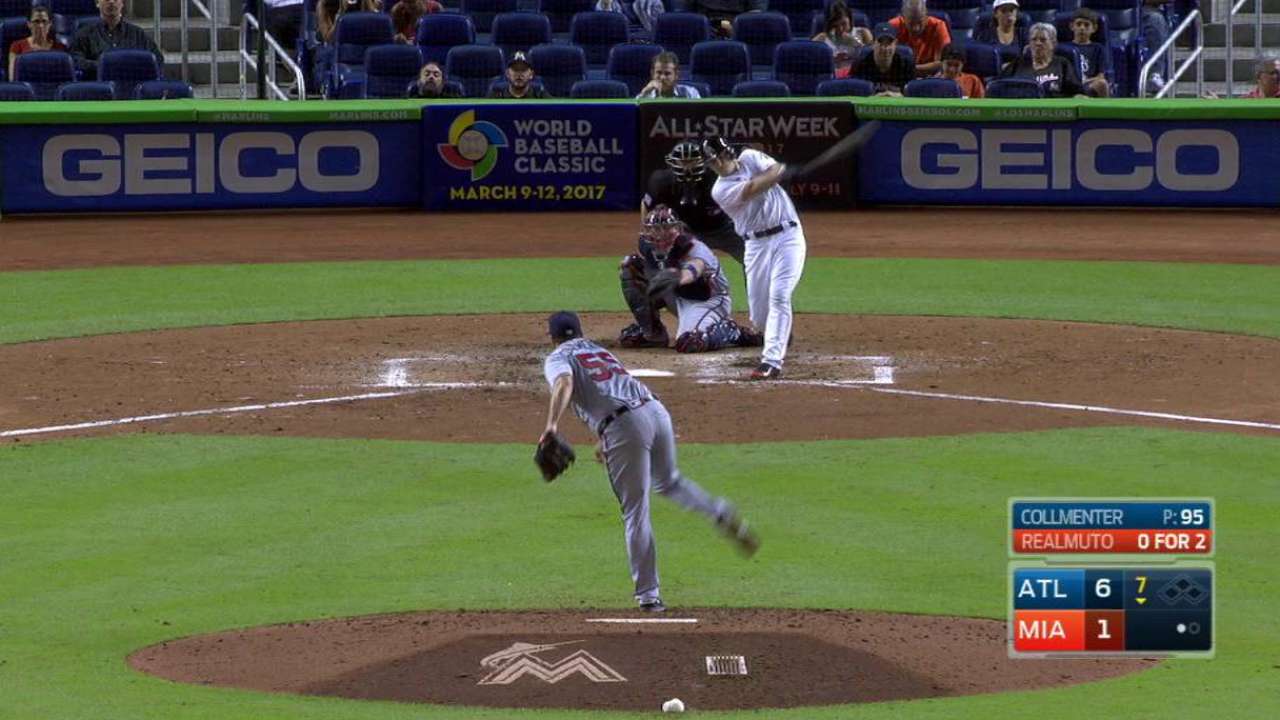 "He's one of those guys who is part of what we're doing right now, figuring out who is who," Mattingly said. More >
Streaks extended: Freeman fueled the four-run third with a two-run single that extended his on-base streak to 42 games -- 10 games short of Gary Sheffield's Atlanta record -- and his hitting streak to 26 games -- seven games shy of Dan Uggla's Atlanta record. Kemp followed with a two-run shot for his 10th career multi-homer game and third this season. He never previously had more than two in a season.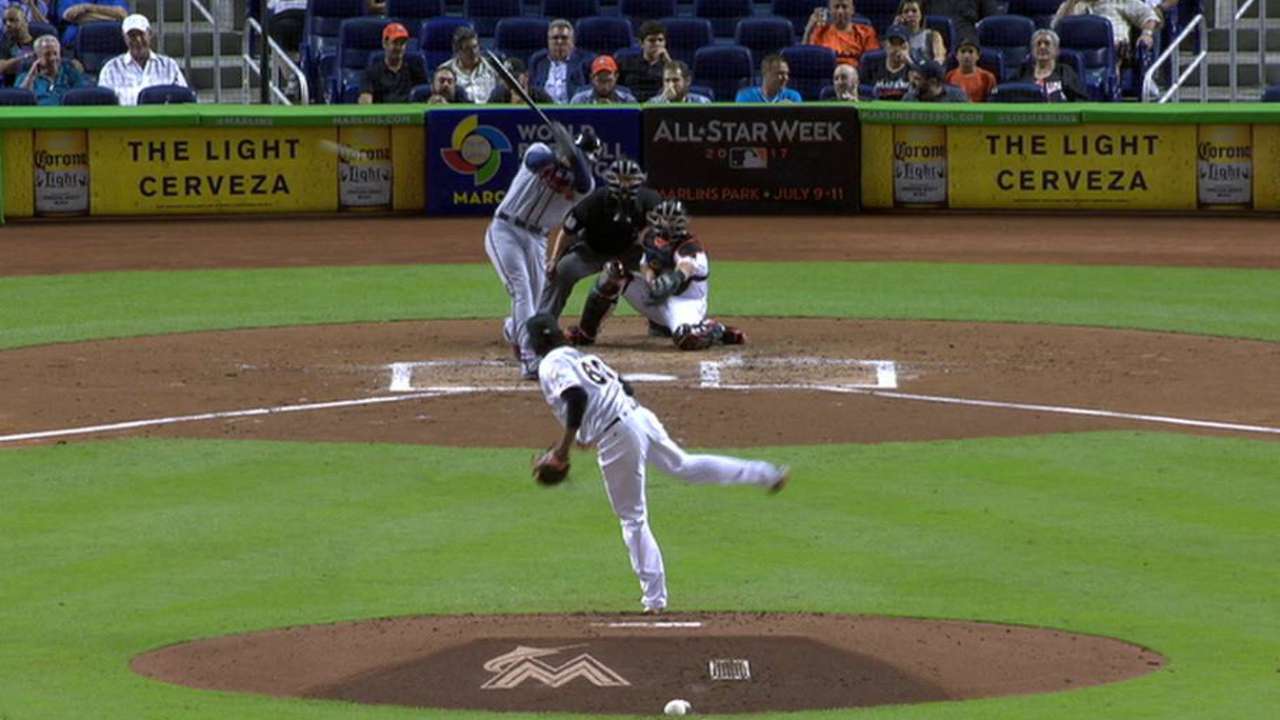 "Honestly, I wish we could be in the playoffs right now or be in a playoff race, because it's way more fun doing those types of things when you're in a race," Kemp said. "But for us to finish strong and show what this team and offense is capable of is very important for next year." More >
Early-inning woes for Urena: For the second straight start, Urena made an early exit. The 25-year-old was lifted after three innings and 48 pitches after he gave up five runs on four hits. The big damage came with two outs in the third, as Freeman lined a two-run single to right and Kemp broke open a five-run lead with a two-run homer to left. The slow start for Urena followed up his two-inning, seven-run outing at Philadelphia on Saturday. Since he threw 8 2/3 scoreless innings against the Dodgers at Miami on Sept. 11, Urena has allowed 12 runs in five innings.
"The last couple of starts, I've been leaving the ball a little bit high," Urena said. "Sometimes when we're down in the count, that causes those hits and things like that."
QUOTABLE
"We've got to create the mentality where it's like, let's play out by out, inning by inning, and put good at-bats as a team. I think we didn't do that today. That's basically, when you put pressure on the other team, you start doing that, you start having a good approach, good at-bats. You start playing good defense, and you start doing the little things." -- Marlins third baseman Martin Prado, on team trying to do too much
STANTON SITS AFTER SEVEN
The Marlins have been monitoring Giancarlo Stanton's time in the field since he returned from the disabled list on Sept. 6 after he had been out since Aug. 13 with a Grade 3 left groin strain. So it wasn't too surprising that the 26-year-old right fielder was replaced after the seventh inning. However, in the top of the frame, on Ender Inciarte's base hit to right, Stanton appeared to have perhaps aggravated his leg while collecting the ball to get back to the infield. He stayed in the game and trotted off the field after the third out. But he didn't get one more at-bat after going 0-for-3.
Mattingly said he hadn't been told if anything was physically wrong with Stanton.
"If something happened, I'll hear later or tomorrow," Mattingly said.
Ichiro Suzuki took over in right.
WHAT'S NEXT
Braves: Matt Wisler will take the mound when Atlanta resumes this four-game series on Friday at 7:10 p.m. ET. Wisler has allowed a season-high 10 hits in both of the previous starts made against the Marlins this season.
Marlins: Andrew Cashner gets the start on Friday. The right-hander gave up seven runs in two innings in a no-decision in Atlanta on Sept. 12.
Watch every out-of-market regular-season game live on MLB.TV.
Mark Bowman has covered the Braves for MLB.com since 2001.

Joe Frisaro has covered the Marlins for MLB.com since 2002. He writes a blog, called The Fish Pond. Follow him on Twitter @JoeFrisaro and listen to his podcast.

This story was not subject to the approval of Major League Baseball or its clubs.