'Consistent' Samardzija gives Giants big outing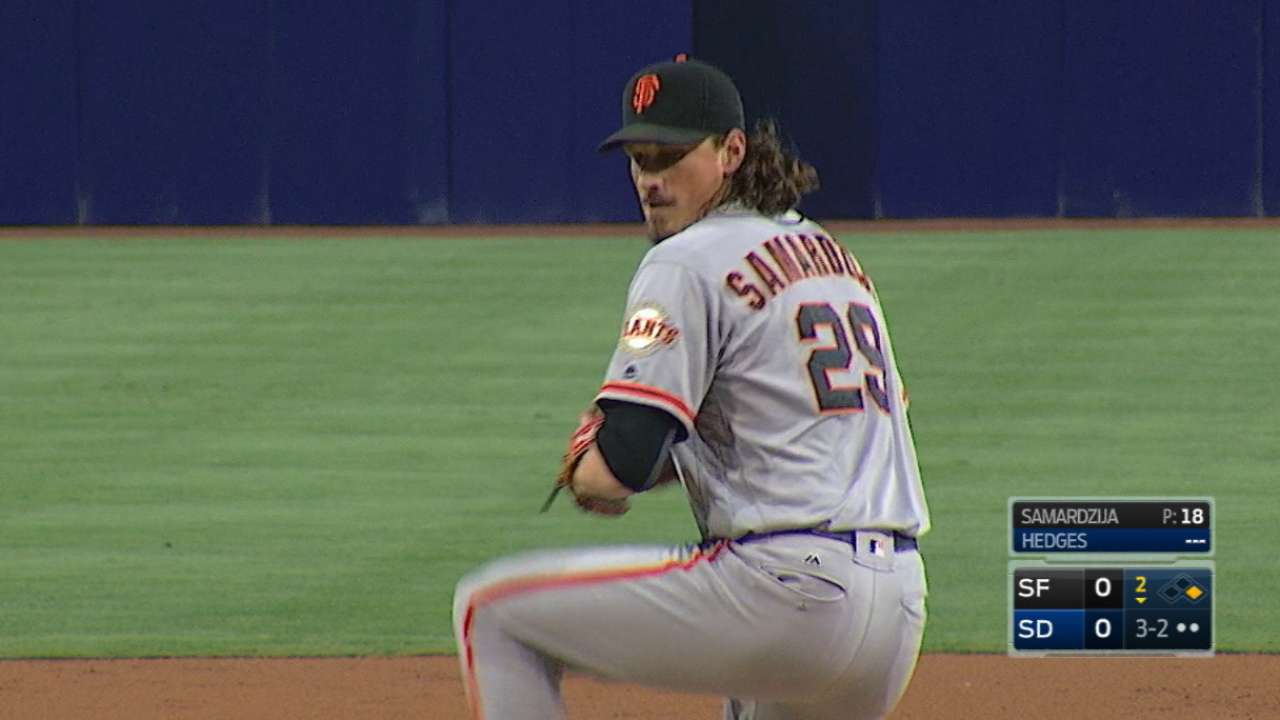 SAN DIEGO -- The power of Jeff Samardzija's pitching Thursday night created the distinct impression that he could have lasted into the 10th inning or beyond against the Padres.
Of course, working overtime was unnecessary for Samardzija and the rest of the Giants, who mustered a pair of eighth-inning runs and made them stand up in a 2-1 triumph over San Diego at Petco Park that kept San Francisco in possession of a National League Wild Card spot.
Samardzija (12-10) continued to demonstrate why the Giants signed him to a five-year, $90 million contract last offseason. He blanked San Diego on four hits through seven innings, matching a season high with nine strikeouts and allowing one Padre to reach scoring position.
Samardzija has relied on consistent mechanics to compile a 2.48 ERA in his last 10 starts. Giants manager Bruce Bochy pointed out that Samardzija's precise delivery has made a difference.
"He's so consistent with it," Bochy said. "That's probably the biggest thing, because it has enabled him to command the ball as well as he's doing. He's got good movement on his fastball, and [velocity] with it."
The Giants wanted a starter capable of amassing 200 innings, a figure Samardzija exceeded during the previous three seasons. The right-hander will extend that streak to four by pitching 2 2/3 innings in his next start.
"That's obviously part of the deal, what intrigued us about him -- his stuff and how strong he is and the innings he can log," Bochy said. "He's a horse you can ride."
Samardzija reached the winner's circle by subduing a lineup that included three Padres -- Manuel Margot, Hunter Renfroe and Carlos Asuaje -- starting their first Major League games. Renfroe stroked a pair of singles, but otherwise, Samardzija maintained the dominance expected of him.
"Right from the beginning, you could tell he had his stuff tonight," Giants second baseman Joe Panik said. "His fastball definitely had some good life to it."
That was particularly evident in the fourth inning, when Samardzija struck out the side by employing fastballs for three consecutive called third strikes, and in the sixth, when he survived his own throwing error and a Travis Jankowski single with nobody out. After inducing Margot's popup, Samardzija fanned Wil Myers and Ryan Schimpf to strand the runners.
The confrontation with Myers was illustrative. Samardzija fired a first-pitch fastball past the 2016 All-Star before ultimately striking him out with a curveball. But it was his fastball command that enabled him to excel with a secondary pitch.
"I'm going to throw my fastball in the zone and live and die by it," Samardzija said. "When it's really going where you want it, you know you're going to have a good day."
Chris Haft has covered the Giants since 2005, and for MLB.com since 2007. Follow him on Twitter at @sfgiantsbeat and listen to his podcast. This story was not subject to the approval of Major League Baseball or its clubs.