In key start, Tillman doesn't make it out of 2nd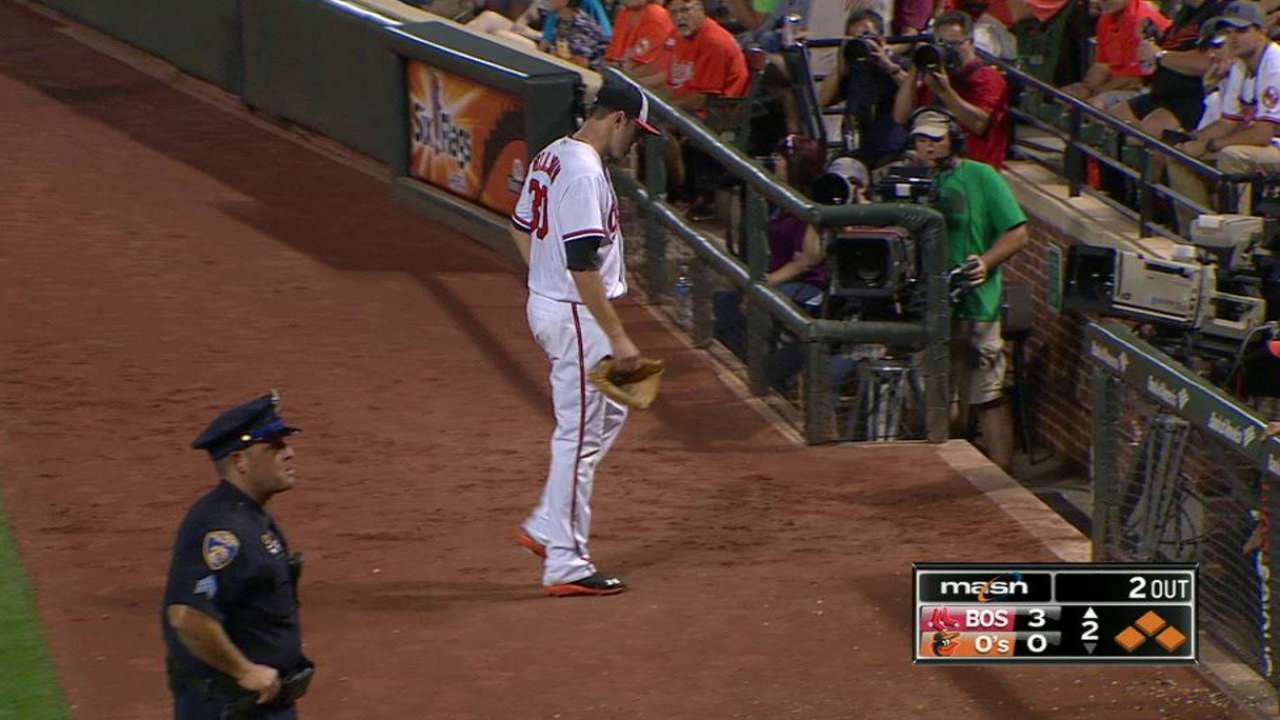 BALTIMORE -- Chris Tillman has been the starter the Orioles could rely on when things weren't going well this season. Twice the Orioles have lost five straight games, and twice Tillman has played stopper.
The Orioles were hoping Tillman could do it again Thursday night, this time in the midst of a tight American League Wild Card race. The veteran righty couldn't rise to the occasion though, lasting just 1 2/3 innings in a 5-3 loss as the O's were swept at home by Boston in a four-game series for the first time since 2002.
"That's disappointing to feel that good and not get the team deep into the game or give the team a chance," Tillman said. "It's frustrating."
Tillman's shortest outing of the season leaves the Orioles outside of the playoff picture for the first time since Sept. 6. They trail the Tigers by a half-game for the second AL Wild Card spot entering a critical three-game set with the D-backs in the O's final home series of the regular season.
Baltimore is starting Yovani Gallardo, Wade Miley and Dylan Bundy, all of whom have an ERA over 6.00 in their past seven starts. While Tillman couldn't deliver Thursday, the Orioles will need their other starters to bounce back this weekend.
For Tillman, the good news was he said his right shoulder, which forced him to go on the disabled list Aug. 24, felt great. It was his command -- it took him 63 pitches to get five outs -- that wasn't there.
"I was just mechanically bad tonight," Tillman said. "The more I tried to make an adjustment, the worse it kind of got for me. I just couldn't hit on a consistent basis. I'd hit one and then miss three. It wasn't good. Command was bad from the get-go. I was never able to find it."
Tillman, who entered the day 16-6 with a 3.72 ERA, allowed three runs on five hits and three walks.
His short start -- a Major League-leading seventh time an Orioles starter failed to complete two innings -- dropped the Orioles to 2-6 in their last eight games. They came to Camden Yards on Sept. 15 one game behind Boston in the AL East, and now sit seven games back with nine to play.
"Believe it or not, we're still in the hunt for the playoffs," catcher Caleb Joseph said. "The way people make it seem sometimes it feels like we're 40 games under .500. That's not the case. Disappointing? Absolutely. But we didn't put the last nail in our own coffin or anything."
Ryan Baillargeon is a reporter for MLB.com based in Baltimore. This story was not subject to the approval of Major League Baseball or its clubs.