Snitker: Grab may make Inciarte Gold Glove favorite
Center fielder robs Cespedes of homer with jaw-dropping catch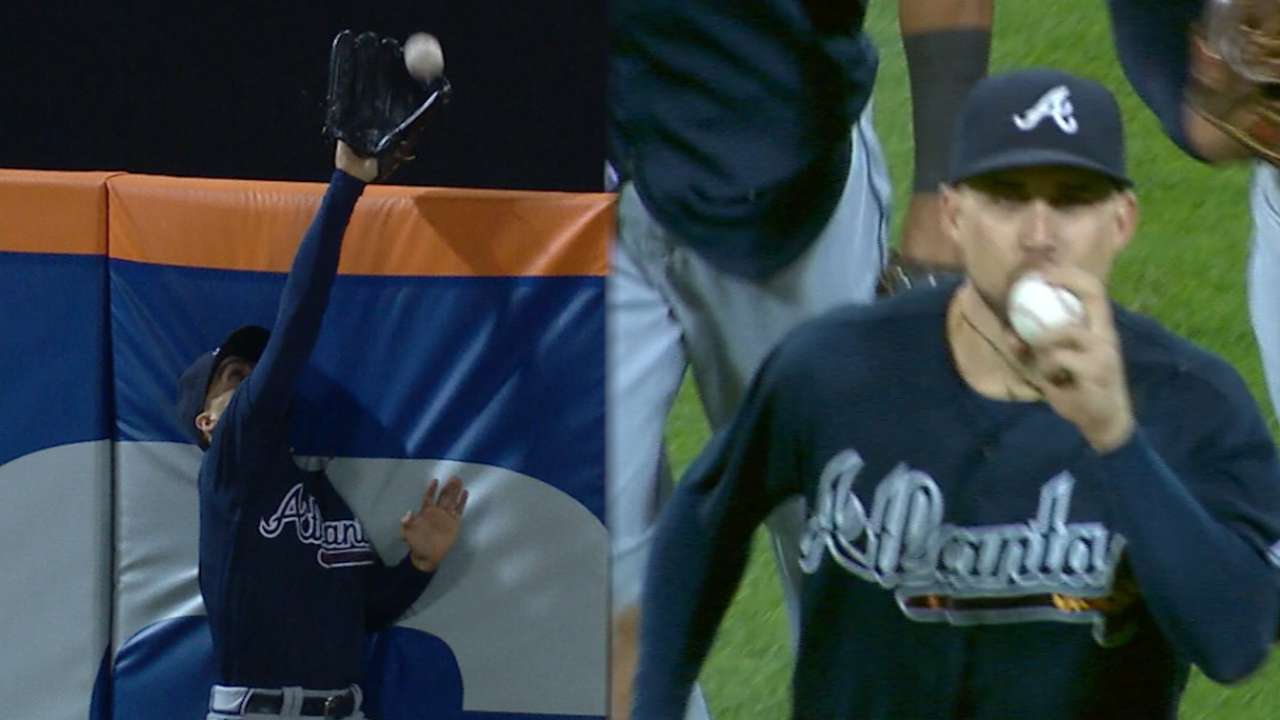 MIAMI -- As Atlanta's Ender Inciarte and Cincinnati's Billy Hamilton have spent the past couple of months producing an impressive list of defensive gems, they have become two obvious frontrunners among National League center fielders for a Gold Glove Award.
But Braves manager Brian Snitker believes Inciarte might have become the clear-cut favorite on Wednesday night, when he concluded a 4-3 win over the Mets by robbing Yoenis Cespedes of a home run with a jaw-dropping catch that immediately became widely recognized as the "Game Ender."
Longest hitting streaks over two seasons (Since 1913)
| | Player | Team | Games |
| --- | --- | --- | --- |
| 1 | Jimmy Rollins | Phillies | 38 (36 in 2005, 2 in '06) |
| 2 | George Sisler | Browns | 35 (1 in 1924, 34 in '25) |
| T3 | Harry Heilmann | Tigers | 32 (11 in 1922, 21 in '23) |
| T3 | Hal Morris | Reds | 32 (29 in 1996, 3 in '97) |
| T5 | Vada Pinson | Reds | 31 (27 in 1965, 4 in '66) |
| T5 | Ron LeFlore | White Sox | 31 (1 in 1975, 30 in '76) |
| T7 | Charlie Grimm | Pirates | 30 (5 in 1922, 25 in '23) |
| T7 | Lance Richbourg | Braves | 30 (14 in 1927, 16 in '28) |
| T7 | Sam Rice | Senators | 30 (2 in 1929, 28 in '30) |
"If that doesn't win him the Gold Glove, then I don't know what will," Snitker said. "I've been saying it all along, the guy is unbelievable."
According to Statcast™, Cespedes' drive had an exit velocity of 101.7 mph and a launch angle of 28 degrees. Batted balls with those traits go for a hit 84 percent of the time and a home run 72 percent of the time. At Citi Field, that combination, which resulted in a ball hit to that specific part of the park, would have resulted in a home run 100 percent of the time without Inciarte's thievery.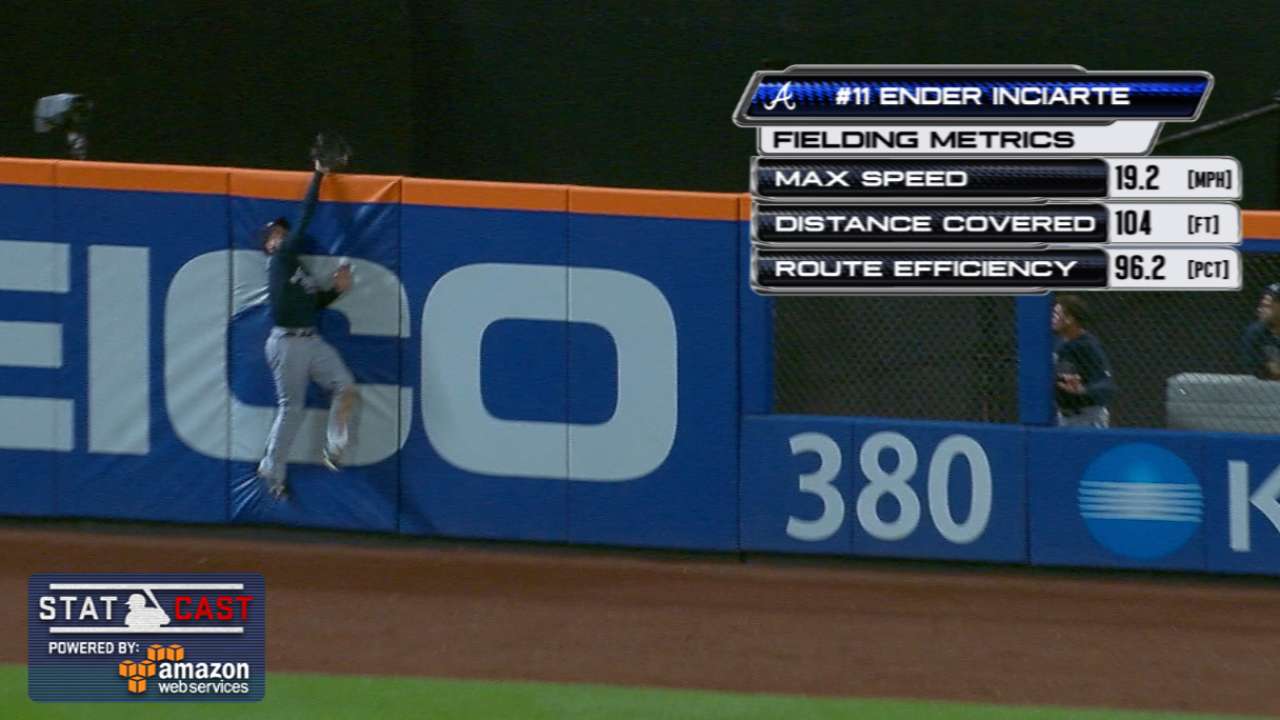 One catch certainly isn't going to determine the Gold Glove winner. But the resulting attention Inciarte has received will at least draw eyes toward the defensive metrics that have provided him a strong resume.
All Major League managers and coaches will receive Gold Glove ballots this week with the stipulation they can't vote for their own players. Over the past two years, Rawlings has used a sabermetric component to account for 25 percent of the vote selection total. The statistical data evaluated has included Defensive Runs Saved, Ultimate Zone Rating, Runs Effectively Defended, Defensive Regression Analysis and Total Zone Rating.
Despite being sidelined over the past two weeks with a left oblique strain, Hamilton still leads all NL center fielders with 14 DRS over 942 1/3 innings played at the position. Inciarte ranks second with 13.
Inciarte leads all NL center fielders with a 14.1 UZR, and Hamilton ranks second with 12.8 mark.
While the sabermetrics will influence who wins the award again this year, opposing NL managers and coaches may favor Inciarte because of his ability to influence games with both his athleticism and arm.
Fangraphs' ARM rating measures the amount of runs above average an outfielder saves with their arm by preventing runners from advancing. Inciarte leads all Major League center fielders with a 6.8 rating. His overall 9.8 rating (accounts for time spent playing left field) ranks second among all outfielders to White Sox right fielder Adam Eaton, who, like Inciarte, began his career with the D-backs.
Mark Bowman has covered the Braves for MLB.com since 2001. This story was not subject to the approval of Major League Baseball or its clubs.