J-Up keeps showing knack for clutch homers
Tigers slugger belts go-ahead blast in Game 1 vs. Twins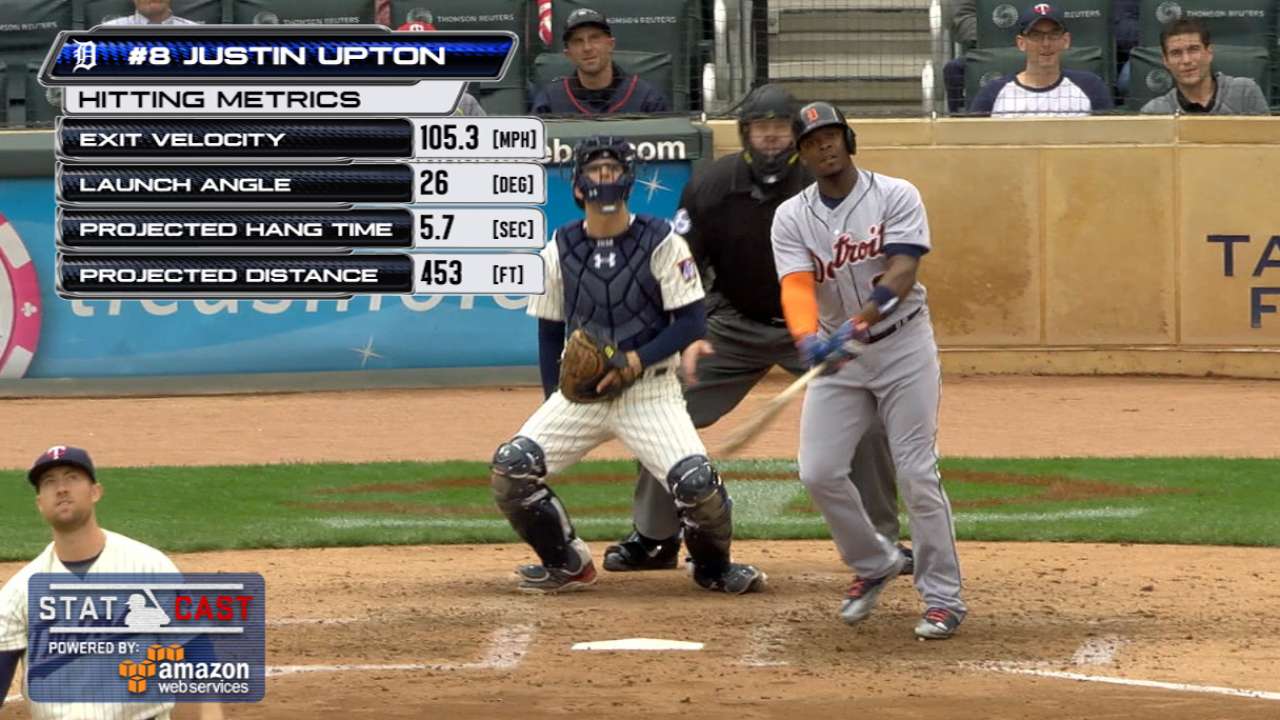 MINNEAPOLIS -- Justin Upton could feel the lethargy trapping the Tigers. They had to turn around from a Wednesday night rainout to a Thursday split doubleheader. Pat Dean, a spot starter forced into action from the Twins' bullpen, had hit his spots to keep Detroit's bats quiet. The intensity of a postseason race was tough to find.
"It was dragging a little bit," Upton said after his go-ahead homer put the Tigers up for good in a 9-2 win in Game 1. "We weren't really getting the bats going. But no matter how you get them, you've gotta get them."
It took Upton one swing to bring the Tigers back to life.
"One run in a big league ballgame isn't a lot," manager Brad Ausmus said. "But Justin Upton, in terms of being a story, think about some of the home runs he's hit over the past month."
Half of Upton's 26 home runs this season have been hit since Aug. 21, a 13-homer outburst over just 94 at-bats. But it's about more than quantity.
Six of Upton's last 13 home runs entering Thursday's nightcap had been hit in the sixth inning or later. Five of those six either tied the game or pulled Detroit ahead. Four others helped blow games open, including the two-run homer he hit off Cleveland's Trevor Bauer on Sunday.
After trying to reverse the momentum on his season after a struggling start, Upton has become a momentum-changer for the team in its playoff drive.
"He's had some big home runs throughout the month that he's gotten hot," Ausmus said, "probably as many big home runs [as anyone else] on the team, compacted into one month."
On a quiet Thursday afternoon at Target Field, with the Tigers' standing in the American League Wild Card race in the balance, the sound of Upton's swing echoed through the ballpark. His connection on an Alex Wimmers fastball in the seventh inning was loud, as most of his home-run swings are. Statcast™ projected it to travel 453 feet, sent to the most distant part of the Twins' bullpen beyond the fence in left-center field.
It got the Tigers' attention.
"It's easy to allow yourself to drag along," Upton said, "but we snapped out of it and started getting some runs."
By the time Detroit's previously puttering offense was done, the pitching duel from the first six innings was unrecognizable. And Victor Martinez's knee, which had kept him out of the lineup since taking a Bauer fastball off it on Sunday in Cleveland, was feeling pretty good on his trot around the bases.
"It feels great," Martinez said. "At the same time, we all know it's a situation where we're running out of time and we just keep playing the game and we'll see happens."
Upton and Martinez are two of the four Tigers with 25 or more homers this season. No team in franchise history has had that before, not even the famed feast-or-famine slugging teams of the 1990s that peppered Tiger Stadium with souvenirs.
But as Upton continues to show, sometimes it's not just about how many are hit, but when you hit them.
Jason Beck has covered the Tigers for MLB.com since 2002. Read Beck's Blog, follow him on Twitter @beckjason and listen to his podcast. This story was not subject to the approval of Major League Baseball or its clubs.