MLB.com Columnist
Jonathan Mayo
Inbox: Which prospects will raise their stock?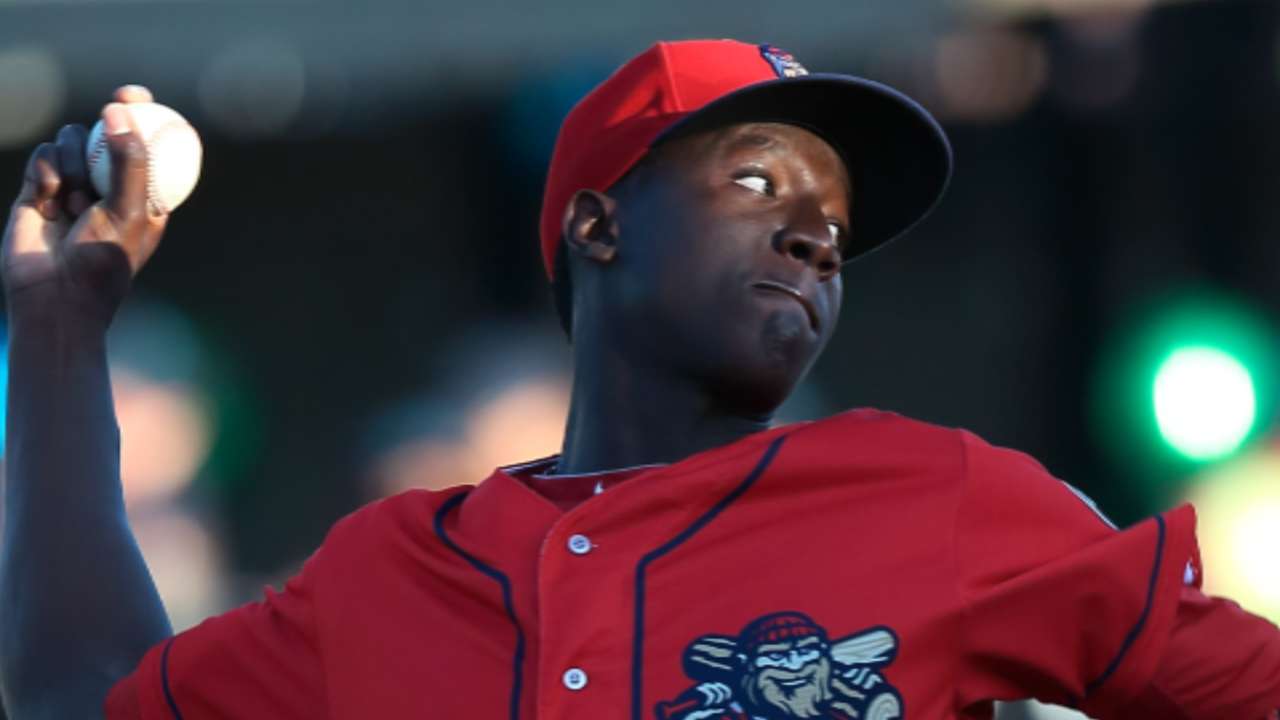 Thursday was officially the first day of fall. That's actually an exciting time for us in the prospect world.
It means the Arizona Fall League is just around the corner. And prospects everywhere are currently participating in their organization's instructional league camp. I took a look at the Reds and D-backs already, and we'll have much more coverage on instructs as the fall progresses.
For now, we'll head to your questions, which were very pitching-heavy this week. I hear that's what builds championship teams.
@JonathanMayo @MLBPipeline Who ups their stock the most in 2017? Kilome, Allard, Kellar, Fried or Fedde?

— Jay Blue (@Jay_Blue24) September 21, 2016
I'll start with some quick editing and point out that Jay Blue means Mitch Keller, the fine Pirates right-handed prospect. He'd probably be the answer to who upped his stock the most this past season. But the question wants to fast-forward to 2017. Fair enough.
Several on this list have come back from injuries, with Erick Fedde of the Nationals and Max Fried of the Braves returned from Tommy John surgery, while fellow Brave Kolby Allard had a back issue that slowed him for a while (more on those two in the next question). Fedde and Allard are on the Top 100 currently, and I could see them making a strong move up in 2017. I could also see Fried jumping on to the list. But I'm actually going to go with the one guy I haven't mentioned yet: Phillies righty Franklyn Kilome.
Currently No. 9 on the Phillies' Top 30 (perhaps under-ranked at this point), Kilome has a lot to like. He's just 21 years old, he's 6-foot-6 and is armed with a plus fastball, a breaking ball that should be at least above average and a more-than-usable changeup. Kilome made tremendous adjustments in the second half of his first year of full-season ball, posting a 2.77 ERA in the second half of the South Atlantic League campaign. He finished ninth in strikeouts for the year, with his K rate jumping up and his walk rate plummeting in the second half. I could see Kilome starting the year with Clearwater and finishing it with Double-A Reading while establishing himself as one of the best starting pitching prospects in the game.
@JonathanMayo @MLBPipeline how impressed are you with the performance of the Rome braves pitching staff in playoffs

— Michael Gillis (@MichaelGillis1) September 21, 2016
I'm impressed "thiiiis much" (picture me stretching my arms out wide). When a staff posts a 1.16 ERA, a 0.92 WHIP and a 9.4 K/9 rate (vs. just 2.18 BB/9) in seven games, it's hard not to be impressed. It's also easy to see why the Rome Braves won the South Atlantic League title.
The aforementioned Allard and Fried were at the center of that. Allard tossed 12 shutout innings over two starts. Fried won both of his starts, including the championship-clincher and struck out 24 in 14 2/3 innings. In fact, the lefty finished the season with five straight (including the playoffs) double-digit strikeout performances. Not to be outdone, Touki Toussaint gave up one run over eight innings in his one postseason start, while Mike Soroka gave up one earned run and one walk over 14 2/3 innings spread over two starts.
It's kind of what the Braves were hoping they were building, both via trades (Fried and Toussaint) and via the Draft (Allard and Soroka). The playoffs weren't just an aberration, they were more a continuation of the second half. Toussaint lowered his ERA by more than a run, as did Fried, after the SAL All-Star break. Allard started the year late, but he shook off an 8.25 ERA in June to post a 2.61 ERA in eight second-half starts. Soroka hit a wall a bit in July (4.13 ERA, .281 BAA), but he turned it on in August (2.51 ERA, .213 BAA).
All of this bodes well for the Braves' future. Of course, everyone will want to see this group continue pitching like this up the ladder, but as the Braves showed this year, they're more than willing to be patient with these arms.
@JonathanMayo @MLBPipeline Where would the recent international pitchers have been drafted in 2016? (ex: Vlad Gutierrez)

— Vander (@vander1017) September 22, 2016
There are four pitchers on the top 10 of our Top 30 International Prospects list, very well put together by Jesse Sanchez. All are Cuban and two -- Vladimir Gutierrez with the Reds and Cionel Perez with the Astros -- have signed with a club. Gutierrez got $4.75 million from the Reds and is currently participating in the advanced instructional league in Arizona. He was No. 5 on that international list, the fourth of the Cubans ranked. Just ahead of him was Perez, who has reportedly agreed to a $5.15 million bonus from Houston.
I put Gutierrez in at No. 5 on the Reds' Top 30, with an overall grade of 50. Now, I'll be the first to admit I might be a tad conservative in figuring out those grades until a guy pitches professionally here. Could Gutierrez be a Top 100-type of pitcher? Sure, but without the same kind of track record a 21-year-old might have coming out of college, I'd like to see him do it first before going all-in. Jim Callis wrote in last week's Inbox that Perez, once he signs, will fit in the middle of the Astros' Top 30, right around No. 13 or so.
So where does that leave us? Several pitchers who got a 50 overall grade in the Draft class went in the first round. But based on where Gutierrez and, eventually, Perez went, I'd guess they would land just outside of that. Maybe if a team liked one of them a lot, they'd sneak into the back end of the opening round. But I see a fit in the Lottery Round A or even Round 2.
@JonathanMayo @MLBPipeline How do the top 2017 draft prospects compare to this year's crop?

— Ryan Boyd (@rybo07) September 22, 2016
We'll finish with a quick Draft-related question. Most see the 2017 crop as not as strong as the one we just had. Now keep in mind, that's often the perception at the end of a summer, and spring performances can change all of that. This year's class strength does appear to be on the high school front, but it's hard to imagine it being better than the prep arms that came out last year. The college crop isn't particularly strong, and right now the 2016 college hitting class was clearly stronger than what lies ahead. The top prospect for 2017 seems to be Hunter Greene, a terrific two-way high school star. He'd belong near the top of 2016 as well, in my opinion, likely as a pitcher. The rest of the class might have to prove itself come springtime.
Jonathan Mayo is a reporter for MLBPipeline.com. Follow him on Twitter @JonathanMayo and Facebook, and listen to him on the weekly Pipeline Podcast. This story was not subject to the approval of Major League Baseball or its clubs.