MLB.com Columnist
Tracy Ringolsby
Starting at bottom, Gray rises to top of rotation
Rockies rookie didn't win until 14th start, but he has best Coors game ever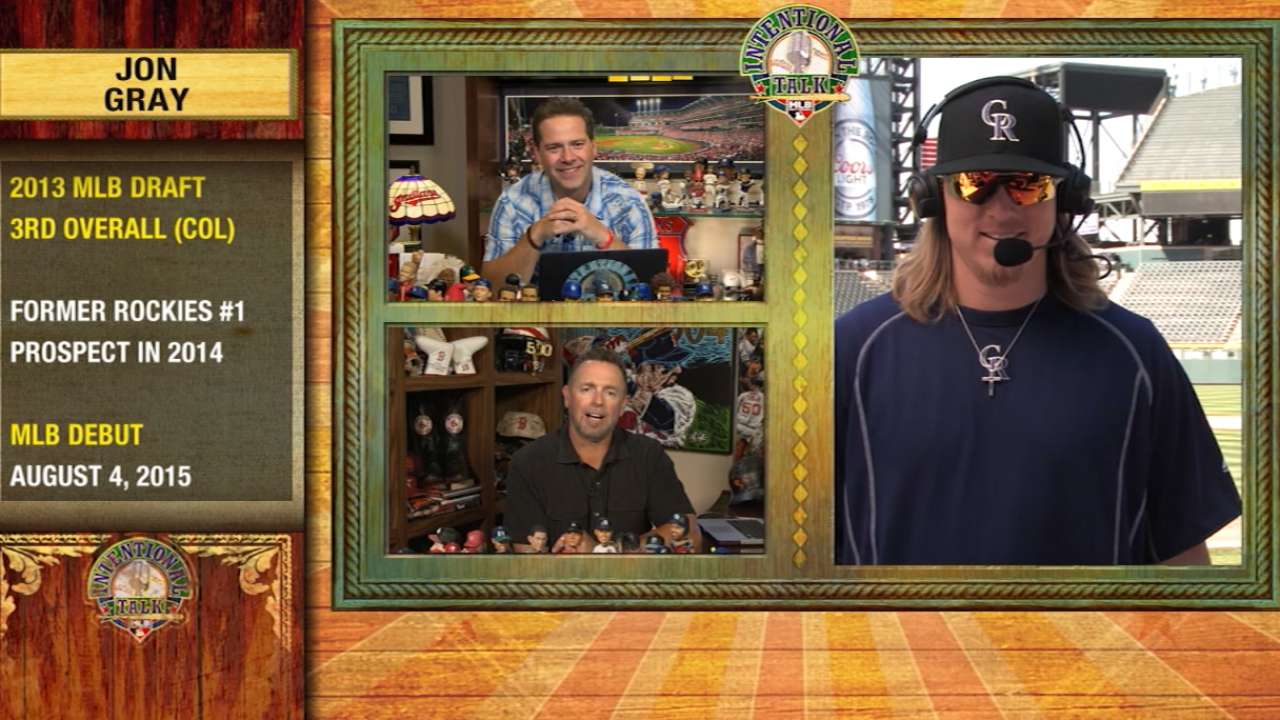 The moment is permanently etched in Colorado Rockies right-hander Jon Gray's memory.
Winless in 11 big league starts, having allowed 11 earned runs in 8 2/3 innings in his first two starts this season, Gray began start No. 3 by giving up back-to-back singles to Jon Jay and Wil Myers in San Diego to open the bottom of the first inning May 2, and Matt Kemp doubled them home.
Reality slapped Gray across the face.
"As I was backing up home plate following the double, I was like, 'Oh, I'm gonna be on a plane to [Triple-A] Albuquerque in the morning, so I might as well have fun while I'm out here tonight.'" Gray recalled. "Then I just started punching everybody out. It was great. I started to believe. I thought, 'Why don't I take this attitude out there every time?'''
Gray never did make that flight back to the Minor Leagues. Oh, he lost that game, 2-1, and then pitched seven shutout innings for a no-decision his next time out at San Francisco before finally getting his first big league victory, in his 14th start, 5-2 against the defending National League champion New York Mets on May 13.
Now it's late September. Gray will make the next-to-last start of his rookie season on Friday night against the NL West-leading Dodgers at Dodger Stadium. Albuquerque is in his rearview mirror. He has spent the summer emerging as the ace of the Rockies' rotation, making that very clear last Saturday night at Coors Field when he pitched arguably the greatest game in franchise history.
In the first complete game of his big league career, Gray, the third player taken in the 2013 Draft, pitched a four-hit shutout. He struck out a franchise-record 16 Padres hitters without allowing a walk, earning a Game Score of 95, the highest in Rockies history and the highest by any big league pitcher this season.
And Gray did it at Coors Field, where he is 7-2 in 14 starts this season.
Only four other pitchers even had Game Scores in the 90s at Coors Field, including Dodgers right-hander Hideo Nomo, whose no-hitter, which came 20 years to the date before Gray's shutout, chalked up a 91. That was previously tied for the highest Coors Field Game Score with Jeff Francis' two-hit shutout of the Cardinals on July 24, 2006, and Marlins right-hander Pat Rapp's one-hitter against the Rockies on Sept. 17, 1995. Chad Bettis had a Game Score on 90 in a two-hit 6-0 victory against the Giants on Sept. 5 this season.
That overwhelmed rookie who four months ago was making plans for a demotion to Albuquerque has pitched his way into the role of ace in a rotation that will be filled with youth and high expectations next year.
The Rockies are expected to have a five-man rotation in 2017 that will also feature Bettis, who will pitch against the Dodgers on Saturday having made 15 quality starts in his past 18, Tyler Chatwood and rookies Tyler Anderson and German Marquez, who made his first big league start Wednesday, allowing one run in five innings of an 11-1 victory against the Cardinals.
It starts, though, with Gray, who according to Stats Inc., has the sixth-best pitcher's WAR in the NL, behind Jose Fernandez of the Marlins, Noah Syndergaard of the Mets, Max Scherzer of the Nationals and the Giants duo of Johnny Cueto and Madison Bumgarner.
"That's cool," said Gray. "That's awesome."
That's a long way from the uncertain rookie who was 0-2 with a 5.53 ERA in nine starts a year ago and then had given up 11 earned runs in 8 2/3 innings in those two starts this season before that eye-opening first inning in San Diego back in May.
"You have to learn not to dwell on what's happened," Gray said of his maturation on the mound. "It's the mentality that is the biggest thing. It's not so much stuff. It's being mentally tough, having that ability to say, 'That happened. I'm gonna shut it down now and not let it happen again.'
"It's tough sometimes. Sometimes it still gets in my mind. You give up a couple knocks and start to think, 'Oh now, here we go,' but you can't let that happen. You have to think, 'Heck with this. I'm going after this next guy.' You have to have an aggressive mindset."
Gray has come a long way from the uncertain prospect who arrived in the big leagues last August, and as late as early May this season wondered if he belongs.
"Last year I didn't really believe I was supposed to be [in the big leagues]," he admits. "There was doubt in my mind. I wondered, `Am I good enough?' Now, I know I am. Now I try to make the batter feel he's already out before I even throw a pitch."
Gray has been giving hitters every reason to feel that way. And he has been giving the Rockies every reason to feel they have found that ace they have so badly needed for their rotation.
Tracy Ringolsby is a national columnist for MLB.com. This story was not subject to the approval of Major League Baseball or its clubs.