Adeiny dazzles with Gold Glove-caliber grab
Mattingly believes shortstop is 'premiere defender'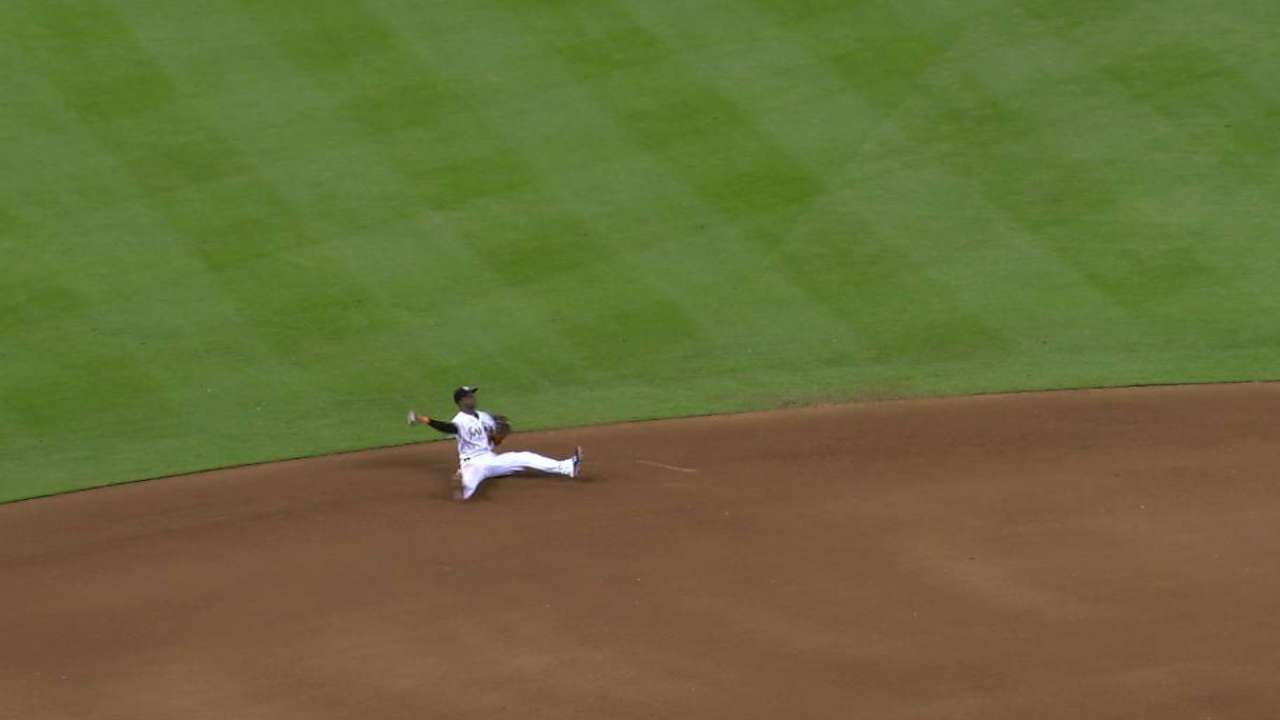 MIAMI -- Ballots for the Gold Glove Awards went to the Marlins' coaching staff on Thursday, a day after shortstop Adeiny Hechavarria gave a reminder that he is once again worthy of being in the mix for the top defensive honor.
Hechavarria's diving stop on Anthony Rendon's sharp grounder in the Marlins' 8-3 loss to the Nationals on Wednesday was one of his better plays of the season.
Hechavarria was a Gold Glove finalist in each of the past two seasons, but this year, his defensive metrics weren't as strong.
In the fourth inning on Wednesday, Hechavarria showed his athleticism on Rendon's ground ball. He went to his backhand side, snared the hot shot and threw Bryce Harper out at second base for the force play.
"I think Hech is a premiere defender," manager Don Mattingly said.
The game wasn't entirely clean in the field for Hechavarria, who botched a flip to second base on a ball that would have been a double play. It led to an unearned run.
"He had a couple of plays, but that's going to happen to everyone," Mattingly said. "But Hech, in my mind, is a premiere defender at shortstop."
A year ago, San Francisco's Brandon Crawford was the Gold Glove winner, and in 2014, the honor went to Andrelton Simmons, then with the Braves. Hechavarria was one of three finalists each year.
Mattingly said he received his Gold Glove ballot on Thursday. The winners are selected at each position based on input from coaching staffs and analytics, although coaches and managers can't vote for their own players.
Hechavarria will have a hard time becoming one of three finalists this season. His Ultimate Zone Rating, according to Fangraphs, is 9.0, fifth best in the National League for shortstops. Crawford leads at 16.7.
But Hechavarria is third in Defensive Runs Saved with 10. Addison Russell of the Cubs is first with 18, and Crawford is next with 17.
Mattingly says Hechavarria is worthy of being in the discussion with the best in the NL.
"Just watching him play short, this guy is a really good defender," Mattingly said. "If he's the top guy or one of the top guys, I think you look at him as one of those guys."
Joe Frisaro has covered the Marlins for MLB.com since 2002. He writes a blog, called The Fish Pond. Follow him on Twitter @JoeFrisaro and listen to his podcast. This story was not subject to the approval of Major League Baseball or its clubs.