A's Inbox: Could Reddick return next year?
Beat reporter Jane Lee answers fans' questions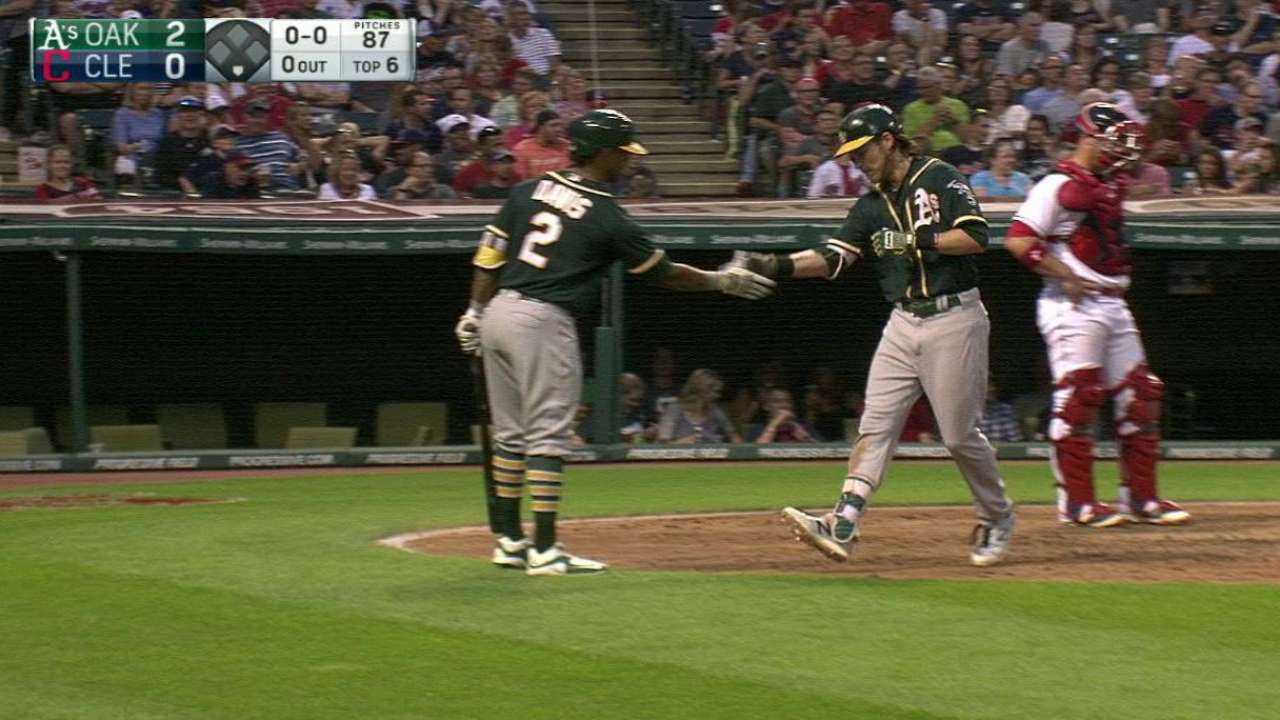 Could Josh Reddick or Rich Hill be players the A's try to bring back?
-- Erik C., Antioch, Calif.
I could actually see the A's at least entertaining the idea of bringing back Reddick, assuming there's mutual interest -- which I believe there is. Reddick was always sincere in his desire to remain in Oakland, and I'm not sure the trade has changed that; here, his presence loomed large in so many ways. Not only was his production valuable, but his ability to connect with the fans and provide a stable clubhouse presence proved equally significant, and I think both parties recognize that.
The need is also there, with the A's likely pining for help to augment their outfield this offseason. Now, Reddick's price tag will obviously have a huge bearing on this matter; after all, it's what prevented the two sides from coming to terms on an extension during Spring Training. But if the A's are willing to guarantee Reddick four years, which seems to be a non-negotiable, I wouldn't be surprised if they could work something out. Then again, if Reddick mashes for the Dodgers during the postseason, chances are the A's will be out of the bidding before it even begins.
• Submit a question to the A's Inbox
Will Danny Valencia be back next year?
-- Marcus A., Oakland
I just don't see the A's paying him north of $4 million to not be an everyday player, so I can't imagine he'll be back next season -- particularly if they're serious about riding this youth wave into the upcoming year.
With all the home runs he's hitting, do you think Khris Davis is trade bait?
-- Gregory B., San Jose
No. Davis is under club control for three more seasons, giving the A's no reason to move him. Now, I probably said the same about Josh Donaldson before they traded him, but, hey, who could have predicted that one?
Davis absolutely loves Oakland, and the A's would do well in trying to keep hold of the players who really want to be here, since, well, they don't come around all too often. And having one who hits 40 home runs doesn't hurt, either.
Any news on Jarrod Parker? Is he going to pitch again in rehab and try to come back?
-- Dominic G., Nevada
I hear Parker is going through physical therapy right now and hasn't yet decided if he'll try to pitch again. It's probably safe to assume the A's will not tender him a contract this winter, but I know everyone in the organization is rooting for him, no matter the direction he chooses.
Who will be the starting first baseman on Opening Day next year?
-- Sean G., Livermore, Calif.
My gut says Yonder Alonso. Matt Olson doesn't seem quite ready to take over that role on a regular basis, and there's really no reason to rush the process given Alonso's presence. I also wouldn't be surprised to see Ryon Healy getting some time over there -- it's his natural position -- with third-base prospect Matt Chapman knocking on the door of his first big league opportunity.
Jane Lee has covered the A's for MLB.com since 2010. Follow her on Twitter @JaneMLB. This story was not subject to the approval of Major League Baseball or its clubs.