Perez developing into elite pitch-framer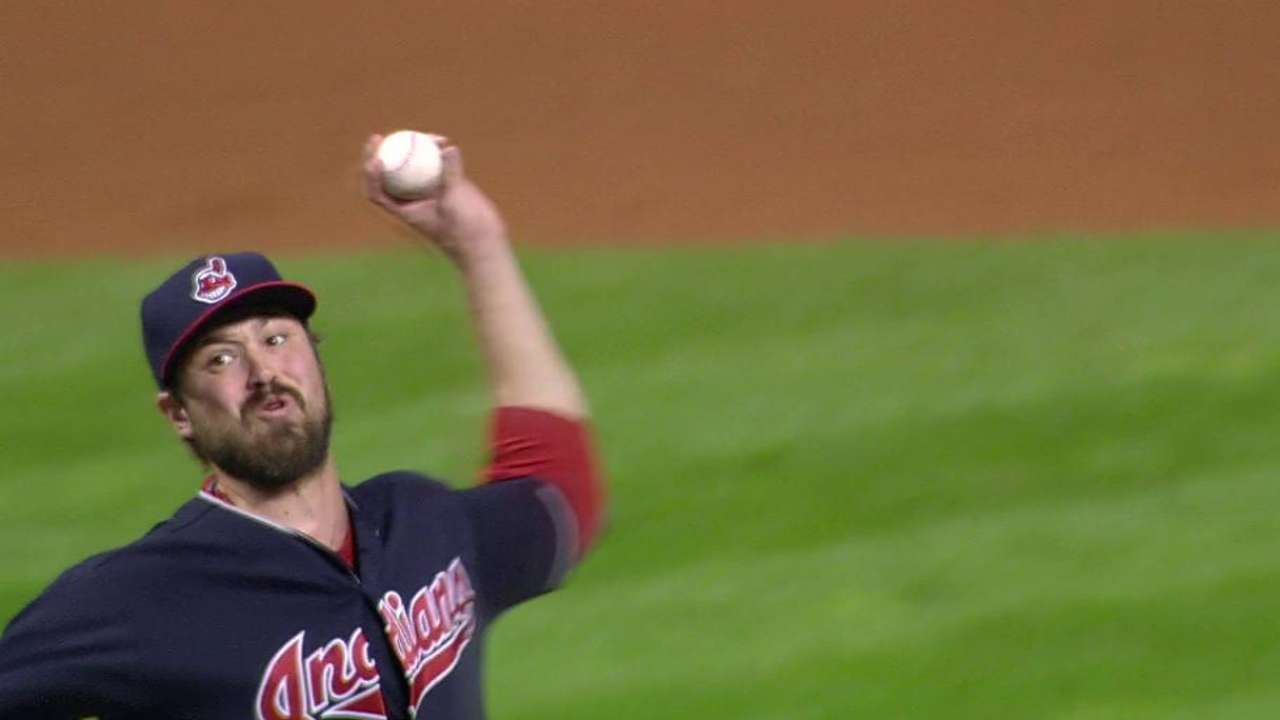 CLEVELAND -- Whit Merrifield stepped across home plate and prepared to toss his bat away. Thinking he had drawn a walk, the Royals second baseman then threw his head back and yelled in disgust after home-plate umpire Carlos Torres rung him up on a called strikeout.
"That's not a strike," Merrifield barked as he walked back to the dugout.
The pitch was an inside fastball from Indians reliever Andrew Miller, but it was the work of catcher Roberto Perez that led to the inning-ending punchout on Tuesday night. Perez snared the pitch and swiftly lifted his glove over the edge of the plate, convincing Torres that the pitch was a strike, ending the eighth inning and stranding a runner at third base.
Perez sold it, as the catcher has done plenty of times throughout this season. Through a combination of instincts and work behind the scenes, Perez has developed into one of baseball's elite pitch-framers. It is an aspect of his game that Perez takes extreme pride in, citing Cardinals catcher Yadier Molina as one player he has studied in order to further hone that skill.
"It's a game-changer," Perez said of pitch-framing. "I just try to make everything a strike. I think stealing a strike can change the game dramatically."
Catcher Roberto Perez, on framing: "I just try to make everything a strike. I think stealing a strike can change the game dramatically." pic.twitter.com/Rfihg5DOIB

— Jordan Bastian (@MLBastian) September 21, 2016
Tuesday's 2-1 win over Kansas City provided the perfect example of how framing can impact a game.
With one out and the game still caught in a 1-1 deadlock, Miller fired a wild pitch that allowed Kansas City's Terrance Gore to advance to third base. Miller's next offering was a 96-mph fastball low and inside to Perez, who pulled his glove up slightly after the ball popped into the leather. Torres signaled that it was a strike, while Christian Colon stayed put, staring down in disbelief with his bat on his shoulder before walking away.
Then came Merrifield, who worked the count full before being beaten by Perez's presentation on the called third strike to end the inning. Via win probability added, it is easy to see how those calls swung the momentum in Cleveland's favor. After Gore moved to third on the wild pitch, the Indians had a 39-percent chance of winning the game. Those odds jumped to 62 percent after the consecutive strikeouts.
"He's helping us out a lot," Miller said of Perez. "He gives us the ability to just go out there and throw whatever we want. He's going to knock it down, make it look like a strike, whatever it is. He's pretty awesome."
Roberto Perez is developing into an elite pitch framer. Look how he sold this Strike 3 call vs. Colon on Tuesday night. pic.twitter.com/cDTFVjxUet

— Jordan Bastian (@MLBastian) September 22, 2016
According to StatCorner.com, which examines PITCHf/x data to estimate how many calls a catcher gets through framing, Perez has earned 0.97 calls per game, which leads American League catchers (min. 3,000 samples). That figure is seventh overall in the Majors. Among AL catchers, Perez's 5.6 Runs Above Average (3,366 samples) is third behind Houston's Jason Castro (12.5 in 7,675 samples) and Brian McCann (5.8 in 6,322 samples).
Having a catcher with that type of framing ability can play into a pitcher's approach. Indians closer Cody Allen said starters like Corey Kluber and Josh Tomlin -- pitchers who exercise great command -- can expand the strike zone some in certain situations. For Allen, who is more of a power pitcher, he just wants to throw it in or near the zone, putting trust in Perez's ability to sell anything close.
Allen said Perez's presentation is so good at times that he has even fooled the pitcher.
"Say a call doesn't go my way, I'm like, 'Man, every part of that was a strike,'" Allen said. "And then you go back and look at it and you see Yan [Gomes] or Roberto kind of give it one of those [flicks wrist] that I didn't even see. They do it so quick and they are so good at it, I'm like, 'Wow, that was a whole ball off the plate, but I'm seeing it as a strike.'"
Indians first-base coach Sandy Alomar Jr., who spent 20 years in the Majors as a catcher, spends a lot of time working with Perez and discussing technique.
Alomar said part of Perez's ability is just instincts, but the coach noted that the catcher has worked hard at fine-tuning his mechanics in certain areas. According to Alomar, it begins with having a wide foundation when it comes to where Perez has his legs set up.
"When your feet are too close together, then the balance is not there," Alomar said. "It's like trying to hold a building with a cone."
AL's RAA leaders (framing)

1. J. Castro, 12.5 (7,675 pitches)
2. B. McCann 5.8 (6,322)
3. R. Perez 5.6 (3,366)

Via https://t.co/47qJliLFze

— Jordan Bastian (@MLBastian) September 22, 2016
Another critical element to receiving is staying under pitches with the glove.
"That's the most important thing," Alomar said. "The more underneath the ball you are, the effect you're going to get visually, the effect you're going to give the umpire, is that you received the ball instead of just snatching it. Most of the catchers that are good receivers, when they get calls, they don't necessarily have to be great receivers, but they give really low targets."
Perez added that he also tries to go against the pitch with his glove. If a breaking ball is diving low-and-inside on a right-handed hitter, for example, Perez wants to move his glove up and back toward the strike zone. If the pitch is borderline, that could be the difference between a ball and a strike called over the edge of the plate.
"You've got to stay under the ball and go against it instead of going with it," Perez said. "I try to do that on all pitches. I've talked to Sandy all the time about how to do that. I think it's becoming one of my strengths, so I've got to keep working at it."
As Perez showed on Tuesday night, it is a skill that can change a game.
"You just throw it in the general direction of home plate," Allen said of having Perez behind the plate. "And if it's close to the plate, you might get a strike."
Jordan Bastian has covered the Indians for MLB.com since 2011, and previously covered the Blue Jays from 2006-10. Read his blog, Major League Bastian, follow him on Twitter @MLBastian and listen to his podcast. This story was not subject to the approval of Major League Baseball or its clubs.