'Slight' forearm strain costs Tanaka next start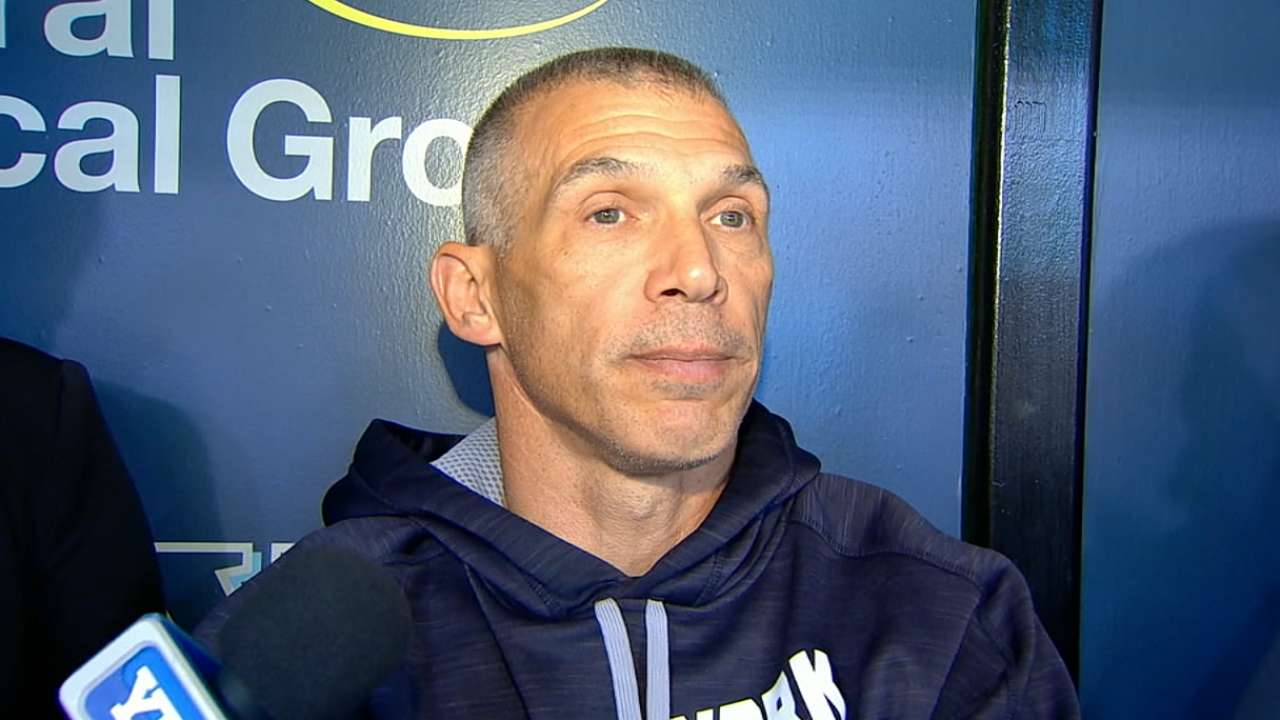 ST. PETERSBURG -- The Yankees announced before Thursday's 2-0 loss to the Rays that they will skip Masahiro Tanaka's next scheduled start after the American League's ERA leader underwent an MRI exam that revealed a small flexor mass strain in his right forearm.
Tanaka complained of some tightness following his start on Wednesday, during which he served up a career-high four home runs in an 11-5 victory over the Rays. Tanaka's next start was to come on Monday against the Blue Jays in Toronto.
"It's very disappointing; we're making a push," Tanaka said through an interpreter. "This is a very important time for us. This is definitely not the time you want to skip anything."
Yankees manager Joe Girardi said that the club expects to have Tanaka return to make one final start this regular season. Had this been earlier in the year, Girardi said that he does not believe Tanaka's injury would have necessitated a stint on the disabled list.
"I don't want to alarm people, and don't take this like doom and gloom; he's got in his flexor mass a slight, slight, slight strain," Girardi said. "Now, every time you hear 'flexor mass' people automatically assume that it's the ligament. It's not by the ligament; it's way down low [by the wrist].
"He's not going to pick up a ball for five days, and hopefully he'll be ready to go fairly soon after that."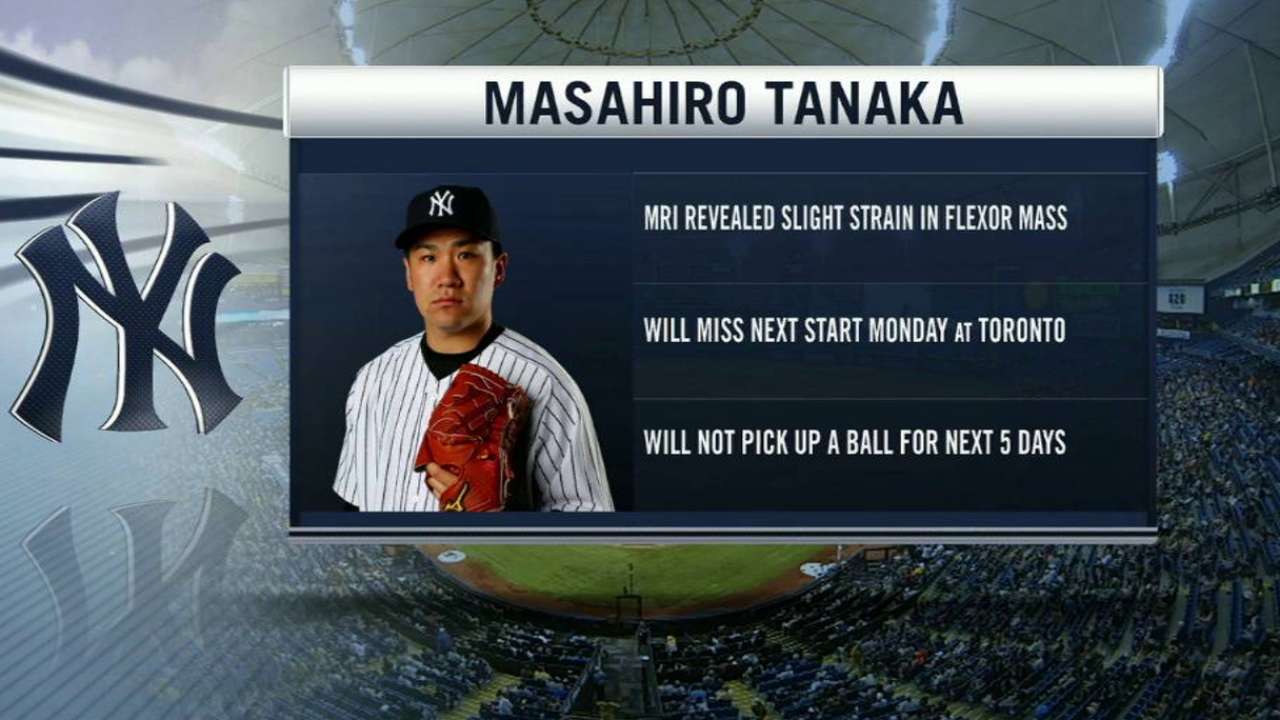 Tanaka is 14-4 with a 3.07 ERA in 31 starts, spanning 199 2/3 innings. He said he expects to be on the mound for his final turn in the rotation, tentatively lined up for Oct. 1 against the Orioles in New York.
"I'm not worried at all because I think the team is being precautious," Tanaka said through an interpreter. "I don't feel any pain or anything like that. I'm very confident that I'm going to be able to come back soon."
Pitching coach Larry Rothschild said that he was told the injury has nothing to do with Tanaka's ulnar collateral ligament, which he injured in 2014, during his first season with the Yankees.
"I'd rather it not be anywhere, but from what we've been told, it has nothing to do with the UCL or anything," Rothschild said. "That's good news, but it'd be nice if there wasn't anything."
Tanaka said that he does not believe the strain was responsible for Wednesday's four third-inning home runs, three of which came consecutively. Rothschild said that Tanaka's slider didn't look right, but the Yanks didn't order the MRI exam until Tanaka mentioned the tightness.
"He came in afterward and said there was just a little bit of tightness in there, and just wanted it rubbed out," Rothschild said. "But at that point, you're not going to take any chances."
Girardi said that he is not sure who will pitch on Monday in Tanaka's place, though he mentioned right-hander Luis Severino as a possibility. Severino has been excellent out of the bullpen, logging a 0.42 ERA in 21 1/3 innings, but he is 0-8 with an 8.58 ERA in nine starts this season.
"Obviously, the guy that is the most built up is Sevvy, but we might need him a couple games [before Monday]," Girardi said.
Worth noting
Starlin Castro (Grade 1 right hamstring strain) rode a stationary bicycle on Thursday at Tropicana Field and has an outside chance of playing again this season, according to Girardi. Castro sustained the injury while running out a double on Saturday at Fenway Park.
"It's my hope [that Castro plays again]; I don't know if it's a realistic hope, but I think it's my hope," Girardi said.
Bryan Hoch has covered the Yankees for MLB.com since 2007. Follow him on Twitter @bryanhoch, on Facebook and read his MLBlog, Bombers Beat. This story was not subject to the approval of Major League Baseball or its clubs.