Kinsler helps 'score' win in return against KC
Tigers second baseman logs 2 hits, 3 runs in series opener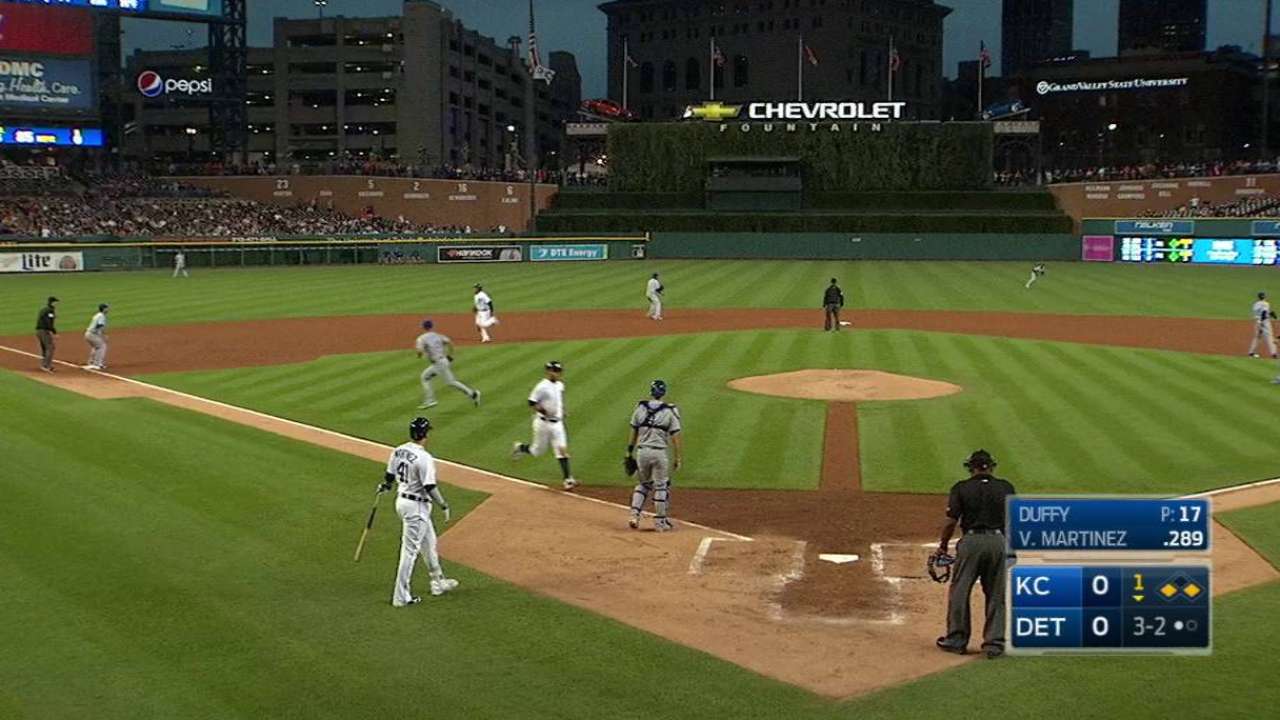 DETROIT -- Tigers second baseman Ian Kinsler returned to the lineup on Friday against the Royals as expected, with a new appreciation for the concussion protocol players have to go through to return to the field.
Kinsler went 2-for-3 with three runs scored in an 8-3 win at Comerica Park, exiting for a defensive replacement in the ninth inning with the game in hand.
"He looked like he didn't miss a beat," manager Brad Ausmus said. "For the most part, he felt good. Took him out in the last inning. We'll see. Hopefully he's fine in the morning, and no problems going forward."
Kinsler said after the game that he felt no issues.
Kinsler suffered from concussion symptoms after taking a Trevor Bauer pitch off the helmet on Sunday in Cleveland, but not until later in the game. Kinsler went from passing concussion tests right after being hit to struggling to stay on his feet by the time he left a few innings later, having reacted awkwardly on a ground ball up the middle. He hoped to be back right away until a lingering symptom -- Ausmus called it "fogginess" -- snuck up on him while riding an exercise bike on Tuesday at Minnesota.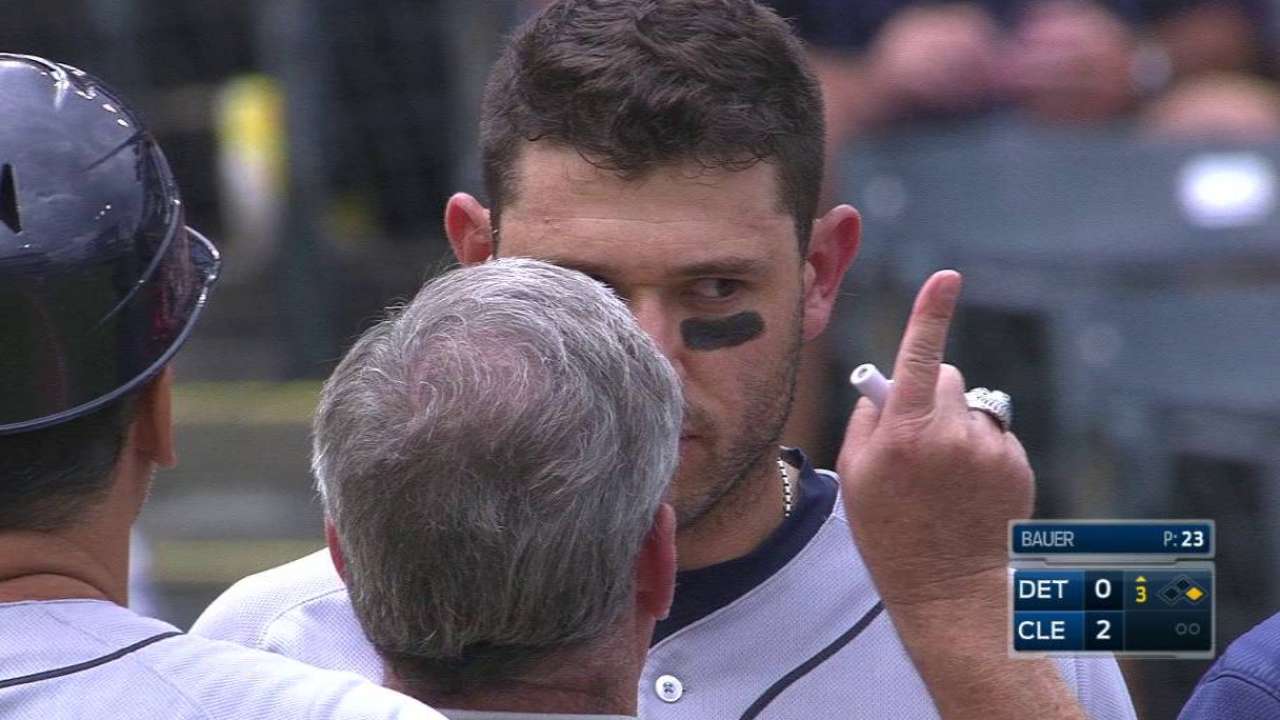 Kinsler had to go through the process again, find a chance to get onto the playing surface at Target Field for baseball activities before Thursday's doubleheader, then wait another 24 hours to make sure he didn't have any delayed-onset symptoms. It was a new experience for Kinsler, who had never dealt with a concussion in his career.
"You understand the concern over head injuries," he said. "I saw Alex Avila deal with it for two years, and you could tell he wasn't having any fun. It's something that affects you on and off the field. You have to be careful with those things. Yeah, I understand that. ...
"There are guys in here that played high school football, and everybody experiences different things with concussions. There's a lot of symptoms. So you just need to be aware, and take your time. I felt like I could've played yesterday, so it's probably a good thing to take another 24 hours. We won the game, so back in here today."
Kinsler returned to second base and the leadoff spot for the Tigers, who went from three games back in the American League Wild Card race when he was hit to a half-game lead over the Orioles as he returned. He spent Thursday's doubleheader watching the game and the scoreboard at the same time, something he can't really do while he's playing.
"If you want to look at the silver lining, I got four days off to rest my body," Kinsler said. "I wasn't feeling the greatest, as far as this being September, and a long season, but when you look at having to take those four days, you try to use it to your advantage, and be ready for this last stretch that we have."
Still, Kinsler is happy to be on the field again and not having to think about the scoreboard.
"We're in a great position right now," he said. "If you're entering the final 10 games of the season and you have a playoff position, you're in a great spot. We just have to keep our heads down and continue to play hard. A lot of things can happen in 10 days. Just continue to play good baseball and try to win as many of those games as we can."
Jason Beck has covered the Tigers for MLB.com since 2002. Read Beck's Blog, follow him on Twitter @beckjason and listen to his podcast. This story was not subject to the approval of Major League Baseball or its clubs.