MLB.com Columnist
Hal Bodley
Sanchez keeping Yankees' playoff hopes alive
Rookie's heroics has Bronx Bombers within 2 1/2 games of AL Wild Card spot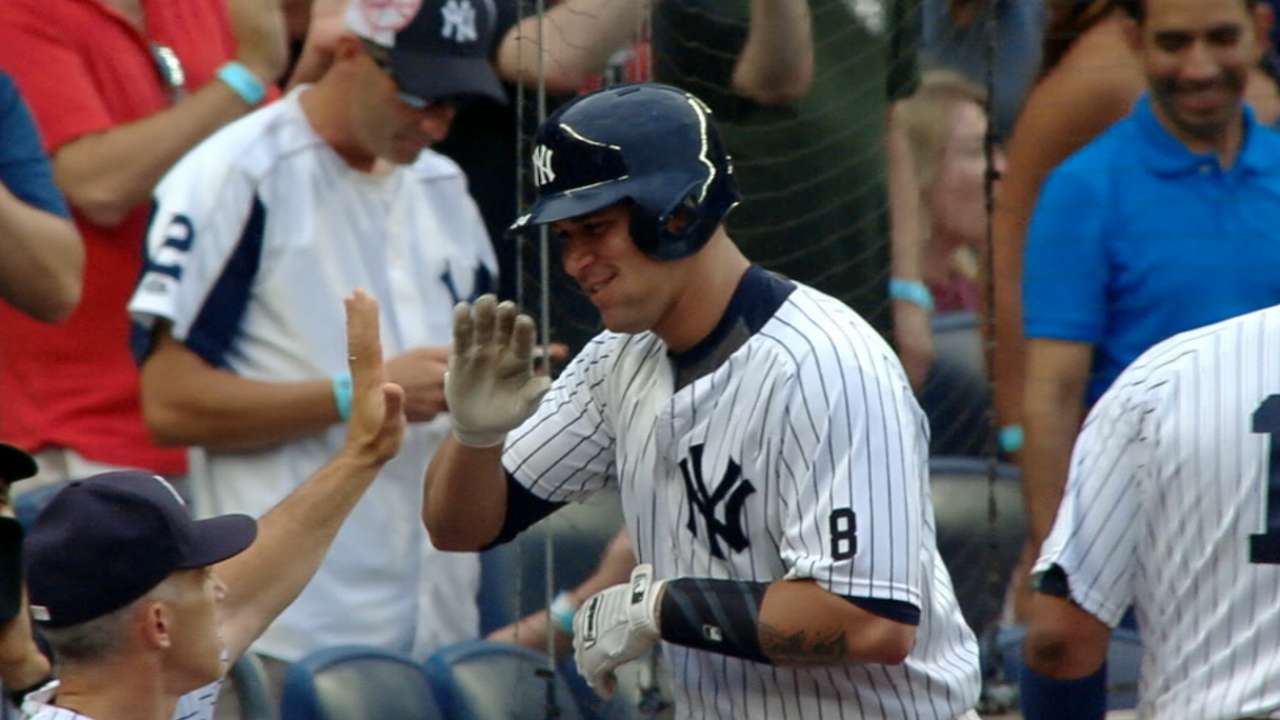 ST. PETERSBURG -- The Yankees limped out of Fenway Park late Sunday night, stunned in four games by the streaking Red Sox, and with three of their key players hurt.
Just five days before, the Yankees were the talk of American League East, suddenly in the mix for an AL Wild Card berth after being completely written off for 2016. Powered by rookie sensation Gary Sanchez, they'd won eight of 11 games, including seven in a row from Sept 4-10. Orioles skipper Buck Showalter said New York had become the most dreaded team in the division this month.
And then came the Boston debacle and a five-game losing streak. Last rites for a trip to the postseason were said loudly. New York, normally an October fixture, has played in just one postseason game the past four seasons. The hated first-place Red Sox, with their dramatic and convincing wins, seemingly ruined any hope for 2016.
The Yanks' chances are still slim -- hanging by a thread.
When asked if they need a miracle, veteran first baseman Mark Teixeira, who's retiring after the season, said: "That would help. I'll pray if you do."
But if Sanchez, who's burst on the Major League scene in record-breaking fashion, continues his assault on opposing pitchers, miracles could happen.
"I don't think any of us are ready to give up on the season," said Yankees manager Joe Girardi, who's arguably done his finest job in nine seasons at the helm in New York. "Staying relevant in September is the most important thing to give ourselves a chance."
After the 23-year-old Sanchez blasted three homers in two games, leading his teammates to back-to-back victories over last-place Tampa Bay, there's a glimmer of light at the end of the tunnel. When GM Brian Cashman dealt away the likes of Carlos Beltran, Aroldis Chapman, Andrew Miller and Ivan Nova at the non-waiver Trade Deadline, the message was preparing for the future, not 2016. But the young player have responded and given the Yanks a chance.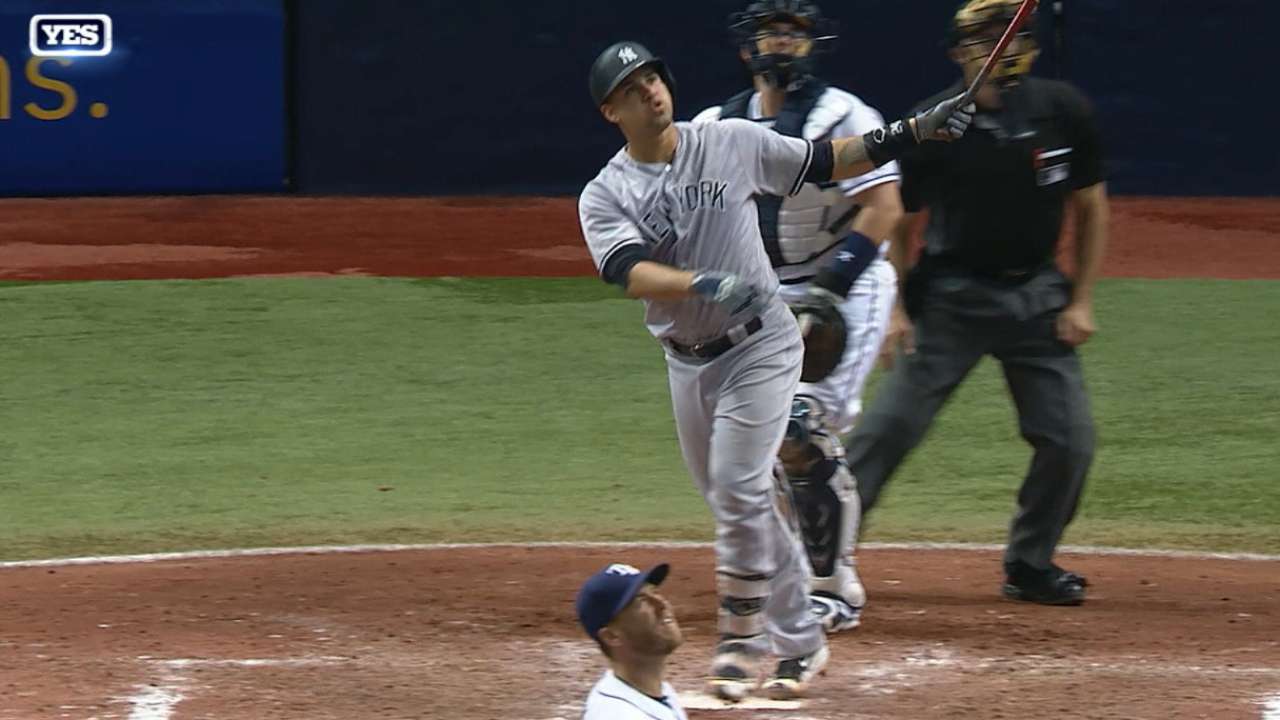 "Gary Sanchez wouldn't have gotten up here [from the Minor Leagues] if we didn't make the moves that we made," said Cashman.
The Yankees remain 2 1/2 games back for the second AL Wild Card berth, but the hurdle is immense. To get there, they must keep winning and climb over four of Detroit, Houston, Seattle, Baltimore and Toronto.
The schedule provides an opportunity to do that. After Thursday night's game with the Rays, the Yanks' final 10 are against Toronto (four), Boston (three) and Baltimore (three). The final six are at Yankee Stadium.
"Last week was tough for us," said Girardi, whose team was swept by Boston in a four-game series for the first time since 1990. "We lost some really tough games and lost three players. When you lose your third baseman [Chase Headley], your center fielder [Jacoby Ellsbury] and second baseman [Starlin Castro], you lose a lot in your lineup.
"The other kids need to step up for us, and they've been doing that, playing pretty well. We have to rely on them."
Ellsbury, despite a bruised knee, was back in the lineup for Wednesday night's 11-5 win, and Headley could return sometime this week. Castro, the Yankees' top hitter besides Sanchez, could be lost for the season with a hamstring injury.
Girardi is calling on Billy Butler, Mason Williams and Donovan Solano -- recent additions to the roster -- to fill the void.
Regardless of the outcome, Sanchez is writing a storybook finish to the Yanks' season. If somehow, some way they could make the postseason, the script would be complete.
Tuesday night, with the game tied, 2-2, and two outs in the seventh inning with runners on second and third, the Dominican Republic native Sanchez sent reliever Brad Boxberger's slider screaming to the upper deck in left field.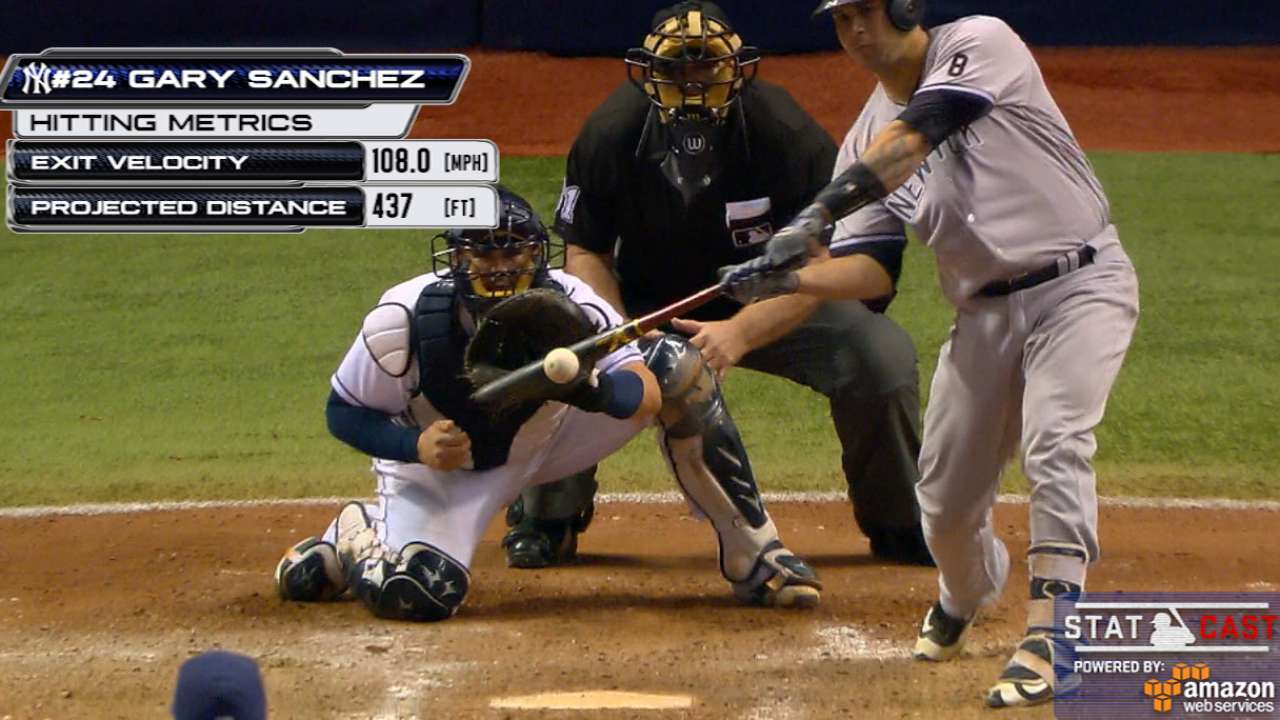 Rays manager Kevin Cash's decision to allow Boxberger to pitch to Sanchez with first base open may have taught the young skipper a lesson: Never pitch to the hottest hitter in baseball with first base open.
The next night, with the Tropicana Field crowd poised to watch history in the making, Sanchez homered twice and drove in five runs.
Sanchez has played in just 45 games, but he is hitting .337 with 19 homers and 38 RBIs. He didn't hit his first homer until Aug. 10. A heated debate is under way as to whether Sanchez has played in enough games to be the AL Rookie of the Year Award winner. I say he has.
"It's hard to believe what this young man has done in a short period up here," Girardi said. "You just watch him, and he continues to come up with big hit after big hit. It's hard to believe. I haven't seen anything like it.
"I think you kind of say, "What's next?' You ask that because of what we've seen in these 150 or 160 at-bats. It's been fun to watch."
Sanchez homered for the fourth consecutive game on Wednesday night and became the quickest player in Major League history to hit 19 homers. Wally Berger of the 1930 Boston Red Sox previously held the record, having done it in 51 games. Sanchez's 38 RBIs in 45 games are the fourth most by a Yankees player to start a career. Joe DiMaggio, with 46, had the most.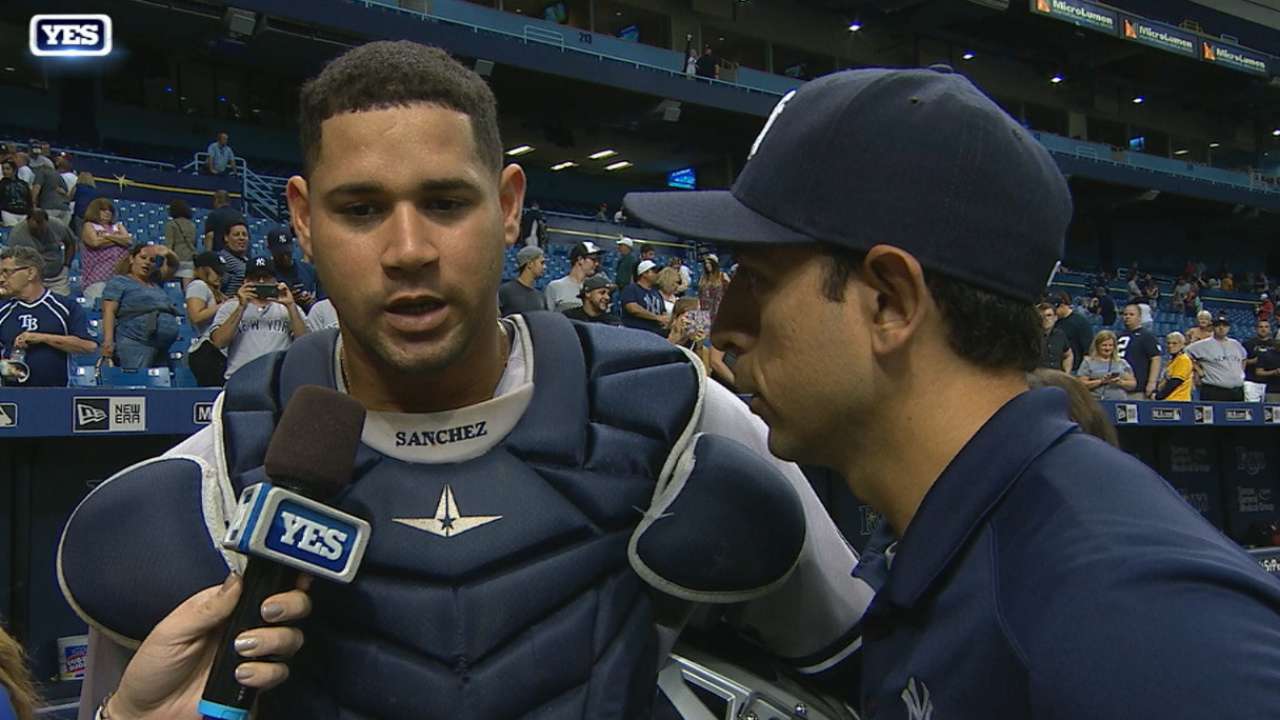 Sanchez stood by his locker at Tropicana Field, a translator by his side. He seemed enthusiastic, but not the least bit giddy about his accomplishments.
"It's great when you achieve something like this," he said through the translator. "What makes it better is that you're helping the team win."
Asking what the AL Rookie of the Year Award would mean to him, he said: "My focus right now is to win ballgames. [The Award is] up to whoever makes the decision, but it's not my focus."
At a nearby locker, Butler, who joined the Yanks on Friday, seemed in awe of his new teammate.
"He's had a historic start to his career," said Butler. "I've seen him hit every type of pitch out. He's got a great approach, a great swing. He's one of the strongest guys I've ever seen in the batter's box. He's got a chance to be one of the best power hitters in this game for a long time."
With a little over a week remaining, the Yankees have a very slim chance to make the postseason, and Sanchez could make the difference -- if opposing managers let him swing the bat.
Hal Bodley, dean of American baseball writers, is the senior correspondent for MLB.com. Follow him @halbodley on Twitter. This story was not subject to the approval of Major League Baseball or its clubs.