Inbox: Sanchez in line for potential WC Game?
Beat reporter Gregor Chisholm answers questions from Blue Jays fans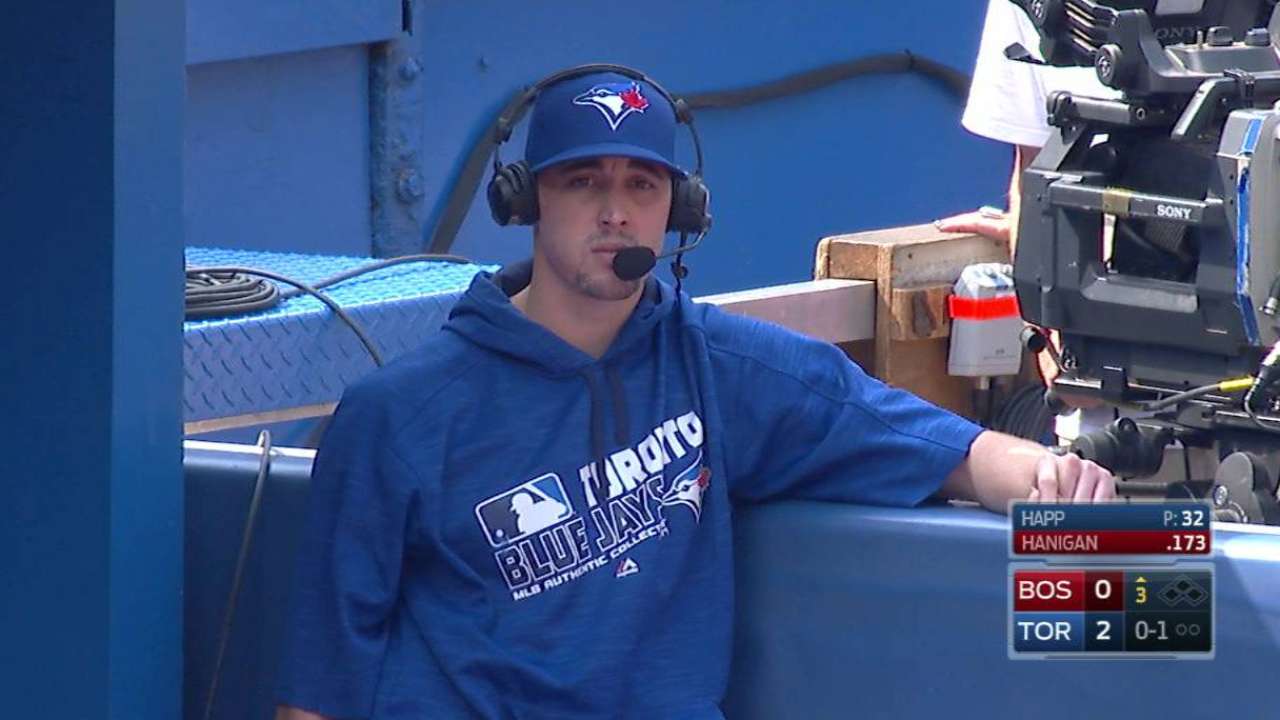 Who do you think would start the Wild Card Game if that's where Toronto finishes?
-- Shawn S., Rochester, N.Y.
The starter for that game would depend entirely on how the Blue Jays finish the season, but the most likely candidate appears to be Aaron Sanchez. Toronto's rotation is currently lined up to feature Marco Estrada, J.A. Happ and Sanchez, in that order, for the final regular-season series of the year in Boston.
Sanchez is tentatively scheduled for the last game on Sunday, Oct. 2, but if the matchup does not matter in the standings, he would be pushed back for Tuesday's potential American League Wild Card Game. If the Blue Jays need to go all hands on deck vs. the Red Sox, then it's possible Estrada could be brought back on three days' rest, but that seems unlikely at this point.
• Submit a question to the Inbox
Who would you use in the eighth inning of the Wild Card Game with the Blue Jays up by one run?
-- Desmond, Halifax, Nova Scotia
One-run lead in the eighth inning of an elimination game? I'm going with Roberto Osuna. Toronto's closer has tossed two full innings just once this season, but he does have eight appearances with more than three outs. Setup men Joaquin Benoit and Jason Grilli have done a great job, but in this type of must-win situation, I'd force the issue and go with the best relief arm for two full innings.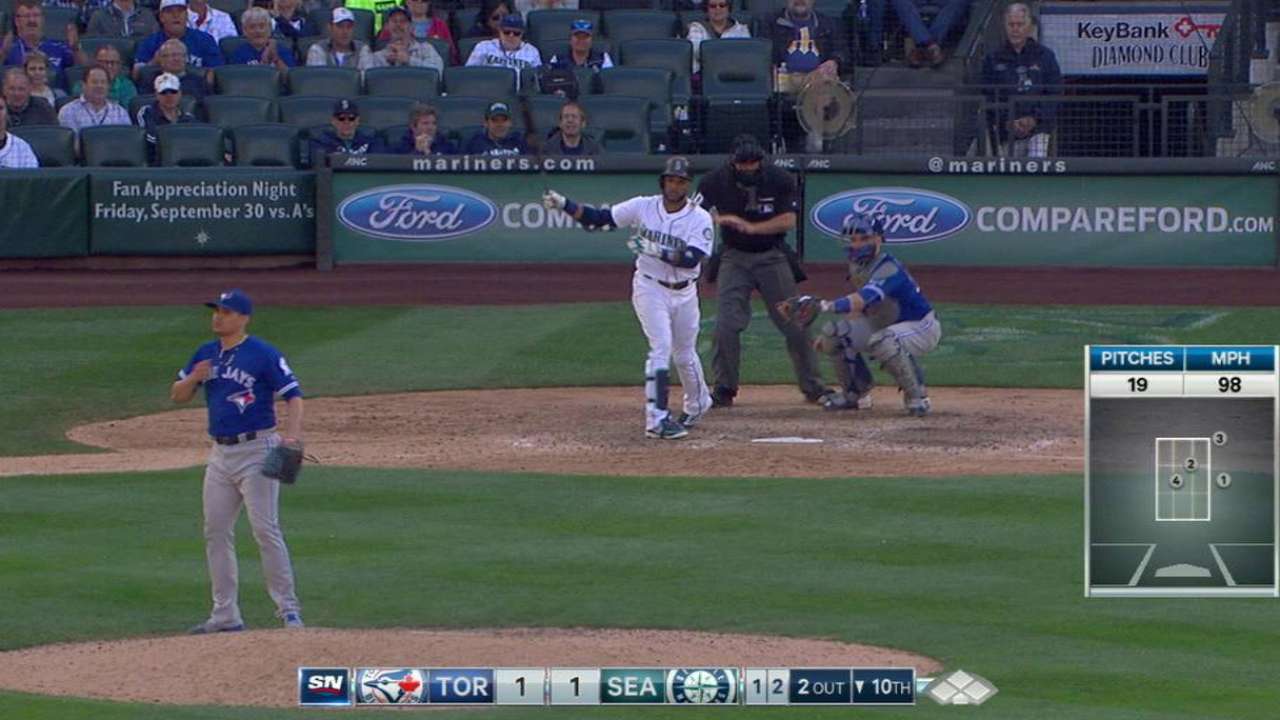 Has R.A. Dickey made his final start for the Blue Jays?
-- Joel M., Moncton, New Brunswick
Dickey is not expected to make another start, but that could change if the Boston series does not have postseason implications. If Toronto is getting ready for the AL Wild Card Game, then Sanchez would likely be pushed back and Dickey could start the finale instead.
Until then, Dickey is available out of the bullpen, but his appearances will be sporadic. He entered Wednesday's series finale against the Mariners during extra innings, and he could see action there again while also being an option when the score is out of reach. Whenever Dickey enters, personal catcher Josh Thole will follow.
Classy act on part of the Blue Jays to appoint Paul Beeston as president emeritus. Do you see him being actively used in the decision-making process, or is it solely a symbolic move?
-- Derek Donati
The position of president emeritus is an honorary title that is more symbolic than anything else. It was meant to recognize Beeston's longstanding tenure with the club and all of the years of service he put into the organization. That being said, Beeston has maintained an office at Rogers Centre and he attends all of the home games, so if anybody from the front office is looking for another opinion, he will be there to provide it.
Devon Travis has been struggling in the field. Wouldn't it make sense to give Darwin Barney or Ryan Goins a shot given their defensive prowess?
-- Ryan W., Ottawa, Ontario
Travis has received a lot of heat over the past two weeks for his glove, but people also seem to be forgetting that he has been one of the club's best hitters since the end of July. Toronto has experienced difficulty scoring runs of late, and it simply cannot afford to take a guy out of the lineup who just completed a 17-game hitting streak.
Travis is batting .354 this month, and in 55 games since the All-Star break, the 25-year-old has 26 multihit efforts. There also seems to be a theory out there that he doesn't come through with runners in scoring position, but that simply is not true. Since the break, he ranks second in the AL with a .422 average in those situations.
Barney and Goins are elite-level defenders, but Travis has the ability to get the job done. He hit a rough patch lately, but he could turn that around and the upside of the bat is simply too good to ignore.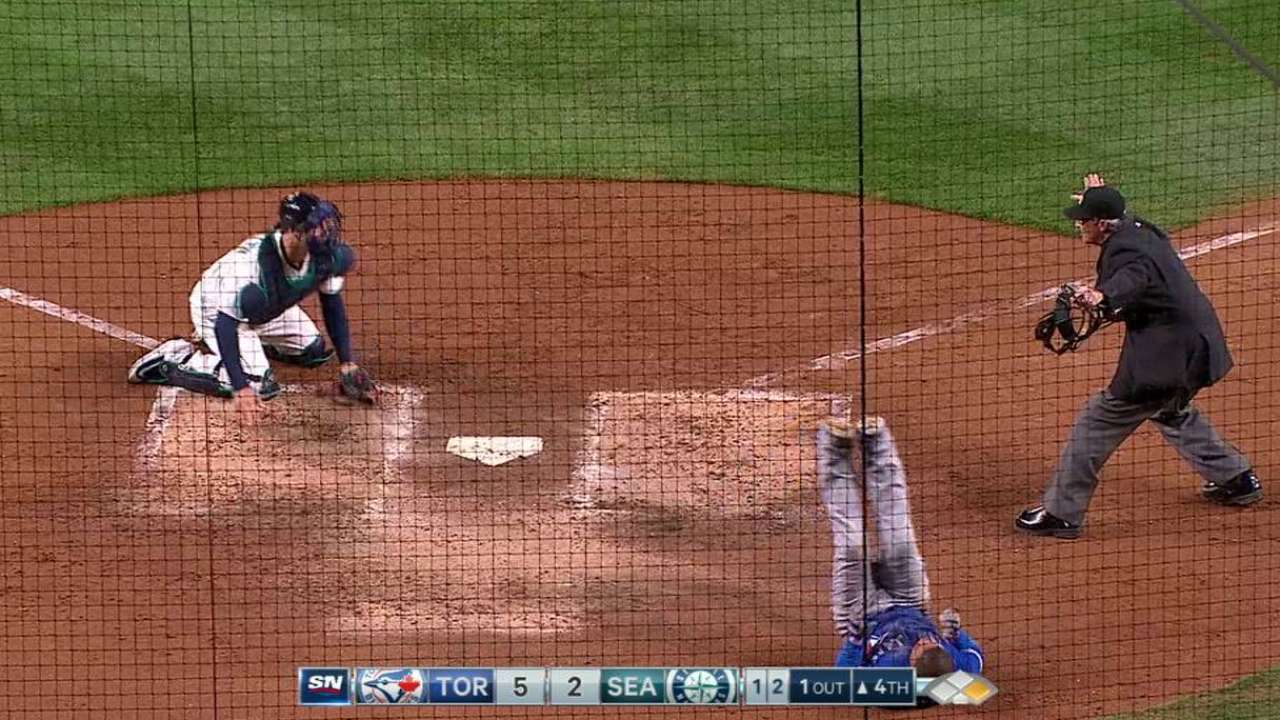 What happens if Baltimore and Toronto finish the year tied for the Wild Card spots? Who gets home-field advantage?
-- Scott W., Toronto
If the two Wild Card teams finish tied, then home-field advantage goes to the team that owns the best head-to-head record. The Blue Jays currently leads the season series with the Orioles, 9-7, but the two teams have three games remaining at Rogers Centre, which could impact this potential tiebreaker.
If the head-to-head records are even, which could not happen between Toronto and Baltimore, then the second tiebreaker would be intradivision record and the third tiebreaker would be intraleague record.
I know that it's a long shot, but don't you think people are giving up on the division a little too quickly?
-- Mike, Burlington, Ontario
Toronto is five games back in the division with 10 games remaining. It's technically possible, but it's also not looking very realistic that the Blue Jays will repeat as AL East champs. The best-case scenario is if Toronto narrowed the gap by two to three games over the next seven and has a chance during the final series, but that's a pretty tall order.
As long as the division remains mathematically possible, that has to remain the goal, but it's also probably time to at least start thinking about Plan B. First and foremost, the Blue Jays need to lock down a spot in the postseason, and if that has to be the Wild Card Game, the club also would be best served to align its pitching staff accordingly.
Gregor Chisholm has covered the Blue Jays for MLB.com since 2011. Follow him on Twitter @gregorMLB and Facebook, and listen to his podcast. This story was not subject to the approval of Major League Baseball or its clubs.