Veterans Beltre, Beltran on title quest
Rangers teammates eye elusive postseason prize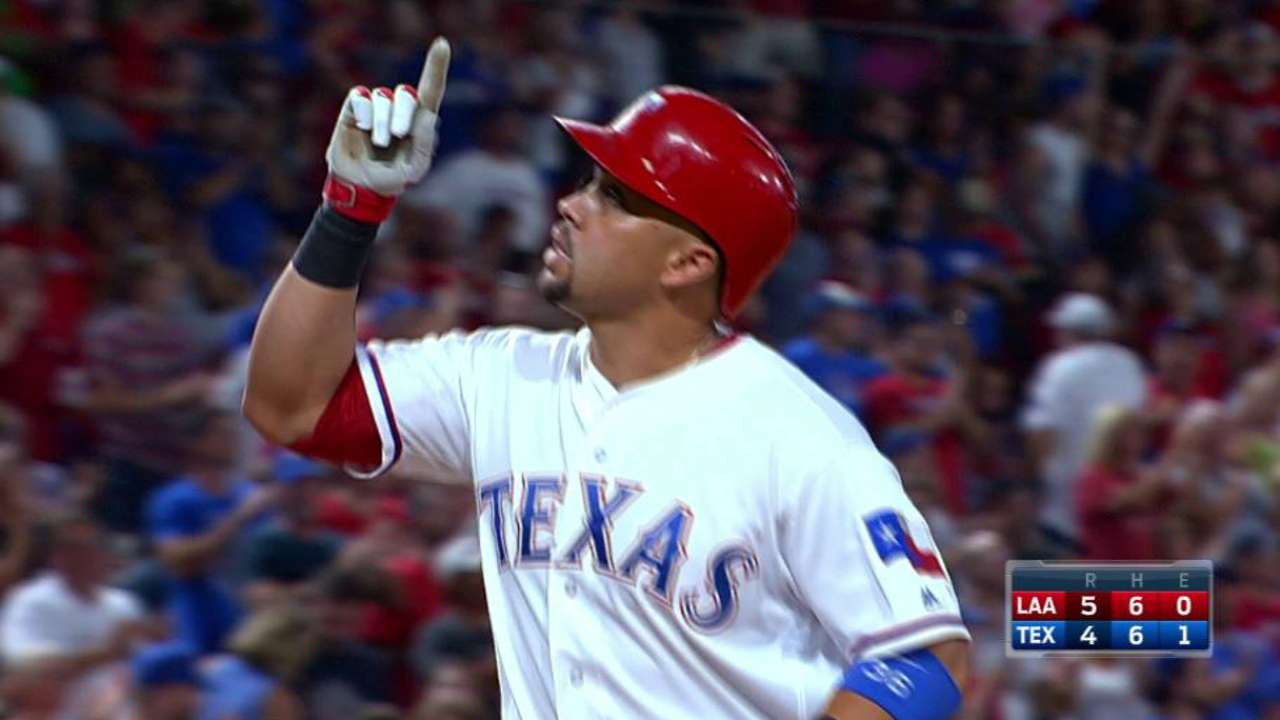 ARLINGTON -- Adrian Beltre and Carlos Beltran have all the appearances of being Hall of Fame teammates for the Rangers.
Between the two, they have 13 All-Star appearances, seven Gold Glove Awards and six Silver Slugger Awards. Beltre, 37, and Beltran, 39, also have a combined 20,759 at-bats, 5,543 hits, 862 home runs and 3,097 RBIs since they each entered the Majors in 1998.
But even with their incredible wealth of experience, there is one thing they haven't been able to check off in their illustrious careers: winning a World Series.
"To know that we have two guys on the same ballclub with the same mindset and kind of career, it's great," Beltre said. "We both haven't won the World Series yet. It would be pretty cool if we were able to win it together."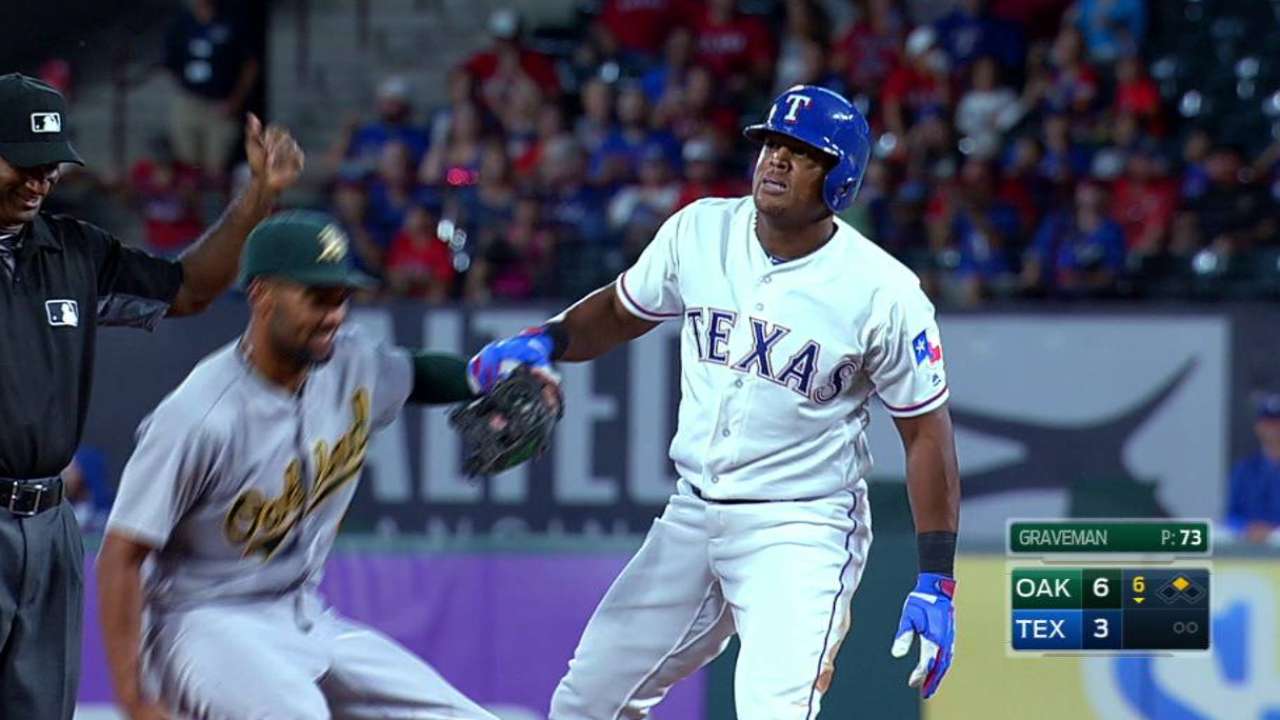 Beltre and Beltran have played a combined 38 seasons in the Majors. But in all those years, they've made just two World Series appearances -- one for each player. Beltran made it there with the Cardinals in 2013, and Beltre won a pennant with the Rangers in '11.
"We have both played this game a long time and have never been able to experience holding the [World Series] title at the end of the year," Beltran said. "But that's the goal. That's what motivates me to continue to play this game. I hope one day I can get that opportunity."
Since being acquired on Aug. 1 from the Yankees, Beltran has batted in the No. 3 spot most games, right in front of Beltre. Beltran has hit .361 in his past 22 games with 16 RBIs. Beltre has been one of the best hitters in the American League since the beginning of August, hitting .343 with 14 home runs and 33 RBIs in that span.
But it's more than just this duo's offense that has helped Texas to cement its role atop the AL West, and what they hope will be a deep postseason run.
It's also been about the presence they've brought to the clubhouse every day.
"You come here and you see the oldest guys -- the future Hall of Famers -- get [to the ballpark] before you," said Carlos Gomez, who joined the Rangers on Aug. 25. "We're supposed to be here at like 4 p.m. They're here at 1 p.m. If they get here at that time, I've got to be here by 11 a.m."
Gomez has spoken frequently about the impact Beltran had on him while they were with the Mets in 2007, which was Gomez's rookie year.
Now, Gomez and the rest of Texas' players are enjoying the rewards of having mentors like Beltre and Beltran in the clubhouse.
"It's a blessing," Gomez said. "Not everybody has the opportunity to have those guys around. These guys come and make you feel young every day, playing around and making you feel comfortable.
"All those small things make a difference when you're comfortable playing the game."
Rangers manager Jeff Banister has continually noted the importance Beltre has had on the development of players like Rougned Odor, Nomar Mazara and Jurickson Profar. In Banister's view, having Beltran around to complement Beltre's mentorship has been essential.
"[Beltran is] a living library of messages, thoughts and teaching," Banister said. "That part of it, I believe, is invaluable. [Teammates] get to see it play out, too. [Beltran] goes and plays at what I feel is a high quality."
One of the more invaluable traits of Beltran's career has been his postseason success. He's hit .332 with a 1.115 OPS, 16 home runs and 40 RBIs in 52 postseason games.
"We know what kind of player he is in the playoffs -- one of the best, if not the best," Beltre said. "Hopefully we can combine that together -- the knowledge we have -- and pass it around the ballclub, and make sure that everybody is on the same page."
Texas made the playoffs last season, and it has done so three of the past five seasons. For that reason, Beltran doesn't feel that there are any huge messages or lessons that he needs to pass on.
However, Beltran will still do his best to impart some wisdom.
"When it gets to that point, of course, I will say a few words," Beltran said. "If we call a meeting or something, just tell the guys to relax and enjoy it, and appreciate the moment. Sometimes as players, it comes once in a lifetime. The fact that we're capable of hopefully playing late in October, we're excited about that."
The Rangers have good reason to be excited about their chances in October. The combination of Beltre and Beltran won't stop that fervor anytime soon.
Ryan Posner is a reporter for MLB.com based in Texas. This story was not subject to the approval of Major League Baseball or its clubs.