Doubles machine: Ramirez churning out hits
Indians third baseman collects three two-base hits to run total to 42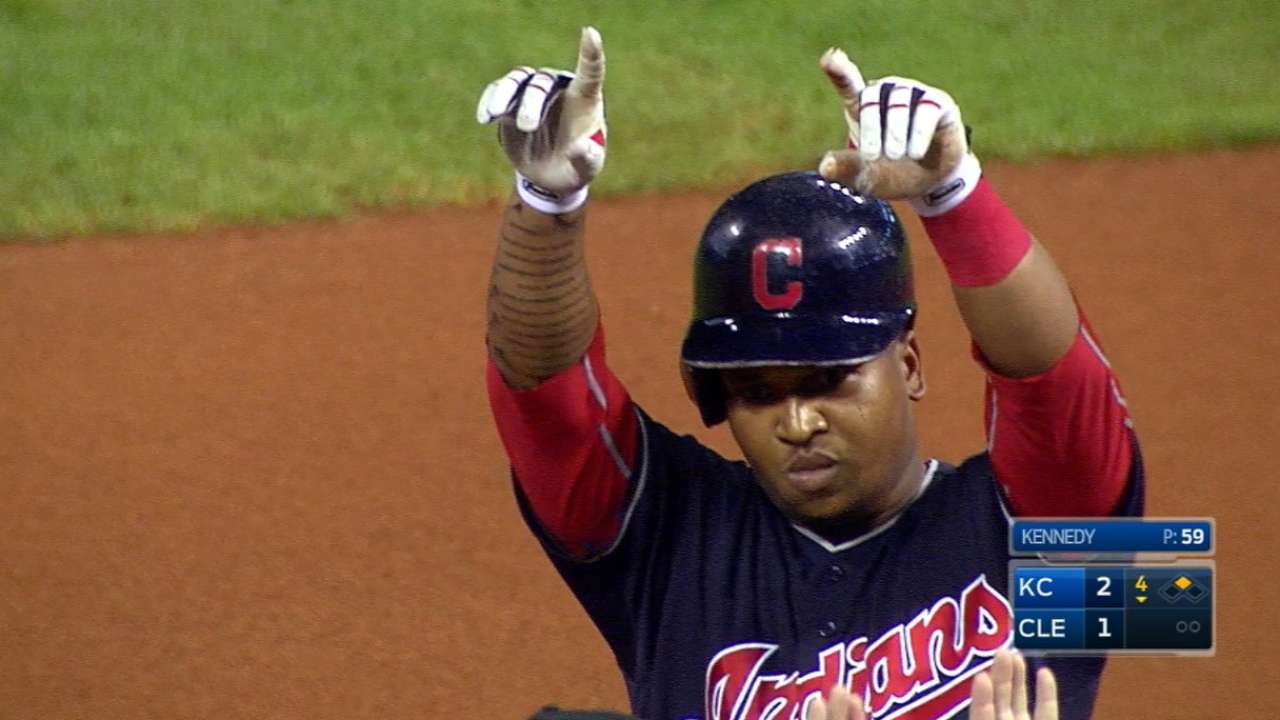 CLEVELAND -- Indians closer Cody Allen cracked a smile when asked about Jose Ramirez. He could not help it. Whether it's Ramirez's sense of fashion, or the orange dreadlocks that sprout from his head, or the way he struts through the room, the stocky infielder has that effect on his teammates.
"He's awesome, man," Allen said after Cleveland's 4-3 win over the Royals on Wednesday night. "He's one of those guys you're excited to see every day. He walks in and we have fun with him."
As Ramirez has gained more confidence and comfort in the big leagues, the young third baseman's personality has come out more and more. And that confidence is at an all-time high, as evidenced by the stylish hats he wears, with his initials (J.E.R.) sewn into the front and a logo resembling his hair above the letters.
What Cleveland really likes is Ramirez's style of play.
In Wednesday's win, Ramirez churned out a trio of doubles to give him a team-high 42 this season. After his first two-base hit in the second inning, the third baseman scored on a single by Lonnie Chisenhall. Then Ramirez capped off a two-run push in the fifth with a go-ahead double to bring Jason Kipnis across the plate.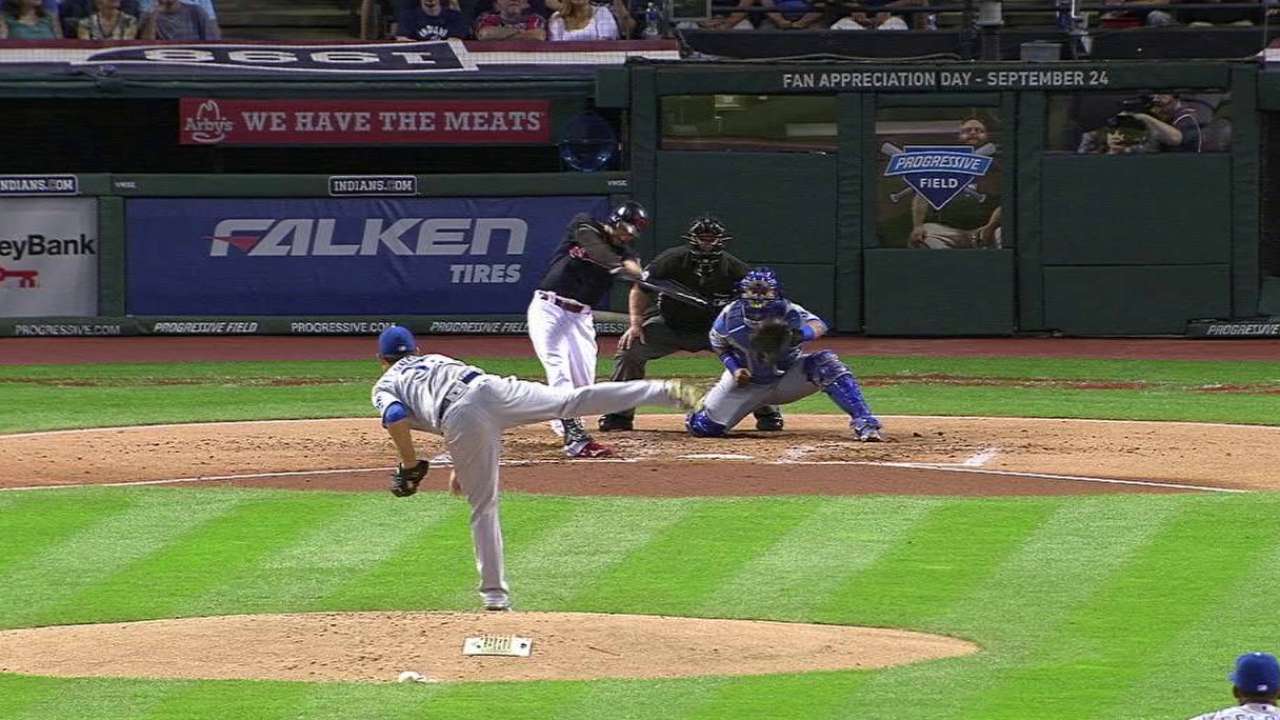 That showing was just another sample of what Ramirez has done all season long.
"He's been so consistent," Indians manager Terry Francona said. "Right-handed, left-handed, he's shooting the ball all over the ballpark."
In the wake of the loss of star outfielder Michael Brantley, who was an American League Most Valuable Player Award finalist two seasons ago, Ramirez's rise has been a godsend for Cleveland's offense. Ramirez's slash line of .315/.367/.462 resembles the kind of production Brantley provided, and the third baseman's performance has played a key role in helping the Tribe close in on an AL Central title.
The Indians, who trimmed their magic number to five to clinch the division, have watched Ramirez collect 10 home runs, 22 stolen bases, 42 doubles, 71 RBIs and 79 runs scored in 143 games. He is the first player since Brantley in 2014, and only the fifth all time in franchise history, to have at least 10 homers, 20 steals and 40 doubles in a single season.
"I give thanks to God for giving me the opportunity to get there," Ramirez said of his statistics. "I put in work in the offseason, and that's how I've been able to get so many hits."
A legitimate case could be made that Ramirez has been the Tribe's MVP this season.
After his showing against Kansas City, Ramirez improved his batting average to .361 (48-for-133) with runners in scoring position and .369 (24-for-65) with RISP and two outs. Among qualified AL hitters, Ramirez also ranks fifth overall in Win Probability Added (3.83), trailing only Mike Trout, Josh Donaldson, David Ortiz and Carlos Beltran in that category.
"He's been one of the better hitters in the league," Indians ace Corey Kluber said. "He's getting clutch hits, playing great defense. There's not really an area where he's not contributing."
Allen shared that sentiment.
"He's an unbelievable player," said the closer. "There was a lot thrown on his plate the last couple years. He's an extremely talented player. He has a lot of ability. And, for him, I'm sure the game's slowed down quite a bit this year. He's done a remarkable job day in, day out. We're lucky to have him."
Jordan Bastian has covered the Indians for MLB.com since 2011, and previously covered the Blue Jays from 2006-10. Read his blog, Major League Bastian, follow him on Twitter @MLBastian and listen to his podcast. This story was not subject to the approval of Major League Baseball or its clubs.