Indians catch speed demon Gore stealing
Allen, Perez, Lindor combine to nab basestealer for first time in regular season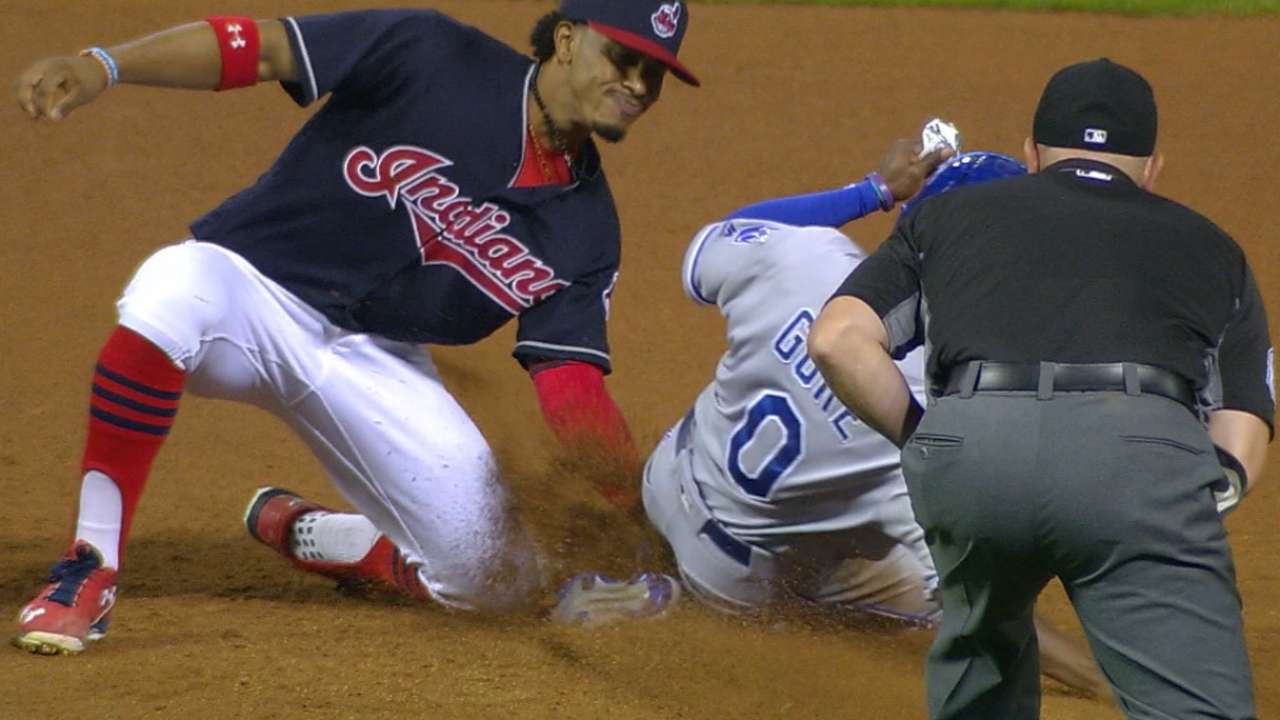 CLEVELAND -- It had to happen sometime.
One of the top basestealing weapons in baseball, Royals outfielder Terrance Gore, finally got caught stealing in the ninth inning of the Indians' 4-3 win over the Royals on Wednesday night at Progressive Field.
After 17 straight Major League stolen bases over three seasons, Gore was thrown out for the first time in the regular season, thanks to the combination of closer Cody Allen and catcher Roberto Perez.
The out came at a crucial time: The Royals had pulled within 4-3 with none out in the ninth on Salvador Perez's home run, and Gore pinch-ran for Alex Gordon, who had walked.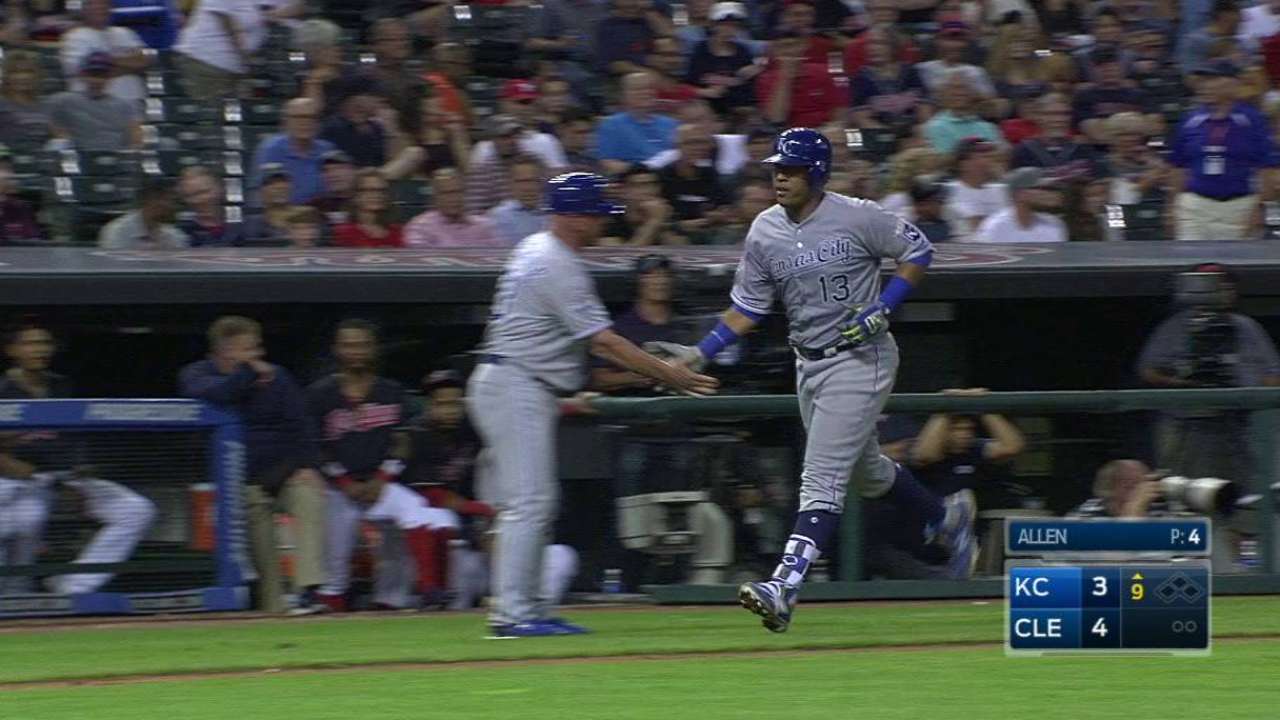 With Alcides Escobar at the plate, Gore waited until the second pitch before taking off for second. Escobar took a called strike, and Perez made a perfect throw to shortstop Francisco Lindor. Out. Two outs later, the game was over.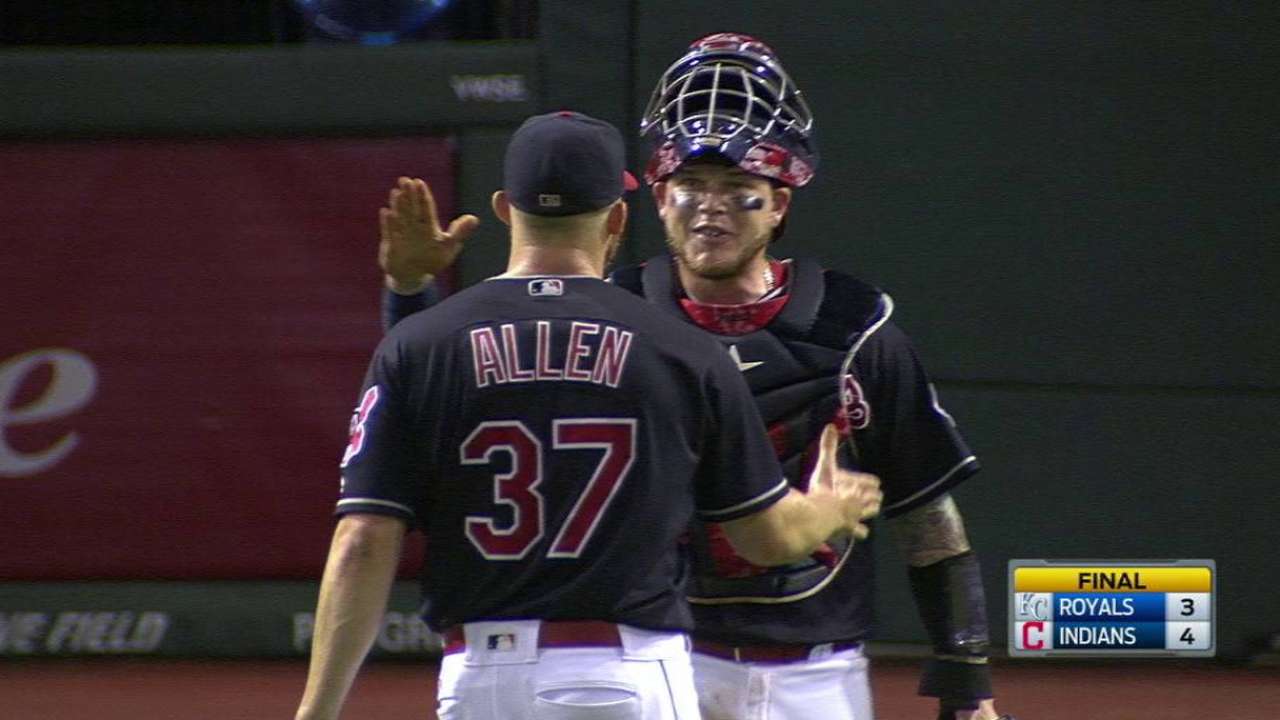 Royals fans on Twitter reacted in disbelief. But afterward, Gore -- whose only other caught-stealing in the Majors was at third base during Game 4 of the 2015 American League Division Series by the Astros' Jason Castro -- shrugged his shoulders.
"I'm not frickin' God," Gore said, smiling. "I've been caught in the Minors three or four times this year. It happens.
"I just got a terrible jump. If you watch the video, it was pretty bad. I wouldn't have gone, but in that situation I still felt like I had a chance."
The numbers suggest the Indians did it right. Gore's lead, according to Statcast™, was 11.1 feet. His top speed was 21.7 mph, and he got to second in 3.6 seconds.
But Indians manager Terry Francona believes two things won the play: Allen's quick time to home and Perez's accuracy.
Allen's release time -- the time it takes to start his slide step until he releases the ball -- was a quick 1.04 seconds. He then threw a 92-mph fastball to home.
"Everybody will be talking about the throw, because it was a great throw, but Cody also gave him a chance," Francona said. "I think Cody was a 1.22, 1.21 [seconds to home plate]. If you're anything slower than that, you don't even give Roberto a chance."
Allen also was hoping to disrupt Gore with two throws to first with varying speeds and hesitations.
"On my end, all I'm trying to do is just disrupt his timing as much as possible," Allen said. "I don't want him to get a good jump. Jumps come off the pitchers. So, a guy that quick, that good at what he does, you're trying your best just to kind of let his feet sink into the ground a little bit right there, so he doesn't get a good jump."
So, how did Perez feel about being the only catcher in baseball so far to have nailed Gore during the regular season?
"I was pumped," Perez said. "Especially when you know no one had caught him stealing [before]. For me, I was able to throw him out. It was good for me and good for the team, too.
"I was just following the throw. It was right on the money. Lindor [made] a great tag. I knew I got him."
Just as relieved was Allen.
"I was extremely pumped up to not have a guy on second and nobody out," Allen said. "To have nobody on with one out, that changes the whole dynamic of the inning. That was a big-time play."
Jeffrey Flanagan has covered the Royals since 1991, and for MLB.com since 2015. Follow him on Twitter @FlannyMLB. This story was not subject to the approval of Major League Baseball or its clubs.