Statcast tracks Astros' quick work on final out
Gregerson's release, Castro's pop time lead to game-ending caught stealing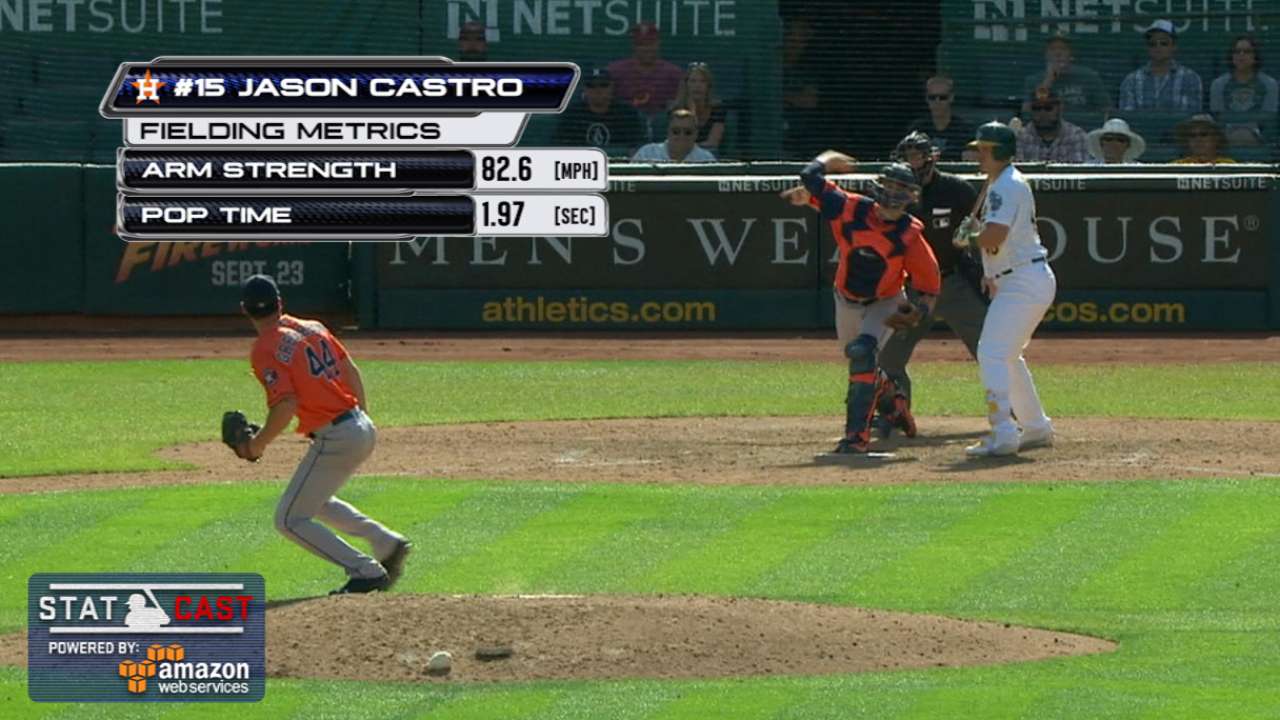 As they try to rally for a spot in the postseason, the Astros need players to rise to the occasion in big moments. As Statcast™ helps demonstrate, that's exactly what reliever Luke Gregerson and catcher Jason Castro did to finish off Wednesday's 6-5 win at Oakland, which ultimately brought Houston within one game of Baltimore for the second American League Wild Card berth.
With the Astros clinging to a one-run lead and needing one more out to seal the victory, speedy pinch-runner Arismendy Alcantara broke for second base on Gregerson's 1-1 breaking ball to Ryon Healy. To prevent the potential tying run from reaching scoring position, both Gregerson and Castro needed to be quicker than usual.
In similar situations this season, with a runner on first base but second and third empty, Gregerson's average release time -- from his first move to the ball leaving his hand -- is 1.35 seconds, according to Statcast™. That is the 12th-slowest time among Major League right-handers in those scenarios.
But in this case, Gregerson's quick slide-step maneuver helped him deliver the pitch in 1.17 seconds, close to the MLB average of 1.11 with the only runner on first. That helped give his catcher a chance to make the play.
Castro's arm strength is an asset, and this play was no exception. The veteran's average throw of 80.7 mph on steal attempts ranks seventh out of 36 catchers with at least 20 attempts tracked by Statcast™ this season. This time, he cranked it up to 82.6 mph, his seventh hardest of 2016.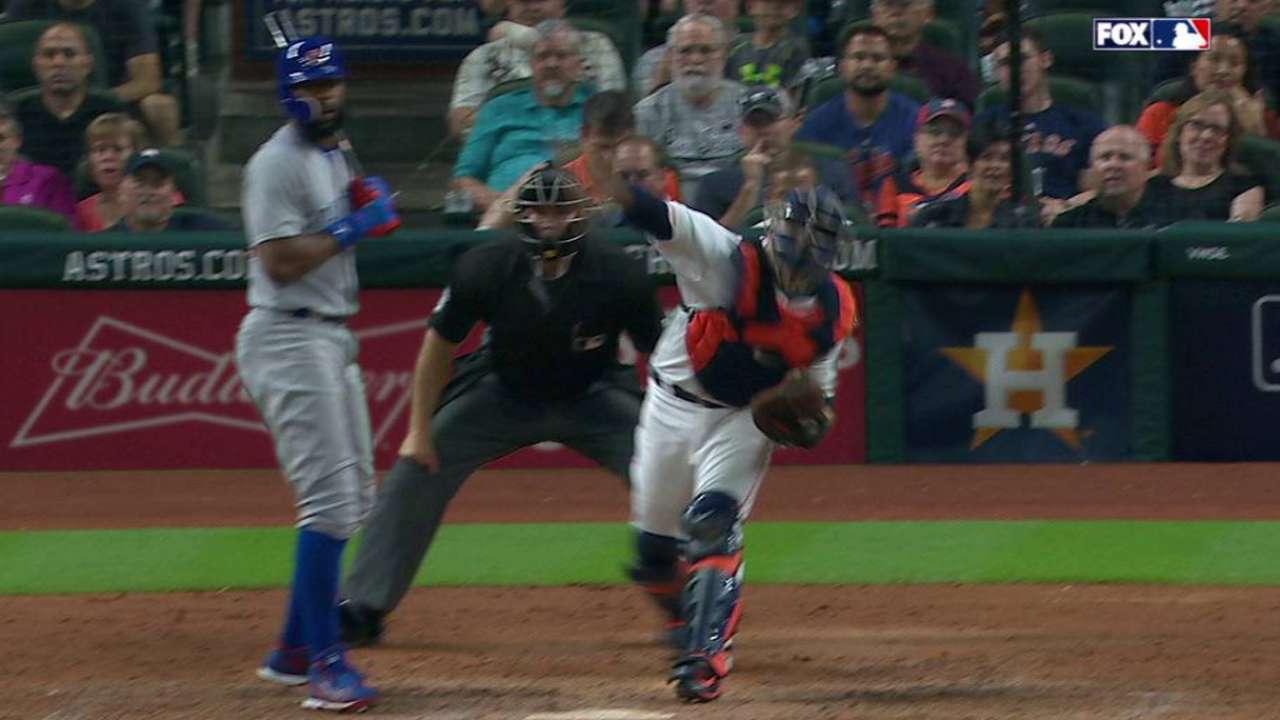 But for a catcher, erasing a stolen-base attempt is about more than just arm strength, and Castro was 11-for-50 (22 percent) entering the day. That's where pop time comes into play, measuring from when he receives the pitch to when his throw reaches its target, factoring in his footwork and glove-to-hand exchange. In this department, Castro hasn't fared as well, his 2.04-second average to second base on steal attempts ranking 21st of 25 catchers with at least 20 chances.
On this high pitch, however, Castro jumped out of his crouch quickly and got rid of his throw on time, leading to a 1.97-second pop time. That's his 11th fastest on a steal attempt at second this year.
That effort might not have been enough if Alcantara had been able to get out to a bigger lead. On his three successful steal attempts this season, the 24-year-old has taken a secondary lead of at least 25 feet. On his three unsuccessful attempts, his lead has been no greater than the 21 feet he managed this time, perhaps due in part to the Astros' efforts to hold him.
"I don't think [Alcantara] got his best jump on that one," A's manager Bob Melvin said. "But that's what he's in there for, and Castro made a good throw."
So even though Alcantara reached a top speed of 21.8 mph -- his season high and the fifth fastest by an A's player on a steal attempt -- Houston had just enough time to make the play.
Castro's strong throw was right to the bag, where second baseman Jose Altuve applied the tag on Alcantara's left arm as he slid in head first. After a crew-chief review didn't overturn the out, the game was over, and the Astros had a crucial victory.
Andrew Simon is a reporter for MLB.com. Follow him on Twitter @AndrewSimonMLB. This story was not subject to the approval of Major League Baseball or its clubs.