MLB.com Columnist
Jonathan Mayo
D-backs' instructs roster showcases system's catching depth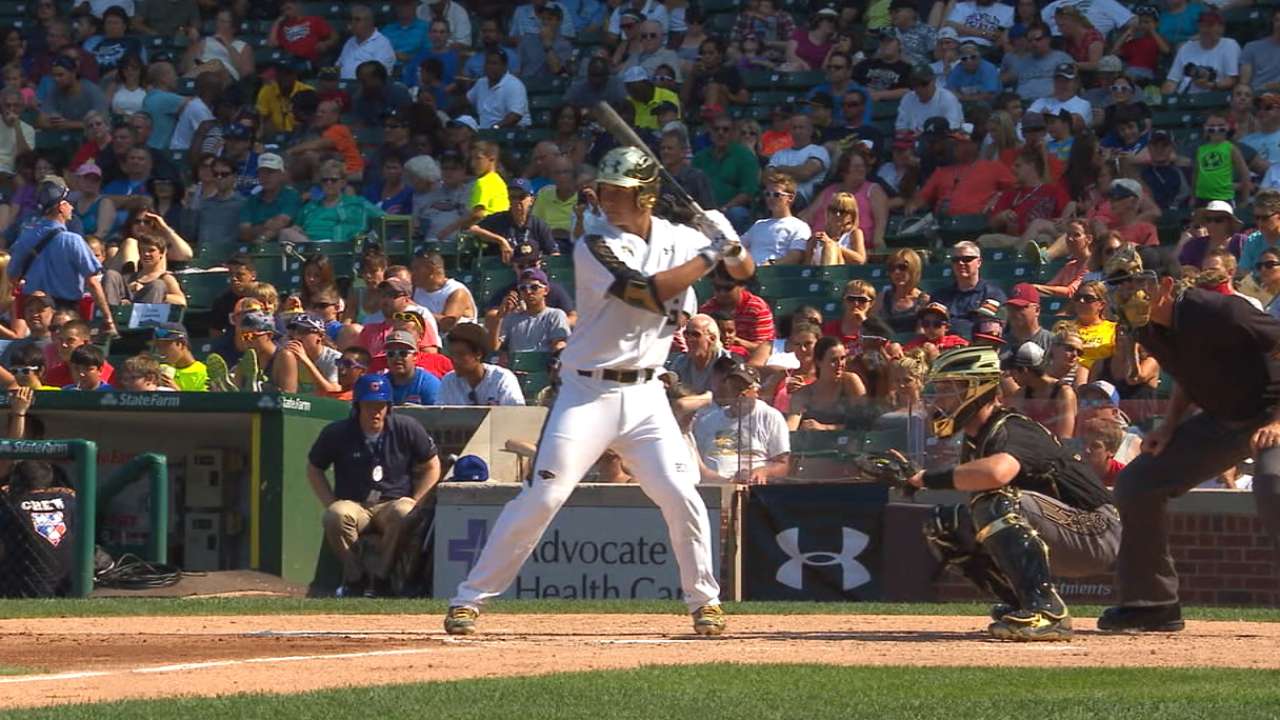 Catching depth is a goal every organization strives for, but seldom feels it reaches. No matter how many backstops a team collects in its farm system, it never seems to be enough.
The D-backs would likely say they could always use more talent behind the plate, but taking a look at their instructional league roster, they do seem to have a bit of an embarrassment of riches at the lower levels of the Minors.
D-Backs Top 30 prospects at instructs
6. Anfernee Grier, OF
14. Cody Reed, LHP
16. Jon Duplantier, RHP
17. Andrew Yerzy, C
18. Wei-Chieh Huang, RHP
24. Tyler Mark, RHP
27. Sam McWilliams, RHP
28. Jasrado Chisholm, SS
29. Marcus Wilson, OF
30. Ryan January, C
Arizona has six catchers attending instructs this fall, all of whom played at Class A Kane County or lower during the 2016 season. Two from the 2016 Draft -- second-rounder Andy Yerzy and eighth-rounder Ryan January -- are on the D-backs' Top 30 Prospects list currently. Jose Herrera certainly could be if not for some injury issues that have held him back developmentally. All are 22 or younger.
"They are bunched up together," D-backs farm director Mike Bell agreed. "It's a focus for a lot of organizations. I do think we have a few good ones we can bring along. I'm anxious to watch them together and how they develop over the next few years."
They'll get to develop together for the time at instructs at the D-backs' training complex at Salt River Field. And while there are only 11 games against other organizations on the schedule -- including one at Chase Field on Oct. 15 -- there will be a number of intrasquad games as well.
"We've cut down our instructional league a bit in terms of games with outside competition," Bell said. "But we have a lot of intrasquad games, so they can compete head to head. They're good kids, they all work well together. When they have been on the same teams, they've picked each other up. It's a good, healthy, competitive relationship that's just starting to develop."
Yerzy, as the early-round pick, might be the best known of the bunch, especially for his power bat. But Bell was pleased with how he has improved defensively over the course of his first full summer, and after struggling initially, he was happy that Yerzy worked his way back up to Missoula in the Pioneer League. January spent all summer in Missoula and banged out 10 homers. Bell saw him early in his season, but he saw a completely different player behind the plate later in the year, one who took the wisdom from catching coordinator Bill Plummer to heart.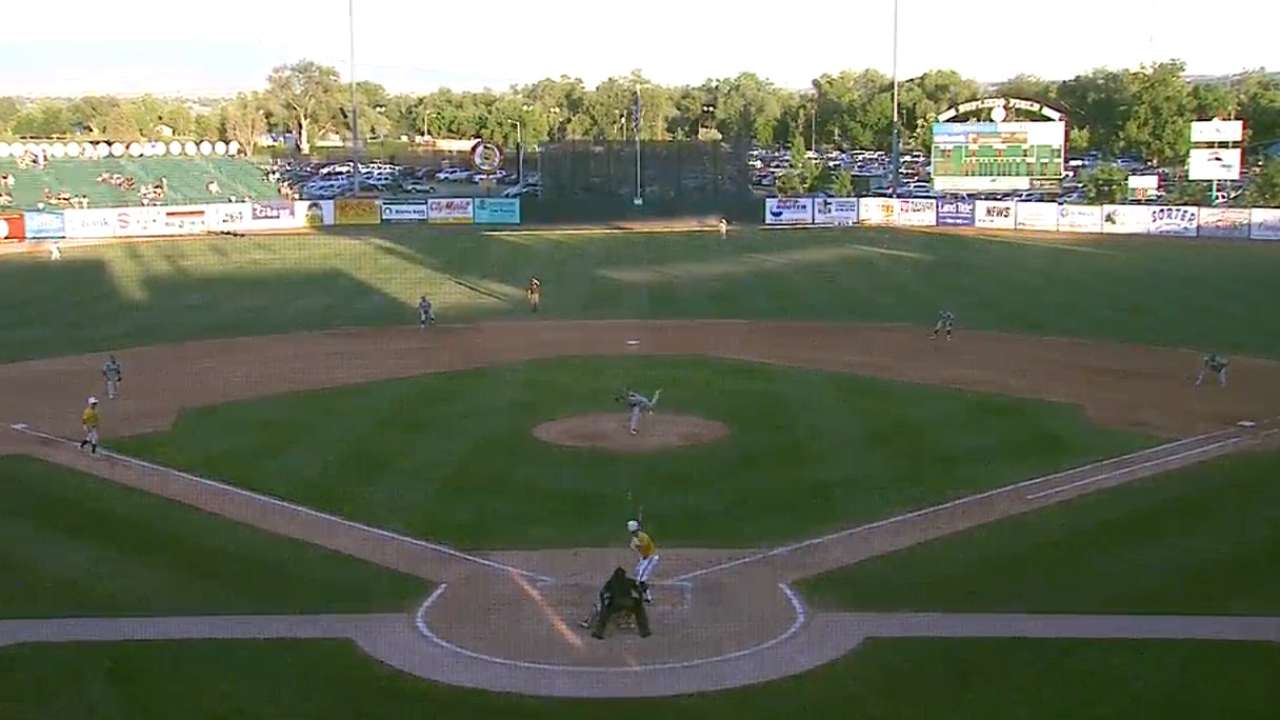 When Herrera was healthy, he showed the ability to be a solid all-around catcher, doing a little bit of everything with full-season Kane County. Luke Lowery, who had a monster debut summer in 2015 but then scuffled to start this season (also in the Midwest League), got his footing in Hillsboro and the short-season Northwest League. And Bell says it would be wise not to sleep on 21-year-old Francis Christy, a 2015 seventh-round pick who played well with Kane County this season.
The big problem, of course, is finding enough playing time and reps for all of these catchers, since they are all at roughly the same level.
"It is tough when you look at it, especially this time of year, you can see where they could start bumping heads as early as next year," Bell said. "It does tend to sort itself out, but you can't bank on it. You can't get stuck on the levels. You might have to push someone a little faster, and slow someone else down a little bit more."
Lopez trying to get back on track
The D-backs signed Yoan Lopez in January 2015 for $8.27 million. To say things haven't gone as planned would be a gross understatement. Not only has the Cuban right-hander struggled on the mound -- he has a 4.76 ERA in 119 total innings over the past two years -- he's had a hard time adjusting off of it as well.
There has been a litany of issues for the 23-year-old, and Lopez left his Double-A Moblie team in July with the intent to quit. The D-backs convinced him to stick it out and even managed to get him back on the mound in the controlled environment of the Rookie-level Arizona League. The hope is that hitting the reset button and removing expectations will help Lopez adjust better.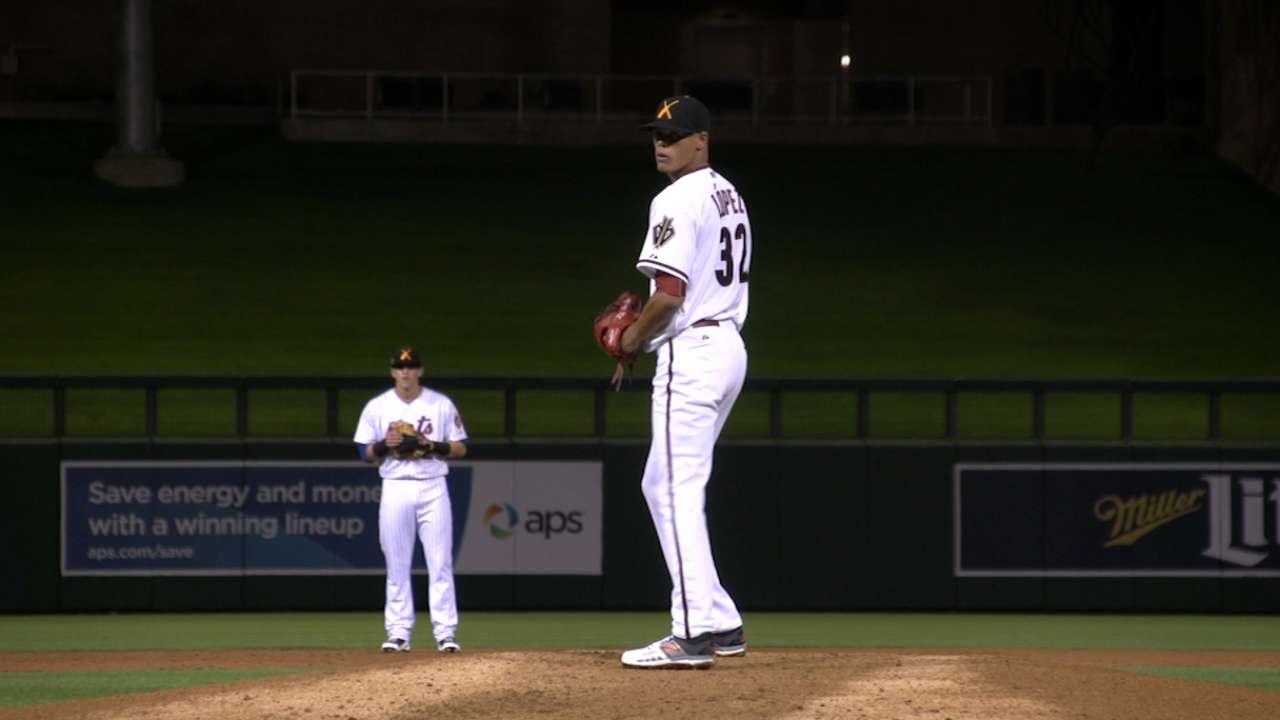 "We tried to slow things down for him," said Bell, mentioning that Lopez went to Miami this week to see family before returning to Arizona for instructs. "Everything moved so quick for him when we got him. He needs innings, he needs to continue to acclimate to life here and what is asked of him day in and day out. He did a nice job of that back here in Phoenix."
Lopez's ordeal in leaving Cuba is one of the many factors that seemed to trouble him and kept him from focusing on pitching. Bell feels player and organization are more on the same page now, and the time at instructs will further help his acclimation and overall development.
"He's understanding what's expected of him more," Bell said. "Maybe we're doing a better job of communicating it or he's understanding it better. I don't think any of us know what he went through to get to this point. He's just learning to deal with life here better."
Wesley Rodriguez back from surgery
The D-backs drafted Rodriguez out of the New York City high school ranks in the 12th round of the 2015 Draft, then were able to sign him for an above-value yet cheaper-than-expected $350,000 bonus because he needed Tommy John surgery. He was able to work his way back to throw six professional innings this summer, and a fully healthy Rodriguez is participating in instructs for the first time.
"Some of what he needs are innings at this point and to start to understand what our philosophy is," Bell said. "It's not that earth-shattering, you want to command your fastball and have a feel for your changeup. He'll get another 10-12 innings or so here."
Rodriguez showed a better feel for pitching than expected this summer, albeit in a very small sample size, commanding his fastball fairly well. He'll continue to work on that, with the time he spent on rehab, strength and conditioning likely contributing to his mound performance.
"Sometimes it can be a blessing in disguise because you learn a lot about your body, how to condition, what it takes to stay strong," Bell said of Rodriguez's surgery. "He focused on it and got better at it. Once he gets up and running, he has a good foundation for taking care of his body now."
Jonathan Mayo is a reporter for MLBPipeline.com. Follow him on Twitter @JonathanMayo and Facebook, and listen to him on the weekly Pipeline Podcast. This story was not subject to the approval of Major League Baseball or its clubs.