Harlem RBI girls screen new FOX show 'Pitch'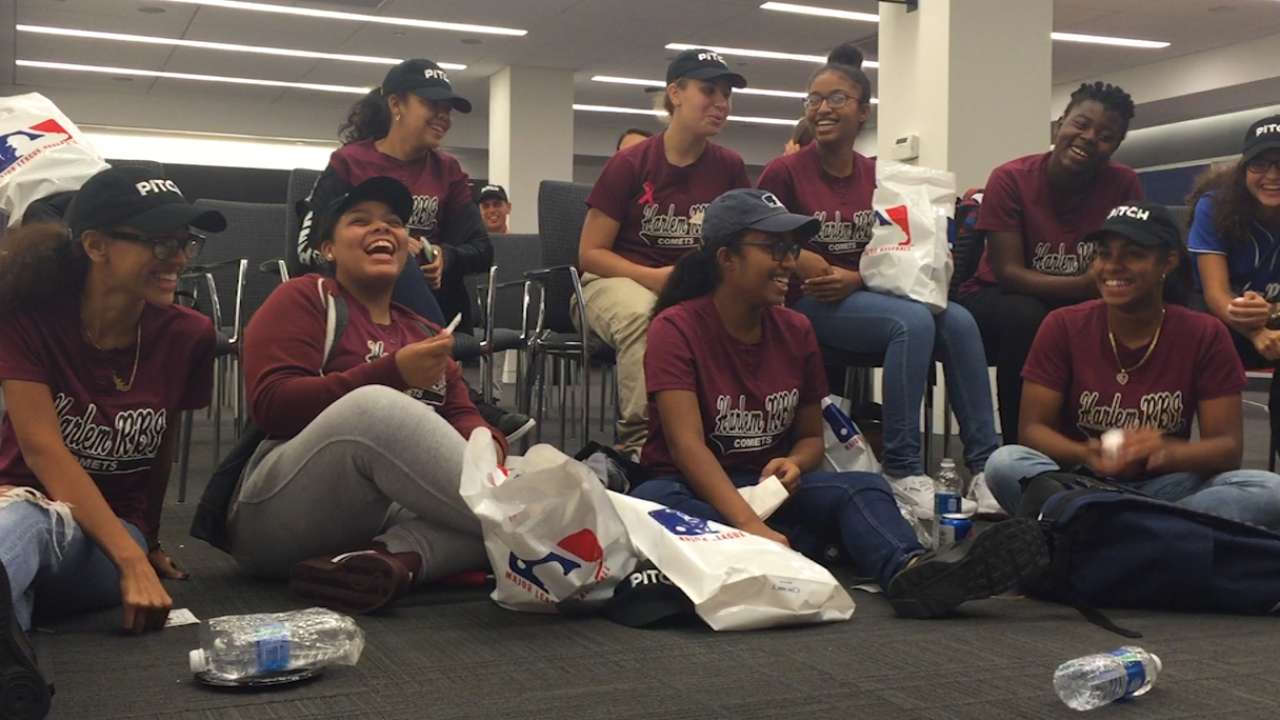 NEW YORK -- Darlene De La Cruz, 14, let out a scream Wednesday when her new idol, Ginny Baker, threw a courageous two-strike screwball past a Dodgers batter for a big strike three.
This is what the world might look like in real life whenever the first female player is called up to Major League Baseball.
You could feel the emotion. In this case, Baker, portrayed brilliantly by actress Kylie Bunbury, is a character on the new FOX TV show "Pitch" that premieres at 9 p.m. ET on Thursday.
And De La Cruz was at the MLB offices in midtown Manhattan, along with eight other young female athletes representing Harlem RBI, to see a special screening of the much-anticipated pilot and to engage in a discussion about the new series' themes, especially gender equality.
"It was so emotional. I was so frustrated," said De La Cruz, a softball pitcher and shortstop for her Harlem RBI team and the starting third baseman at Manhattan Center for Science and Mathematics, where she is a freshman. "Ginny Baker is the first to make an impact in MLB history.
"When I saw this show and the title, I was like, 'Ohmygod, I can relate so much.' I understand her frustration and passion. When I saw about this on social media, I knew I just have to keep working hard. And if I want to be on the Olympic team, I have to keep pushing. Whether you're a boy or girl shouldn't stop anybody from accomplishing anything they want -- as long as you put in the time for it."
Hours after the screening at the Commissioner's Office, another exclusive screening was scheduled over at San Diego's Petco Park, the site of the pilot episode. The Padres were scheduled to host families with special field tickets to watch the pilot on the giant video board following that night's game against the D-backs.
After the 44-minute (no commercials) screening in New York, Melanie LeGrande, MLB's director of community affairs, moderated a conversation with the attendees. All of them emphatically said they see someone breaking the MLB gender barrier the way Jackie Robinson broke the color barrier in 1947 (in fact, Baker wears a No. 43 jersey in the first episode as "one up from Jackie"). When asked how soon, De La Cruz shouted:
"2020 Olympics!"
They are the future and they don't want to wait long for life to imitate art.
They don't see the barriers and the traditions that others do. And now they can "see" what it could look like, because you can't be what you can't see. Real uniforms, real ballparks and familiar media faces like John Smoltz, Joe Buck and Ken Rosenthal add to the reality.
"I think the upside of the show is a chance to expand the normal baseball viewing audience and move the subject into a very progressive topic that could be controversial for some, create some conflict, and so far I've seen the first couple episodes," said Billy Bean, MLB's vice president of social responsibility and inclusion. "I think they're really on to something, and I'm really excited to see the reaction of the young women here today.
"I know many times great female athletes have been diverted into other sports because they didn't see that it would be an opportunity. But when you see MLB and FOX aligning with a subject that is a dramatic, scripted television show, I think you'll see the main television character, Ginny Baker, she is very believable in the way she is presented. So for me, I think you never know.
"The world changes a little bit each and every day, and we want to empower anyone who wants to participate in baseball."
The young women were treated to dinner, given MLB gift packs including "PITCH" caps and baseballs, and addressed before the screening by Tom Brasuell, MLB's vice president of community affairs. Then they ate popcorn and settled in, a chance to dream, but really a chance to force an issue.
These nine are among 1,700 Harlem RBI students, as Reviving Baseball in Inner Cities (RBI) goes back more than two decades with MLB and Harlem RBI.
"This is our 21st season with FOX, and this is an unprecedented opportunity for baseball to work with a TV network who we've been associated with for a long time," Brasuell told them. "This is now an opportunity for us to work with a TV show and talk about baseball, social themes, inclusion, diversity. All those themes run throughout the shows and we hope it will last many years."
De La Cruz had her own perspective as she watched the pilot. But something struck her as she thought about the guys back in Harlem RBI, a possible path for some of them to the pros. She and the other guests recall how Mo'ne Davis -- who threw multiple shutouts at the Little League World Series -- threw heat past the Harlem RBI guys.
"We have a brother team," De La Cruz said. "I was just wondering, what will be their perspective on this show?"
Mark Newman is enterprise editor of MLB.com. Read and join other baseball fans on his MLB.com community blog. This story was not subject to the approval of Major League Baseball or its clubs.