Phillies glimpse future as youngsters step up
Sluggers, speedsters make case for place on next year's squad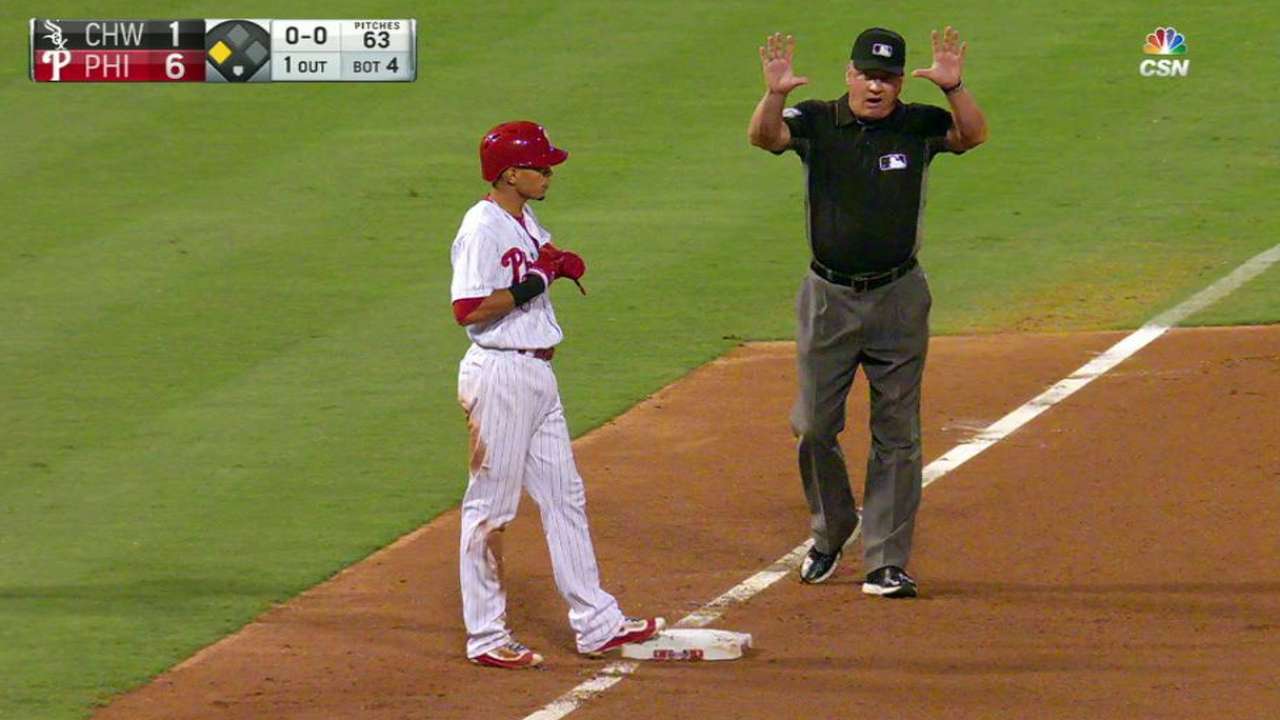 PHILADELPHIA -- It is just one game, but a game like this might allow the Phillies to dream a little about the future.
They not only beat the White Sox on Wednesday night at Citizens Bank Park, 8-3, they beat Sox ace Chris Sale, hammering him for seven hits and six runs in just four innings, making it his second shortest start of the season.
"He's Chris Sale," Phillies first baseman Tommy Joseph said. "He's obviously in contention for the AL Cy Young every year. So it's a good confidence booster for us."
Cesar Hernandez and Roman Quinn hit first and second against Sale, respectively, and went a combined 2-for-5 with one triple, one RBI, three walks and three runs scored. Quinn got hit by a pitch twice, putting the duo on base a combined seven times. They could be the top two hitters in the Phillies' lineup next season.
Maikel Franco hit third. He went 2-for-4, hitting a two-out single to right field to score to two runs in the sixth to hand the Phillies an 8-1 lead.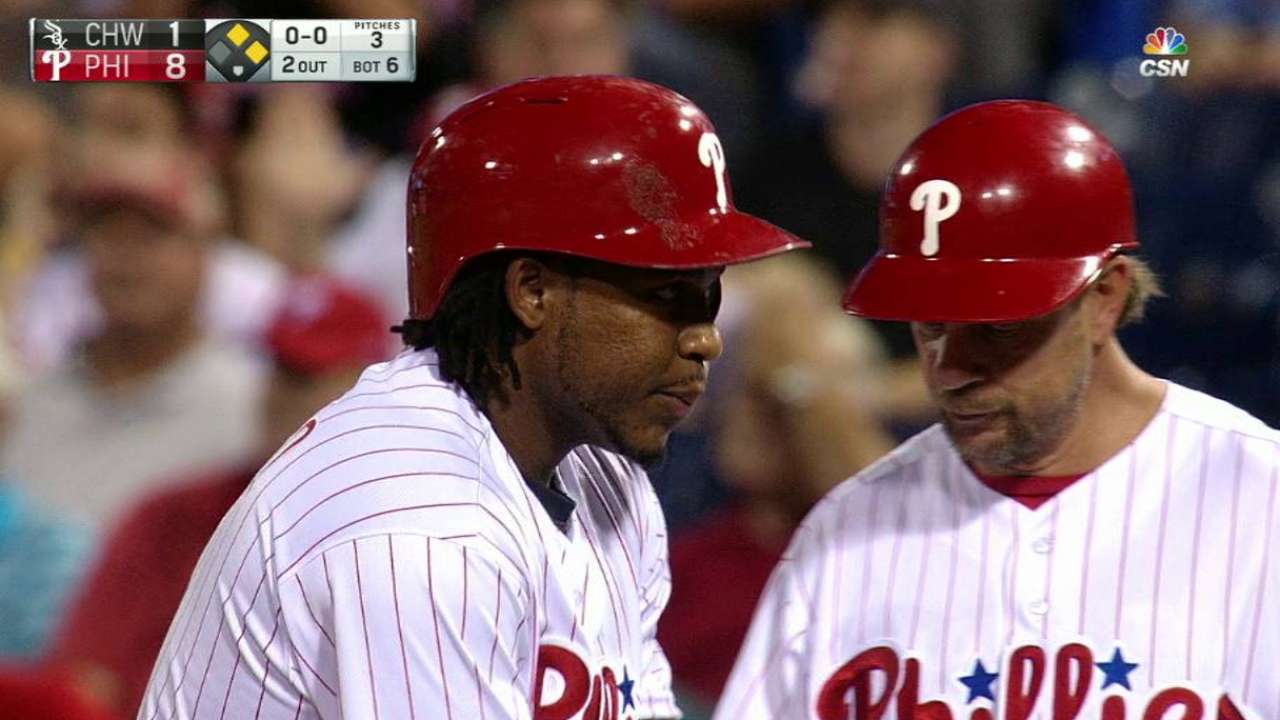 Joseph hit cleanup and doubled to score a run in the first and hit a two-run home run to left field in the third. Joseph's 21st homer of the season moved him into a fourth-place tie with Scott Rolen (1997) for the most home runs by a rookie in Phillies history.
"Scott?" Joseph said about Rolen. "That's a pretty good guy to tie. Getting into that elite company there."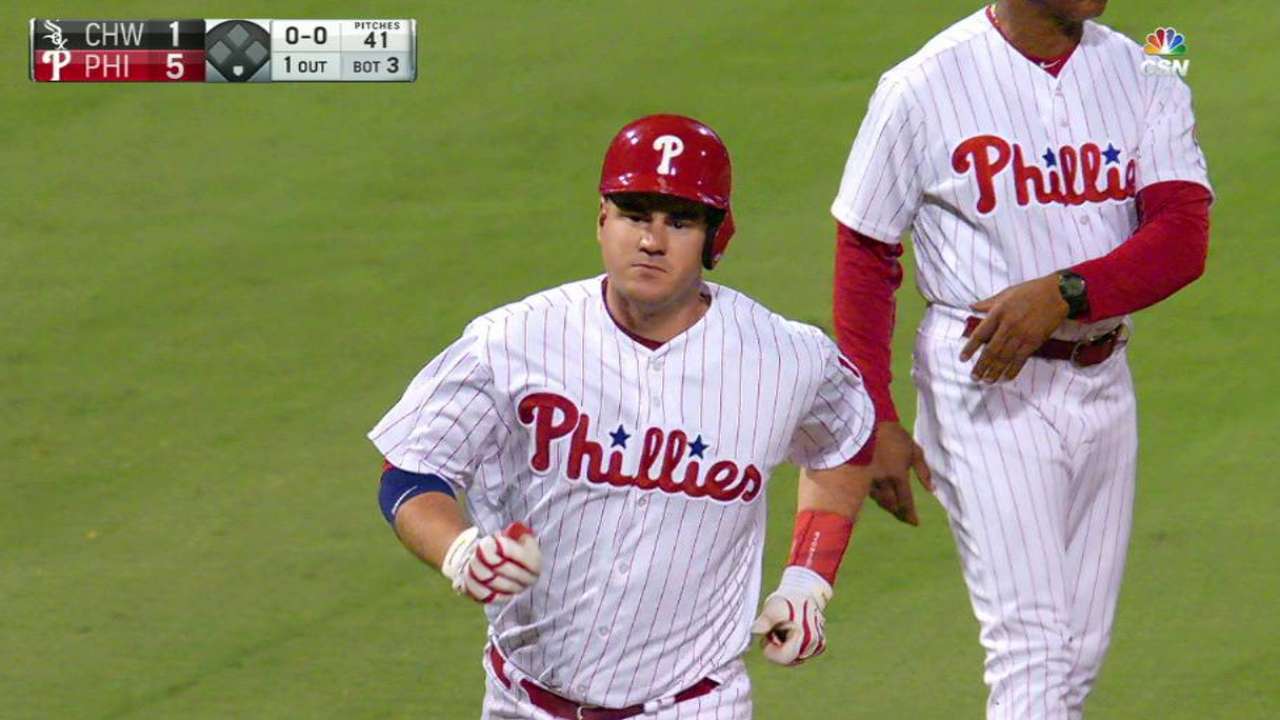 Cameron Rupp hit fifth and doubled to score two runs in the first.
Each of those players figures to be some part of the Phillies' future. How much depends on them, but each has shown their potential to varying degrees this season. Hernandez has been an on-base machine (.362 on-base percentage) at the top of the lineup. Quinn can do a little bit of everything, especially run. Franco has had a bit of a disappointing season, hitting just .248 with a .716 OPS. He needs to be better in the future, but the Phillies often mention he is just 23 years old.
Joseph has been a major surprise. His power is there, but he said the other day he needs to improve his on-base percentage (.311). Interestingly, he entered the night leading baseball with a .560 on-base percentage since Sept. 12.
Rupp also surprised and enters next season as the projected Opening Day catcher.
"Over the last couple of nights, between Roman, Odubel (Herrera) and Cesar, those guys can fly when they get on the basepaths," Joseph said. "It's fun to watch them run. As guys that drive in runs, that's what we want those guys to do, and they're doing a great job of it."
Phillies manager Pete Mackanin agreed. The Phillies had the bases loaded with two outs in the sixth inning with Herrera on third, Hernandez on second and Quinn on first. Each of those runners has speed.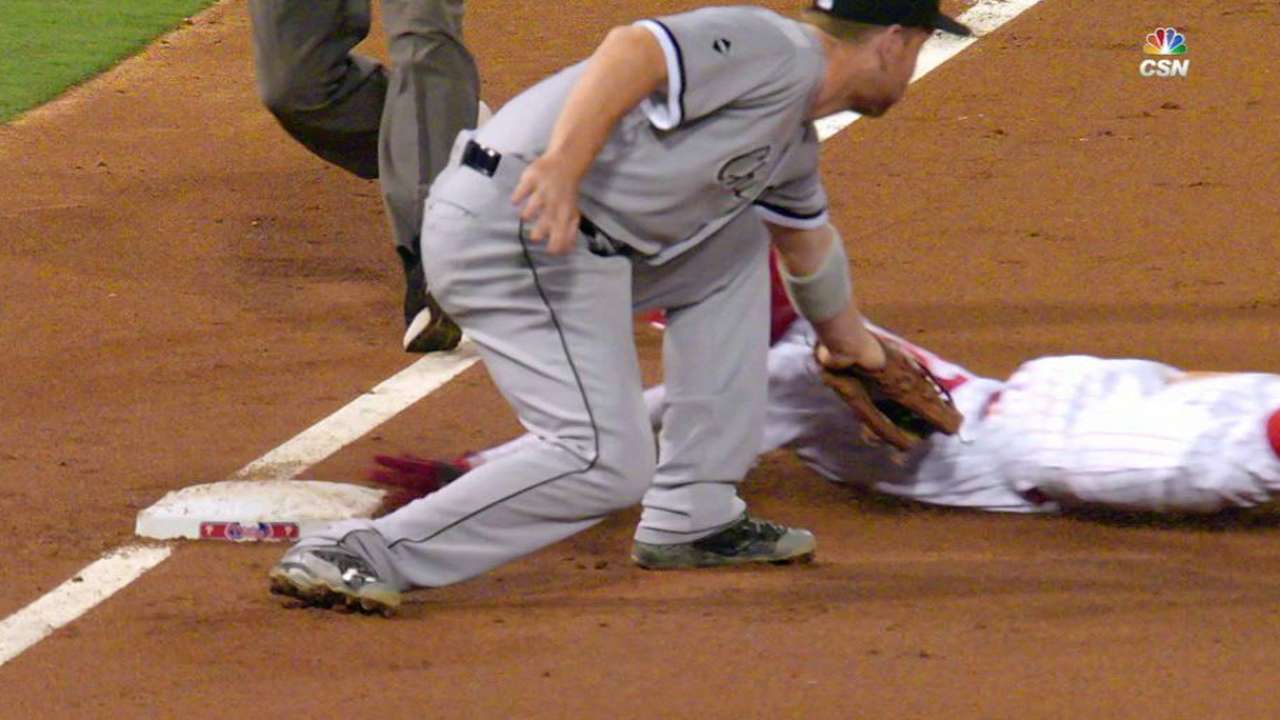 "If I'm hitting you can score three almost with a long single," Mackanin said. "A double, you're going to score three runs. It's nice to have speed."
It'll be even better if they can put it together for an entire year next season.
Todd Zolecki has covered the Phillies since 2003, and for MLB.com since 2009. Read his Phillies blog The Zo Zone, follow him on Twitter and listen to his podcast.75 This story was not subject to the approval of Major League Baseball or its clubs.