Sale's Cy Young campaign takes a hit
White Sox ace says 'godawful' outing had nothing to do with fatigue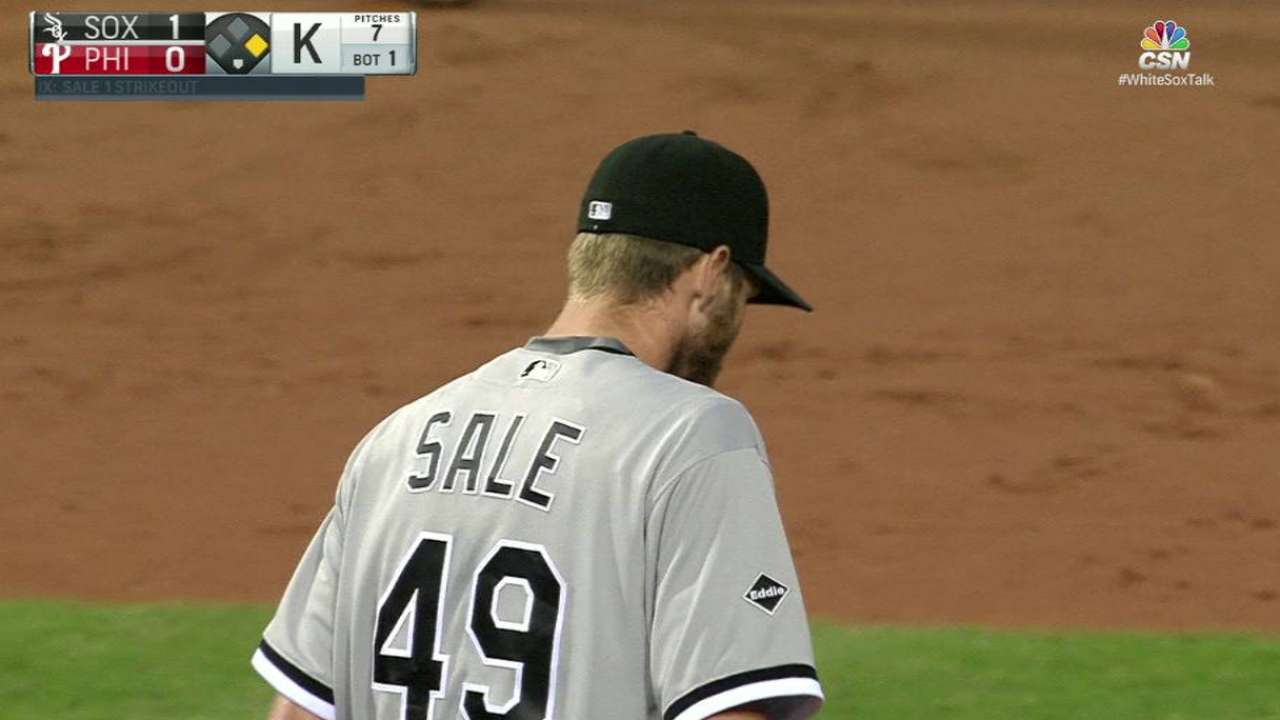 PHILADELPHIA -- Melky Cabrera lurked behind the media scrum meeting with manager Robin Ventura before the White Sox 8-3 loss to the Phillies on Wednesday as the skipper was asked who he thought offered the best competition for Chris Sale in the American League Cy Young Award race.
"Guys like Chris Sale and Melky Cabrera should be at the top of the Cy Young," Ventura responded with a smirk, eyeing his left fielder.
After Sale's four innings in which he allowed six runs on seven hits -- and three hit batsmen, the first time he had ever plunked three in a game -- Sale's chances at his first Cy Young may have fallen closer to that of Cabrera's than actual candidates Ventura offered up: "some guys in Cleveland," "maybe someone in Texas," and Boston's Rick Porcello.
But Sale's mind wasn't on the award race after he was "just godawful" against the Phillies.
"We're all entitled to have a bad night and tonight was mine, unfortunately," Sale said. "I don't play this game for stuff like that. I'm here to win games, not win any trophies or whatever else. I want to win games and I wanted to win tonight. It was a frustrating night."
It was particularly frustrating -- and surprising -- coming on the heels of six straight starts where Sale went at least eight innings and didn't allow more than three runs. Over that stretch, he had a 2.16 ERA. Add in Wednesday's start, and that number spiked to 3.00, closer to his season mark that now sits at 3.23.
Entering Wednesday, Sale trailed only the Yankees' Masahiro Tanaka in the AL in ERA. After allowing six runs in four innings, he fell to eighth, a single point behind Justin Verlander's 3.22 mark.
Although Sale said the strenuous workload hasn't had an effect on him, Ventura saw a dip in fastball velocity and speculated it could be catching up to his ace.
"Usually there's a big difference between his fastball and changeup. Tonight it didn't seem like there was as much life on the fastball," Ventura said. "I think, control-wise, even the first inning you see the way he hits a couple guys, he wasn't really controlling the slider too much. … With him, I don't think [fatigue] goes with the command part of it. But it could be a little with the velocity."
No matter how dominant -- and he had been dominant before Wednesday -- much of Sale's value was his ability to rack up innings, a true horse heading the rotation. He has thrown the most innings of any AL pitcher in one fewer start than anyone else above 200.
Sale is set to make two more starts this season. He surpassed his career-high in innings when he got Maikel Franco to line into a double play to end the fourth inning. To become the first White Sox pitcher to win the Cy Young since Jack McDowell in 1993, he'll have to erase Wednesday's start from voters' minds, all while pitching more than he has before.
Evan Webeck is a reporter for MLB.com based in Philadelphia and covered the White Sox on Wednesday. This story was not subject to the approval of Major League Baseball or its clubs.