Roberts gets his turn in Vin's booth
Dodgers' skipper joins parade of players and coaches visiting legendary broadcaster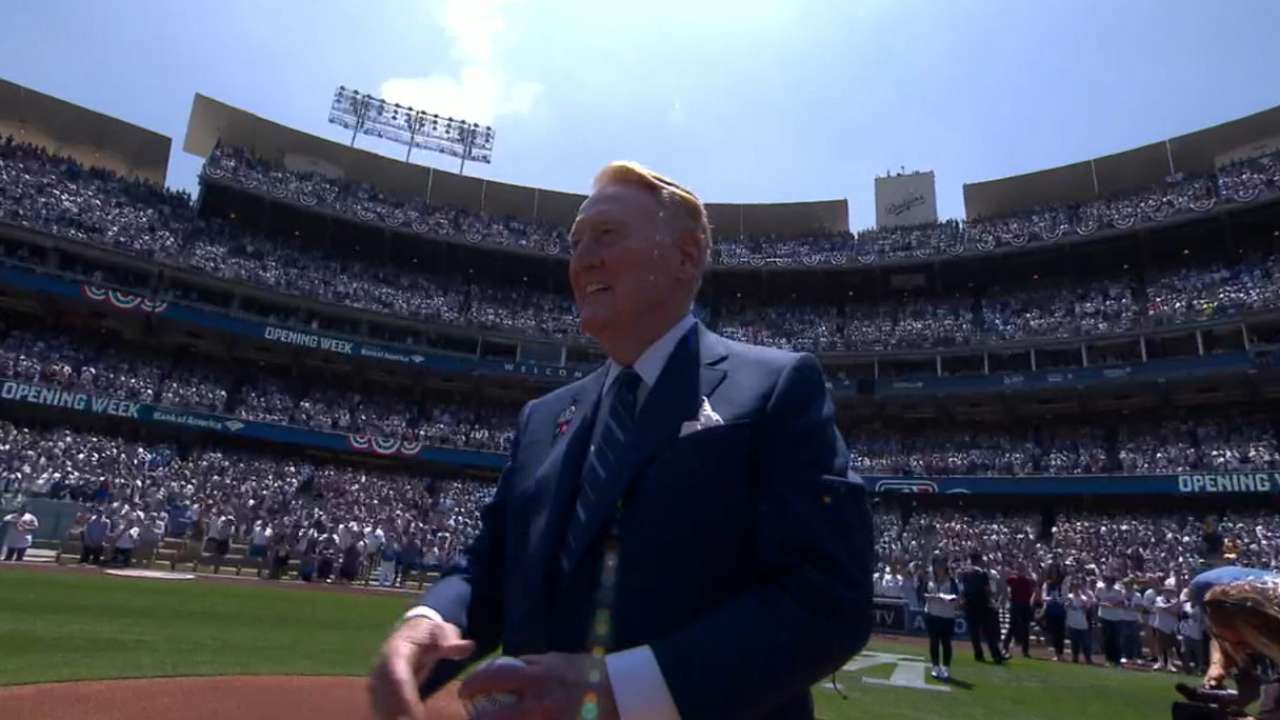 LOS ANGELES -- Hall of Fame broadcaster Vin Scully said this week that one of the most touching tributes he's received during this farewell season is the parade of players and officials who visit him in the press box, and Dodgers manager Dave Roberts added his name to the list on Wednesday.
"I got to talk to the man and take my picture with Vin," said Roberts, covered by Scully as a Dodgers player, a visiting player and coach, and now as the 12th Dodgers manager during Scully's tenure.
"It was good. He had some pretty cool stories. But the amazing thing about Vin, as I think with anyone that has come in contact with him, is that he's just obviously an amazing storyteller and such a part of not only baseball but the Dodgers, Brooklyn and Los Angeles.
"But the amazing thing about Vin is what he tried to do, turn it around on me and thank me for the trek up there to the fifth floor. I quickly turned it back around and said it was all about him. Anyone that's in contact with Vin, he always has a way of making people feel special. This is his time and the end of an amazing chapter in his life. His wife Sandy was up there; she always is. The next chapter of their life is coming."
Scully, 88, said this week that the visits have been "just one of the loveliest things that's ever occurred in my life."
Scully retires at the end of this season, his 67th as the Dodgers' broadcaster.
Ken Gurnick has covered the Dodgers since 1989, and for MLB.com since 2001. This story was not subject to the approval of Major League Baseball or its clubs.