Bautista rises to occasion, hits game-tying HR
Despite Blue Jays' loss, slugger shows flair for dramatic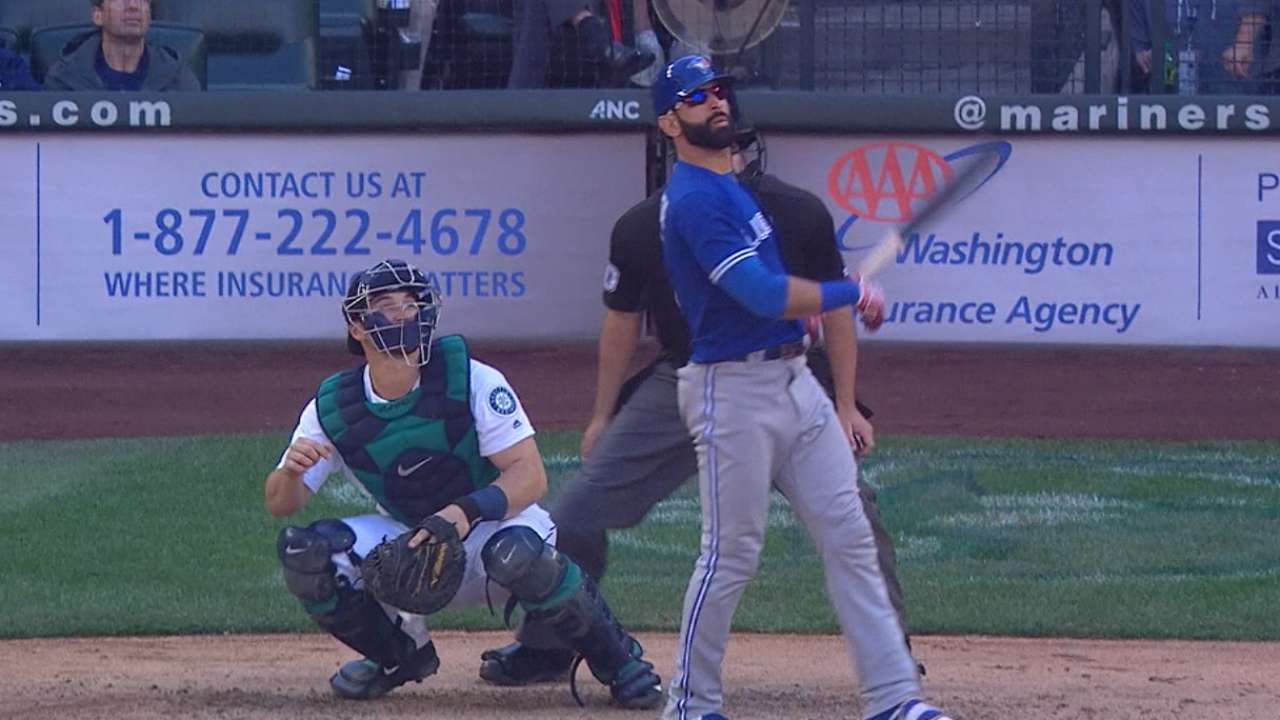 SEATTLE -- Jose Bautista lives for the big moments, and so does his bat flip that has come to represent so much of Toronto's success over the past two years.
Bautista rose to the occasion once again during the ninth inning of Wednesday afternoon's finale against the Mariners at Safeco Field, but it was still not enough to avoid a 2-1 loss in extra innings. At the time of Bautista's blast, Toronto was down to its final two outs before he gave the Blue Jays renewed hope with one swing of the bat.
The veteran slugger unloaded on a 98-mph fastball from Seattle closer Edwin Diaz that was off the inner part of the plate. According to Statcast™, Bautista's 19th of the season was projected to travel 424 feet ,and the only question was whether it would stay fair. It did, and Bautista celebrated accordingly.
• Cut4: Bautista unveils new trot on massive HR
"Any time you contribute makes it worthwhile," Bautista said after the game. "It was a big moment against one of the most electric pitchers in the game. I was behind the count, simply trying to put the ball in play. His ball has some run, and I just managed to get the head out and I connected."
Bautista is obviously no stranger to the big stage. He will always be remembered for his infamous bat-flip home run that helped secure a victory over Texas in Game 5 of last year's American League Division Series. This one wasn't on the same level, but it still came at a crucial moment of Toronto's season.
The Blue Jays and Mariners have been battling it out this week to secure one of two AL Wild Card spots. Toronto earned the early advantage by taking the first two games of this series, but with so many teams still in the race, every win is of the utmost importance.
That made Bautista's blast even more dramatic, and the fans at Safeco erupted when it left the bat. That might sound weird, but thousands of people made the trip from Western Canada for this series, and what was technically a road game felt like Toronto had home-field advantage. Last year, Toronto was treated to Bautista's moonshot, and this time, another part of the country got to witness a different version of it.
" … Jose stepped up big time," Blue Jays manager John Gibbons said. "We've seen him do that before. ... A lot of things went well. We just coughed it up at the end."
The most impressive aspect of Bautista's home run was that it came on an overpowering fastball that ran in on his hands. That didn't stop Bautista from unleashing a violent swing that caused the ball to leave his bat at an exit velocity of 107.4 mph, which was his fifth-hardest hit homer of the season.
The 98-mph fastball also was the fastest velocity that Bautista has homered on this season. In fact, of his previous 18 homers, 15 came on pitches at less than 93 mph, with an overall average of 87.7. In this case, Diaz brought the power, and Bautista responded the only way he knows how.
"I don't want to blow it out of proportion," Bautista said. "It was good baseball. We won two and we couldn't pull it off today, but it was a good series nonetheless. We'll take a day off and start in again on Friday."
Gregor Chisholm has covered the Blue Jays for MLB.com since 2011. Follow him on Twitter @gregorMLB and Facebook, and listen to his podcast. This story was not subject to the approval of Major League Baseball or its clubs.