Jungmann to start against Reds on Saturday
Right-hander suffered shaky start to season, demotion to Minors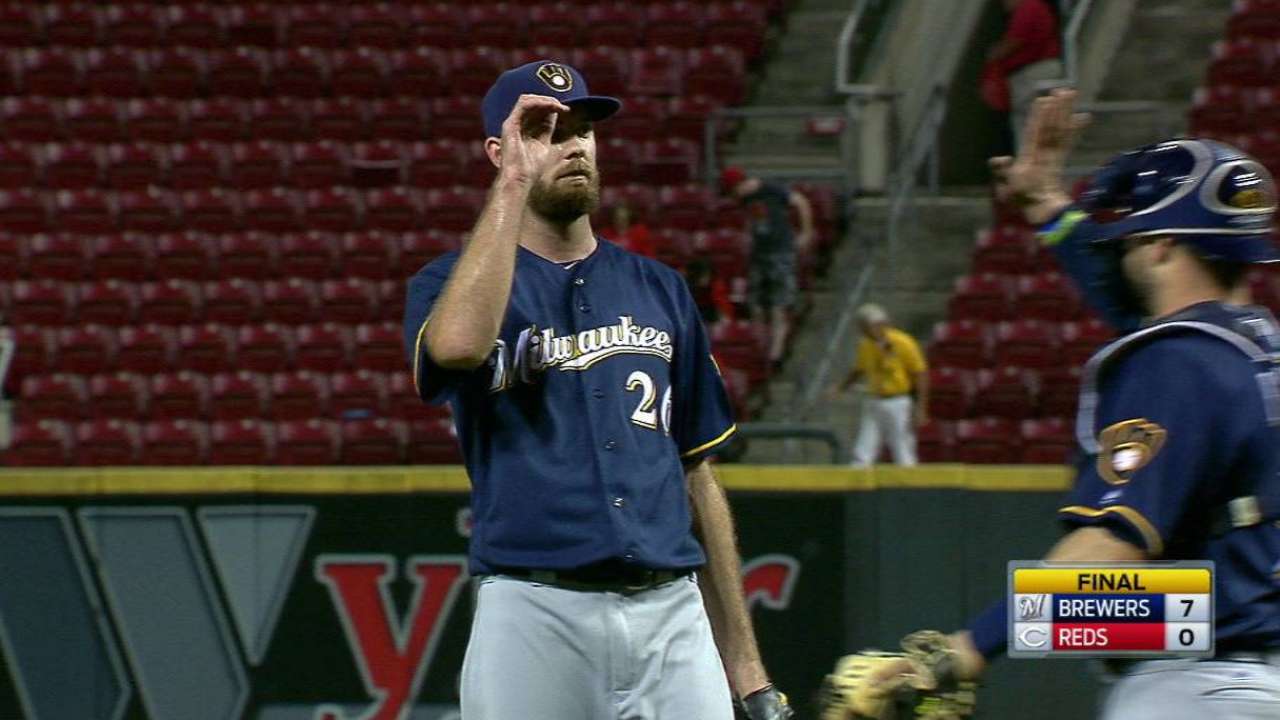 MILWAUKEE -- Brewers manager Craig Counsell opted not to feed the redemption narrative when he announced Wednesday that Taylor Jungmann's trying season will culminate with at least one Major League start.
Jungmann will start Saturday's game against the Reds as the Brewers return to a six-man rotation. It will be Jungmann's first big league start since April, when a series of poor starts prompted a demotion to the Minors.
"I'm excited anytime I get to go out there and throw," Jungmann said. "Having guaranteed action on the mound for Saturday is a little better than waiting in the bullpen, not knowing if you're throwing. So I do like that."
Jungmann, the Brewers' first-round Draft pick in 2011, started the Milwaukee's third game of the season but was 0-4 with a 9.15 ERA in April. He struggled just as mightily after a demotion to Triple-A Colorado Springs, but the right-hander earned a September callup by posting a 2.51 ERA in 13 starts for Double-A Biloxi.
He had been working in relief since rejoining the team on Sept. 6.
"He struggled to start the season. I don't see it as 'redemption' either," Counsell said. "That's a nice plot to learn in English class … but it's just his career. He struggled, he made adjustments, he figured some things out, and you hope he comes back a better person. Really, it's about the path to getting better."
If it's not about redemption, why was it important for Counsell to find Jungmann a start?
"Because we need Major League starters," Counsell said. "We've gone with six for about the last three weeks, and that's great, but six isn't enough. We're going to need more. It's a process of identifying these guys and getting them in a place where they can be Major League starters."
A spot for Jungmann opened when the Brewers shut down Junior Guerra due to workload concerns. For now, Counsell committed to only one start for Jungmann.
Adam McCalvy has covered the Brewers for MLB.com since 2001. Follow him on Twitter @AdamMcCalvy, like him on Facebook and listen to his podcast. This story was not subject to the approval of Major League Baseball or its clubs.