Vizquel raves about Miggy's baserunning
Tigers slugger stretches out double, reaches third on fly ball and scores on groundout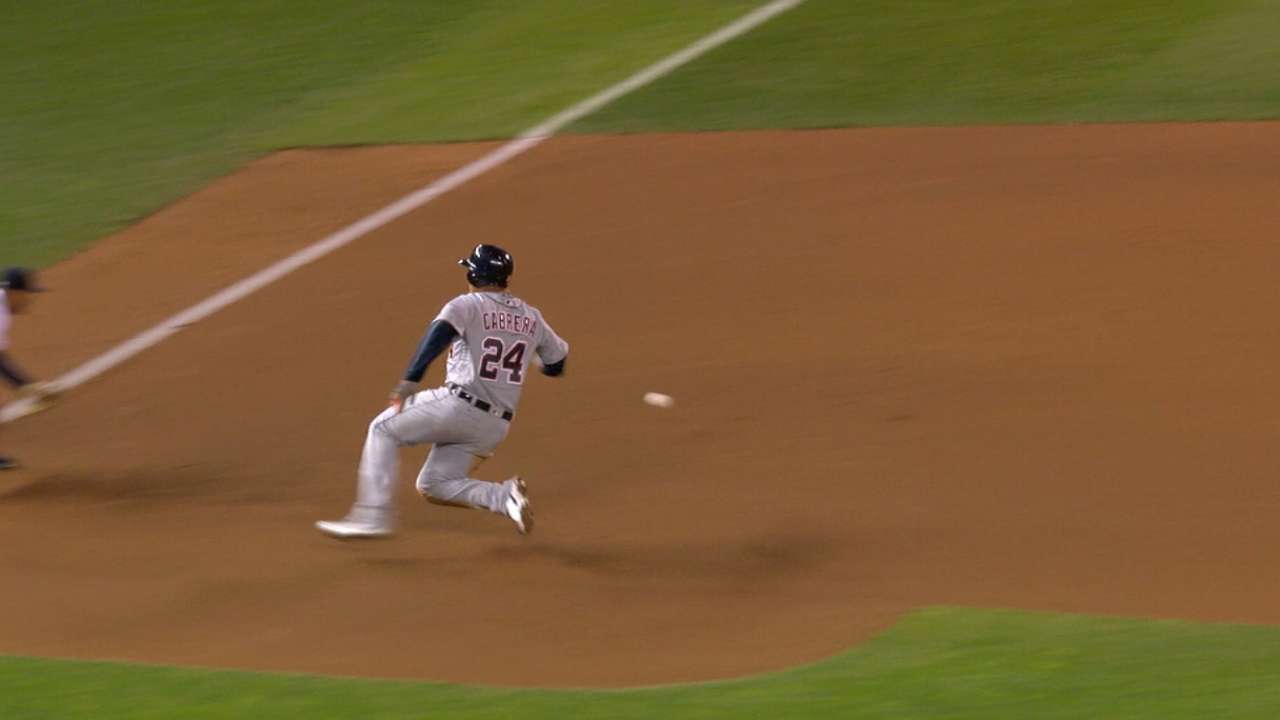 MINNEAPOLIS -- Omar Vizquel is known for preaching baserunning awareness and taking advantage of situations. He demonstrated it during his years as a player. He reinforces it as a coach.
He doesn't have to reinforce it with Miguel Cabrera.
"We say that all the time: 'You don't have to be a fast guy to be a good baserunner,'" Vizquel said. "Well, he seems to do that all the time, taking that extra base whenever we need to."
When Cabrera made his daring trip around the bases Tuesday night -- stretching out a double, taking third base on a fly ball to center, then scoring on a groundout behind third base -- he didn't get any pointers from Vizquel at first base. He was already thinking two bases out of the box.
Instead, after Cabrera manufactured a run to stretch the Tigers' lead to 2-0, Vizquel talked to him at the end of the inning.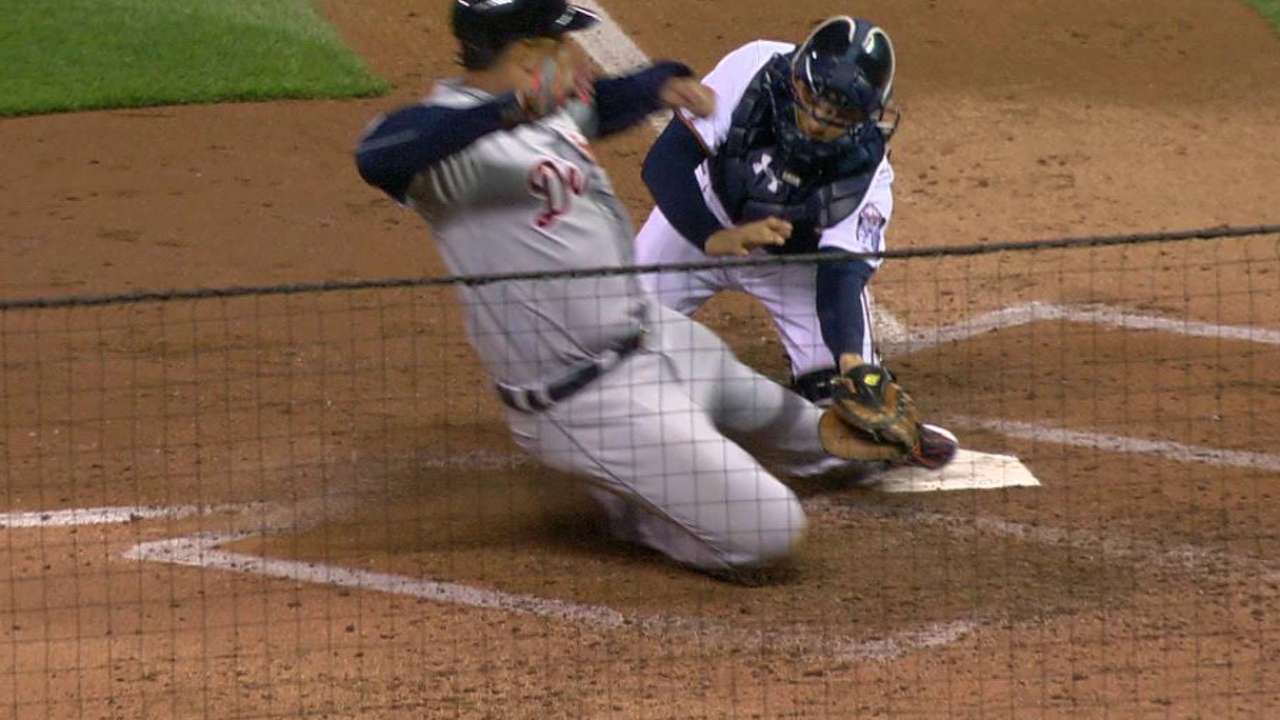 "After he made that run, I told him, 'That's the way to play the game. That was awesome,'" Vizquel said. "He said, 'It's got to be beautiful to be fast.'
"He always comes up with some jokes. It's beautiful to have the kind of aggressive mind that he had in that situation."
It wasn't just awareness that created that run, Vizquel said, but technique, especially for somebody his size.
"The double, he made the perfect cut around first base to get to second base," Vizquel said. "You see a lot of guys rounding the base, going deep out there. He made a good cut, touched the base to go on the inside of the base line as soon as he could. That made that play safe right there. If you keep going out towards the outfield, you're losing at least two or three steps. That could be the difference between out and safe. He cut it perfectly. …
"The last one, the ground ball deep to third, he didn't go all the way [back] to third. He was kind of hanging there. He knows the distance he has between the fielder and the base. And then as soon as he sees the ball from the third baseman, he made it to home plate. One step makes a difference."
The metrics have never been kind to Cabrera as a baserunner -- partly for stolen bases, partly for extra bases taken on base hits or fly balls. He has gone first to third on a single just seven times in 42 chances this season, and second to home on a single five times in 17 such situations. The key, the Tigers say, is an awareness of what he's capable of doing, especially at this point in his career.
"He's underrated as a baserunner, for sure," Vizquel said. "I think being on base as many times as he has, lets him know the things that he can do and he can't."
Now that the season is running late, the emphasis is heightened.
"I think that he knows that it's necessary now," Vizquel said, "that every run, every base that we take is important."
Jason Beck has covered the Tigers for MLB.com since 2002. Read Beck's Blog, follow him on Twitter @beckjason and listen to his podcast. This story was not subject to the approval of Major League Baseball or its clubs.