Padres prospects hope to get leg up on 2017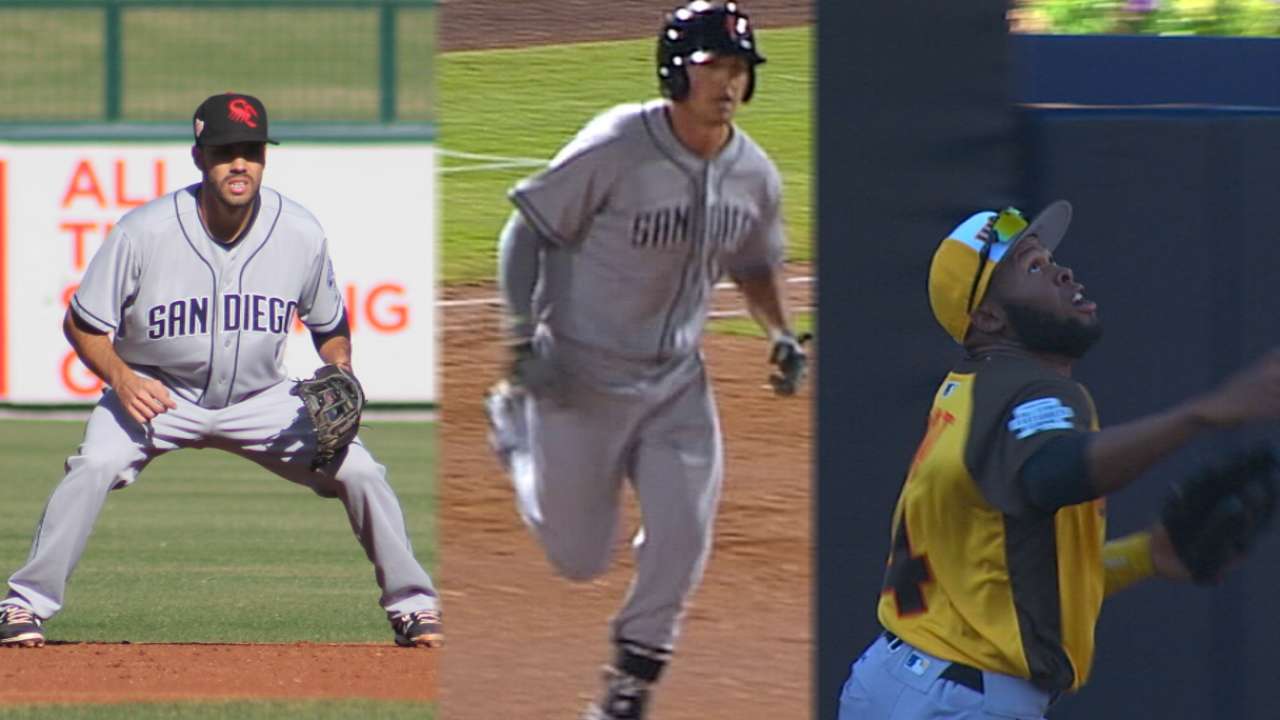 SAN DIEGO -- With the Triple-A playoffs in the rearview mirror, Padres manager Andy Green has a handful of highly-anticipated prospects sitting in front of lockers in the Petco Park clubhouse.
And he plans on throwing each of the four new position players into the fray on Thursday against the Giants, with outfielders Manuel Margot, Hunter Renfroe, infielder Carlos Asuaje and catcher Austin Hedges expected to be in the starting lineup.
"I think without a doubt they're all competing for a starting job next year," Green said. "I don't think any one of them has it in their back pocket, either. I think they're all out here, they all have something to prove, they've proved it every level they've played at, and that's why they're here, and they've got to prove it here too."
Asuaje, Renfroe and Margot got into Wednesday's 3-2 loss to the D-backs. Asuaje struck out looking in the seventh inning. Renfroe earned an intentional walk, also in the seventh, and Margot appeared as a pinch-runner in eighth.
Wil Myers is likely going to be the only player in the starting lineup on an everyday basis in the final weeks of the season, but each of the September callups will be trying to make a strong early case for the positional battles that will go down in Spring Training next season.
The outfield looks to be the most open of all the position groups, which will provide ample opportunity for Margot and Renfroe, the team's top two position prospects.
"You know, I see this as an opportunity to get a bit more experience, and it's an opportunity that one needs to take advantage of," said Margot, the team's No 2 prospect, through an interpreter. "So for me, just trying to make the most of being here, and looking forward to next year as well."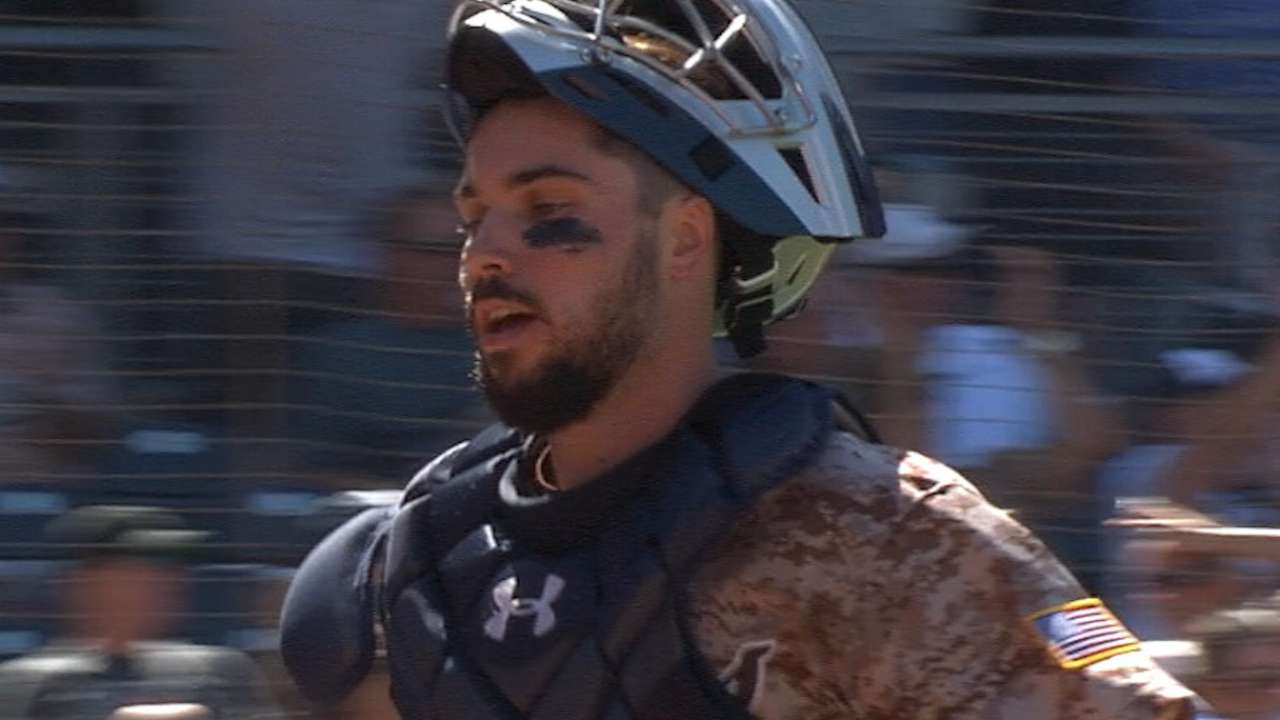 Said Renfroe, the team's No. 3 prospect and the MVP of the Pacific Coast League: "I'm trying to show what I can do. Whether it goes good, whether it goes bad, I'm just trying to keep a level head and kind of do my thing and not worry about it. It's a little sample size, so I'm just trying to get my feet wet."
Hedges comes into the mix with the most experience of any of the callups, but will still have to prove he can consistently hit big league pitching after managing just a .463 OPS in 56 games during 2015. Thought by many to be the team's catcher of the future, Hedges will need to translate the success he had at the plate with El Paso -- he hit .326/.353/.597 in 82 games -- to the Majors.
"One thing that allowed me to have success there was just living day-by-day and trying to get better wherever I am -- whether that happened to be here or if it happened to be in El Paso," Hedges said. "This year, it was in El Paso. I was pleased with the adjustments I made there, and I'm ready to show it here."
Asuaje might have the most challenging path to an everyday role next season, given the number of different options San Diego has at second and third, but like the other three players he'll get the same opportunity to prove his worth.
And while Opening Day of 2017 is still a long ways off, their big league opportunities begin now.
"They have an opportunity to become a part of our core," Green said. "I think that's the message that should be out there right now. We're hopeful that they're our core group of guys... They're going to have some time and opportunity to prove themselves here.
"We'll put them in the fire."
Carlos Collazo is a reporter for MLB.com based in San Diego. Follow him on Twitter @CarlosACollazo This story was not subject to the approval of Major League Baseball or its clubs.