Freeman's grab highlight for unexpected heroes
Vincent, Heredia also deliver in key victory for Mariners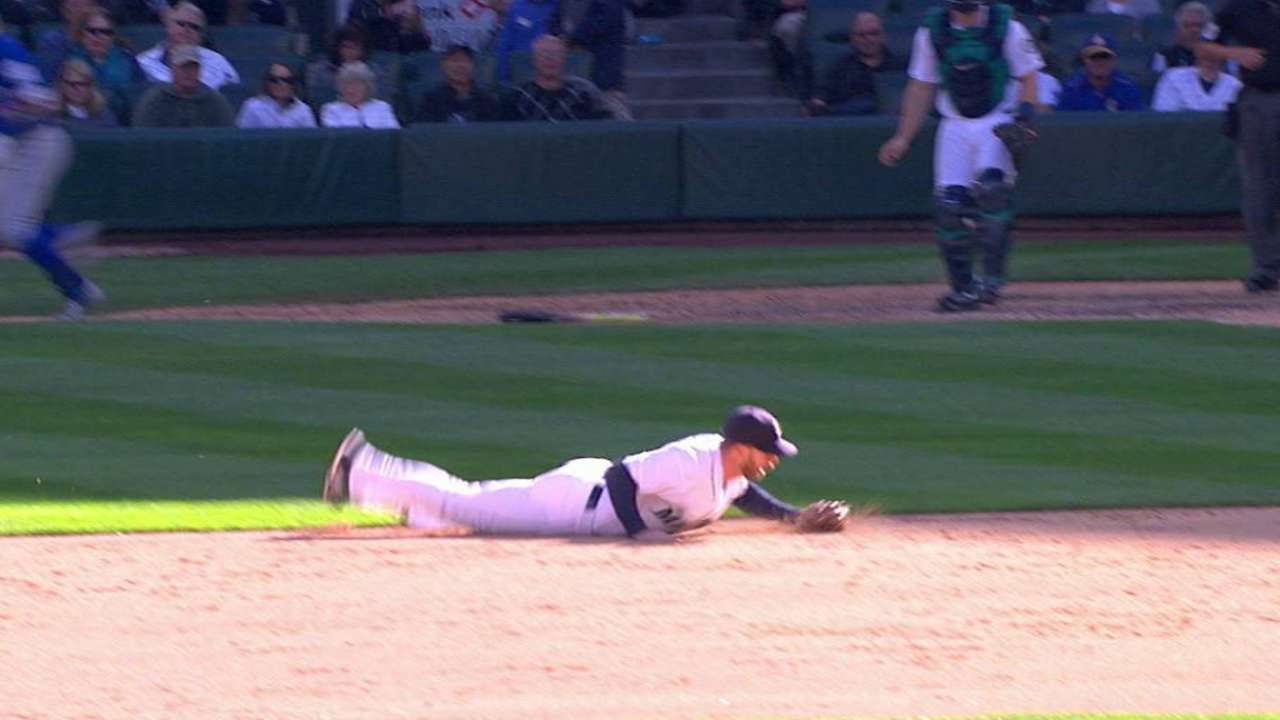 SEATTLE -- In a crucial game where the Mariners' big three of Robinson Cano, Nelson Cruz and Kyle Seager were a combined 0-for-12 until Cano's game-winning sacrifice fly in the 12th inning, a number of lesser-known heroes stepped up to facilitate Wednesday's 2-1 win over the Blue Jays at Safeco Field.
There was Mike Freeman, a utility infielder who had one at-bat in four games as a September callup, making an outstanding diving catch to rob Kevin Pillar of the go-ahead RBI in the top of the 10th inning.
There was Nick Vincent, a day after giving up three straight baserunners and a pair of runs in Tuesday's 10-2 loss, coming in with two on and no outs in the 11th and getting the Mariners out of that jam, then picking up the win with a scoreless 12th in relief to save a day started by Felix Hernandez's seven-inning gem.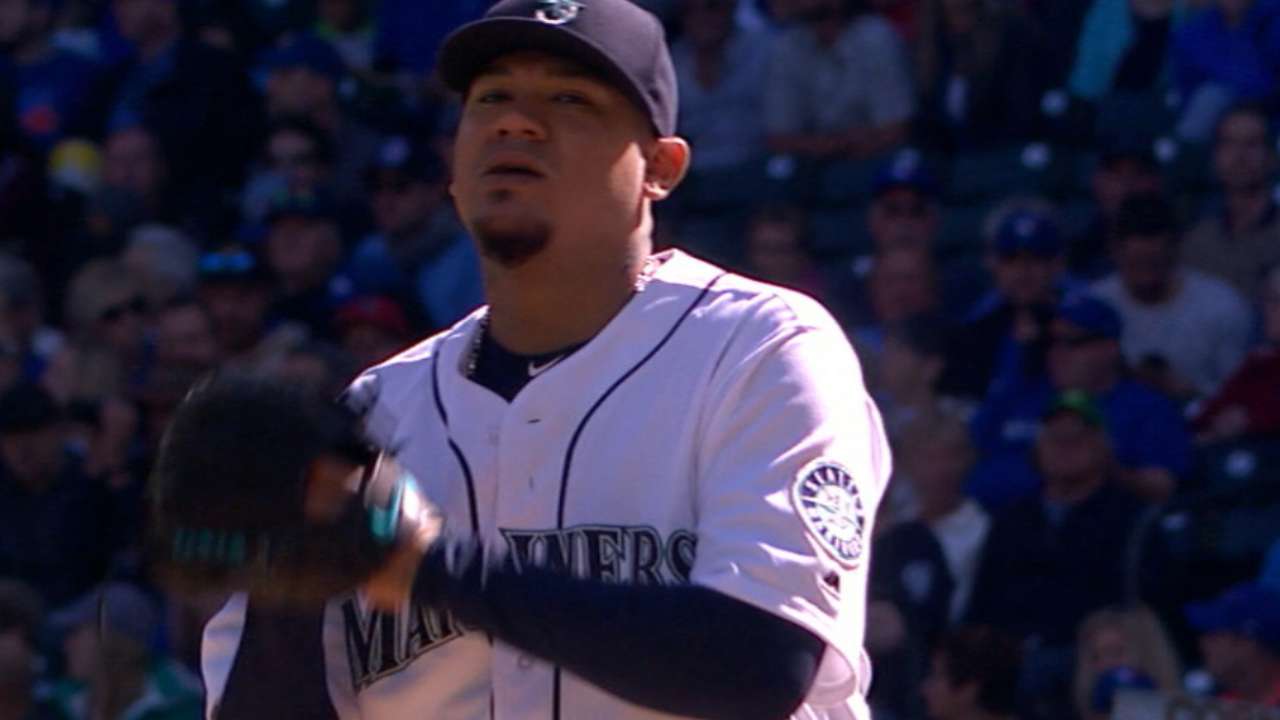 And there was outfielder Guillermo Heredia, who has been used primarily as a late-inning defensive specialist, scoring the winning run in the bottom of the 12th after reaching second on an error, advancing to third when Josh Donaldson dropped a throw on a sacrifice attempt and scoring on Cano's flyout to left.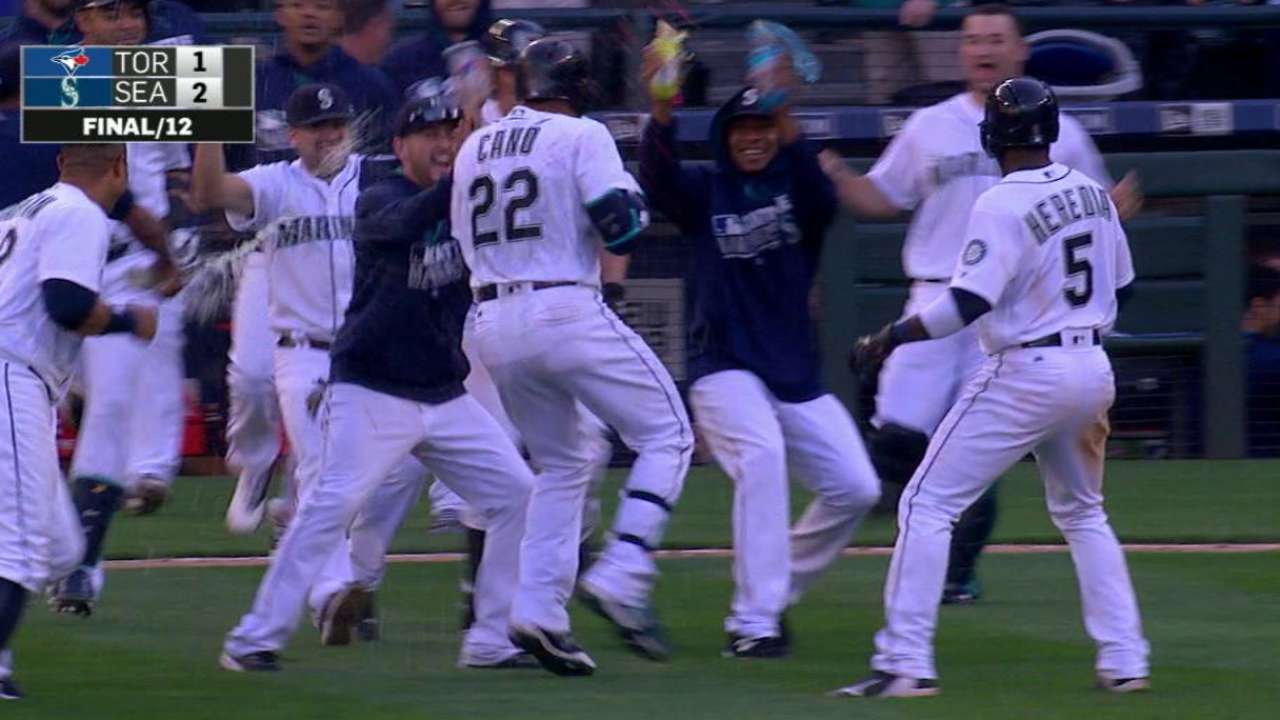 "This is big for a player's career, especially in this type of atmosphere, where we're playing kind of playoff-type of baseball," Heredia said through interpreter Manny Acta. "This is our own playoffs. We're in it and playing good baseball."
Freeman had a similar smile on his face on the opposite end of the clubhouse after stepping up with his huge catch. The 29-year-old was in the game because Shawn O'Malley had pinch-run earlier, and manager Scott Servais used Dae-Ho Lee to pinch-hit for shortstop Ketel Marte with a runner on third and two out in the bottom of the ninth.
"That was a play I was fortunate to have just enough glove to snag it, and Robbie did a good job of driving in that run in the last inning, or that play doesn't mean anything," said Freeman. "It's a huge win for us, and we're excited to have a day off tomorrow and then get to Minnesota and try to keep it rolling."
With the infield in, Freeman reacted instinctively to the ball off Pillar's bat to prevent the go-ahead run from scoring.
"That might have been the play of the game," Servais said. "Awesome. He hasn't played much, but he goes about his work, takes it very seriously every day and wants to be a consistent contributor on a big league club. We fired him in there, and there was no panic. He was like, 'I've got it.' Great play. It's not a play you think a guy is going to make, and we really needed it."
"Unbelievable play," Hernandez added.
As for Vincent? He earned the "Swelmet" award given by Acta -- the team's third-base coach -- after each win to the Mariners' player of the game. But the 30-year-old was ready to share honors with everyone in a game Seattle desperately needed to stay alive in the playoff chase.
"It was a whole team effort today," Vincent said. "Guys coming in and doing their jobs and making plays. It was a crazy game. To have Felix go out there and throw seven strong, and then our team just battled the whole time. All our bullpen guys went out there and attacked. This was a huge win for us."
Greg Johns has covered the Mariners since 1997, and for MLB.com since 2011. Follow him on Twitter @GregJohnsMLB and listen to his podcast. This story was not subject to the approval of Major League Baseball or its clubs.