Versatility gives Rays callup Querecuto an edge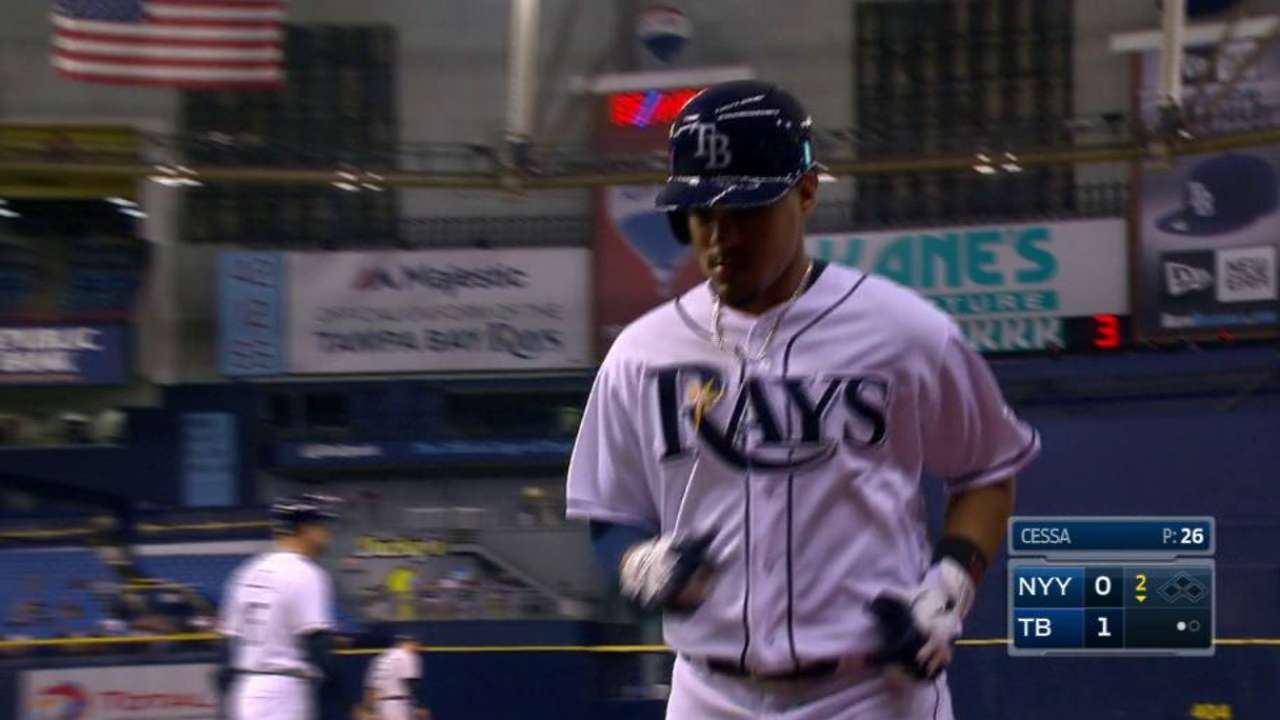 ST. PETERSBURG -- Juniel Querecuto was groggy-eyed when his dad walked into his room at 8:30 a.m. to tell him the news he'd waited his whole life to hear. The Rays had called Querecuto's home in Venezuela to bring him up to Major Leagues weeks after his season with Double-A Montgomery finished.
"He took my sheet from me and said, 'Hey, wake up. We've got to go. You've got to go to The Show now. You've got to find your bag and get out of here and go to Tropicana Field,' Querecuto recalled of his Wednesday morning. "I was so tired. I was sleeping."
When Querecuto realized his mom was crying tears of joy, the third baseman started to gather that it was real. The 24-year-old has been with the organization since he signed as a 16-year-old. This year, he split time between Double-A Montgomery and Triple-A Durham and hit .241 with three home runs and 38 RBIs in 96 games.
To make room on the 40-man roster, the Rays placed Steven Souza Jr. on the 60-day disabled list. Souza underwent left hip surgery on Wednesday and is expected to be ready by Spring Training. Querecuto found himself in the starting lineup for Thursday's 2-0 win over the Yankees, batting seventh and playing third base. Querecuto went hitless across three at-bats in his first Major League test, striking out twice.
Two days ago, @JunielQuerecuto was home in Venezuela, ready to prepare for winter ball. He makes his @MLB debut tonight at 3B wearing No. 9. pic.twitter.com/kJILyVj0P2

— Tampa Bay Rays (@RaysBaseball) September 22, 2016
Given that the Rays had other infield callup options -- specifically Tim Beckham and Taylor Motter, who both spent time in the Majors this year -- manager Kevin Cash was asked why the club chose Querecuto.
"He's a guy who is versatile," Cash said. "We had him in Spring Training and enjoyed having him around the last two springs. He can come up and play middle infield. We can stick him at third base.
"You know, it's a good opportunity for a guy who's gone about it the right way. We emphasize pulling from within our organization to kind of reward some guys who have done some good things within the organization."
Querecuto was at home getting a little bit of rest before preparing for winter ball. When he got the call, he delayed a dentist operation on his molars just so he could be ready. Putting his life on hold for two weeks was well worth the callup for the utility man.
Querecuto will be a versatile option for the Rays down the stretch and hopes to show what he can do with a short but rewarding opportunity.
"I was always waiting for this -- for a long time," Querecuto said. "To receive this call from the Rays is really awesome. Every year I've tried to be here, and now I'm here."
Worth noting
• Xavier Cedeno will not pitch again this season, Cash said. The lefty reliever has been out since Aug. 29 with neck stiffness, and Cash said it's not worth risking further injury to get Cedeno in another game or two, especially since the Rays consider him a part of their future. Cedeno finished the season with a 3.70 ERA in 41 1/3 innings.
• Right-handed reliever Chase Whitley worked 2 2/3 innings on Thursday in relief of starter Blake Snell. Coming off Tommy John surgery, Whitley piggybacked Matt Andriese starts in his first two appearances. Whitley hasn't allowed an earned run in 6 2/3 innings this year.
• Logan Morrison's left wrist surgery, which was scheduled for Wednesday, was delayed due to a scheduling issue. Morrison said he still expects the surgery to take place this week.
The 29-year-old Morrison, who will be a free agent after the season, said he will be sidelined for three months after the surgery.
Sam Blum is a reporter for MLB.com based in St. Petersburg.

Bill Chastain has covered the Rays for MLB.com since 2005.

This story was not subject to the approval of Major League Baseball or its clubs.