Lester picks World Series title over Cy Young
Cubs lefty supports Hendricks for NL's best pitcher in 2016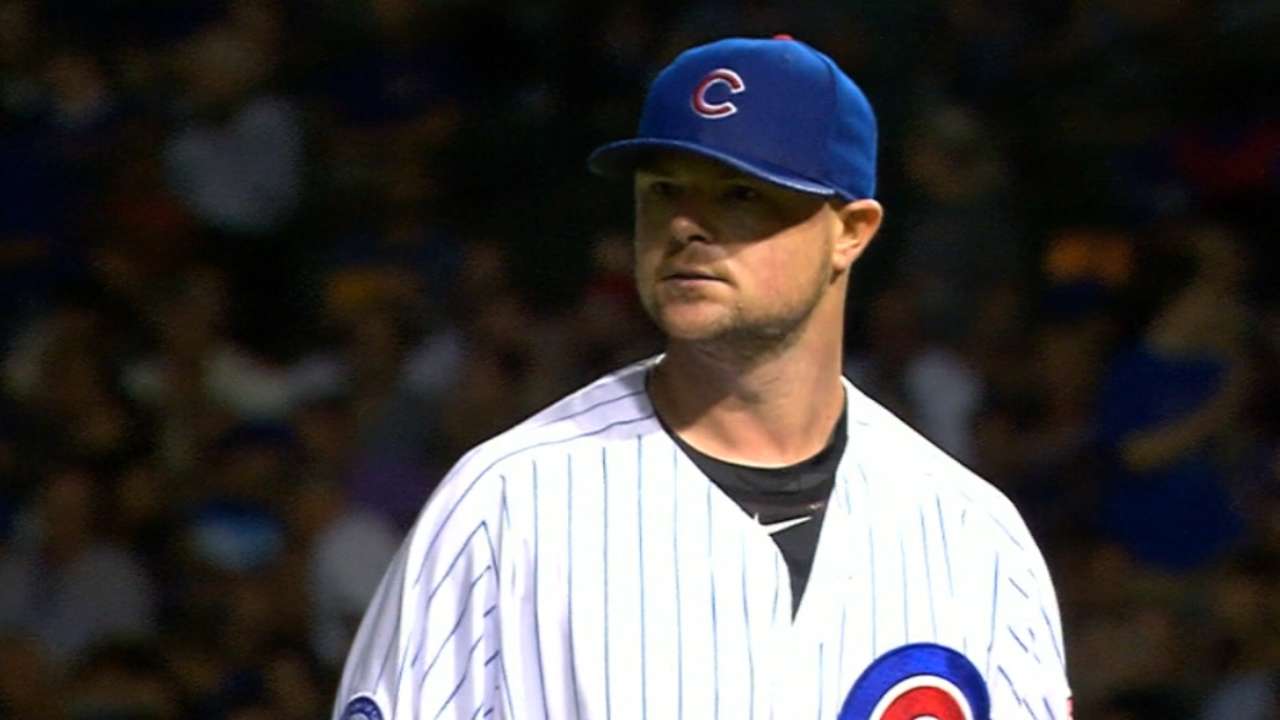 CHICAGO -- If Cubs left-hander Jon Lester had a vote for the National League Cy Young Award, he wouldn't cast it for himself.
Lester, who leads the NL with 18 wins, said he'd vote for teammate Kyle Hendricks, who leads the Majors with a 2.06 ERA.
"Kyle's had an unbelievable year," Lester said on Tuesday, following his seventh consecutive win. "I mean, if I had a vote, he'd be my vote, just because I get to see him every day. I see what he does. I see how he goes about it, how he prepares, and how he goes out and executes, and he's my guy. That's who I would vote for right now, tomorrow, the next day ... whenever."
Lester has never won a Cy Young Award, despite some excellent seasons with the Red Sox, but he has won the World Series twice. That, he said, is the prize he'd like to win most.
"The All-Star Games and all that stuff is great, but I'll trade all that stuff in, in a heartbeat, for a World Series trophy," Lester said. "I've been fortunate enough to win two of them, so that just kind of tells you how special they really are, especially for this city, this team, this organization, where it's been, where it's come from [and] the guys that have gone through the 100-loss seasons. The individual stuff takes care of itself. I'd rather have that big trophy on my mantle."
Lester would like to pitch 200 innings every season, too, which he's poised to do for the eighth time. Heading into his next outing on Sunday against the Cardinals at Wrigley Field, Lester sits at 191 innings. If he doesn't throw nine innings in that one, he'll have one more start remaining to reach 200. After that, it's the postseason, when he's a candidate to start Game 1 of the NL Division Series.
That's a secondary thought to him, as well.
"I've got two more starts left, so we'll worry about those," Lester said. "If I'm chosen to go Game 1, awesome. It'll be a great honor. If I'm not, it's still a great honor to pitch in the postseason for this team. At the end of the day, we want to win a World Series, and I think guys are kind of seeing light at the end of the tunnel right now. All we have to do is go out and play good baseball."
Brian Hedger is a contributor to MLB.com based in Chicago. This story was not subject to the approval of Major League Baseball or its clubs.