MLB.com Columnist
Tracy Ringolsby
Waino aiming at strong finish, postseason run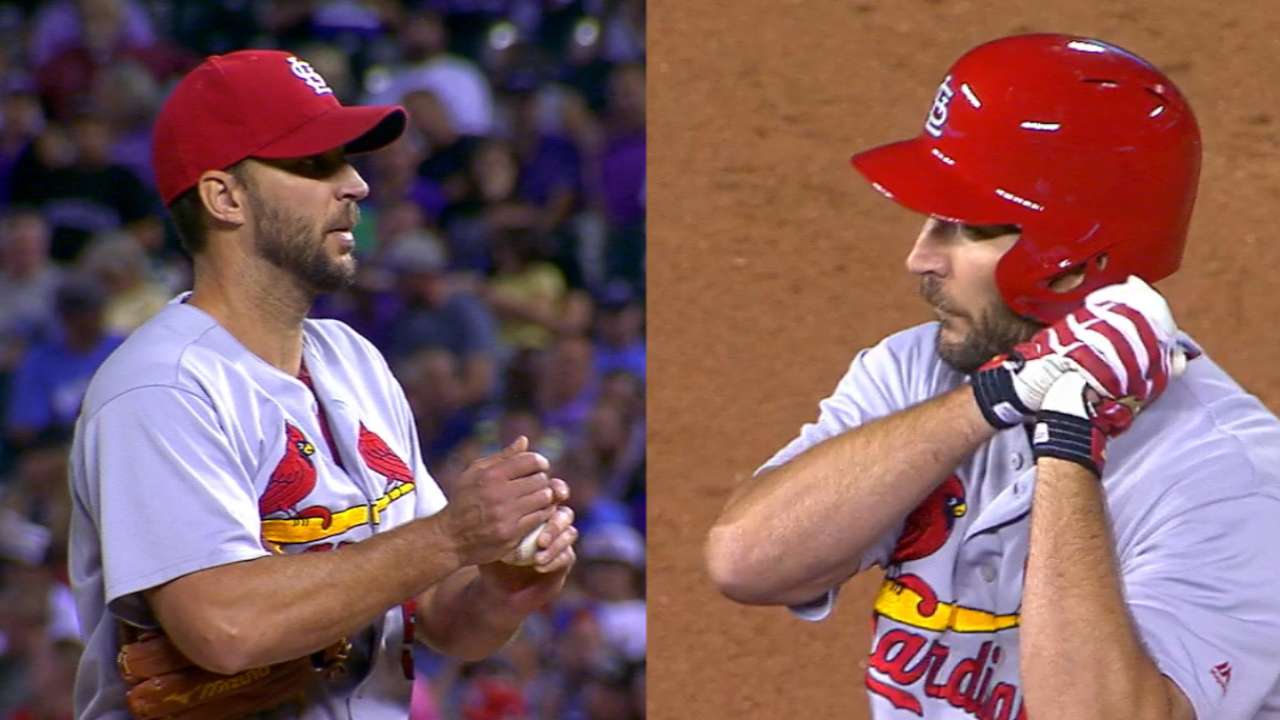 DENVER -- Cardinals right-hander Adam Wainwright was smiling. He's feeling good, finally.
How good? So good that in the aftermath of picking up the victory in the Cards' win at Coors Field on Tuesday night, Wainwright began a campaign.
"I am appealing to the writers out there now to vote for me for [the National League] Silver Slugger [Award]," Wainwright said.
Wainwright did, after all, drive in four runs in that game, giving him a season total of 18, 16 of which have come in games he was the pitcher (the other two as a pinch-hitter). That leaves him one RBI shy of Rick Sutcliffe's 17 in 1979, which is the most by a pitcher since the advent of the DH.
Then Wainwright got the news. It is the coaches and managers who cast those Silver Slugger votes, not the writers.
"Well, I don't need you guys at all," said Wainwright.
True.
The Cardinals, however, do need Wainwright in their bid to not only claim one of the NL Wild Card berths, but also to advance in the postseason. After an 11-1 loss at Colorado on Wednesday afternoon, they were tied with the Mets and Giants in the battle for the two NL Wild Card spots.
Wainwright is, after all, the Cards' elder statesman, having turned 35 three weeks ago, and he is considered their ace.
"He is going to compete every time he's on the field," said manager Mike Matheny. "He's a warrior. He's the guy the other pitchers come to. He can help them with so many things."
Most importantly, after Tuesday night, Wainwright is not only the Cardinals' ace, but he started to feel like an ace on the mound again, something vital for the Cards.
It has been a challenging season for Wainwright. He was limited to four starts and three relief appearances last season before being sidelined by a ruptured Achilles tendon.
Given a clean bill of health for 2016, Wainwright drew the Opening Night assignment against the Pirates on April 3, and he has not missed a turn in making 30 starts. The season, however, wasn't an instant success.
Wainwright heads into the final days of the regular season with a 12-9 record, two wins shy of the lowest total he has ever had in a full season, and a 4.57 ERA, which pretty well assures he'll have an ERA of 4.00 or higher for the first time in his career. He, however, is 3-1 in his past five starts, and the Cardinals won that no-decision.
"I don't have enough starts to get down in the twos (with his ERA) like I want it to be," said Wainwright. "I don't have enough starts to get to 20 wins like I want to be, but I have a chance to help this team win a World Series, and if that's offensively, winning a Silver Slugger on the way, that's great. I don't really care. I don't know if anyone will remember as long as I pitch well in the postseason, pitch well down the stretch. And if we win that ring, I couldn't care less."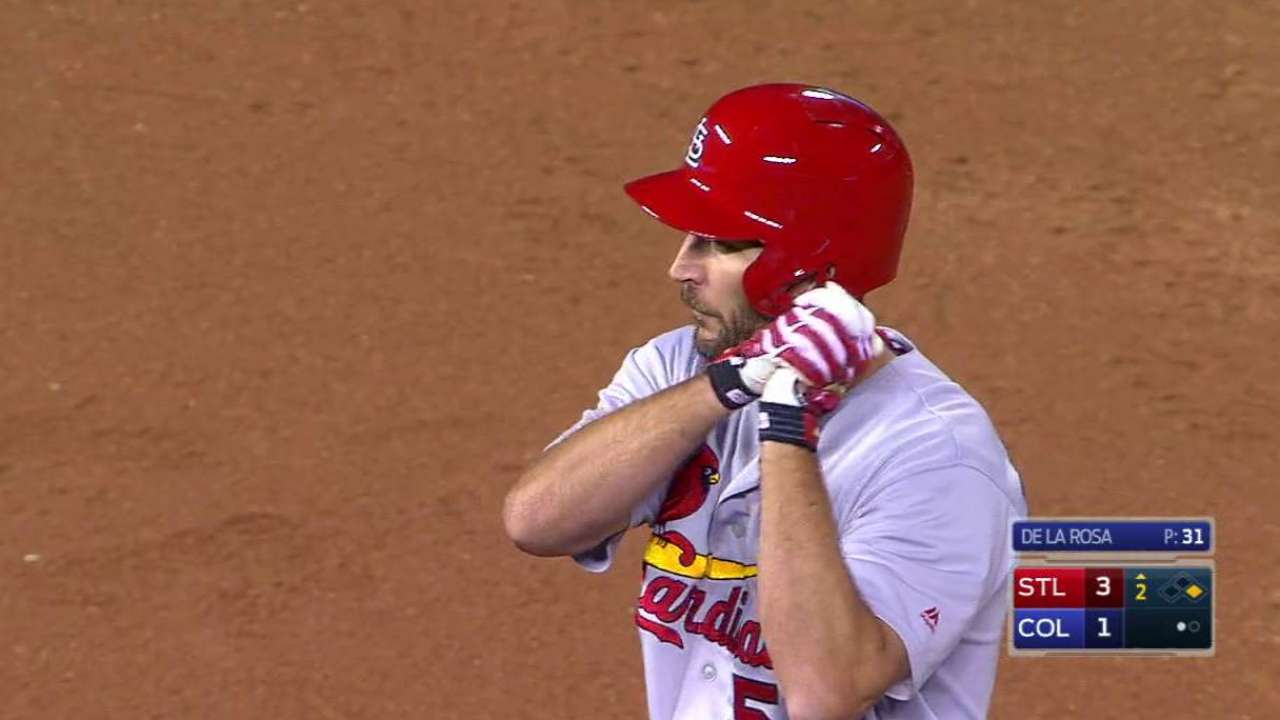 The key for Wainwright is that in addition to have worked on his stroke during the course of the season, consulting with Giants pitcher Madison Bumgarner, and becoming more focused on pulling the ball instead of settling for opposite-field singles, in the past few starts he finally feels like his approach on the mound is where it is supposed to be.
"I have made adjustments almost every start to try and figure out stuff and get going in a positive direction," Wainwright admitted. "The things I am working on now are [aimed at] trying to finish strong. I can't reinvent the wheel just yet, but I am confident about next year. I'll be very good next year.
"In April and May, I felt horrible. My arm felt fine but I was mechanically unable to get my arm to a right spot. The middle months I pitched well. Then, when I thought I was going to turn the corner, I sort of went into this dead-arm phase. There was nothing I could do about it. The only way to get out of it is to keep going out there pitching and it eventually goes away.
"Now I'm coming out of that, and strength-wise, I am throwing good. I found my fastball a few starts ago. I found my curveball [in the start at Coors Field]. That's the pitch I've been looking for all year. Now I have to meld them together."
Found the curveball at Coors Field. Yep, Coors Field.
And Wainwright is excited about what could happen in his upcoming starts.
"You have to focus on your finish [at Coors Field] a little bit more than you normally do," he said. "When you get out of here, normally your next start, you're executing pretty good, because everything that you throw here, it's got to have that late bite. It's got to have that last-second finish."
The Cards are counting on that. There are 10 games remaining in their regular season. They know Wainwright is a key for them getting that opportunity to extend their season into October.
Tracy Ringolsby is a columnist for MLB.com. This story was not subject to the approval of Major League Baseball or its clubs.