In new role, Garcia provides much-needed relief
Cardinals lefty tosses four scoreless innings in longer outing than past two starts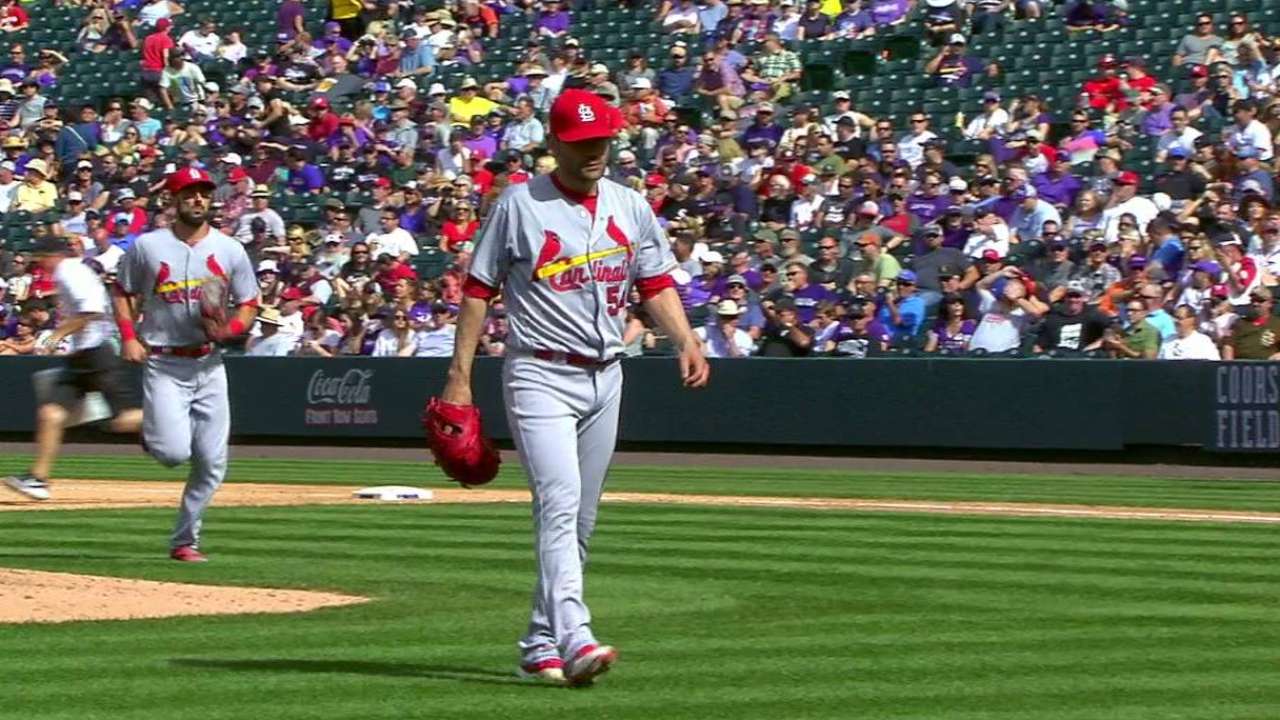 DENVER -- Jaime Garcia's second relief appearance of the season was longer than both of his past two starts -- and considerably better.
Garcia's performance was one of the few features on the Cardinals' highlight reel from the 11-1 loss to the Rockies in the finale of the three-game set. He came in to relieve Luke Weaver, who yielded six runs on seven hits in two innings.
Garcia stopped the bleeding with four scoreless innings of relief. He allowed just one hit -- a single to National League batting leader DJ LeMahieu (.351) -- walked none and struck out five.
"He was great," manager Mike Matheny said. "That's the guy that we love to watch. His breaking ball was terrific, he had good sink. He didn't make a lot of mistakes. The ones he had more of the plate on, he had good movement on, so it was a good day for him."
Garcia had been having a tough September, posting an 0-2 record and a 7.43 ERA in three starts and one relief appearance before Wednesday. He lasted 1 2/3 innings in his past start against the Cubs on Sept. 13, allowing two runs on three hits and two walks. In his previous start on Sept. 8 against Milwaukee, he allowed five runs on eight hits and a walk in 3 2/3 innings.
"It's just adjustments I've made mechanically," Garcia said of his improved performance Wednesday. "I went through a rough stretch, which everybody does."
With expanded rosters in September, the Cardinals have 13 pitchers in the bullpen, allowing for almost any matchup desirable. But the ability to have a strong pitcher come out and command the ball for four innings is a valuable tool as St. Louis pursues a postseason berth in the final 10 days of the season. Wednesday, it was a matter of preserving the pitching staff by eating up quality innings and keeping the Cardinals within striking distance.
"We got a couple guys," Matheny said. "Michael Wacha could build his way up into being someone like that as well. It's going to take a little time. Jaime's already built up. When you have a lineup like [the Rockies'] with so many lefties, he's tough battling a lefty when he has that breaking ball working, and it was working today.
"So, yeah, nice weapon to have. It takes a lot of pressure off a kid like Luke. You're not going to keep just throwing him out there when it's just not right."
Until this month, Garcia hadn't relieved in the Majors since his first callup in 2008. He's clearly most comfortable in the rotation, but his willingness to adapt to the team's needs is invaluable in the stretch run.
"I've always been a starting pitcher, but I'm here for whatever the team needs me to do," Garcia said. "Whatever they ask me to do next time, I'll be ready."
Owen Perkins is a contributor to MLB.com based in Denver. This story was not subject to the approval of Major League Baseball or its clubs.