Butler fitting in with Yanks, open to '17 return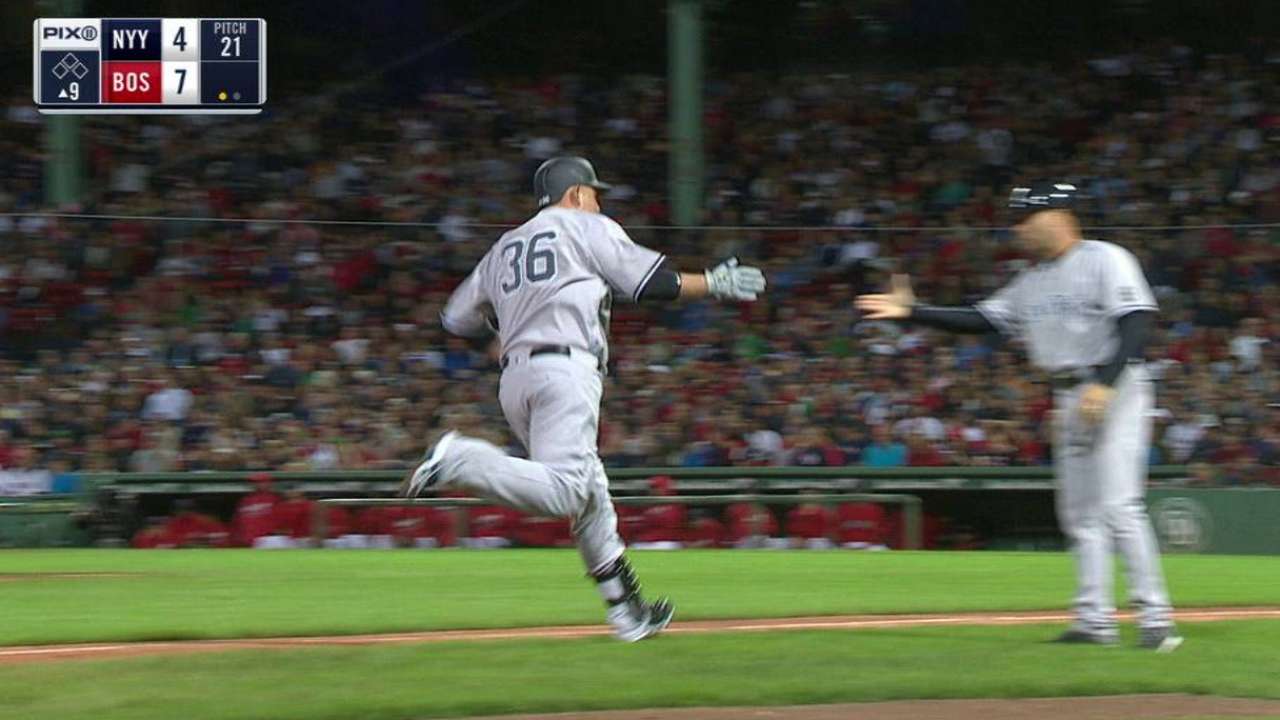 ST. PETERSBURG -- The thought of sitting out for the rest of the year crossed Billy Butler's mind as the highway miles rolled past last week, traveling to his in-law's home in Idaho Falls, Idaho. Without regular at-bats under his belt, the 10-year veteran was not sure if he was ready to help a team.
His cell phone buzzed as he reached the driveway, and it didn't take long for Butler to be convinced that he wanted to be a Yankee. As Butler recalled on Wednesday, it was the excitement that he heard in the voices of manager Joe Girardi and general manager Brian Cashman that tipped his decision.
"I was honestly thinking about going home and getting ready for next season," Butler said. "I wasn't shutting it down for good, it was just getting ready for next year and seeing how the offseason played out. I slept on it for a night, talked it over with my wife [Katie], and I'm glad I waited.
"Joe was excited about it; Joe was the one that made the call, and I talked to Brian Cashman on the phone. He was telling me how Joe was really eager and really high on me. It's been a great transition. I basically had to pack up my stuff and leave in about four or five hours, and it's been better than I could even expect."
Three weeks after a clubhouse altercation with teammate Danny Valencia that landed Butler on the seven-day concussion disabled list, the 30-year-old was released by the Athletics with one year still remaining on his three-year, $30 million deal.
"It was just a situation in Oakland that didn't fit," Butler said. "It hadn't fit for a while, and it's not anyone's fault. They're going younger and planning for the future. They've got some good players there. But that's why there's 30 Major League teams."
The Yankees are responsible only for a prorated portion of the league minimum, approximately $50,000. They have got their money's worth; the former All-Star is 6-for-14 (.429) with two runs, two doubles, a homer, four RBIs and one walk in five games with the Yankees.
"Billy's done a really good job," Girardi said. "We brought him in here to face left-handers, I think he had a couple of doubles again [Tuesday]. He's swung the bat really well for us. It helps, the more guys you have stacked together that can swing the bat."
Butler said he is thankful for the chance to log regular at-bats. He selected the Yankees over a similar offer from the Tigers because New York could promise him the opportunity to DH against every left-hander, rather than serve as a bench player behind Miguel Cabrera and Victor Martinez.
"I can prove what I can do if I get consistent at-bats; I've done it for my whole career," Butler said. "I'm just doing what I can to push this team over the top and give them a chance to make the playoffs. I know I'm not eligible for that, but it doesn't matter to me. It's still a big accomplishment to help a team do that."
Because Oakland ate the remainder of Butler's contract, he will be a free agent after the 2016 season. The Yankees have discussed having Greg Bird and Tyler Austin compete for at-bats at first base next spring, potentially comprising a platoon.
Butler said he isn't giving much thought to 2017 -- his focus, he said, is on facing left-hander Blake Snell on Thursday -- but he does hope there could be a future for him with the Yankees.
"If the right fit is here, and it's been a good experience so far, I would definitely have to seriously consider that," Butler said. "I'm definitely interested, let's put it that way, and I know that they're interested, too. I just don't know what the market looks like yet, but definitely there's mutual interest there."
Bryan Hoch has covered the Yankees for MLB.com since 2007. Follow him on Twitter @bryanhoch, on Facebook and read his MLBlog, Bombers Beat. This story was not subject to the approval of Major League Baseball or its clubs.