Vote: 5 stars up for Best Hitter
Balloting open until Nov. 11 to reward game's elite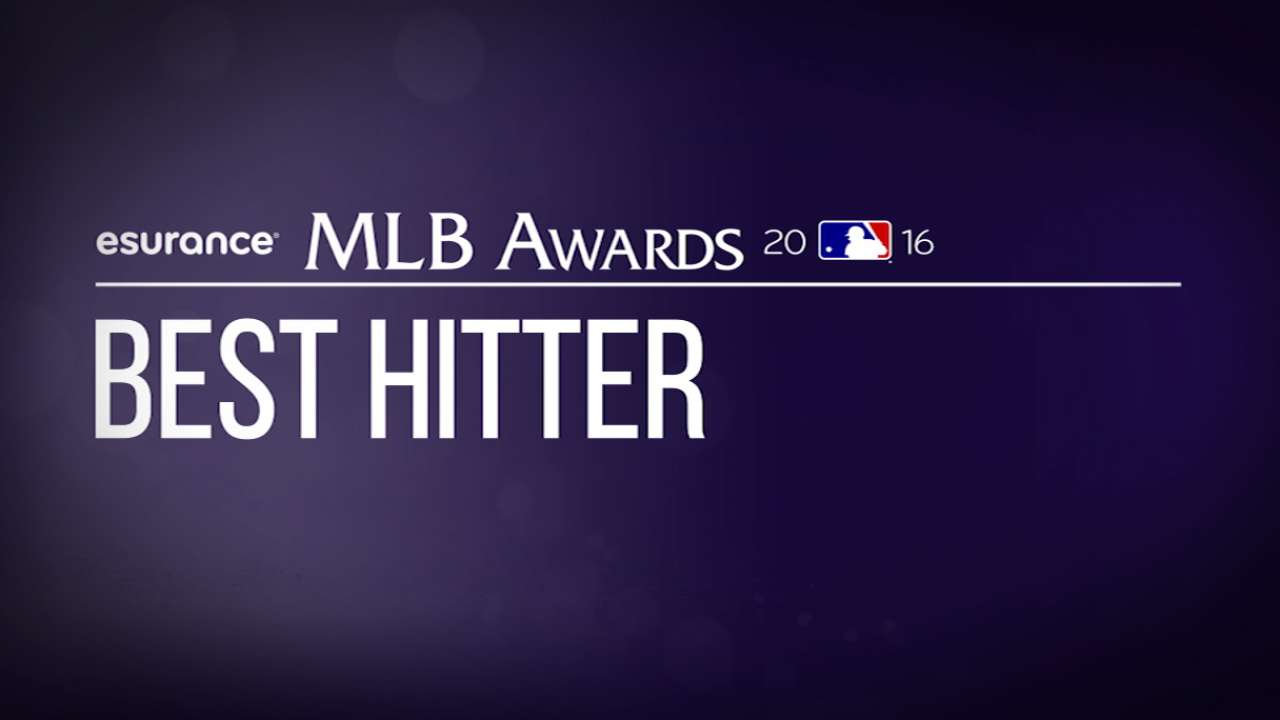 Babe Ruth once said of hitting, "All I can tell them is pick a good one and sock it."
Following that advice most impressively in 2016 are Jose Altuve of the Astros, Kris Bryant of the Cubs, Daniel Murphy of the Nationals, David Ortiz of the Red Sox and Mike Trout of the Angels. They have socked it so often, so hard, so productively and so memorably, that they are your five choices for Best Hitter in the Esurance MLB Awards.
Voting is underway through Nov. 11 to decide who socked it best. Do you go with one of the two nominees who wears No. 27 in the American League East? Do you choose someone who has slugged his team to a division lead? Will a farewell tour become an X-factor?
• Vote: Esurance MLB Awards balloting begins
The Esurance MLB Awards annually honor Major League Baseball's greatest achievements as part of an industry-wide balloting process that includes five groups, each of which accounts for 20 percent of the overall vote: media, front-office personnel, retired big leaguers, Society for American Baseball Research (SABR) voters and fans like you at MLB.com.
The MLB Awards are an all-inclusive program, encompassing the top players and performances from both the AL and the National League, broken into 20 categories from Opening Day through the end of the postseason.
In addition to Best Hitter, individual awards will go to Best Major Leaguer, Pitcher, Rookie, Defensive Player, Manager, Executive, Social Media Personality and Postseason Performer.
Winners will also be recognized for the year's Best Offensive Play, Defensive Play, Moment, Single-Game Performance, Social Media Post, Fan Catch, Interview, Broadcast Call, Player-Fan Interaction and Trending Topic.
Best Hitter is changed from last year's Best Everyday Player category, as it does not count stolen bases or defense. Altuve, Bryant and Trout are also among the five nominees for Best Major Leaguer.
Voting began on Monday on MLB.com/awards, one hour after the inaugural Esurance MLB Fans of the Year winners were announced. Winners will be announced live on Nov. 18 on MLB Network and MLB.com.
All statistics are accurate through the completion of Tuesday's games.
Jose Altuve: This week, Altuve reached 200 hits for the third year in a row, the only player to do so since Ichiro Suzuki (2001-10). Altuve is on his way to the AL batting crown, but he emerged in 2016 as a real slugger as well, with 40 doubles and 24 homers. All he does is hit line drives and generate runs. Altuve is looking to become the first Astros player with a 100-run/100-RBI season since Lance Berkman in 2008. Altuve has been especially devastating on the road, where he leads the Majors in hitting and on-base percentage.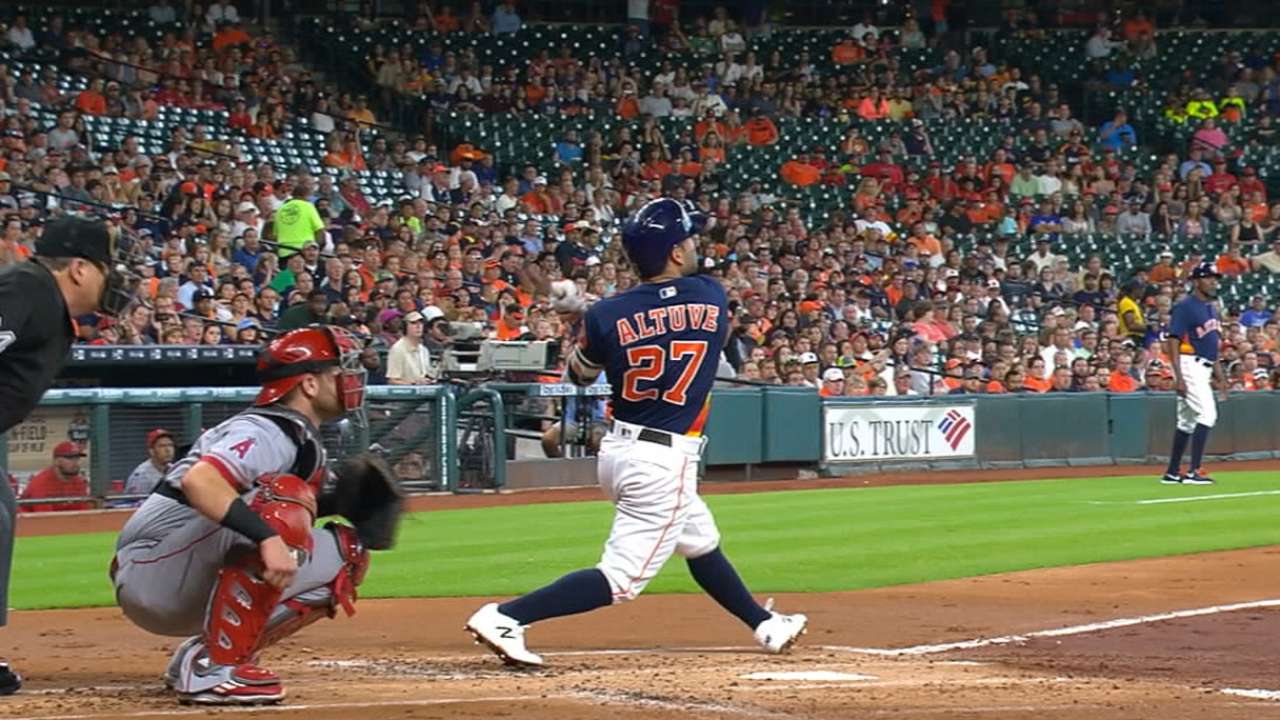 Kris Bryant: These five candidates accounted for 10 total nominations in last year's Esurance MLB Awards, with only Bryant winning -- as Best Rookie. This has been the opposite of a sophomore slump, as he leads the Majors with 116 runs, is battling for the NL home run title (37), and leads the NL with a 7.7 WAR. He's right behind MLB leader Trout in wRC (weighted runs created) and easily leads the Majors in Weighted Grounded Into Double Play Runs (avoiding GIDPs). Bryant was the NL Player of the Month for August after batting .383 with 10 homers, 29 runs and 22 RBIs, pushing the Cubs into another gear.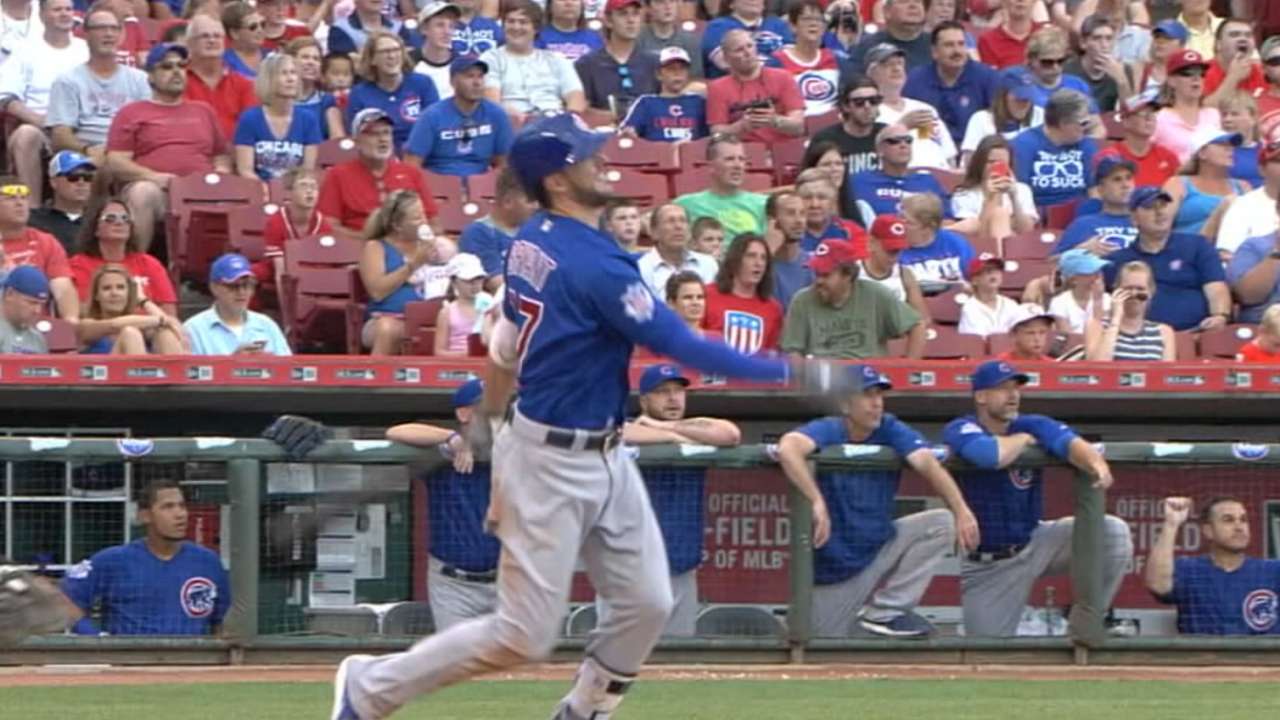 Daniel Murphy: The second baseman parlayed a classic 2015 postseason power surge for the Mets into a deal with the Nationals for 2016, and it was a major impact acquisition for Washington. Murphy hits -- and hits for power. He is second in the Majors with a .347 average, ranks first in the NL in slugging percentage (.596), OPS (.987), doubles (47), multi-hit games (56) and extra-base hits (T2nd, 77). His 14-game hitting streak earlier this week was his fourth streak of at least 11 games this season, indicative of his consistent leadership for a steady division leader.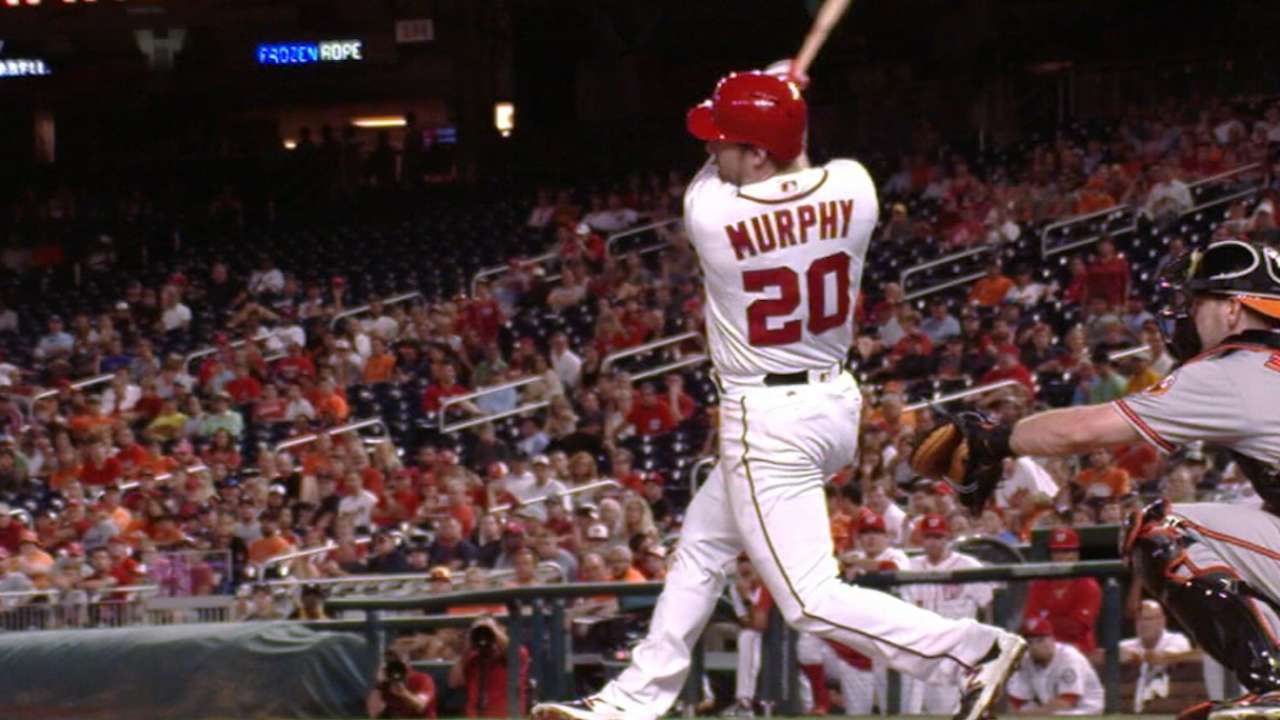 David Ortiz: Oh, did he ever "fare well." Big Papi on Tuesday passed Dave Kingman for most homers (36) in any final season. Ortiz leads MLB in doubles (tied, 47), extra-base hits (84), slugging (.634) and OPS (1.037), not to mention wOBA (weighted on-base average) and ISO (isolated power). He is third in RBIs (121) and tied for eighth in average (.318). He has destroyed righties in particular, and he has the lowest swing rate (30 percent) against changeups. And Ortiz has led Boston to the top of the AL East chase. Give him a sentimental vote if you want, but this outgoing designated hitter might not even need it.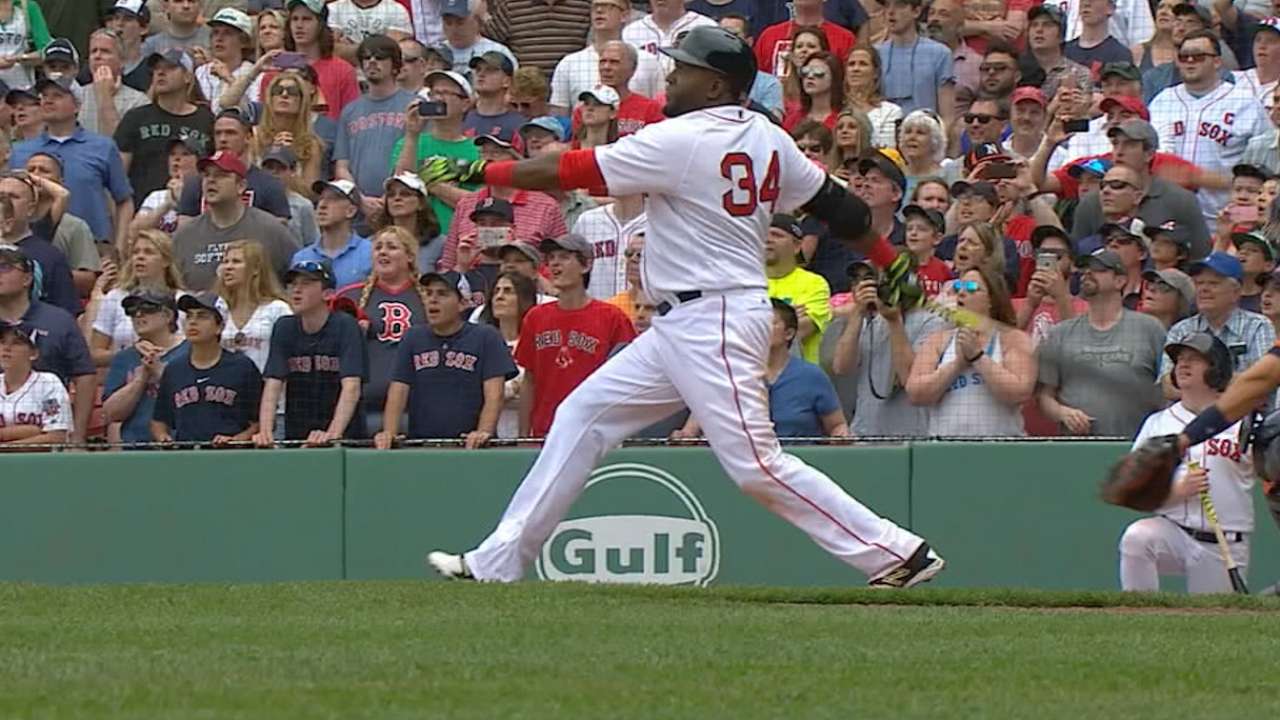 Mike Trout: The Angels' center fielder keeps adding new dimensions to his incredible game, and you'll find him at the top of more relevant statistical leaderboards than his four fellow nominees. This award is offense-only, so start by noting that Trout leads MLB easily in offensive WAR (9.1). He paces everyone in wRC (125) and leads by even more in wRC+ (170, controlling for park effects). He's also on top for on-base percentage (.436) and wRAA (weighted runs above average), among other categories. Trout has more than 100 walks again, and he can become the first player to have two 30-30 seasons before his age-25 campaign. No wonder his autograph can make a kid cry.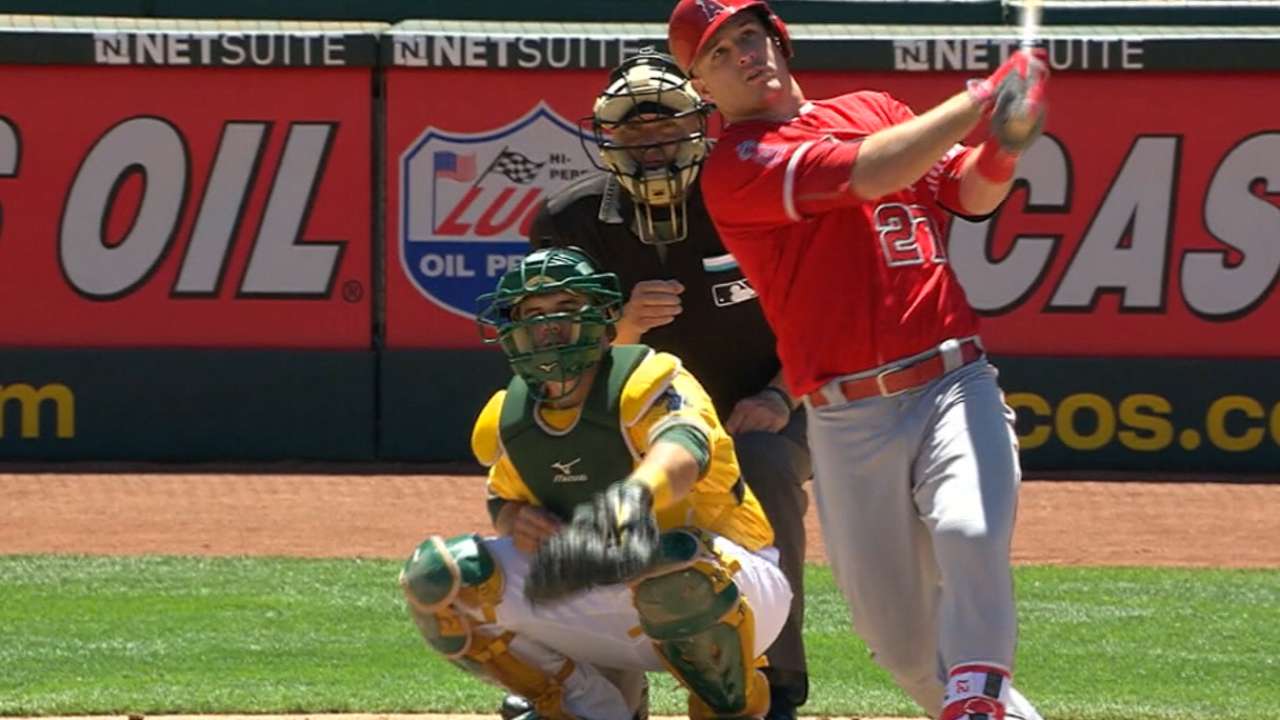 Mark Newman is enterprise editor of MLB.com. Read and join other baseball fans on his MLB.com community blog. This story was not subject to the approval of Major League Baseball or its clubs.