Mackanin may replace Gomez as closer
Phillies righty has 37 saves this season, but has struggled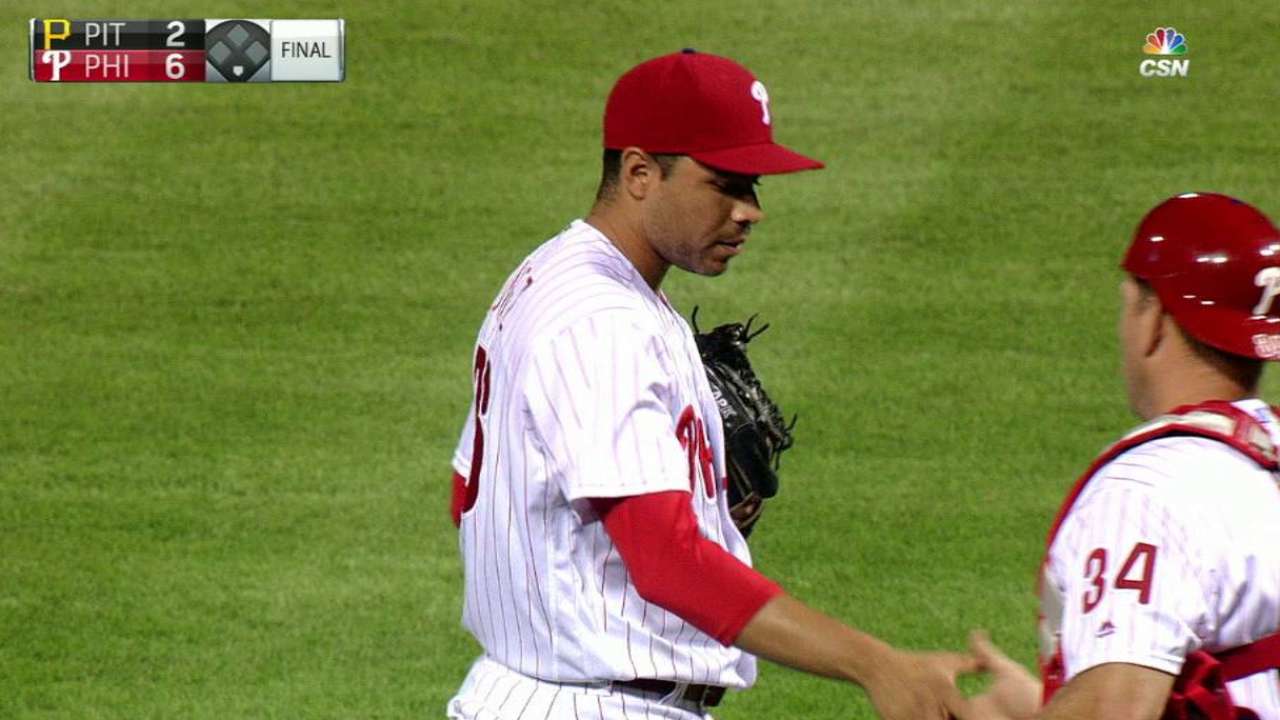 PHILADELPHIA -- Nobody could have predicted Jeanmar Gomez would save 37 games this season.
So then who could have predicted somebody else could still close games for the Phillies in the season's final 11 games? Phillies manager Pete Mackanin has been forced to consider the possibility because Gomez has a 10.13 ERA in 16 appearances since Aug. 14.
"I'm thinking about it," Mackanin said before Wednesday night's game against the White Sox at Citizens Bank Park. "I'm going to talk with him today, see where he's at, see how he feels. We'll see. He hasn't been pitching well. So it's got to be addressed somehow."
It is an interesting situation for Mackanin. Gomez essentially slid into the closer's role out of desperation after the Phillies' bullpen struggled terribly in the season's first four games. Gomez, who entered the season as a middle reliever, took to the role and pitched well.
But Gomez has never been considered the team's long-term answer at closer. He does not have dominant stuff, certainly not when compared to Hector Neris and Edubray Ramos. It is one reason the Phillies were open to trading Gomez before the Aug. 1 non-waiver Trade Deadline, except they received minimal interest.
"We'll worry about that at the end of the year and evaluate everything," Mackanin said about Gomez's future as closer. "I know he hasn't pitched well for over a month now, but what has he blown, five saves? Thirty-seven out of 42? That's pretty good. But maybe he is running out of gas. I still see velocity and I still see stuff, but he is missing location. He's up in the zone more, which may indicate that he is getting tired."
Gomez has denied feeling tired. His workload is in line with previous seasons. He has pitched 67 innings in 67 appearances this season. He threw 74 2/3 innings in 65 appearances last season, and he threw 62 innings in 44 appearances in 2014 with the Pirates.
His fastball has averaged 92.1 mph this month, according to pitch f/x data. It has averaged 92.1 mph for the season.
Gomez remains under team control through next season, so Mackanin wants to be mindful of that. Gomez could be back next season.
"I don't want him to finish the season on a sour note," Mackanin said. "I'd like him to finish on a positive note. That's going to enter my decision on that."
Todd Zolecki has covered the Phillies since 2003, and for MLB.com since 2009. Read his Phillies blog The Zo Zone, follow him on Twitter and listen to his podcast. This story was not subject to the approval of Major League Baseball or its clubs.