MLB.com Columnist
Mike Petriello
Healthy Red Sox bullpen peaking at right time
Boston's 0.86 ERA in September is best of any team in any month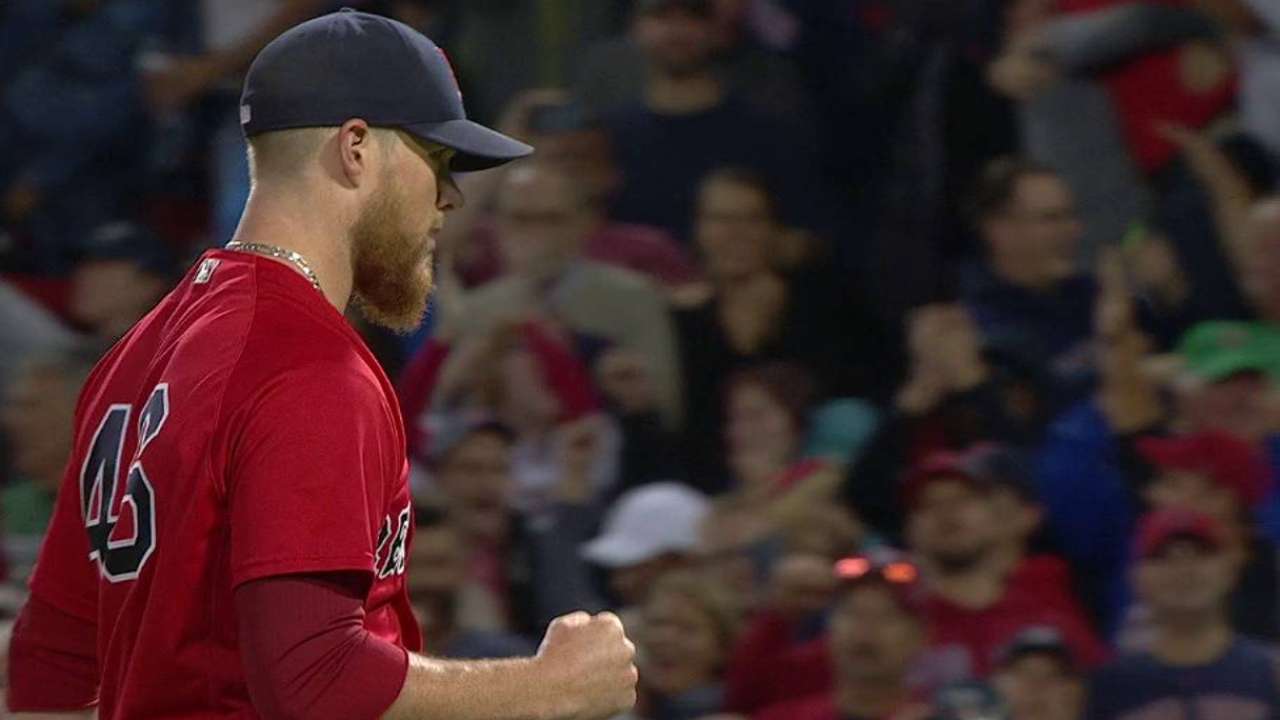 As the Red Sox pull away in the American League East, there's plenty of credit to go around, and most of it is landing in expected places. Just think about Mookie Betts, who has inserted himself squarely into the AL Most Valuable Player Award conversation; Rick Porcello, who has done the same with the AL Cy Young Award; Hanley Ramirez, who has been one of the best hitters in baseball for months; and, of course, the continuing heroics of the retiring David Ortiz.
All four -- and others like Sandy Leon and David Price -- deserve all the praise they're getting and then some. But perhaps we're overlooking a much-maligned unit that's become an increasingly big part of Boston's success. "Hey," you might be wise to point out ... "what about that outstanding bullpen?"
If that sounds crazy, well, we get it, because the bullpen hasn't exactly been the source of strength it was expected to be. Through the end of August, Boston's bullpen had put together a 3.94 ERA, the 19th best in the Majors. In August alone, that number was 4.70, better than only six other teams, and the final week of the month saw some high-profile implosions, like when Matt Barnes and Robbie Ross Jr. helped turn a 4-0 lead into a 10-4 loss to the Royals on Aug. 28. Two days later, deposed starter Clay Buchholz allowed a tiebreaking Evan Longoria homer in a 4-3 loss to the Rays. The local headlines, full of doom and gloom, were exactly what you'd expect they were.
Yet here we are, three weeks later, and the Red Sox's bullpen in September hasn't just been good, it's been great -- to the point that their 0.86 ERA as of Thursday isn't only the best ERA of the month, it's the best that any bullpen has had in any month over the past two years. Now, ERA is obviously an imperfect way to evaluate a bullpen over a small sample, and there's some unsustainable performance in there -- for example, they won't continue to strand 92 percent of runners on base, not when the Major League average is 74 percent.
Still, there's some real reasons why the Red Sox's bullpen now and headed into October looks better than it has all year. Here's three of them.
Craig Kimbrel and Koji Uehara are healthy and dealing
When Boston acquired Carson Smith from Seattle last December, he was expected to help form an effective back-end trio in front of Uehara and Kimbrel, who had been acquired from San Diego in November. But Smith went down early in the year with an elbow injury, and then Kimbrel required knee surgery in July, and shortly after Uehara injured a pectoral muscle, and for a stretch of a few weeks, the Red Sox had none of their projected top three available.
Kimbrel returned on Aug. 1, and since then, he's been unbelievable -- in 15 1/3 innings over 17 games, he's allowed a single earned run, striking out 44 percent of the batters he's faced. That's an 0.59 ERA, and a .096 average against. Uehara returned on Sept. 7, and in his first seven innings back, he's allowed four singles and zero earned runs, striking out eight without a walk. With Kimbrel in the ninth and Uehara in the eighth, that's allowed interim closer Brad Ziegler to move back to the seventh. Suddenly, manager John Farrell has something approximating the bullpen aces he was expecting.
Joe Kelly has finally been put into the bullpen
Don't say that you've been calling for Kelly to be put into relief for years, because seemingly everyone has been doing that. (Here's me, doing exactly that back in 2014.) The reasons were obvious: He throws hard, he could never find enough secondary pitches to turn over a lineup and he never found success as a starter. In 48 starts for St. Louis and Boston between 2014-16, Kelly had a 4.91 ERA, striking out only 18 percent of the hitters he faced, below the Major League average of 20.5 percent. It seemed that if he could go to the bullpen, ditch some below-average pitches and dial that velocity up from "good" to "elite," he'd finally be an asset.
At the risk of saying "we told you so," that's exactly what happened. Kelly made his last start for the Red Sox on June 1, allowing seven runs in 2 1/3 innings, and he was demoted the next day with an 8.46 ERA in six starts. He made one start for Triple-A Pawtucket, strained his groin, and when he returned several weeks later, he was a reliever. In 11 innings in relief for Boston, first in July and then when he returned for good in September, Kelly has allowed one earned run, striking out 25 percent of hitters.
Kelly has thrown almost entirely fastballs and curves as a reliever, limiting his change and slider usage, and you can see exactly what it's done to his fastball velocity:
Dig the change in Joe Kelly's four-seam velo since he went to the bullpen: Yes, that's an average of 99 mph as RP. pic.twitter.com/DDMrRE2nFt

— Mike Petriello (@mike_petriello) September 21, 2016
Of the 358 relievers to throw at least 100 four-seam fastballs since July 1, only Aroldis Chapman and Mauricio Cabrera have had a higher average velocity than Kelly's 99.0 mph. This is a move that should have been made a long time ago, and it's difficult to see Kelly ever starting again.
Ziegler has become a strikeout machine
Ziegler was acquired from Arizona for two unheralded prospects in July, and he became invaluable depth when Kimbrel and Uehara were ailing. But while he's long been known as one of baseball's foremost ground-ball machines, he's been shockingly good at missing bats as a member of the Red Sox.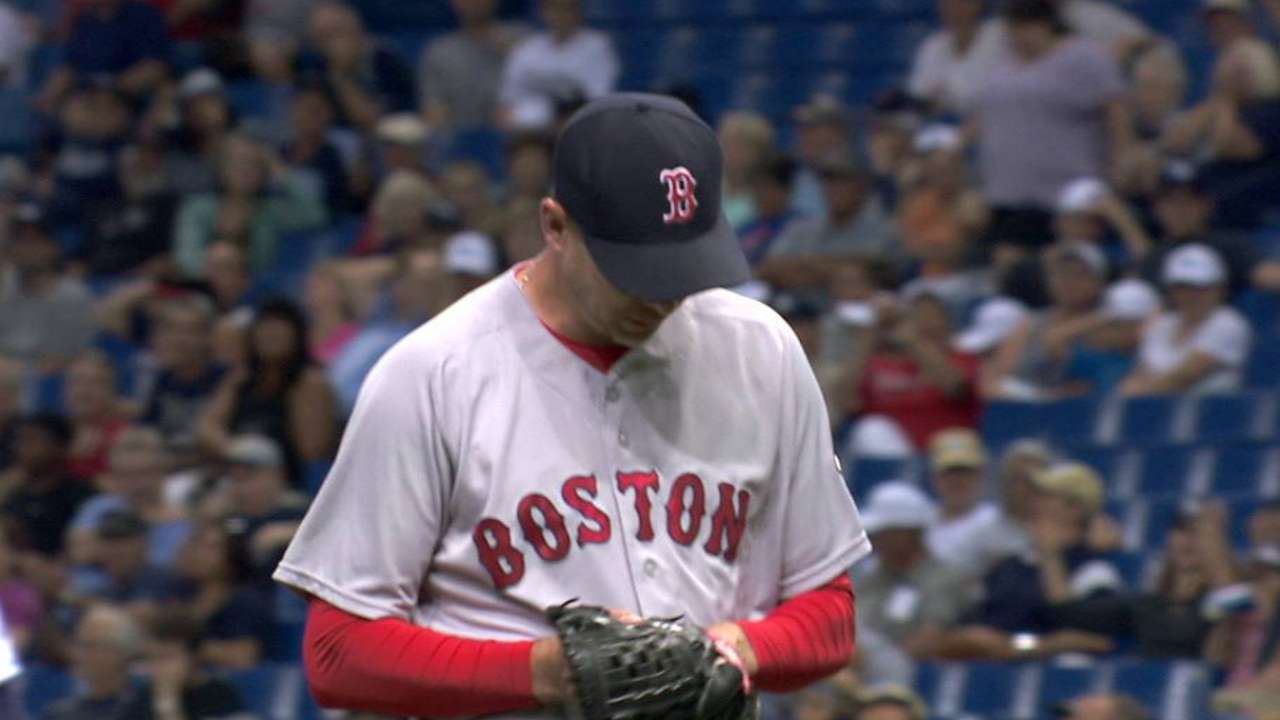 Just look at what he's done with Boston compared to what he'd done before:
Ziegler, career mark: 16.6 percent
Ziegler, 2016 with Arizona: 16.4 percent
Ziegler, 2016 with Boston: 28.0 percent
That's a strong strikeout rate; it's basically what Orioles closer Zach Britton has done this year. Obviously, we're talking about only 23 2/3 innings with the Red Sox, but there is evidence that Ziegler has increased usage of his slider and change to go with his normal sinker. For example, on Sept. 11, he faced six Toronto hitters and struck out three of them -- Russell Martin, Jose Bautista and Edwin Encarnacion. All big names, and all on sliders or changeups.
Certainly, it's not likely or expected that Ziegler keeps missing bats that way. But the point is that for several weeks of the summer, he was the only reliable Boston reliever, and he was pitching the ninth. With Kimbrel and Uehara back, Ziegler is in the seventh, giving the team three quality back-end relievers to bridge from the rotation.
Now, consider what Kelly's 99-mph fastball can add to that group, or that Ross has struck out 54 in 52 1/3 innings while allowing a mere .295 on-base percentage to lefties. Consider that Barnes has struck out 68 in 64 innings and that Heath Hembree, while all but unpitchable against lefties, has allowed a career .287 on-base percentage against righties. You might choose to place emphasis on how good rookie Robby Scott has looked in his first three games, particularly against lefties, or you might care to remember that Fernando Abad, who has made few friends in Boston with inconsistent performances, still has allowed only a .139/.184/.254 line against lefties.
The Red Sox's bullpen has looked like baseball's best in September. They aren't baseball's best group of relievers. But for a team that very recently looked like it had no idea how it was going to possibly put together a postseason bullpen that had more than one or two reliable pitchers at a time, this is suddenly a group that actually looks somewhat formidable. Sometimes, it's not about being great. It's about being great at the same time, at the right time. With postseason baseball looming, Boston may have managed exactly that.
Mike Petriello is an analyst for MLB.com and the host of the Statcast podcast. He has previously written for ESPN Insider and FanGraphs. This story was not subject to the approval of Major League Baseball or its clubs.