Before he was postseason-bound: Kris Bryant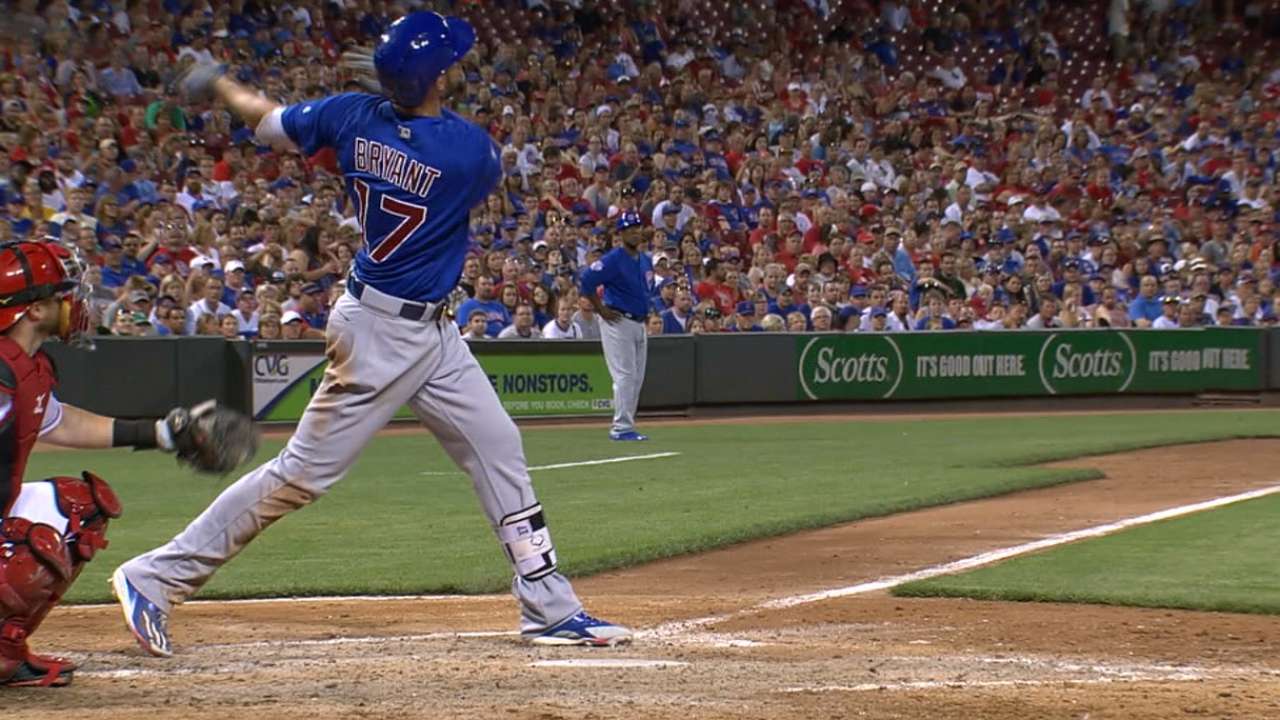 The Cubs are headed to the Postseason for the second consecutive year, after winning the National League Central. As this will be the first time that many fans across the Majors will be focusing on their roster, here's our attempt to learn the origins of slugger Kris Bryant.
Kris Bryant, 3B
Born: Las Vegas, Nev.
DOB: 1/4/92
HS: Bonanza (Nev.) High School
College: University of San Diego
Minors: AZL Cubs (R), Boise (SS), Daytona (A+), Tennessee (AA), Iowa (AAA)
Path to Chicago: The Cubs selected Bryant with the No. 2 overall pick in the 2013 Draft.
Trophy case: National League Player of the Month this August, 2015 NL Rookie of the Year, 2015 and '16 All-Star, 2014 USA Today and Baseball America Minor League Player of the Year, played in 2014 MLB All-Star Futures Game, 2013 Dick Howser Trophy and Golden Spikes Award (best collegiate/amateur baseball player).
Famous feat(s): In the first inning of this year's All-Star Game, Bryant belted a home run off White Sox ace Chris Sale. On June 28, Bryant became the first player in recorded Major League history to hit three homers and two doubles in a game, setting a Cubs franchise record for total bases, 16, in the process. In 2015, Bryant set the Cubs rookie record for home runs with 26 and also homered in both of Chicago's postseason series.
You might not know: Bryant's father, Mike, was a Minor Leaguer in the Red Sox organization, and he learned from Ted Williams. Mike gives private lessons at a batting cage at his Las Vegas home, which is where Kris learned to hit.
Six degrees of Willie Aikens: Bryant played with the Nationals' Bryce Harper while growing up in Las Vegas. They were teammates when Harper was 14 and Bryant 13 on the Southern Nevada Bulldogs. There was one game when Bryant pitched a one-hit complete game and Harper homered for the winning run.
"He was 11 years old and throwing 80 mph off the mound. It was special to see that from a guy that young," Bryant said of Harper. "He's obviously younger than I am, but watching him play, I was amazed. I knew he'd be doing what he's doing at this level someday."
Harper has returned Bryant's compliments: "When we were younger, we used to call him 'Silk.' He was so smooth with everything he did. He played third, played short, played a little outfield when we were younger. He pitched, of course, and he always hit very well."
Most Valuable Chatterer: Bryant, asked by Sports Illustrated last year who the best first basemen were to talk to, answered: "Joey Votto was a good one. I don't remember laughing too much, but I just remember talking to him nonstop. Pedro Alvarez is another one who's really cool, too. I guess that's their job, to be cool, as a first baseman."
Bryant, one of the Cubs' most versatile fielders, has now gone on to play multiple games at first base himself. No word on what he talks to batters about.
In the cage: This past offseason, after the Cubs' playoff run ended in the NLCS, Bryant and his fiancee Jessica went cage diving with sharks in Hawaii. "My fiancee wanted to go swim with the dolphins," Bryant told Bleacher Report. "I was like, 'Let's just swim with the sharks. That's even cooler.'"
Teammate Kyle Schwarber was less enthused: "Good thing he was inside of a cage," he said.
David Adler is a reporter for MLB.com based in New York. Follow him on Twitter @_dadler. This story was not subject to the approval of Major League Baseball or its clubs.