Before he was postseason-bound: Jon Lester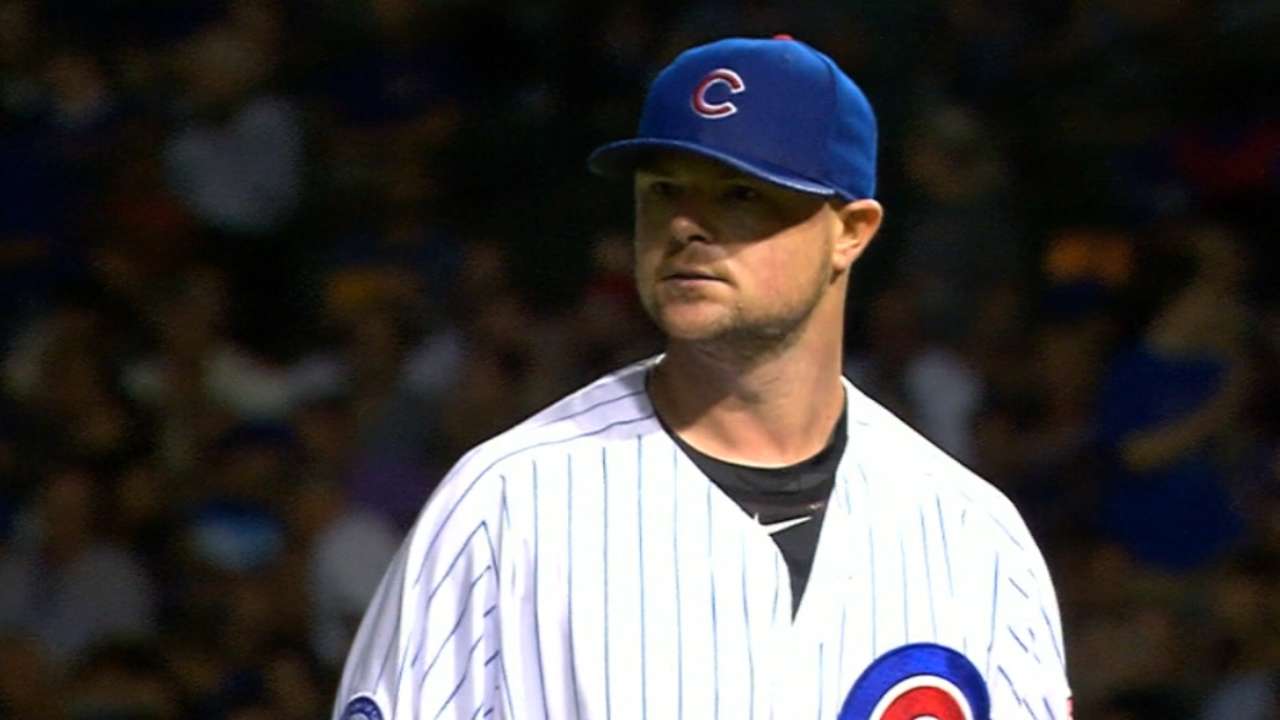 The Cubs are headed to the postseason for the second consecutive year, after winning the National League Central. As this will be the first time that many fans across the Majors will be focusing on their roster, here's our attempt to learn the origins of starter Jon Lester.
Jon Lester, LHP
Born: Tacoma, Wash.
DOB: 1/7/84
HS: Bellarmine (Wash.) High School
College: None
Minors: GCL Red Sox (R), Augusta (A), Sarasota (A+), Portland (AA), Pawtucket (AAA)
Path to Chicago: Was selected by the Red Sox in the second round of the 2002 Draft, traded to the A's at the 2014 Trade Deadline and signed with the Cubs that December, in advance of the 2015 season.
Trophy case: Two-time World Series champion with Red Sox in 2007 and '13, four-time All-Star, four-time Pitcher of the Month (three AL, one NL).
Famous feat(s): Lester pitched a no-hitter for Boston against the Royals on May 19, 2008. He walked two, struck out nine and threw 130 pitches in what was the second straight MLB no-hitter thrown by a Red Sox pitcher, after Clay Buchholz's on Sept. 1, 2007. Lester is also 3-0 in World Series games, and has allowed only one total run in his three starts.
You might not know: Lester got the first hit of his career on July 6, 2015, a single off John Lackey. It was a milestone moment -- Lester had gone his first 66 career at-bats without a hit, setting a Major League record in the process.
Six degrees of Willie Aikens: Lester and Red Sox first baseman Hanley Ramirez have never been teammates at the Major League level, but they got their start in the Boston farm system together. In 2002, when both players were 18 years old and in their first year of professional baseball, they played for the Gulf Coast League Red Sox, and the two were teammates through 2005 at Double-A Portland.
K-ing cancer: Lester was diagnosed with a rare form of non-Hodgkin lymphoma, a blood cancer, in 2006 at the age of 22. Lester overcame the cancer and made it back to the Major Leagues. "I like to be known as [a cancer survivor]," Lester told WEEI.com. "I've matured in the fact that now, I don't mind it. It helps people. I want to be able to do that, and I'm proud of what I've come from." Lester has teamed up with the Pediatric Cancer Research Foundation to create NVRQT (standing for "Never Quit"), a charity that hopes to fight pediatric cancer.
Fine wining: Lester is a wine aficionado, and when he was on the Red Sox, he and Buchholz launched their own lines of charity wines: "CabernAce" (Lester's) and "ChardonClay" (Buchholz's), with the proceeds going toward cancer research. When the Cubs were trying to convince Lester to sign with them in the 2015 offseason, they sent him bottles of wine. "You know they're kind of thinking of you," Lester said. "It was cool."
David Adler is a reporter for MLB.com based in New York. Follow him on Twitter @_dadler. This story was not subject to the approval of Major League Baseball or its clubs.