Cards overpowered by Rox, can't gain WC edge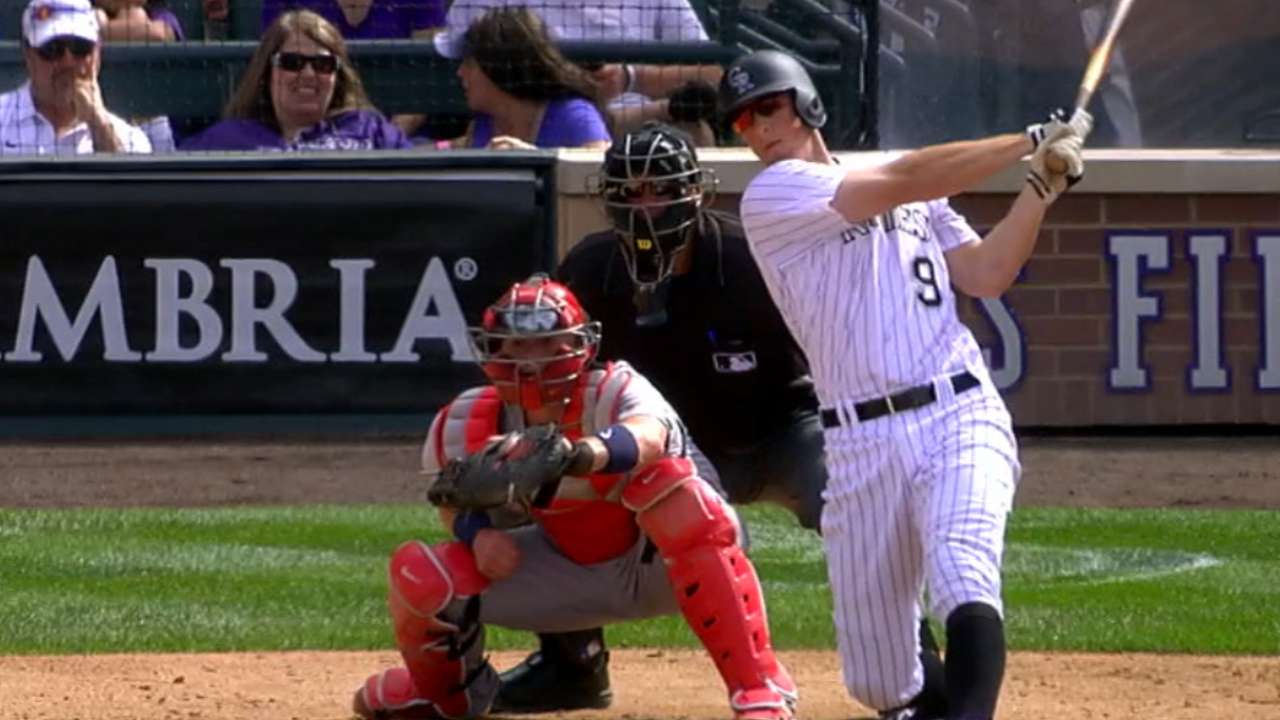 DENVER -- German Marquez was exceptional in his first Major League start, and Nolan Arenado's grand slam powered the Rockies past the Cardinals, 11-1, at Coors Field on Wednesday. The loss kept the Cardinals tied with the Giants and Mets for the two National League Wild Card spots.
Marquez baffled the Cardinals over five frames, allowing one run on four hits. He struck out three and walked one, with the only damage coming on Kolten Wong's second-inning sacrifice fly. Marquez was especially effective when he kept the ball low; he recorded six groundouts and two flyouts.
"I was mixing my fastball in and outside," Marquez said. "I was getting down my curveball for strikeouts and [putting] the hitters away. I was very confident. I need to work on my changeup. I need to throw it like a fastball."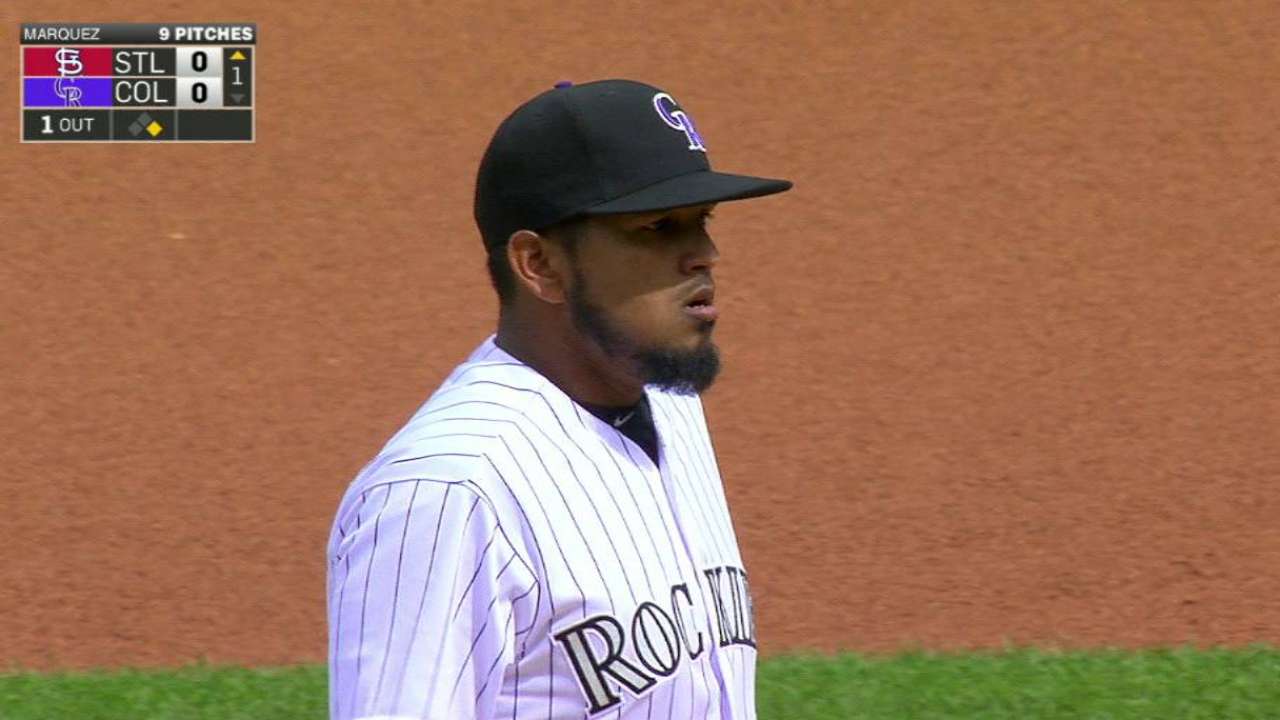 Most of the Rockies' offense came early, as they chased Cardinals starter Luke Weaver after two innings. DJ LeMahieu drove in Charlie Blackmon on a first-inning sacrifice fly, and Arenado broke open the game with his first slam of the season one frame later.
"It was a fastball in," Weaver said. "A lot of the fastballs were moving. I definitely needed that two-seam to move in, and it was the only fastball that stayed straight. It's very frustrating, because I'm trying to throw a pitch to get in there, and for it to flatten out at such a big moment is disappointing."
Reliever Jaime Garcia stymied the Rockies for four innings, but Colorado added five more runs upon his exit on LeMahieu's double, Gerardo Parra's single and Tom Murphy's three-run homer in the seventh.
• Garcia steps up for Cardinals in new role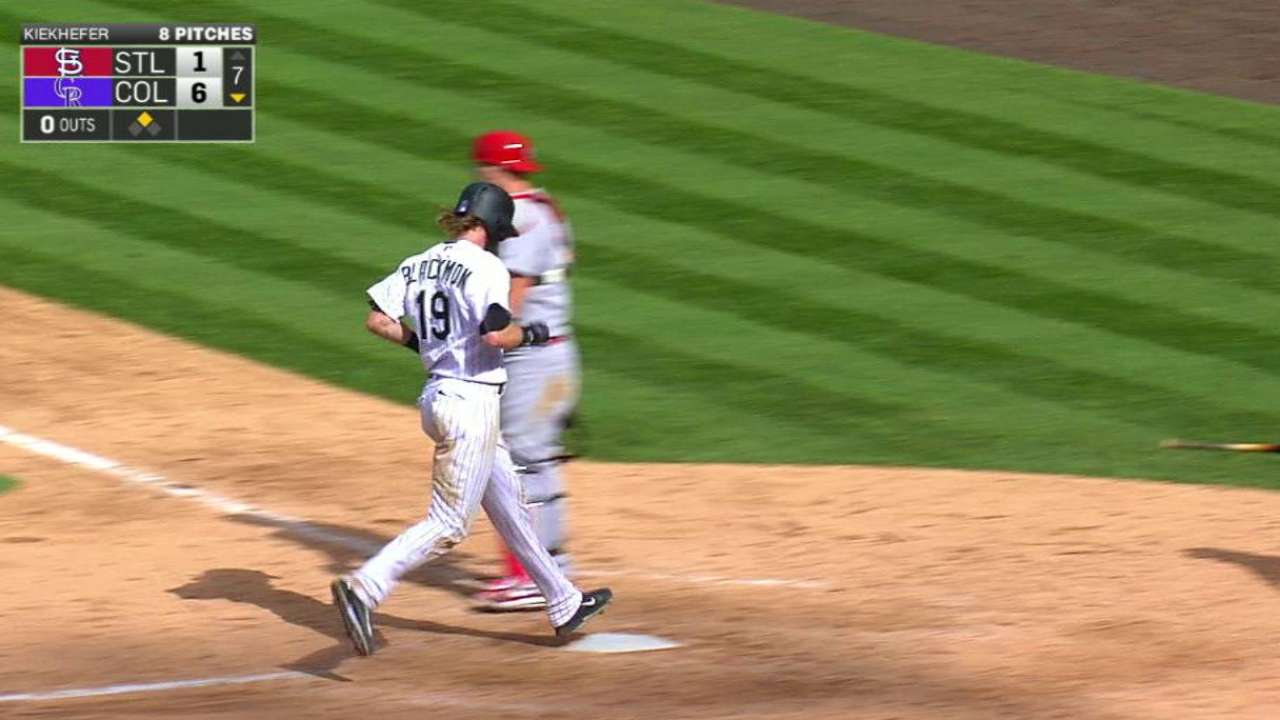 MOMENTS THAT MATTERED
Bases-loaded blasts: Arenado's grand slam was the Rockies' seventh of the season, which tied them with the Nationals for the most in baseball. Overall, the club is batting .325 (39-for-120) with the bases loaded this season, which is second behind only the Reds (34-for-100, .340).
"I feel like we've played overall very good offense all year," Rockies manager Walt Weiss said. "Situationally, you're talking about a chance to have a big inning. Nolan gave us that with one swing. He turned it into a big inning. I feel like offensively, we've handled those innings well." More >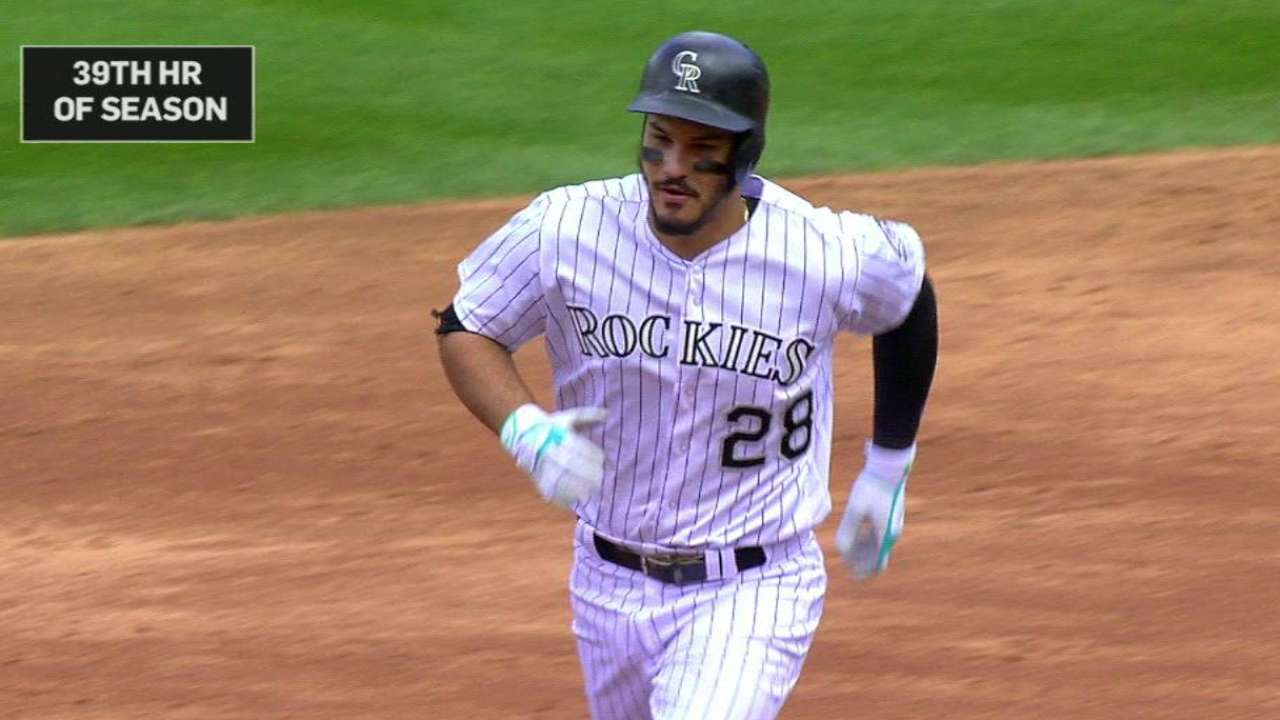 One is the loneliest number: The Cardinals defined "scattered" Wednesday, as they tallied eight hits. Only once did they put two hits together in one inning, when Jeremy Hazelbaker led off the second with a double to left and Weaver singled to right later in the frame.
"He didn't give us a lot of opportunities," Cardinals manager Mike Matheny said of Marquez. "We kind of created one early. He did a nice job of shutting it down. Good stuff. Good movement. Good life."
Young gun: Marquez became the second-youngest pitcher in Rockies history to earn a win, at 21 years and 212 days. Right-hander Jamey Wright remains the youngest pitcher to win a game (21 years and 206 days), when he beat the Giants on July 17, 1996. Marquez impressed the coaching staff, and he is in line to start two more games before the end of the season.
"He has shown a feel for pitching out there at a very young age," Weiss said. "He commanded the fastball. Not only does it have a lot of life, but he's clipping corners with that thing. When you're doing that at that velocity, it's tough to handle. He had it all working."
Missed opportunity sets up slam: The Cardinals had a chance to get out of the second before it came apart. With runners on first and second, one out, and one run already in, LeMahieu flied to center. Randal Grichuk caught the ball and relayed to second baseman Wong, who had a good shot at doubling Blackmon off of first. Wong's throw was errant, putting runners on second and third. A walk to Carlos Gonzalez loaded the bases for Arenado.
"It took about 13 hitters to get six runs together," Matheny said. "They made the most of it. We were real close to getting it out of it, too. That nice play Grich made going into the outfield, if we can turn that double play, we don't see the bases loaded right there with Arenado up."
QUOTABLE
"I've got to give Blackmon, DJ and CarGo a lot of props for my runs. Probably mostly DJ and Charlie, because I hit third sometimes, but those guys are getting on base for me at a really high rate. I'm really thankful to have those guys on my team. … This team has set me up to have success. I feel like I'm always hitting with a man on third or second with less than two outs. It's just been great. The credit goes to them for sure." -- Arenado
"They came out firing. I was down in the zone a little bit. Balls were running back middle. I had a hard time controlling the movement on the fastball. They did a good job in different counts looking for offspeed. Obviously a disappointing start, but I just got to learn from it." -- Weaver, on his season-low two-inning outing
SOUND SMART WITH YOUR FRIENDS
Jordan Patterson singled to center to lead off the five run rally in the second. It was his first Major League hit, making him the ninth Rockies player this season to do so, tying a franchise record.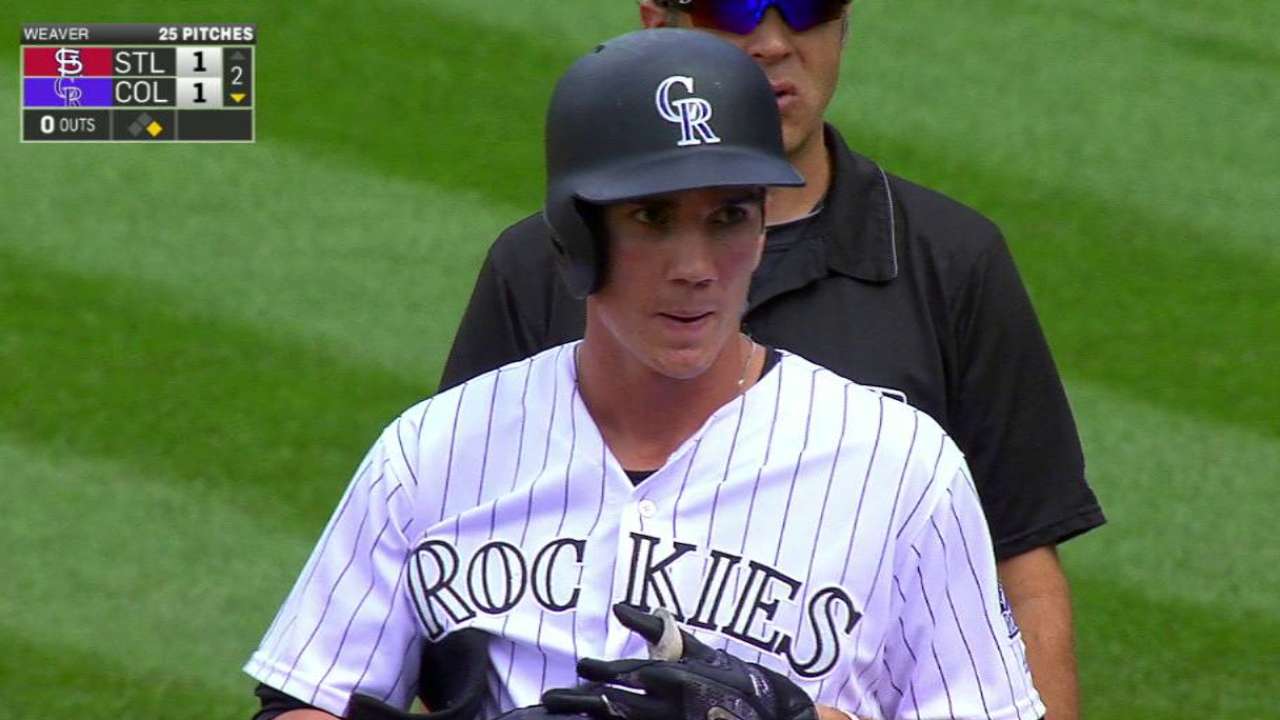 PREGAME STANDOFF
Rockies pitcher Carlos Estevez and Cardinals outfielder Jose Martinez stayed on the field long after the national anthem was over, still holding their hats over their hearts and remaining in the same pose. The umpires eventually told the rookies to return to the dugout and Estevez moved first, so Martinez celebrated the "win" with his teammates.
"I was next to [Jason] Motte and [Jake] McGee," Estevez said. "They were like, 'OK, we're gone.' I was like 'Yeah,' and they said, 'No, you stay.' OK, I'm going to stay. I saw it took a little bit longer, and it's getting real. I've got to stay now."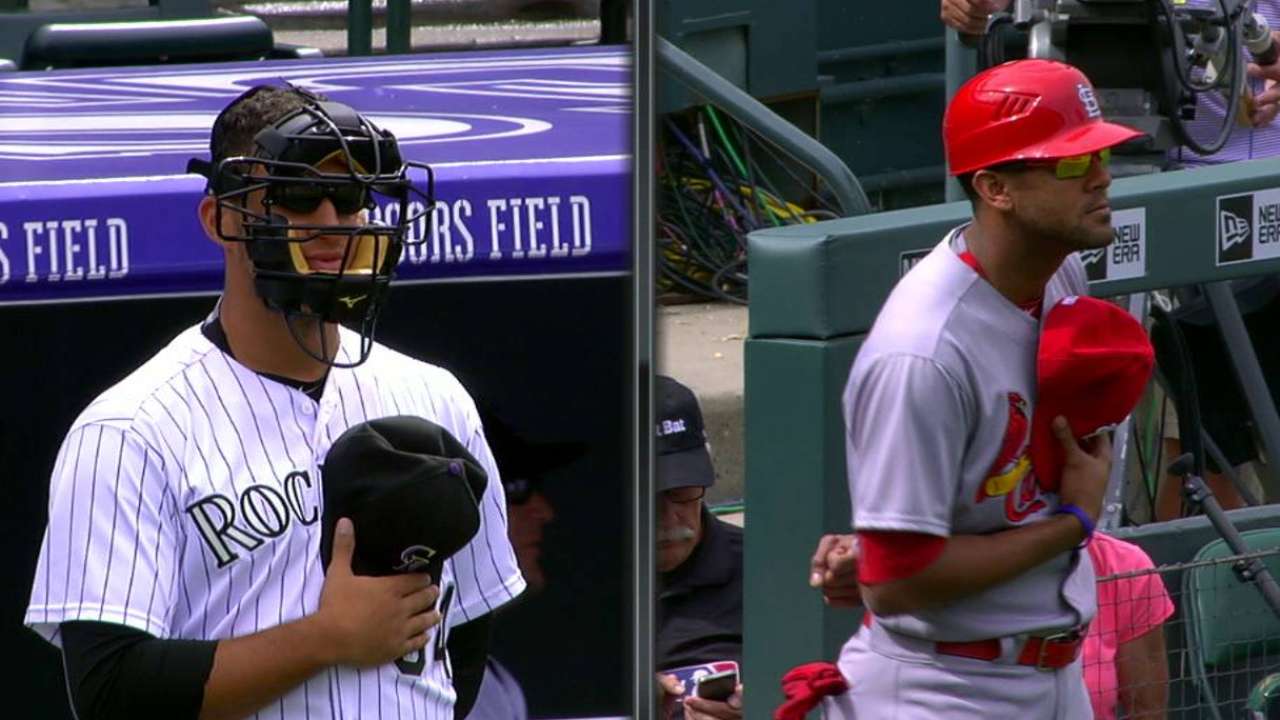 The event had a taste of rookie hazing to it, and the hazing continued after the game, when a handful of Cardinals rookies dressed in a variety of costumes -- including the caped crusader's sidekick, Robin. Martinez paid his dues before the game.
"The umpire asked me why I did that," Martinez said. "When you're a rookie, and a veteran asks you to stand up there, I will stand up there. [Catcher Brayan] Pena said, 'Stand out there and don't move.' He's a veteran, and when a veteran tells you what to do, as a rookie, you have to listen to him. I was acting like I wasn't listening [to the umpire]. It's a game. The most important thing is to have fun. And to win. It's a win for us." More >
WHAT'S NEXT
Cardinals: Right-hander Mike Leake (9-10, 4.54 ERA) climbs the hill to face the Cubs in the series opener Friday at 1:20 p.m. CT. Chicago has clinched the division, but it's a crucial series for the Cardinals, as they are in a tight Wild Card race with the Mets and Giants. Leake is winless in three starts against the Cubs this season, pitching six innings of three-run ball the last time he faced them. He is looking for his first win in his fourth start since returning from the disabled list.
Rockies: Right-hander Tyler Chatwood (11-9, 4.13 ERA) gets the call for the Rockies' first game of a four-game set against the Dodgers at 8:10 p.m. MT on Thursday. Chatwood had one of his best outings of the year in Los Angeles on June 6, when he limited the Dodgers to one run on one hit over eight innings. However, he has given up at least six runs in three of his past four starts.
Watch every out-of-market regular-season game live on MLB.TV.
Ben Weinrib is a reporter for MLB.com based in Denver and covered the Rockies on Wednesday.

Owen Perkins is a contributor to MLB.com based in Denver and covered the Cardinals on Wednesday.

This story was not subject to the approval of Major League Baseball or its clubs.