MLB.com Columnist
Paul Hagen
Jimenez could be key linchpin of rotation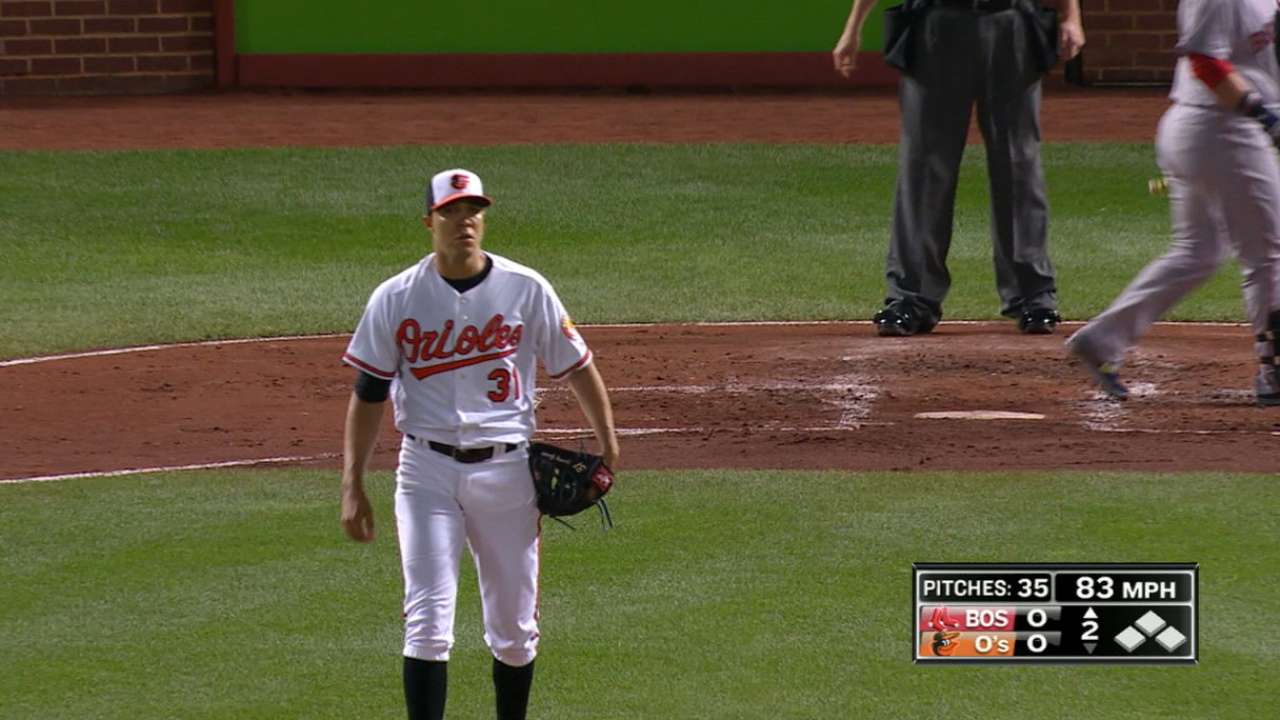 BALTIMORE -- The Orioles looked for starting pitching all offseason. They looked for starting pitching in the weeks and days leading up to the non-waiver Trade Deadline. With the start of the postseason looming in less than two weeks, they're looking for -- all together now -- starting pitching.
After searching all the usual places, would you believe the Orioles may just have found what they're looking for in a guy who, until just a few weeks ago, was pitching long relief out of their own bullpen?
Ubaldo Jimenez received a standing ovation from the Oriole Park at Camden Yards crowd Wednesday night when he walked off the mound in the sixth inning after shutting out the first-place Red Sox for 5 1/3 innings.
As it turned out, that wasn't enough to get the O's a much-needed victory. The cheering stopped abruptly when the red-hot Sox scored five unearned runs after he departed, including the two inherited runners he left behind.
The Red Sox won their seventh straight, 5-1, to all but wrap up the American League East title. The Orioles have lost the first three games of the series with the finale set for Thursday night, but they still control their own destiny in the AL Wild Card race.
And the fact that Jimenez was once again so effective (four singles, eight strikeouts to go along with four walks) could end up being a bigger picture bonus for the O's.
"He pitched well," manager Buck Showalter said. "He was solid."
If the season ended now, Baltimore would play on. The Orioles would be in the AL Wild Card Game on Oct. 4. And if they nail down a berth early enough to set up their rotation, they can start Chris Tillman in the sudden-death match and feel good about it. If the O's win that game, they could start Kevin Gausman in the AL Division Series opener and like their chances in that one, too.
To play deep into October, though, will require filling in the blanks after that. If the Orioles can't, they're probably not going to advance. Which makes what the 32-year-old right-hander did against the AL's best hitting team more meaningful than it might have appeared at first glance.
See, Jimenez lost his spot in the rotation twice this season. At one point, he was rumored to be on the verge of being designated for assignment despite being owed a guaranteed $13.5 million next season.
Now, Jimenez has suddenly emerged as a leading contender to be Baltimore's No. 3 starter in the playoffs, a role that is crucial for this club.
Jimenez had a 7.06 ERA at the end of July when consigned to long relief. He's made six starts since an injury to Tillman left the team with no better option than to put him back in the rotation on Aug. 25 and hope for the best.
Over that six-game stretch, Jimenez is 2-2 with a 2.85 ERA. He's allowed 27 hits in 41 innings. He's walked 10 and struck out 33.
The biggest change, Jimenez said, has been his fastball command.
"That makes all of my pitches even better," Jimenez said. "My split, slider, curve. Everything has been good because of the fastball command."
Jimenez runs into problems when he gets out of whack mechanically.
"That's something I've been working on my whole life," Jimenez said. "When I get it, I know I'm capable of getting people out."
Jimenez is aware, of course, of how much it would mean to the team if he could continue to pitch well throughout the regular season and into the playoffs. It's not his focus, though.
"I'm just happy to be part of the team and to finally be doing my job," Jimenez said. "The season didn't go the way I wanted it to at first, but it's not how you start. It's how you finish -- and that's something I've put in my mind. I have to give it everything I have."
Former All-Star pitcher Joaquin Andujar once said: "In baseball, one word says it all: You never know." He wasn't referring to Jimenez and the O's long and winding search for pitching help. But he could have been.
After Spring Training had already started, the Orioles signed free-agent pitcher Yovani Gallardo. It seemed like an inspired move at the time. Gallardo was coming off 13 wins for the Rangers, had a career-best 3.42 ERA and had completed his seventh straight season with at least 30 starts. This year, he's 5-8 with a 5.77 ERA and spent nearly two months on the disabled list.
At the Deadline, left-hander Wade Miley was acquired from the Mariners. The left-hander was 7-8 with a 4.98 ERA with Seattle, but he has gone 1-5 with a 7.55 ERA in nine games since the trade.
Jimenez has been consistently good at times in his career. He won 19 games and had a 2.88 ERA for the Rockies in 2010. Jimenez had 13 wins and a 3.30 ERA for the Indians in '13, which prompted the O's to give him a four-year, $50 million deal. He had a 3.02 ERA after his first 11 starts as recently as last season.
Now, it looks as though Jimenez could be getting on a roll again. And, if he is, the starter the Orioles have been looking for will have been on their roster all along.
"If we can get in, I feel real good about this group," Showalter said.
The way Jimenez has pitched has to make him feel just a little better.
Paul Hagen is a national columnist for MLB.com. This story was not subject to the approval of Major League Baseball or its clubs.